By Jocelyn Buhlman
Star Wars may take place in a galaxy far, far away, but you can absolutely enjoy a day of intergalactic adventures at places a little closer to home. Disneyland park in California and Disney's Hollywood Studios in Florida both bring all the thrills, smiles, and epic lightsaber battles right into the magic of a Disney theme park. On the days when you need your healthy dose of Star Wars adventures, we have just the thing for you: our guide to a perfect Star Wars day, either at Disneyland or Disney's Hollywood Studios.
Disneyland:
Start off the day with a delicious meal from the Galactic Grill's breakfast menu—there's nothing like a big breakfast to energize your fight against the Dark Side.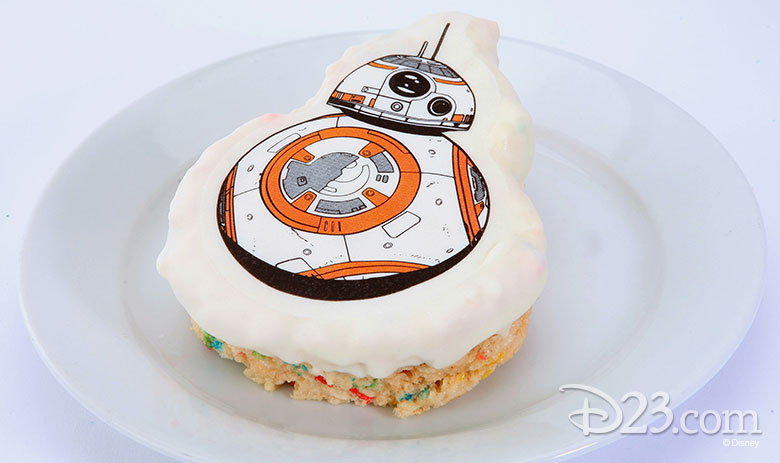 Tomorrowland is the place to be for a Star Wars day at Disneyland. While it's still early in the morning, head over to Hyperspace Mountain and jump to lightspeed in an epic battle against the First Order.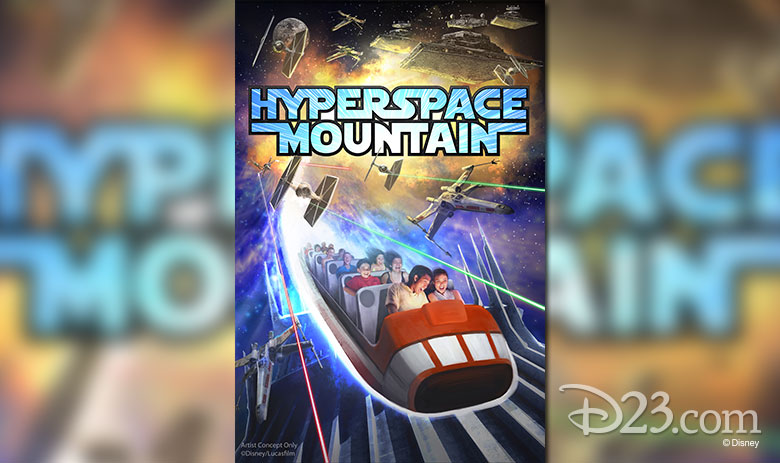 The Star Wars Launch Bay is your one-stop shop for everything Star Wars–related. Cute souvenirs? Check. Props and replicas from the movies? Check. Unique meet-and-greet opportunities with your favorite heroes and villains? Check!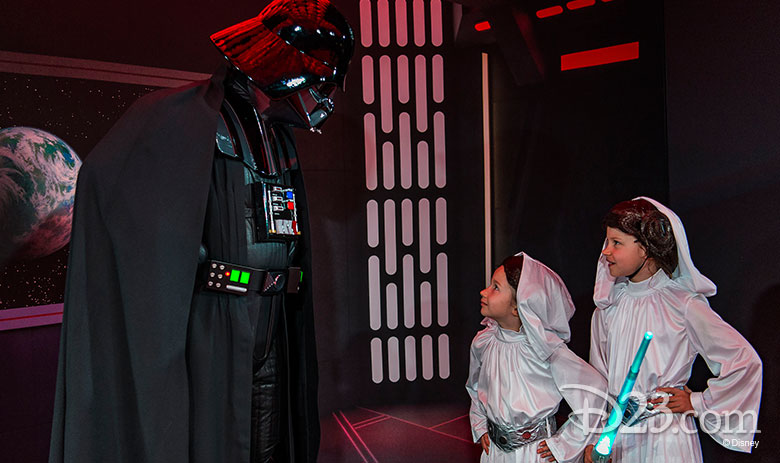 Once you get a picture with Chewbacca, Darth Vader, Boba Fett, or whichever character you're destined to meet, it's time to leave the Star Wars Launch Bay and plan for your out-of-this-galaxy lunch. Yay!
The Galactic Grill isn't just unique for its Star Wars-themed cuisine (Will you be biting into a First Order Specialty Burger or the Jedi Order Chicken Sandwich?). It also hosts the stage for an adventure perfect for any future Jedi padawans in your life: Jedi Training: Trials of the Temple.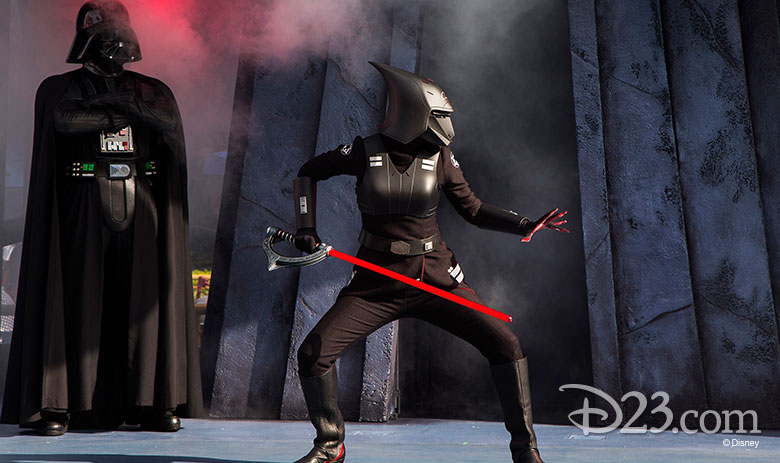 This show allows your younglings to don a Jedi robe and train in the ways of the Force. But are they ready to face the ultimate test? They may have to fight a few famous Sith to defeat the Dark Side!
Of course, no Star Wars day at Disneyland is complete without riding on Star Tours — The Adventures Continue! This classic motion simulator attraction features unique combinations of adventures that make you the star! Will you be catching a cruise to Kashyyyk? Perhaps you will brave an encounter with the dreaded Death Star and the famed bounty hunter Boba Fett. You could even end up on Jakku, with Finn guiding you as you fly alongside the Millennium Falcon! No matter what your destination is, Star Tours — The Adventures Continue will make any fan feel like they're one with the Force.
For an out-of-this-world dinner, why not pick up a pizza or pasta at Redd Rockett's Pizza Port? This delicious diner now features new, Star Wars-themed dishes, such as the Forest of Endor Pasta.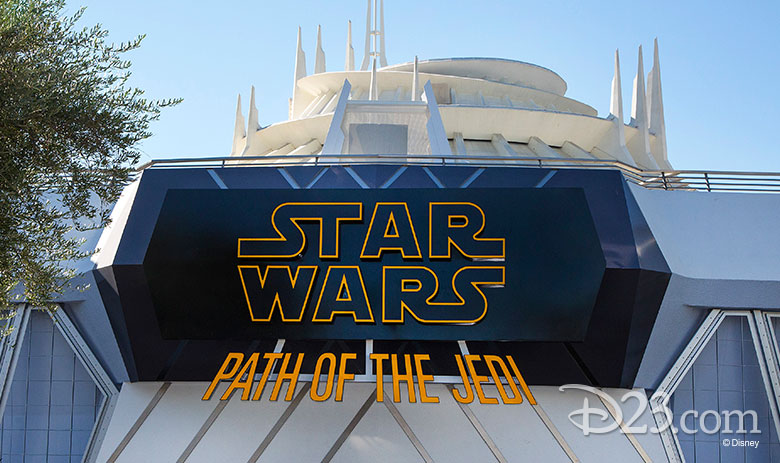 While you're digesting your dinner, take a seat at the Tomorrowland Theater for a screening of Star Wars: Path of the Jedi, the epic retelling of the Skywalker Saga leading up to the events of Star Wars: The Force Awakens.
Make sure to pick out a souvenir to commemorate your adventure at Star Trader. This Tomorrowland location overflows with everything a Star Wars fan could want, although we always have our eyes on those Ear Hats. Who will you be? BB-8, C-3PO, R2-D2, or Princess Leia? There's a hat to celebrate all the fan-favorite characters from Star Wars.
Disney's Hollywood Studios:
There's plenty of Star Wars adventures to be had at Disney's Hollywood Studios!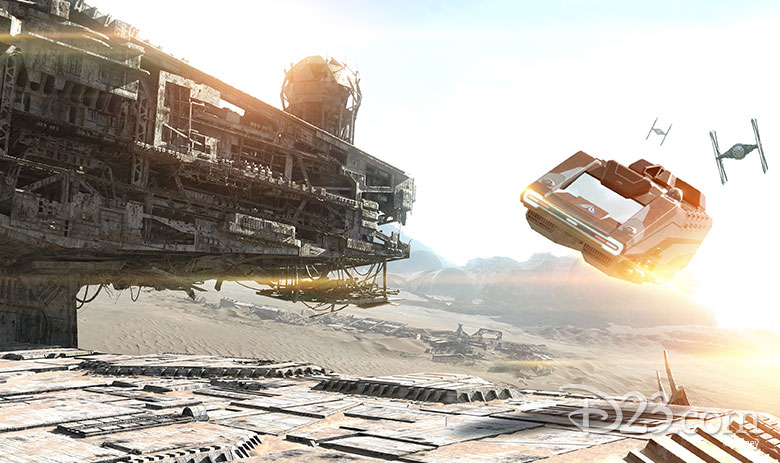 Your Star Wars day at Disney's Hollywood Studios should start off with a jump to lightspeed on Star Tours — The Adventures Continue. Which planets will you visit? Can you deliver the Rebel Spy back to the Rebel Alliance? For this beloved attraction, you're not just the star—you're their only hope!
Once you've exited Star Tours — The Adventures Continue, take a moment to enjoy the scenery. The outside of this attraction features a replica AT-AT Walker and a Speeder Bike. Why not take a photo and pretend that you are part of the action?
Now that you've saved the galaxy once, it's only natural to meet some more heroes! The Star Wars Launch Bay, besides featuring Star Wars exhibits, featurettes, and a cool Cantina set, gives you a chance to meet with heroes like Chewbacca and BB-8, or come face to face with the villainous Kylo Ren.
To teach your little ones the way of the Force, take them to Jedi Training: Trials of the Temple at Echo Lake. Once your younglings learn to use the Force against the likes of Darth Vader and the Seventh Sister, they'll be ready to face any bad guy they meet!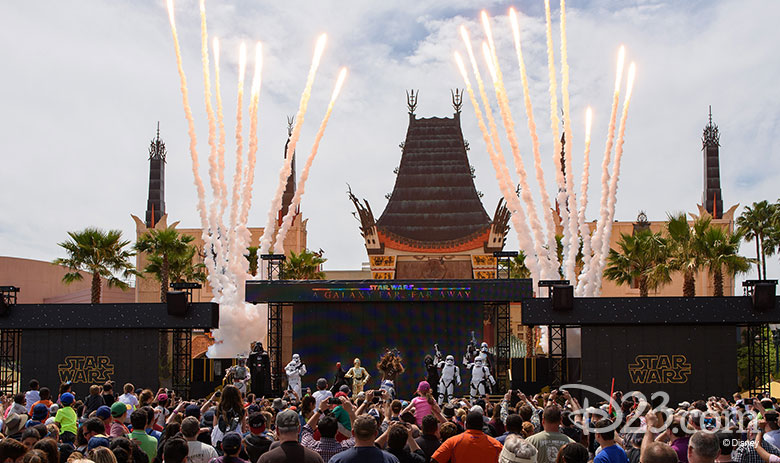 You may be seeing a lot of bad guys at your next stop, too. Enjoy Star Wars: A Galaxy Far, Far Away, a new show with reenactments of some of your favorite Star Wars scenes, featuring Kylo Ren, Darth Maul, and a Stormtrooper march led by the fearsome Captain Phasma herself.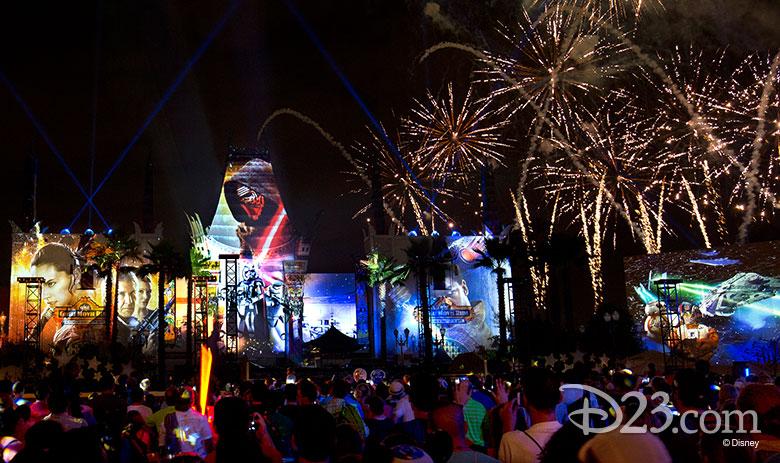 Once night falls, settle in for an amazing celebration with Star Wars: A Galactic Spectacular. While you enjoy this state-of-the-art spectacular––featuring unbelievable projection effects, lasers, pyrotechnics, and more in a dazzling array of colors and sounds––why not enjoy something sweet to eat? This show features a special dessert party package that lets you enjoy out-of-this-galaxy sweets, including Darth Vader cupcakes, as you take in the view.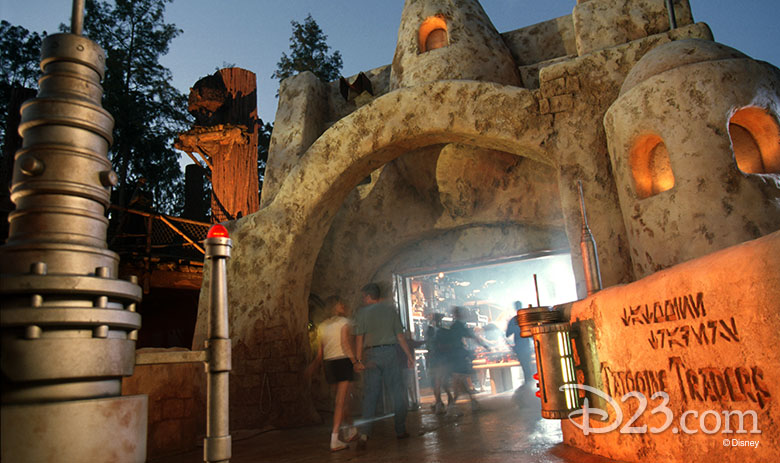 To end your perfect day, make sure you stop by Tattooine Traders, your source for intergalactic commerce, where you can build your own custom lightsaber or take home your very own astromech droid. No matter what you choose, you know you'll be telling the tales of your Star Wars adventures for a long, long time….