By Beth Deitchman
Everyone's got their morning routines, but do they bring a smile to your face? Today, Disney Junior launches a new campaign that's guaranteed to do just that, while helping kids and families ease into their day in the most magical way possible. Better than a second cup of coffee, "Mickey Mornings" are led by the mouse that started it all, with Mickey encouraging kids to brush their teeth, get dressed, and—most important—have fun as they go through their daily regimen of must-dos.
Mickey Mouse has always been a vital part of Disney Junior through series like Mickey Mouse Clubhouse, Mickey and the Roadster Racers, and Mickey Mouse Mixed-Up Adventures, but this is the first time that Disney Junior has enlisted him to host each morning with his signature warm, friendly smile. Inspiration for the segments, which will be sprinkled throughout the Disney Junior programming block every weekday morning, came from Disney Junior Germany, which introduced their own series of mouse-terful morning spots last year.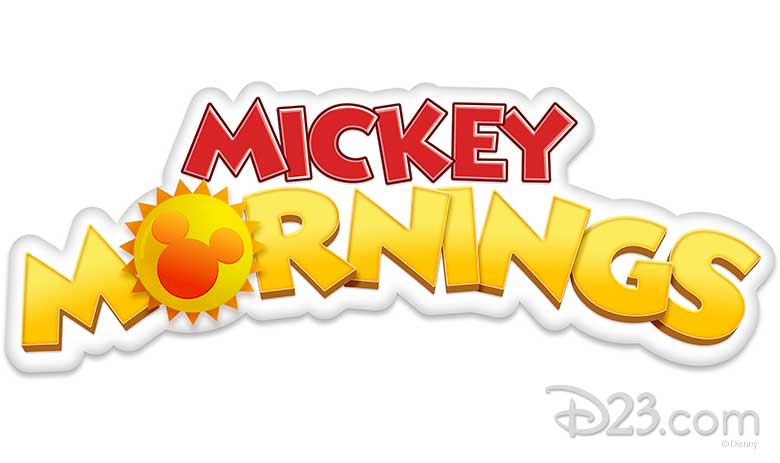 Disney Junior's senior vice president of Original Programming and general manager, Joe D'Ambrosia, recalls first seeing "Mickey's Mitmach-Morgen" during a meeting of Disney Junior teams from around the globe. D'Ambrosia realized, "What better way to start your day than with Mickey?" The Burbank-based Disney Junior team developed a series of spots that will roll out all summer long. Mickey will kick off each day with a warm welcome and will make additional appearances throughout the morning. Young viewers will even see Mickey join them for their favorite shows, as he pulls up a beanbag chair to watch along with them from the lower part of their TV screen.
"We hear from kids all the time that Mickey is their best friend," D'Ambrosia shares. And in "Mickey Mornings," the mouse proves that he's every parent's BFF, too. As Mickey goes about his own morning routine, he'll be beckoning all of his young pals to follow. Disney Junior talked to parents—including members of their own team who have young children—about the challenges they encounter at the beginning of their day and they set out to find a way to help. "We've heard from parents that if Mickey tells [a child] to do something, kids want to do it. But if a parent tells them, it might be a little bit harder," D'Ambrosia says. "This is a really simple way to help families get ready for the day and it's a fun way for kids to start the day."
Music is a big part of the fun, and, songs like "Brush to the Beat" help keep things humming along—literally. "The intent of the music was always just to make the morning routine fun for both kids and parents," Jay Stutler, vice president of Music for Disney Channel, tells D23. Matthew Tishler and Jeannie Lurie—the talented songwriters behind some of your favorite Disney Junior series, including, most recently, Mira, Royal Detective—have written an infectious collection of songs for "Mickey Mornings" that make mundane morning tasks, like brushing teeth, more enjoyable. Stutler emphasizes, "I'm really excited by the overall energy and vibrancy to each of these songs. It's not something that we've done before and I love the way Matt and Jeannie have encapsulated a great, positive energy for all of these things that are part of our daily routine."
Each day will begin with the signature anthem "Make It a Mickey Morning" to inspire kids to take on the day. The song is upbeat and rousing, but also recognizes that not everyone awakens at the same energy level. "There's a little ease into the morning and I think Matt and Jeannie captured that amazingly well," Stutler says. Like so many of our favorite Disney Junior songs, "Make It a Mickey Morning" is super-catchy and you'll be singing along from the start. Take a first listen, below.
"Mickey Mornings" is available here on Walt Disney Records.
"Mickey is probably the most iconic character from The Walt Disney Company, so I'm glad we get to celebrate him every morning on Disney Junior," D'Ambrosia tells D23. "Mickey Mornings" begin today at 6 a.m. ET/PT and continue throughout the summer while kids are home from school. The spots have been designed to offer preschoolers a sense of purpose to get up in the morning, but Disney fans of any age are likely to discover—in the unlikely event they haven't already—that starting the day with Mickey Mouse means starting the day with a smile.