By Zach Johnson
Who wood say no to more Baby Groot?
I Am Groot stars everyone's favorite little tree, Baby Groot, from the Guardians of the Galaxy franchise, and debuts Wednesday, August 10, on Disney+. Baby Groot takes center stage in this tree-mendous collection of five original shorts, which explores his glory days growing up—and getting into trouble—among the stars. Kirsten Lepore wrote and directed the shorts, in which Vin Diesel reprises his voice role as the adorable sapling and Bradley Cooper returns in one short as the voice of Rocket, the cybernetically and genetically augmented woodland creature. I Am Groot executive producer and Guardians of the Galaxy franchise director James Gunn also makes a special voice cameo.
"We were really excited to have the freedom to examine Groot's childhood and drop in at different points in that timeline," Lepore tells D23. "It's set between the end of Guardians of the Galaxy all the way to the post-credits of Guardians of the Galaxy Vol. 2, so there was a lot for us to play with in that time frame, which we hadn't seen before this." Each I Am Groot short was inspired by "the things most kids get into," she explains, ranging from bath time to dress-up. The trick was "putting a great spin on it."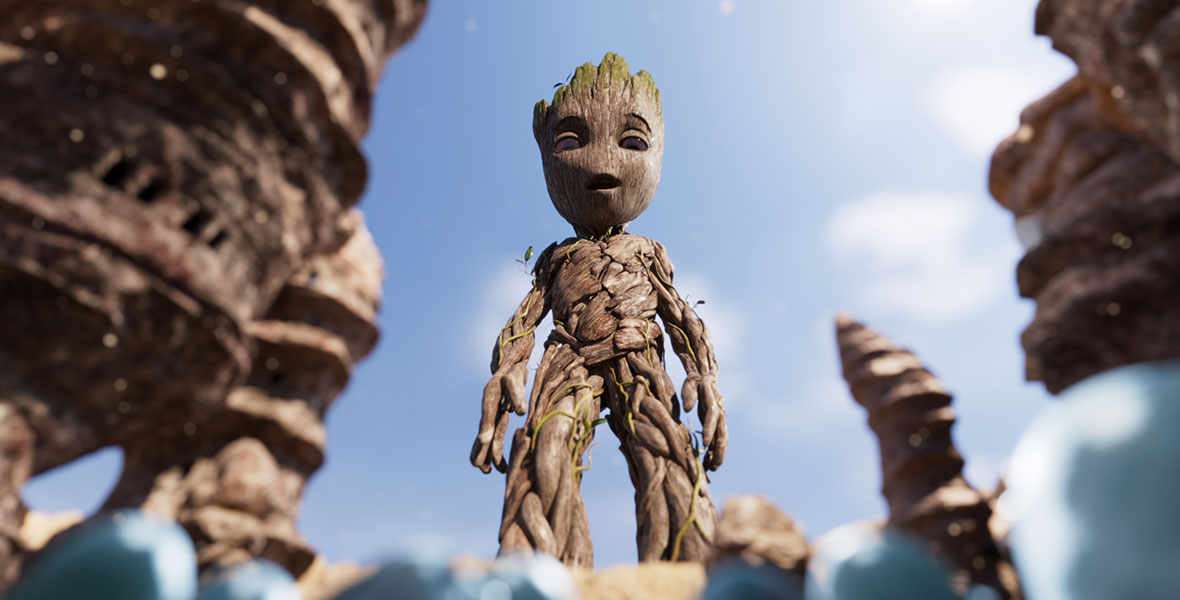 But how did I Am Groot come to be? Groot first appeared on screen in 2014's Guardians of the Galaxy as an old, wise, humanoid tree creature. At the end of the film, he made the ultimate sacrifice for his friends, and Baby Groot—a seedling about 10 inches tall—was born from the splinters. In 2017's Guardians of the Galaxy Vol. 2, Baby Groot solidified himself as a scene stealer as he fought alongside Peter Quill aka Star-Lord (Chris Pratt), Gamora (Zoe Saldaña), Drax (Dave Bautista), Rocket (voiced by Cooper), and Mantis (Pom Klementieff). Then, in late 2020, executive producer Brad Winderbaum handpicked Lepore, an Emmy® Award-winning director and animator, known for stop-motion and short-form content, to create I Am Groot .
"We wanted to bring Baby Groot back to the screen for a long time—since Guardians 2," Winderbaum tells D23. "But in the [subsequent] films, he's grown up, like a tree does. But there's that period of time where he's just a kid, and that always seemed exciting to explore. For us, the question was: How—and in what way? Something that we're striving to do at Marvel in general, but particularly on the animation side, is find ways to tell new stories and to push the frontier of things—to use different media or different styles of animation, dictated by the type of story we're telling. So, early on, when Kevin [Feige] and I were batting around Baby Groot concepts, we started thinking about the early cartoons that were made by Disney Animation—those early Mickey Mouse and Donald Duck cartoons, the ones that I remember watching as a kid, dating back to the '20s, '30s, and '40s. In thinking about directors who could bring that short-form situational humor to the screen, Kirsten very quickly became the only choice because of how much she's excelled in that in her past work."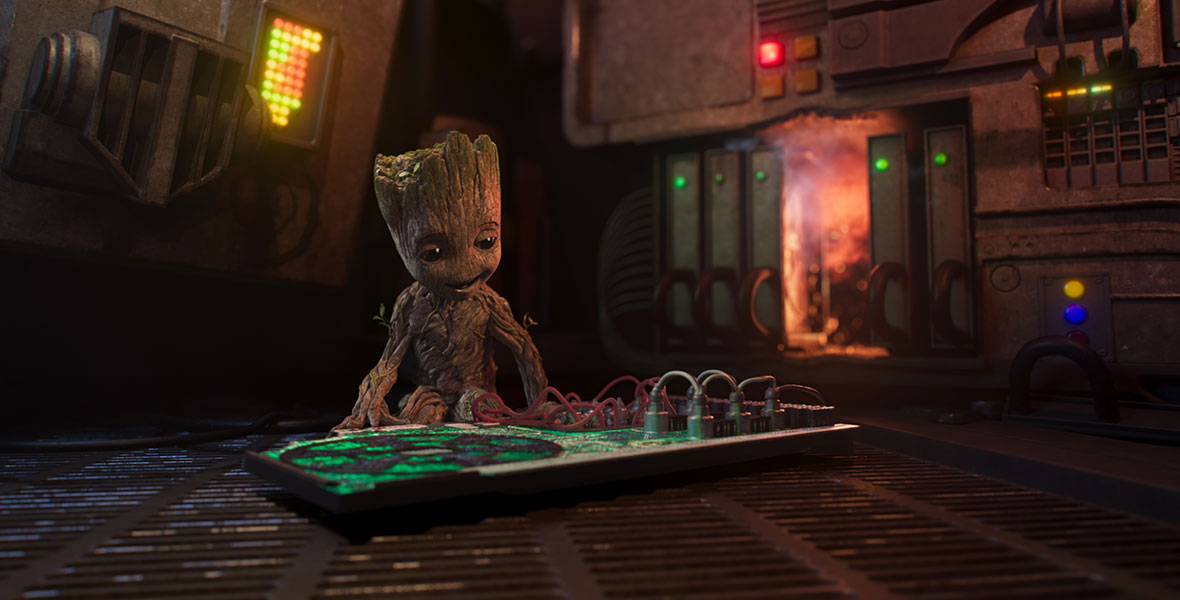 And, according to Lepore, the possibilities for I Am Groot storytelling are unlimited. "It's just so fun getting to know him," she explains. "Even if it's just three minutes, we learn so much by seeing him in these different scenarios. We learn so much about his character and how he behaves. I know that a lot of people really love Baby Groot, so I'm excited to give them more and help them get to know this guy a little bit better."
The fun will continue even after I Am Groot debuts on Disney+, as Marvel Studios recently announced that a second collection of five shorts are in the works. "I can't give away any of the details," Lepore admits, "but they are all super fun and in the same spirit as the first collection. You'll get to see Groot in a lot of different, exciting scenarios!"