By Andie Hagemann
They still don't know what they're doing in love and dating, but at least they have each other.
The long-awaited second season of Hulu Original series How I Met Your Father is back, and the cast and creatives are detailing what's to come for Sophie (Hilary Duff) and her close-knit group of friends.
"This season, [Sophie] kind of becomes a sociopathic liar," Duff said during the 2023 Winter Television Critics Association Press Tour. "She's so kind and pure at the same time, and it's been really fun to expand on that. In the first season, we were leaning towards that, but I was really trying to find it."
Duff added, "We know these characters. We feel a little bit more comfortable, and we get more room to play and find these little human bits in the roles. It feels easier to find and a little bit more secure this time around."
While Season 2 boasts plenty of relationship breakups, makeups, hookups—and star-studded guests—Duff said How I Met Your Father also depicts a love story between best friends: Sophie and Valentina (Francia Raisa).
"The way that they lean on each other—they are in the thick of it together," Duff said. "They are different, but they are the same. I think no one knows how to make each other laugh the way that these two do. We're getting in lots of trouble together."
Raisa added, "It's mainly her getting us in trouble...and I'm saving the day."
In between their adventures and misadventures this season, the dynamic duo shares "really beautiful moments," as they each navigate their search for The One.
"I really love that in our friendship, whether we have ups and downs or she's getting us into some trouble, we can keep it light," Raisa said. "We really have a sisterhood [off the screen]. I call her my work wife. We're supporting each other and have each other's backs, and I think it's a beautiful thing to show an audience."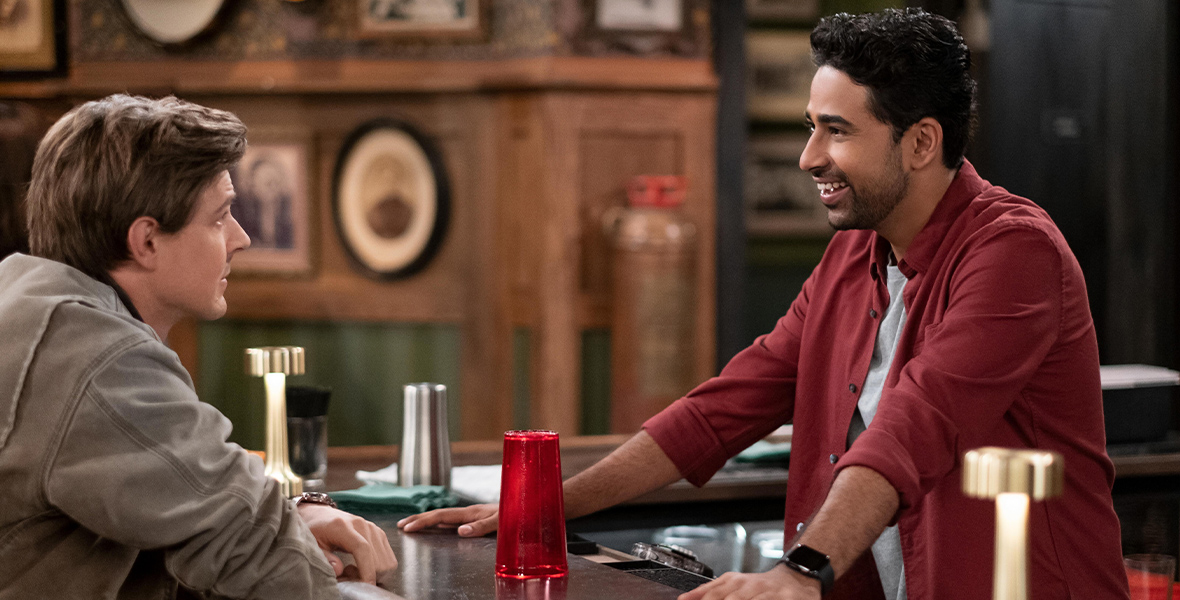 For Christopher Lowell and Suraj Sharma who portray Jesse and Sid, respectively, their on-screen friendship too has carried into reality amidst the series' second season.
"When we met at the first table reading, I said, 'Chris, you and I are going to be friends.' Chris was like, 'Okay, buddy.' Slowly but surely, we're good friends now," Sharma shared with a laugh.
Lowell added, "We clicked fast. I mean, all of us did, truly. It was a pretty quick, organic love fest."
As with Sophie and Valentina, this season features more backstory of Jesse and Sid's friendship—beyond lamenting about their dating and relationships woes. Lowell teased viewers will see plenty of roommate hijinks between Jesse and Sid. "It was a blast [to film]," Lowell said. "It's so fun to work with [Sharma] and everybody else up here."
Tien Tran, who portrays Ellen, Jesse's sister, admires that the series continues to highlight healthier decisions when it comes to relationships and friendships in Season 2. "It's very easy to take a toxic path for some of these decisions that our characters make, but I love that our show oftentimes takes a healthier, more mature [approach]," Tran said. "There's so much humor in sitting and talking with each other through these difficult moments. I think it's a good model for how relationships should be approached in real life."
Watch Sophie's love story (and friendships) play out in reserve when How I Met Your Father returns Tuesday, January 24.