By Zach Johnson
In the second episode of Marvel Studios' animated series What If…?, now streaming on Disney+, the late Chadwick Boseman reprises his role as T'Challa. The actor originated the role in the live-action feature film Captain America: Civil War (2016). He returned for Black Panther (2018), Avengers: Infinity War (2018), and Avengers: Endgame (2019), but What If…? marks the first time Boseman voiced the character in an animated project. Sadly, it also marks the last time the actor got to bring T'Challa to life before his tragic passing last year.
"He was so gracious," executive producer Brad Winderbaum tells D23. "We were so fortunate to have him record for the series. He reprises his role as T'Challa in at least four episodes, in different versions of the character reimagined because of the different states of the universe. We had no idea at the time, when he was recording with us, that this would be his final performance as the character. It is such an honor to have had him record, to have his presence in the show. His performance has the same depth and the same impact that it does in live action; he elevates the material in an incredible way. We're so humbled."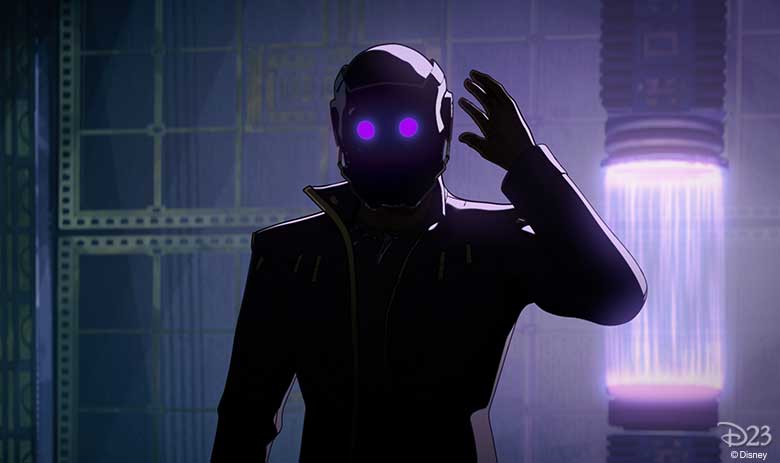 In Wednesday's episode of What If…?, T'Challa, the young prince of Wakanda, is accidentally abducted by Yondu (voiced by Michael Rooker) and becomes a Ravager. Known as Star-Lord throughout the galaxy, his reputation precedes him… which comes in handy when he crosses paths with the likes of Thanos (voiced by Josh Brolin), Nebula (voiced by Karen Gillan), and Korath the Pursuer (voiced by Djimon Hounsou), to name just a few. "T'Challa is interesting because he's not a character who arcs himself," head writer and executive producer AC Bradley said during the recent virtual press conference for What If…?. "He's a character who changes the world around him. He doesn't go through a transformation; he transforms the world. So, how would T'Challa transform outer space?"
Director and executive producer Bryan Andrews said he was eager to work with Boseman on what would ultimately be the actor's final performance as T'Challa. "It was amazing," he recalled. "We only got a moment, because our episodes are so short compared to everyone who was able to enjoy his presence on Black Panther or even on Civil War. We had him for a moment to do our thing, and we're so grateful for it. He was one of the first actors to sign on and say, 'Oh, yeah! I'm going to do that voice.' We were so excited because we really, really wanted to work with Chadwick, and we love Black Panther."
Jeffrey Wright, who voices The Watcher, said he met Boseman several years ago at Comic-Con and had hoped to work with him ever since. "It was a lovely surprise to find out that we would have the opportunity to at least be in the same space with What If…?," said Wright. "This being his last performance, I find that very moving."
Stream all new episodes of What If…? exclusively on Disney+.