By Courtney Potter
Faith, teamwork, and trust… when those ideas align—whether within a disparate group, or within one individual's heart—magic can once again thrive. In Walt Disney Animation Studios (WDAS)' upcoming Raya and the Last Dragon, that kind of magic has been drained from the magnificent, fantastical world of Kumandra—where, long ago, humans and dragons lived together in harmony. But when an evil force called the Druun threatened the land, the dragons sacrificed themselves to save humanity. Now, 500 years later, that same evil has returned—and it's up to a lone warrior, Raya (voice of Kelly Marie Tran), to track down the legendary last dragon Sisu (voice of Awkwafina) to restore the fractured land and its divided people. However, along her journey, she'll learn that it takes more than a dragon to save the world… it also takes that mystical mixture of faith, teamwork, and trust.
Recently, D23 was lucky enough to hear from the filmmakers of this colorful new adventure—including directors Don Hall (Oscar® winner for Big Hero 6) and Carlos López Estrada; producer Osnat Shurer (Oscar nominee for Moana); and screenwriters Qui Nguyen and Adele Lim—about what makes Raya and the Last Dragon so very unique, both behind-the-scenes and on screen. Read on for a few of the most interesting tidbits:
Nguyen and Lim on their inspiration for such fascinating, memorable characters:
"In Southeast Asia, there's a great tradition of female leaders, military leaders, and warriors; leaders of their own realms," explains Lim. "And also, the stories of Nagas [mythical serpents] and dragons, particularly with water. In Malaysia, we have the warrior Tun Fatimah, and we have stories of Naga Tasik Chini, which is the dragon of Chini Lake. So it's sort of within a lot of cultures in Southeast Asia, and so we knew it was one of those threads that would really resonate within the film." Nguyen continues, "In Vietnamese culture, there's this really famous story of the Trung sisters. They're like these famous Vietnamese warriors that I definitely thought of. Without a doubt, I think Adele and I drew inspirations for families from our parents. Specifically for me, from my mom—I know what she had to go through when she came to this country; just to have that kind of fighting spirit, and the kind of energy that our people have that you don't always get to display on screen. It was important for us to show the real spirit of Southeast Asia out there."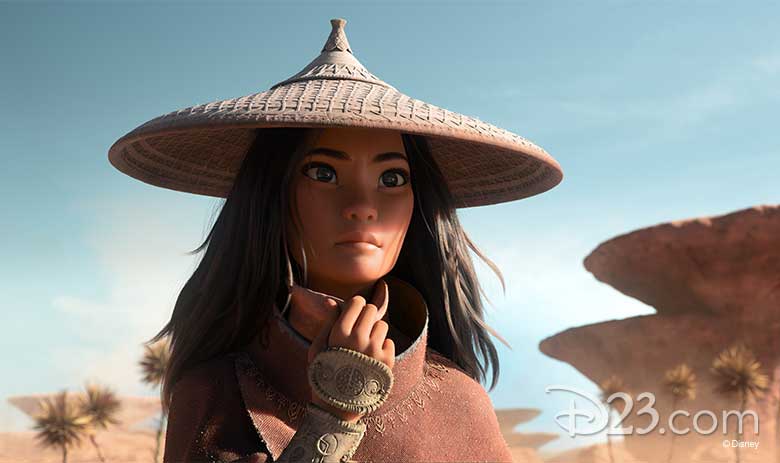 Shurer on what made the film's Southeast Asian Story Trust—a group of expert consultants from the region—so important:
"We met many people as we were preparing for the research trips," Shurer says, "and [then] met some people on the trips—and found commonalities with many people. For example: Dr. Hall, who is our textile expert that we met through the Pacific Asia Museum when we needed to dig into textiles. We had linguists who worked with us. Every name that we put in the movie went through an Indonesian linguist from UCLA who speaks many languages of the region… Dr. Arounsack is a visual anthropologist who couldn't be more perfect, because his expertise is what is the visual representation of cultural ideas—which is super cool… So [building the Southeast Asian Story Trust] was an organic process where people became a bigger and bigger part, collaborating with us along the way. The script is very deeply a script written by the writers you see here [today], in collaboration with the directors and with WDAS's chief creative officer, Jennifer Lee, and our [WDAS] story trust. The cultural conversation was going on during the writing of the script and continued to go on throughout the creation of the film, and continues to this day… It grows organically, and they work with us throughout. And the conversation grows and becomes—honestly—[more like] friendships."
…And speaking of research—the filmmakers on what resonated with them the most, throughout the process:
"For me, the thing that I really wanted, being a lifelong martial artist, was to make sure that our martial arts were correct," Nguyen explains. "So often when you see a big action movie that is depicted with people who look like me and Adele, the martial arts can be just any combination of anything. Really, they could be made-up martial arts. But for this, it was very important that the moves that Raya [and other characters] used were things that were based and rooted in Southeast Asian martial arts—specifically, Pencak silat, Arnis, and Muay Thai."
On a broader level, explains Shurer, "I can say that for me, the most important takeaway from these amazing cultures that we got a chance to interact with was the togetherness. The kind of coming-together around food very often, which is very cool. The coming-together and the willingness, and the sense of 'we.' The sense of, 'If we come together, we can achieve a lot.' That was super, super important." "I want to echo what Osnat said in terms of community," adds Lim. "It's an easy term to say—but I feel like with a lot of cultures in Southeast Asia, it's really feeling that someone else's child is your child. That you are responsible for the people in your community as if they are your own family. When that's broken, it really breaks you individually as a person. And we really wanted to feel that within the movie."
Shurer and Estrada on finding their last dragon Sisu in Golden Globe®-winning multi-hyphenate Awkwafina:
"When we met Awkwafina, we knew, first of all, that she's an incredible actress with a wide range," says Shurer, "and with a very professional and disciplined approach to acting. But Awkwafina fit the dragon that we were looking for—some combination of wisdom and emotion and humor. She brings all those three things together in some magical potion." "We obviously know her comedic side," adds Estrada. "She is hilarious and has improvisational skills like no other. We've also seen all of the dramatic work that she's done, which is also incredible. But [in] this movie, she gets to really travel from one end of the spectrum to the other and everything in between. Sisu really gives Awkwafina such a good chance to explore the wackiest of her comedy, and also just the most earnest beautiful, honest acting that had us all in tears. I just think that it's really great to see a Disney character that allows an actor to explore that range… She brought so much of herself into the role, and you'll see it when you see the movie. She improvised so many of the scenes. She would come up with different takes on jokes, or would just say, 'Let me just try a few more.' It really shows. We worked on the character [with her mind], but it was not until she stepped in that booth that she really brought her to life in a way that was really exciting to watch."
…And the filmmakers discuss the focus on the power of trust—for the characters within the story, and for the viewers themselves:
As Hall explains, "For us, it was important to show the different sides of trust in terms of Sisu trusting in people completely and utterly. And how in a world that is as broken as Kumandra, when we pick up the story, that trust can be taken advantage of. But she never loses her belief in the power of trust, and in her belief in human beings. And I think it was important for us to push on it, but have Sisu be unwavering in her ability and belief in trust." Continues Lim, "I think the magical thing about Sisu, in this movie, is that she has that trust and that faith in humanity, even when we don't deserve it. Even when we betray it. Even when we let each other down again and again. We can feel embittered; we can feel caught up in our own grudges. But a creature like Sisu being able to see that sort of divine core within everybody is the thing that inspires everyone. I hope that's what people come away with when they see Sisu."
Nguyen agrees, adding, "Working for Disney, I think part of what we do is that we deal in magic… This movie has a lot of magic in it, but I think the biggest piece of magic in it is trust. It is the real secret ingredient that will save our fictional world of Kumandra, and it's a message I think is really important for [our] world to have and to see."
See Walt Disney Animation Studios' Raya and the Last Dragon when it comes to theaters—as well as to Disney+ Premier Access (in most Disney+ markets)—on Friday, March 5!