By Bruce C. Steele
Disney and Pixar's Elemental began as story questions director Peter Sohn kept bringing up in conversation. "I would pitch around to friends, 'What would happen if fire and water became friends? What would be the possibilities?'" Sohn recalls. "And from there, you could feel the energy of a lot of ideas coming off of that—and when that happens, you know you're finding something."
In Elemental, opening June 16 only in theaters, fire is embodied in Ember (voiced by Leah Lewis), a young woman living in bustling Element City. The metropolis is occupied by four overlapping communities of people, each made of one the four elements of ancient myths: Water, Fire, Air, and Earth. Those residents include Ember and her parents, Bernie and Cinder (voiced by Ronnie Del Carmen and Shila Ommi, respectively), a Fire couple who own a bodega-like shop, and a Water dude named Wade (voiced by Mamoudou Athie), who pours unexpectedly into their lives. Wade could either cause a lot of trouble for the Fire family or help them past a looming crisis—and it's up to Ember to get him to flow in the right direction.
This kind of "elemental" conflict, Sohn recalls thinking early on, "could be cool." The premise had a lot of story potential, and "that potential is the thing that drives you forward—even if you don't know whether the [animation] technology is there," he says.
Among those leading the charge to solve the animation challenges of creating appealing and believable characters made from fire and water—and air and earth—was Elemental producer Denise Ream. "I loved the idea of the characters and I loved the heart of the story," she says. "So, it's a kind of a dream come true to get to work on something that you believe in and that's a huge challenge. And it was way harder than we thought [it would be]."
With his background as an animator and director (The Good Dinosaur, 2015), Sohn was excited by the challenge, thinking, "Oh, this could be really fun to animate." These would not be characters who would come to life through motion capture, since "this has to be done in a way that it doesn't feel like a human in a water suit or a human in a fire outfit. We really wanted it to be its own entity and respect the materials of [each] element."
"From day one, from a design perspective, Pete was very clear that this is not a person on fire—they were made of fire," Ream says. "You wouldn't want to see them walk like a human."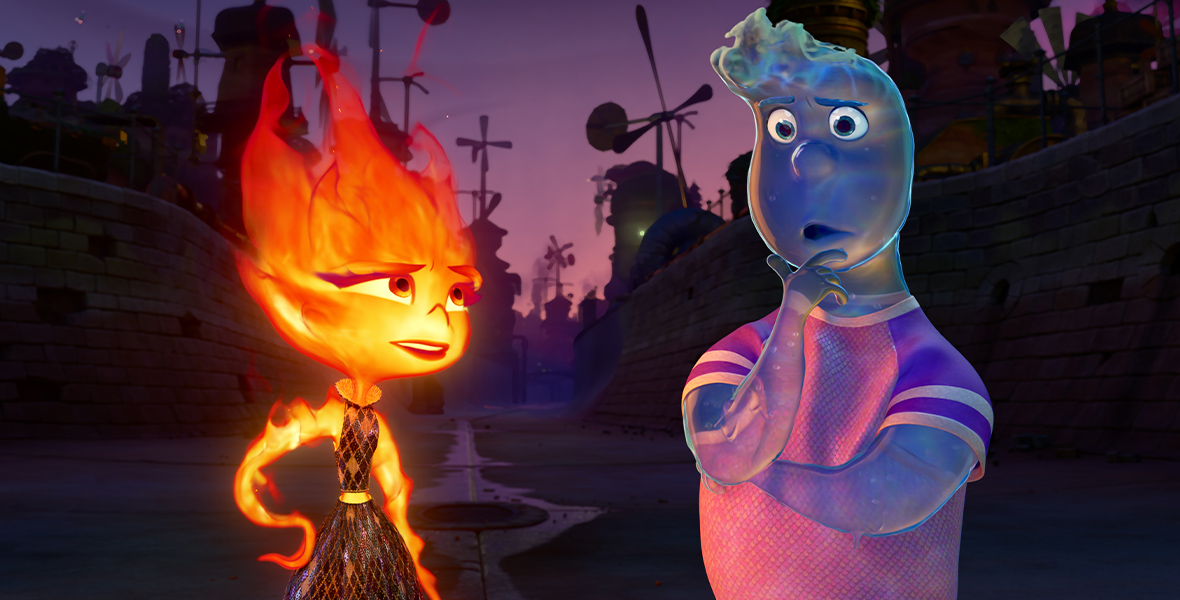 Telling a story through characters that are relatable but clearly non-human reminded Sohn of watching movies with his family—his parents were born in Korea—and finding that they often connected more with anthropomorphic but non-human characters, who were detached from any assumptions about race and culture. "You could identify with them without having to focus on something as specific as skin color," he recalls.
In many ways, Elemental is a reflection of Sohn's own life story as the American-born son of immigrants, just as Ember is the Element City-born daughter of a couple who immigrated there from far-off Fireland. It's such a personal story for him, he says, that working on it exposed his own fragility. "Anything creative, when you share it, it's just a vulnerable act," he says. "That's part of the art of making art. It's very scary. But at the same time, the goal would always be to try to find the [universal] truth in it—and the fun in it as well."
One entertaining reflection of Sohn's own life is Bernie's shop, which caters to Fire people—just at Sohn's parents' bodega served the Korean American community in the Bronx when he was growing up. "A lot of research went into that, but also a lot of fun," he recalls. "Like, what would a Fire community [shop] sell? Logs, matchbooks—and so it started really inspiring the fun of the world by adding these details." Some details were borrowed from Sohn's memories of his parents' store, where handmade signs asserted their "right to refuse to serve anyone" and warned, "No checks." "All those details started to merge," Sohn says, "in a fun, fiery way."