By Courtney Potter
Disney Cruise Line Invites Kids, Tweens, and Teens into Imaginative New Worlds
The experiences on board Disney Cruise Line's newest ship, the Disney Wish, are truly second-to-none—and now we know a little more about the amazing fun awaiting kids, tweens, and teens!
Star Wars: Cargo Bay is a first-of-its-kind immersive experience that places kids in the important role of creature handlers as they learn to manage a mischievous menagerie of exotic beings from across the galaxy—including a porg, a Loth-cat, a worrt, and more. Throughout the length of the cruise, they'll use augmented reality-enabled datapads to track and study the creatures on a series of special assignments. But there's more to this job than meets the dianoga eye: The new crew will actually be joining an important mission to deliver a pair of secret stowaways, Rey and Chewbacca, back to the Resistance!
Meanwhile, Mickey and Minnie Captain's Deck is specially designed for the youngest sailors at Disney's Oceaneer Club… it's a nautical playground inspired by the colors, icons, and magic of Disney Cruise Line. This brand-new space will be filled with a plethora of maritime-themed physical and sensory-style games and activities, including pipe slides and crawl-throughs; ship's wheels; "busy boxes" fashioned as ship controls; and cushy life preserver seating areas.
And for the first time on a Disney ship, there's a third club for tweens and teens: The Hideaway—a posh, colorful hangout with a dance floor and DJ booth that's the perfect setting for dance competitions and some awesome karaoke!
For more information on what the younger folk in your family can expect on a Disney Wish cruise, check out this rundown by our pals over at the Disney Parks Blog—and don't miss the latest kids-themed installment of Disney Parks' "Designing the Disney Wish" YouTube series, above.
5 Fantastic Things to Watch This Weekend
If you're not planning approximately 47 back-to-back viewings of Muppets Haunted Mansion on Disney+ over the next 72 hours like we are (that might be a slight exaggeration but… not really), there's plenty of other fun to look forward to from around the worlds of Disney—including an all-new episode of ABC's Shark Tank; a Halloween-themed Big City Greens special on Disney Channel; and lots more.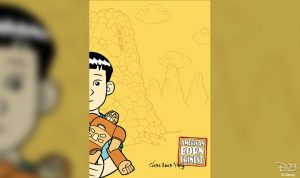 American Born Chinese Coming to Disney+
Earlier this week, Disney+ announced a sure-to-be-fantastic new series based on a popular graphic novel by Gene Luen Yang.
American Born Chinese is a genre-hopping action-comedy that follows Jin Wang—an average teenager juggling his high school social life with his immigrant home life. When he meets a new foreign student on the first day of the school year, even more worlds collide as Jin is unwittingly entangled in a battle of Chinese mythological gods. The show takes a hilariously adventurous look at issues of identity, culture, and family.
"When I was in high school, I was such a big Disney fan that I had at least one Mickey Mouse item on me at all times: a wallet, a watch, a belt buckle, a T-shirt, something. Being a part of Disney+ is a dream come true," Luen Yang recently said.
Destin Daniel Cretton, fresh off directing Marvel Studios' Shang-Chi and The Legend of the Ten Rings, is set to direct and executive produce American Born Chinese for 20th Television. Written and executive produced by Emmy® Award winner Kelvin Yu and Charles Yu, American Born Chinese is also executive produced by Melvin Mar, Jake Kasdan, Asher Goldstein, and Luen Yang. Stay tuned for more info on the series in the coming months.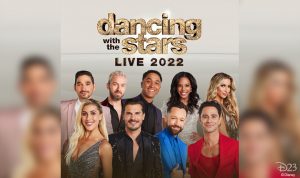 "Dancing with the Stars – Live Tour 2022" Hits the Road This January!
Celebrating its banner 30th season, ABC's Dancing with the Stars is kicking off a brand-new nationwide tour in just a few months' time!
"Dancing with the Stars – Live Tour 2022" launches January 7 in Richmond, Virginia, with an all-new production featuring fan-fave professional dancers performing all of the breathtaking dance styles seen on the hit series. The tour, like its earlier counterparts, will include showstopping routines from the TV show alongside new numbers choreographed specifically for the live production—ranging from time-honored dances like the Quickstep and Foxtrot to sizzling Latin styles like the Cha Cha, Salsa, and Tango. In this year's state-of-the-art production, audiences will have the opportunity to experience firsthand the glitz and glamour they see in the ballroom every Monday night live in their hometowns.
The cast is set feature Brandon Armstrong, Alan Bersten, Artem Chigvintsev, Sasha Farber, Daniella Karagach, Pasha Pashkov, Gleb Savchenko, Emma Slater, and Britt Stewart—with more surprise casting to be announced. Tickets are now on sale; visit DWTSTour.com for the full list of dates and cities, and to purchase your own ticket to the festive, foot-tapping fun!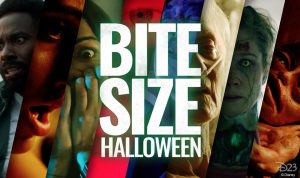 Bite Size Halloween Short Films Set to Thrill on Hulu, Freeform, and FX
Get into the spooky spirit with season two of 20th Digital Studio's Bite Size Halloween, a short film series that ranges from horror comedy to psychological thrillers and everything in between. Created by up-and-coming filmmakers, these films are now available to stream on Hulu and will screen across other platforms including Freeform and FX, as well as Hulu's Huluween platform hub and YouTube channel.
Bite Size Halloween 2021 features 18 emerging filmmakers representing a broad spectrum of styles, identities, countries, and backgrounds. Through both horror and comedy, these shorts take on timely issues such as race, gender, motherhood, beauty, sexuality, the environment, and workplace safety. But that's not the only cool thing about it: The long-term goal of 20th Digital Studio's short film programs is to continue to guide and finance the growth of these artists' careers and to transition some of the shorts into longer features. In fact, 20th Digital is currently shooting its first feature developed in this way, expected to debut on Hulu in 2022!
Among the participants in this year's Bite Size Halloween are three Academy Award® nominees; an alum of Disney's Launchpad Shorts program; and two Toronto International Film Festival award winners.
ICYMI: Halloween Frightful Favorites with the Stars of Muppets Haunted Mansion
Ever wanted to know about Pepé the King Prawn's fave thing to give away to Halloween trick-or-treaters? Or the best trick Miss Piggy ever played on someone? Hear about all that and more in our latest fa-boo-lous video, in which we chat all things All Hallows Eve with the stars of the Muppets' first-ever Halloween special!