By Beth Deitchman
The mother-daughter relationship has been a delicate dance since the days of cavemoms and caveteens—and for as long as footwear has been de rigueur, each generation has wished the other could understand what it's like to spend just one day in the other's shoes. In Disney's Freaky Friday, premiering Friday, August 10, on Disney Channel (8 p.m. ET), Katherine and Ellie Blake get to do just that when a magic hourglass causes them to swap bodies on one of the most important days in each of their lives. Directed by Steve Carr, the new Disney Channel Original Movie boasts a script from acclaimed writer Bridget Carpenter and music from Tony® winners Tom Kitt and Brian Yorkey, not to mention an amazingly talented pair of actresses in the leading roles.
Actors Heidi Blickenstaff and Cozi Zuehlsdorff got to try on each other's sneakers—and characters—in the DCOM, which finds them playing Katherine and Ellie, respectively, as well as Ellie and Katherine (in Katherine and Ellie's bodies) after the switch. We spoke with the delightful duo about the fun and exciting challenge of playing both mother and daughter in Freaky Friday as the classic body-swap story is brought to life for a new generation.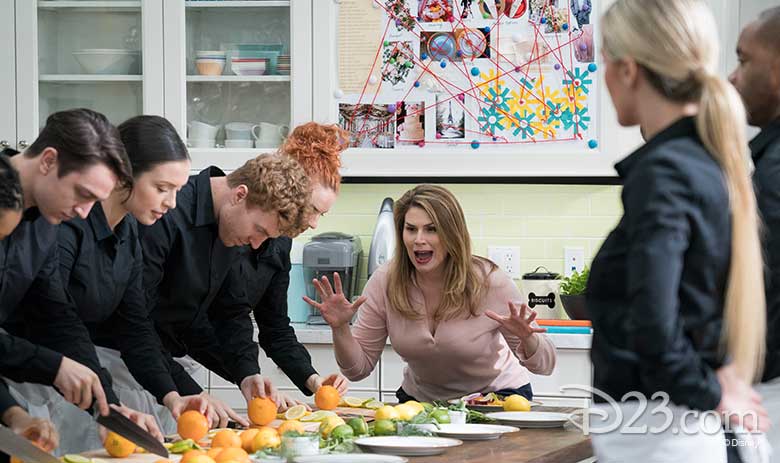 Veteran theater actress Blickenstaff originated the role of Katherine on stage, but was nervous about playing her on screen.
"My biggest fear was the scale of my acting, because as a theater actor you play to the back row. You project, you articulate, and you have a whole different skill set that is not necessarily called upon for film and TV acting, so I had to sort of dial it down," Blickenstaff tells D23. But as she became more comfortable on set, "I was a kid in a brand-new sandbox with brand-new toys. It was just about letting go, knowing that there's only so much I could control."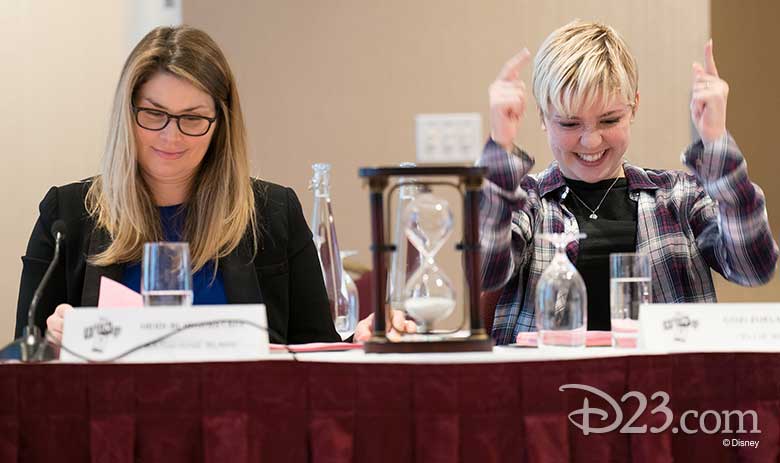 Lifelong Disney fan Zuehlsdorff was struck by a case of nerves during the Freaky Friday audition process.
"When I went to the audition, my knees were shaking. And then, miracle of miracles, I got a callback… and then another callback… and then another callback," Zuehlsdorff shares, remembering the excitement she felt when she learned she'd been cast. "That feeling is so empowering and it makes me want to tell every little girl out there, don't limit yourself in your imagination of what you can do. Because you probably can do a lot more than you think you can."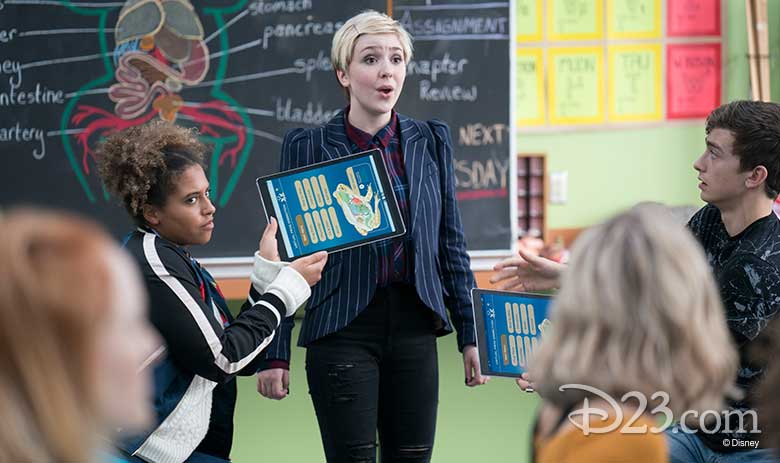 There's a little Katherine and a little Ellie in both Blickenstaff and Zuehlsdorff.
"Katherine is definitely much more like me. I am hyper-organized and pretty scheduled within an inch of my life… I feel comfortable with organization—if things are a mess, if beds aren't made, if the skink is full of dishes, the world is not right," laughs Blickenstaff, who describes Ellie as a beautiful, disorganized "spazzwad." "And even though I am not disorganized, I do think there's a part of me that is a spazzwad."
Zuehlsdorff sees her personality as a bit of a mash-up of the two characters: "I say it like it is and I'm very open with my emotions, just like Ellie, and I'm also pretty hard on myself and a perfectionist in the same way that Katherine is." But when it comes to which was more fun to play, for Zuehlsdorff there is only one choice: "Ellie all the way. Her clothes are super-comfortable. She's always slouching, always sleepy, and eating junk food. It was the best."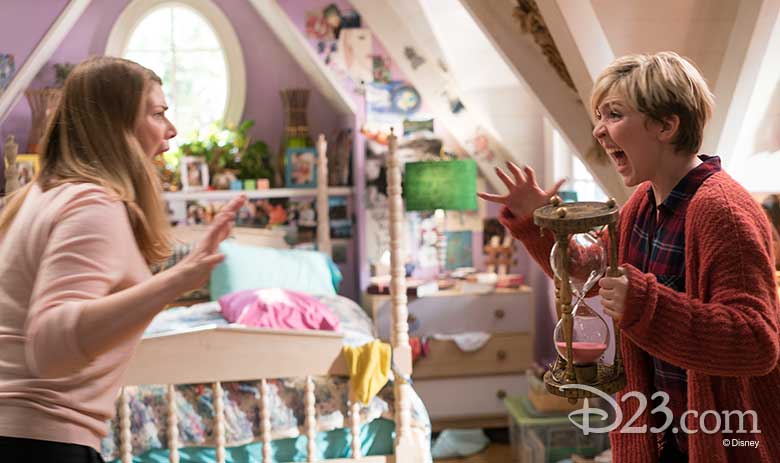 To get into character, Blickenstaff and Zuehlsdorff attended "mannerism meetings" to study each other's physical movements and quirks.
"We filmed each other—what we do, like the way we sit in a chair or the way that we act when we're frustrated. I rub my eyes really, really hard if I'm overwhelmed and Heidi kind of massages her temples. The extreme differences of those expressions of emotions really informed the way that we started shooting the movie," details Zuehlsdorff.
Blickenstaff believes Freaky Friday has endured because of the love story at its heart.
"I think it has to do with empathy and compassion. You can have a relationship that is utterly fraught, mostly because these characters just don't get each other, and this movie literally makes this magic happen that they are literally put in each other's shoes," Blickenstaff says. "We see love stories about all kinds of different relationships, but this relationship is so precious."
Just for fun, we also asked Blickenstaff and Zuehlsdorff which Disney characters they'd most want to switch places with in a special, Freaky Friday-inspired D23 Fab Five.
Zuehlsdorff:
"Rapunzel—because the hair… the clothes… the boyfriend. All on point. #FlynnRiderForever."
"Pooh Bear. So much 'hunny' and so much fluff. And so much nostalgia. Who is a better friend than Pooh Bear? No one?!"
"Teddy Duncan in Good Luck Charlie because I love all the music Bridgit Mendler has released and I just love that show."
"Alex Russo from Wizards of Waverly Place, because wizardry and hilarity."
"Dug from Up. 'I was hiding under your porch because I love you.' What more do I have to say?"
Blickenstaff:
"Pocahontas. She's a warrior, a leader, and she was paving a path. I'm all about girl power and strong messages for girls and women."
"Mulan. She totally did something that no one else was brave enough to do and she changed the world around her."
"Ursula. She's the most delicious Disney villain ever."
"Maleficent. When I was a kid I remember seeing her and being truly frightened and having nightmares about her and I'm trying to take back those nights a little bit."
"I'm going to gender-bend it and I'm going to say I'd be the Genie from Aladdin, because he gets all the laughs."