By Peyton Liebler
Calling all fans from under the sea and galaxies far, far away! D23 is here to huff, puff, and blow you away with some fabulous new thingamabobs to make all your collections complete. From new pins to new publications, check out some exciting new D23 Gold Member-exclusive items coming to shopDisney on Tuesday, May 23, starting at 8 a.m. PST.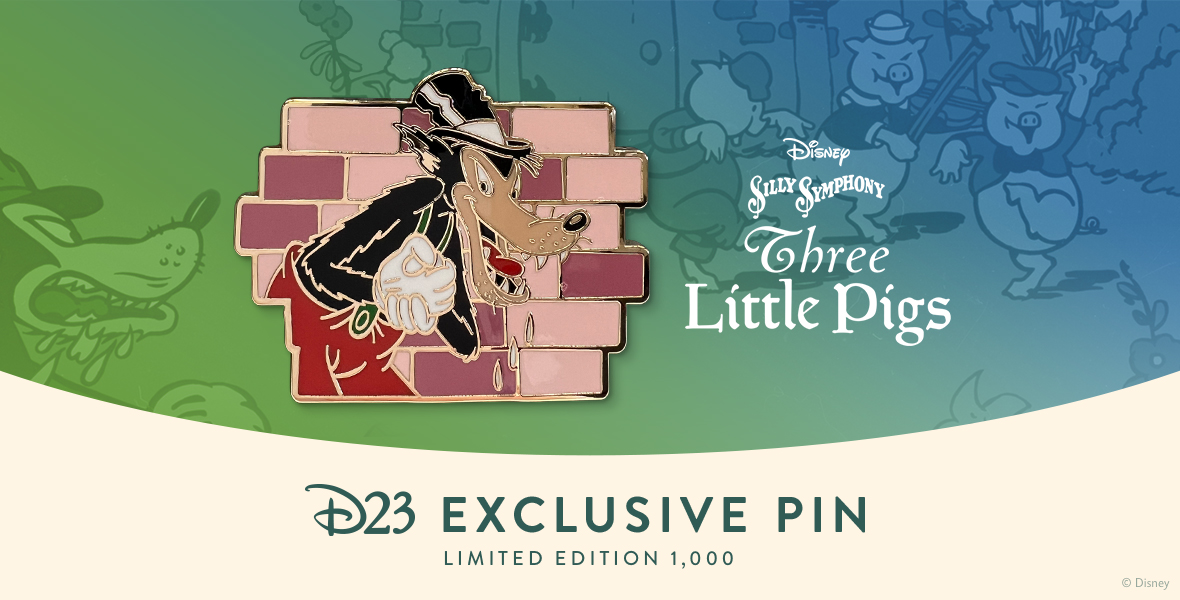 D23-Exclusive Three Little Pigs 90th Anniversary Pin - $19.99
Who's afraid of this big bad pin? A D23 Gold Member exclusive, it's a "Practical" way to celebrate 90 years of classic Silly Symphony fun, and the twisty tale of the Three Little Pigs. The pin features the villainous Big Bad Wolf, set against a rather sturdy-looking wall of bricks!
Inspired by the Academy Award®-winning Silly Symphony short Three Little Pigs, which premiered in 1933. In the years since, the short has garnered several well-deserved accolades; earned a place in the United States National Film Registry; and has been adored by generations of fans. The film follows the classic story of pig brothers Fiddler, Fifer, and Practical, who attempt to evade the clutches of the notorious Big Bad Wolf; it also gave us the now classic Disney song, "Who's Afraid of the Big Bad Wolf?"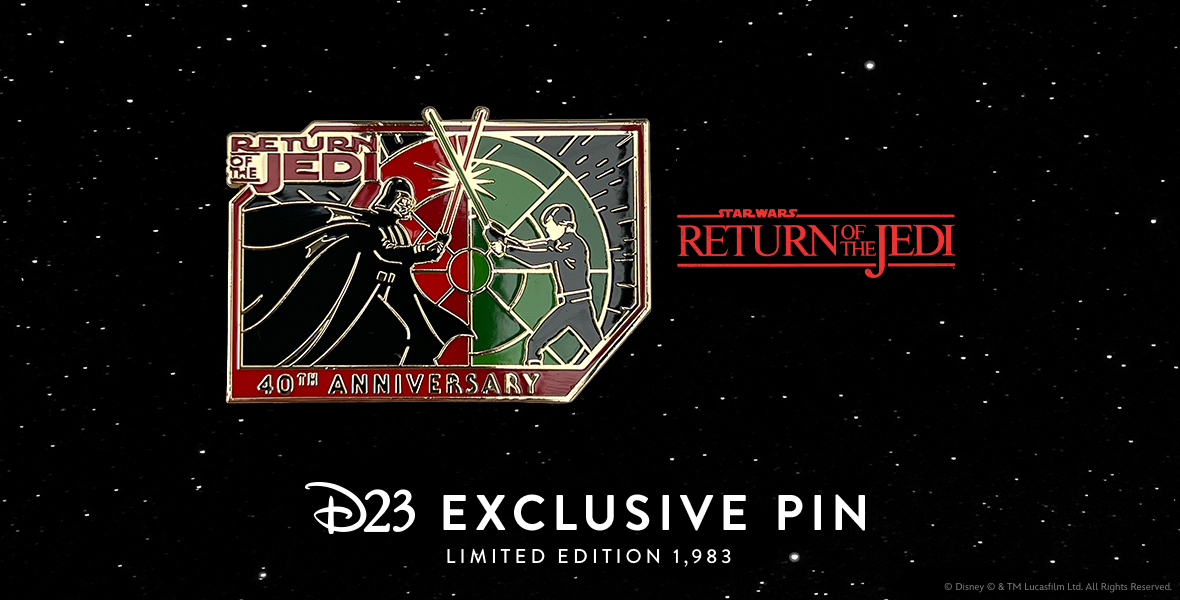 D23-Exclusive Star Wars: Return of the Jedi 40th Anniversary Pin – $19.99
The force is strong with this pin celebrating 40 years of Star Wars: Return of the Jedi! This D23 Gold Member exclusive is the perfect way to reflect on four decades of plunder in Jabba's palace, and even the escapades of the Ewoks from Endor. Relive the iconic moment of Luke Skywalker and Darth Vader's epic duel aboard the Death Star and commemorate the generations that have been inspired by a galaxy far, far away, ever since Star Wars: Return of the Jedi premiered on May 25, 1983.
Inspired by the film Star Wars: Return of the Jedi—the epic conclusion to a worldwide phenomenon that built a universe spanning nine films in the Skywalker Saga; two spin-off story films; multiple television shows; and immersive experiences inside Disney Parks. In the film, after a quick trip back to Tatooine, Luke Skywalker, Leia Organa, and Han Solo are reunited and join up with the amassing rebel fleet to take down the evil Empire once and for all. But the Empire is plotting too: Emperor Palpatine commands his troops aboard his newly constructed Death Star stationed above the forest moon of Endor, where the Rebels—and some unlikely furry friends—make their stand against the Empire. While Luke confronts Darth Vader on the Death Star once more, Han leads a team to take out a shield protecting the battle station so that the Rebel fleet can destroy it and finally put an end to the war...
D23-Exclusive The Little Mermaid (2023) Pin - $19.99
Look at this pin; isn't it neat? We know your collection won't be complete without it! This D23 Gold Member exclusive is an excellent way to go under the sea and welcome the reimagined The Little Mermaid to the big screen... Discover what enchanting treasures lie in store for you when you add this pin to your collection of gadgets and gizmos aplenty. Watch and you'll see, someday this pin will be part of your world.
Inspired by the film The Little Mermaid (2023), a live-action reimagining of the beloved story of Ariel—a beautiful and spirited young mermaid with a thirst for adventure. The youngest of King Triton's daughters and the most defiant, Ariel longs to find out more about the world beyond the sea and, while visiting the surface, falls for the dashing Prince Eric. Mermaids are forbidden to interact with humans, but Ariel must follow her heart—so she makes a deal with the evil sea witch Ursula, which gives her a chance to experience life on land... but ultimately places her life, and her father's crown, in jeopardy.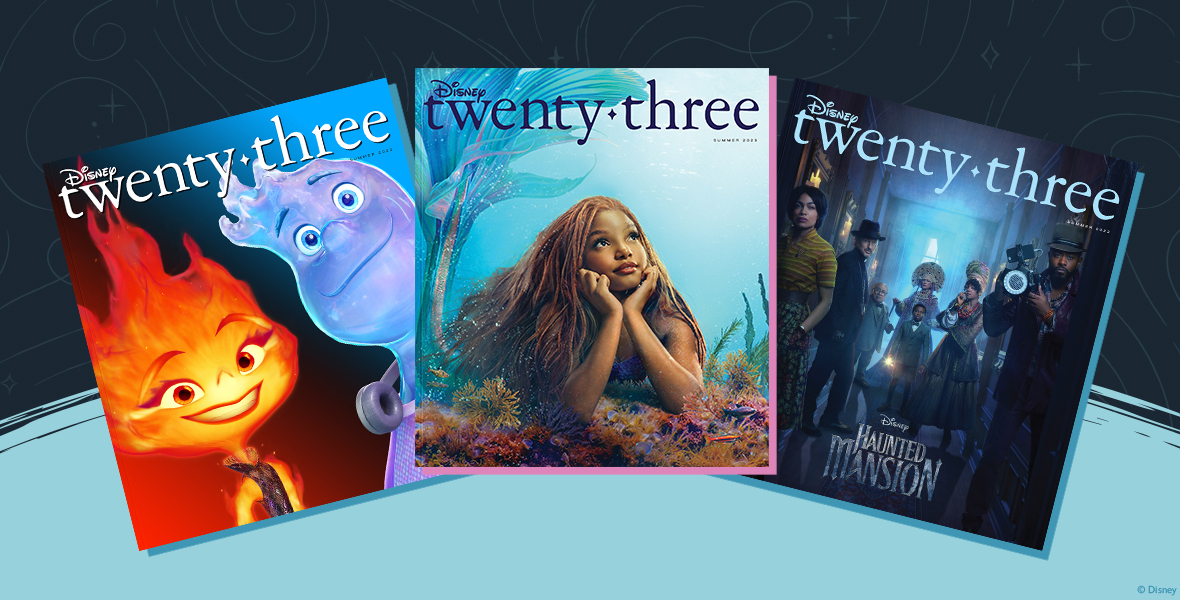 D23-Exclusive Disney twenty-three Summer 2023 Publication Covers – $19.99 (Each Sold Separately)
Welcome, foolish mortals, to fun under the sea, and even a few elemental connections... as Disney brings the heat with a slate of films that are sure to warm hearts—and provide some chills as well! To celebrate the start of the summer season, the new issue of Disney twenty-three features three covers highlighting a trio of the biggest films coming soon from Disney: The Little Mermaid, Elemental, and Haunted Mansion.
While all D23 Gold Members were sent one of these covers of this new publication, now is your chance to collect all three!
From lightsaber battles to big bad wolves, there's so much to discover with these incredible new products exclusive to D23 Gold Members. They are just a few of the many great ways to dive in and celebrate your favorite "tails"! Make sure to visit the D23 section of shopDisney at 8 a.m. PST on Tuesday, May 23, to snag these splendid collectibles!
Not a D23 Gold Member?
Sign up today to access limited edition merch
and year-round discounts and offers!
*All items available while supplies last. To purchase, you must log in to shopDisney.com with the Disney account tied to D23 Gold Membership. These items are sold for their respective prices posted above, plus applicable sales tax. Maximum of two (2) items of each style for purchase per D23 Gold Member for online orders. Shipping not available to PO boxes; shipping and handling fees may vary for all online orders. Other restrictions may apply. All information is subject to change including, but not limited to, artwork, release dates, editions sizes, and retail prices.