By Courtney Potter
It's here! Flora & Ulysses, based on Kate DiCamillo's Newbery Medal-winning illustrated novel, arrives on Disney+ today—ready to bring a smile to faces both young and young at heart. Helmed by acclaimed director Lena Khan (The Tiger Hunter), with a screenplay by Brad Copeland (Arrested Development), the film follows 10-year-old Flora (Matilda Lawler), an avid comic book fan and a self-avowed cynic, whose parents, Phyllis (Alyson Hannigan) and George (Ben Schwartz), have recently separated. After rescuing a squirrel she names Ulysses, Flora is flabbergasted to discover he possesses truly unique superhero powers… which, as you might imagine, take them on an adventure of hilarious complications that ultimately change Flora's life—and her outlook—forever.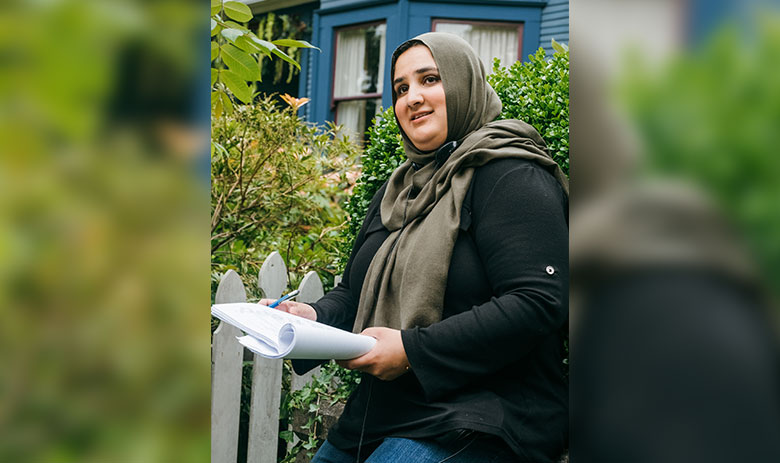 D23 recently sat down for a virtual chat with Khan, who shared some amazing behind-the-scenes tidbits—what it's like directing a Disney movie for the first time; the challenges of finishing a film during a worldwide pandemic; all the fun her cast brought to set every day; and so much more…
D23: This is your first Disney film—so we'd love to know: How did you react when you found out you'd gotten the job?
Lena Khan (LK): "I think there was probably [an audible reaction like] 'OMG, OMG, OMG'—which I think has stayed with me 'til now. I thought, 'Oh my gosh, really? Is this true? Is something going to change at the last minute? Is it actually happening?!' There was a lot of that—and then I thought, 'Oh man, I gotta start prepping!'"
D23: How fun! What was it that drew you to this particular story?
LK: "Well the first thing I read [in relation to the story] was the script by Brad Copeland; I hadn't read the book yet. And when I read it, I could hear his humor—that Arrested Development-style humor—through the whole script. It was so funny, and it reminded me of that humor that you get from a Pixar movie—where the adults will watch and be just as much entertainment as the kids. And so I remember pitching [my ideas for the movie] to Disney and saying, 'I want to make my version of a live-action Pixar movie, and I want to target the adults.' Plus, it was so refreshing to see a family movie that's only message wasn't just about, you know, a family getting [back] together—but it had these deeper issues about these people who were broken down by the world, and what it takes to get back up again. And that was so personal to me. It was really important to me to be true to that for the whole movie."
D23: Finishing post-production for a film during a pandemic must have been interesting, to say the least. What was the biggest challenge—and how did you and your team surmount it?
LK: "When lockdown happened in March [2020], I actually had tickets for me and the crew, and Matilda [who plays Flora]—we were going to go to Vancouver for three days and do some additional photography… and then we found out [what was happening], and suddenly we're all working from home and at the mercy of our Internet connections. Some days, when the Internet was not fast enough, you just can't edit because you're editing in real time. So you had to really know what you wanted because you couldn't play with things quite as much, but also you had to get really quick [and] get really creative… So it was a challenge—especially doing the music from afar, and the visual effects—it was a big deal, not being able to actually just sit with the artists in a room. You had to get really creative and dig deep into something that inspired you, so you could give the creative [team] something to go off of. And they rose to the challenge, which was really cool."
D23: Do you have any standout memories from the film's shoot?
LK: "Seeing the improv and the craziness between the characters was really fun. We have sequences on top of a roof, with a lot of stunts and things like that. So it was very interesting to see everybody's inner 'action hero' come out—and the way that they would really embrace that. People were kind of testing their limits in a good way… I've worked with Danny Pudi [who co-stars in Flora & Ulysses as Miller, the animal control officer] before, in my film The Tiger Hunter—and seeing Danny in another kind of role just reinforced my idea that Danny can do anything that he is asked to do. So I will try to put him in every movie I ever do… It was great to have him bring some humanity to a 'villain'-type role."
D23: You mentioned having read Brad Copeland's script before Kate DiCamillo's book that it's based on… So once you did read the book, did it help inform the process that much more for you?
LK: "Kate's book is amazing. I [did] make it a personal practice to not actually read the book until we were in post-production, because I wanted to give the movie its own life—to make sure it wasn't 'restricted' in a way it didn't need to be. And that really worked, because Brad the screenwriter had already done what he needed to do to take the central vision of it and expand it. But reading the book later, we were able to add in a lot of things—the voiceover, some of the dialogue… My production designer really borrowed from stuff inside of [the book] to pepper the background in, like posters you see on the walls. I think [Kate's] sensibility, her quirkiness, her vibe—it was really something we embraced in the movie."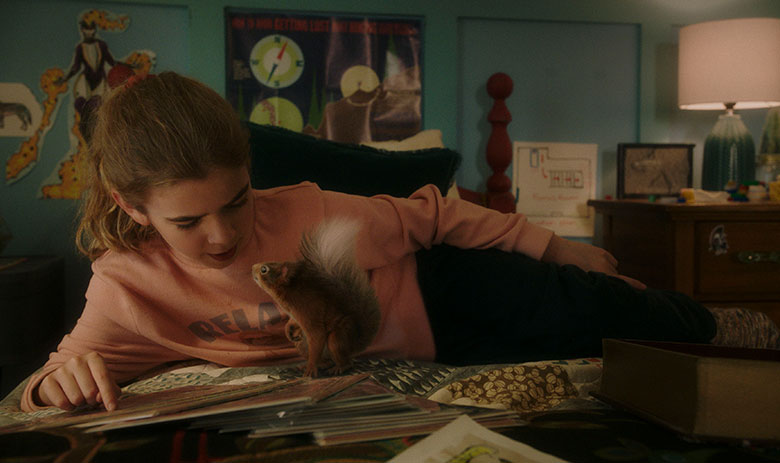 D23: Can you talk a bit about all the Disney-related Easter eggs this movie has?
LK: "I think it says something that Disney and all of its related properties have created like such a giant swath of things that mean so much to people. So I wasn't even thinking, very specifically, 'I want to insert Disney things.' I was thinking of things that meant something—that gave people an extra smile on their face as they're watching. And it just happens that Disney has created so many of those things! Right? It's so wonderful. We have [everything from] Marvel properties to DuckTales [which features the voices of several Flora & Ulysses stars or cameo appearances, including Schwartz, Pudi, Kate Micucci, and Bobby Moynihan]. It's all stuff that we know already has excitement; it makes you smile when you see it. And I was like, let's just put as many [of those kind of things] in as we can in."
D23: What do you hope audiences take away from Flora & Ulysses?
LK: "I know people say this, but I really think people are going to be surprised [about] what it is. It doesn't fit into a mold very well. And it's gonna surprise people in a lot of ways; what it really is, and the kind of quirky humor it has… So instead of people thinking, 'Oh, I'll put it on for my 8-year-old,' I'd love for them all to [sit down] to give it a chance. It's a great film for when you just need something to laugh at it and be happy about, the same way that you'd sit down and want to watch a Pixar movie… I got personally interested in this movie [because of this] idea of 'connecting,' [and] by knowing what it's like to struggle with something. And I think—especially now that so many people have been rocked to their core by so many things, whether it's the pandemic or whatever—I just want people to hopefully [glean] from the movie that it's not really about what actually happens with your situation, [it's that] there's so much you can do with just opening your eyes and seeing the world in a different way. That can take you pretty far."
Flora & Ulysses is now available for streaming, exclusively on Disney+!