By Courtney Potter
Directed by Lena Khan (The Tiger Hunter), Disney's Flora & Ulysses follows Flora Buckman (Matilda Lawler), a 10-year-old self-avowed cynic—and comic book fan—whose parents, Phyllis (Alyson Hannigan) and George (Ben Schwartz), have recently separated. With life a bit topsy-turvy, and summer vacation in full swing, Flora winds up rescuing a neighborhood squirrel; naming it Ulysses, she ultimately discovers it has some super special gifts—ones that will take the whole family on a hilarious, heartfelt journey they never expected.
With this adventure-filled adaptation of Kate DiCamillo's Newbery Award-winning children's book coming to Disney+ this week, D23 spoke with Schwartz—known recently for his turn as Dewey on Disney's DuckTales—about what made his Flora & Ulysses experience so fabulously fun… as well as his love of all things Disney!
"It's a dream," admits Schwartz, when asked what it's like to segue from voicing an animated Disney character to starring in a live-action Disney adventure. "Growing up, whenever I watched a Disney movie—whether it was the blue illustrated emblem [of the iconic castle] at the beginning of the film, or when they started animating the castle—it just immediately made for an emotional response. So when I got to see Flora & Ulysses and that happens at the beginning, I'm like, 'Oh my goodness, I am in a Disney movie!' I've been watching these my entire life, whether it was Aladdin or The Lion King, or live-action ones like Honey, I Shrunk the Kids, or Robin Williams in Flubber… The idea that there's a family with kids, or even an adult, that is really connecting to these type of films makes me so happy—especially now."
Known for plentiful TV and film roles, including his turn on Parks and Recreation, Schwartz was excited to find himself acting opposite a—shall we say—unique kind of character. "The way that it worked was great," he explains. "They gave Matilda [who plays Flora] a fake little gray squirrel. We'd do a take or two with that, and then they'd remove it and she'd have to remember how she put her hand and where it went. It's so funny—Lena [Khan, the film's director] would be like, 'Now [Ulysses] is up there!'; 'Now he's over here!'; 'Now he's moving down!' We'd have to do all these things—it was very interesting." He laughs, adding, "I always had Matilda next to me when I was doing it, so if it was a real crazy thing happening, I could look over at her—I'd have a human right there to react with, which was a joy."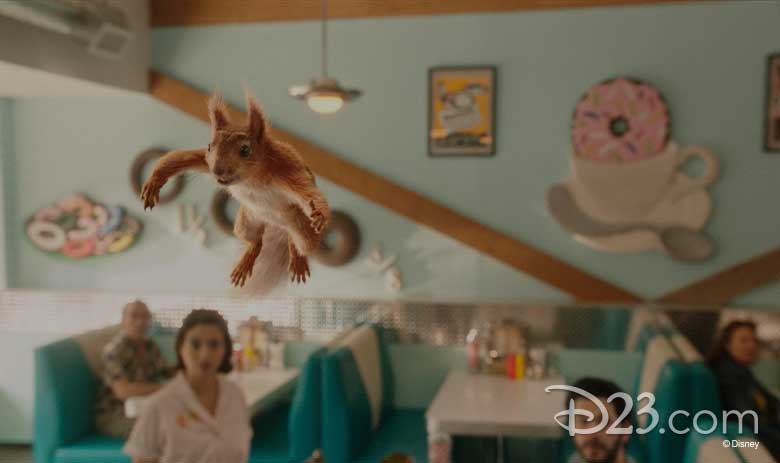 But working with a CGI co-star wasn't the only thing that made the Flora & Ulysses shoot so singular. "There's a great comedic [scene] where the squirrel pops in through the window, hits a chandelier, the chandelier hits a table, mashed potatoes go everywhere—and then the table collapses, and everything falls on me," Schwartz explains, chuckling. "And I was like, 'Oh, this is classic Disney fun!' So being excited for that—and then seeing how excited Matilda was; she kept saying, 'Here we go, here we go!!' I mean, it was so fun." And without spoiling too much, look for a few scenes where Schwartz had to get over a fear of heights fairly quickly. "That was the scariest part," he admits.
Indelible scenes like those described above—featured in countless Disney films and TV series over the past nine-plus decades—are a huge reason why Schwartz, a lifelong Disney fan, is so thrilled to be a part of Flora & Ulysses. And it's the memories those kinds of moments create that have stuck with him for so long. For instance: "When I [first] watched Disney and Pixar's Up, I could not believe it," says Schwartz. "I remember I went to a screening of Up with a friend. We were in the third row, and we had our 3-D glasses on—and we are two grown men. We're watching this thing and the first eight minutes go by, with Michael Giacchino's score, and this incredible story about this couple. And I look to the right and I just see [my friend] with his 3-D glasses on—it was almost like a cartoon, where fish are swimming inside the 'bowl' of someone's eyeglasses. Tears are streaming down, and he looks at me, and sees that I'm crying like crazy. It was such a funny and cool moment."
Schwartz is also, as you might now imagine, a huge fan of Disneyland—and he loves sharing in that fandom with others. "There were a bunch of journalists who came to the Flora & Ulysses set one day," he explains, "and they were all people who love Disney. It's so fun when people are like, 'What's your favorite attraction?' I thought, I don't usually get to talk about this with anybody, and I cannot wait to tell you the order in which I eat my snacks at Disneyland—because there is an order to these things. So it's lovely to now be a part of this world, because it's a very caring and 'building-up'-type world… I was over the moon when I got [cast as] Dewey in DuckTales—and now to be in a Disney movie [where] I get to establish a character for the first time? I'm just honored, and want to keep 'playing in the pool' of all that's there."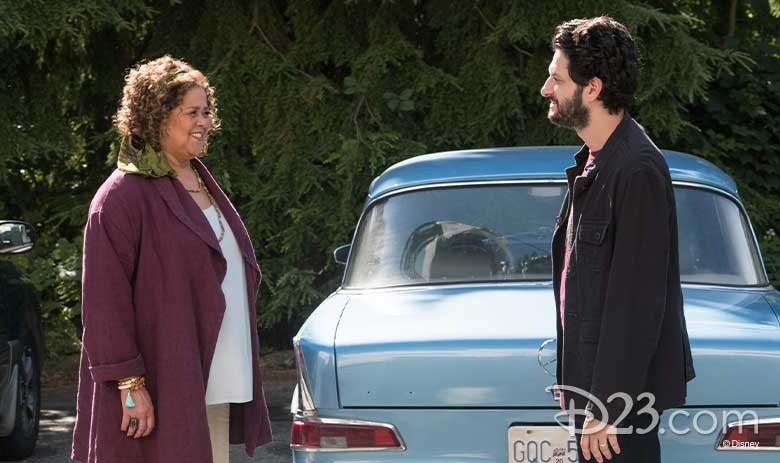 All told, Schwartz thinks this particular film is nigh on ideal for this particular moment in time. "I think Flora & Ulysses [offers] all the things that Disney movies do well—where there's so much heart, there's so much comedy, and it brings that comedy and that heart in a great 'storytelling' way… and there's realness in it. There's real feelings and emotions. I think that's what makes it stand out—and what makes it a little bit more relevant now… My friends who have kids, they're like, 'We need something fun; we need something loving.' And I think with this great script by Brad Copeland, it's all there for you. There are these big, beautiful [adventure] aspects. There's this really warm heart between Matilda, me, and Alyson [Hannigan as Phyllis]. There's Anna Deavere Smith as Dr. Meescham. There's great comedy with Benjamin [Evan Ainsworth, who plays next-door neighbor William] and me and Matilda; and with Danny Pudi [who portrays nefarious animal control officer Miller] and Kate Micucci [playing local waitress Rita]—who were so good in this. It really kind of gives you a little bit of everything."
"It's funny and kids laugh and there's a squirrel that's a super hero," Schwartz concludes. "What else could you possibly want?"
Don't miss Flora & Ulysses, premiering on Disney+ this Friday, February 19!