Disney Junior is getting fancy… But there's no need to don a tuxedo or ball gown—in the network's newest animated series for kids and families, Fancy Nancy, "fancy" is a blissful state of mind. Based on the New York Times bestselling book series by Jane O'Connor and Robin Preiss Glasser, Fancy Nancy chronicles the adventures of a truly original 6-year-old with boundless enthusiasm, an exceptional imagination, and an unwavering determination to "do it herself" as she transforms the ordinary into the extraordinary for everyone around her.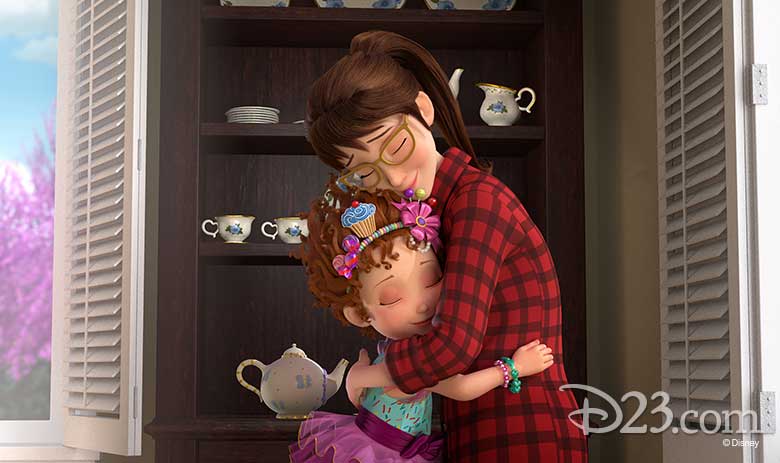 If you aren't already acquainted with Nancy—the star of 60 titles that have been translated into 20 languages, with more than 28 million books sold worldwide—you'll meet this unstoppable force when Fancy Nancy makes its Disney Junior debut this Friday, July 13 (11 a.m. EDT/PDT). We recently spoke with series executive producer and director Jamie Mitchell (Sofia the First), story editor Krista Tucker (Sheriff Callie's Wild West), and the 12-year-old actress who gives Nancy her voice, Mia Sinclair Jenness (Broadway's Matilda) about what makes this family comedy series trés magnifique.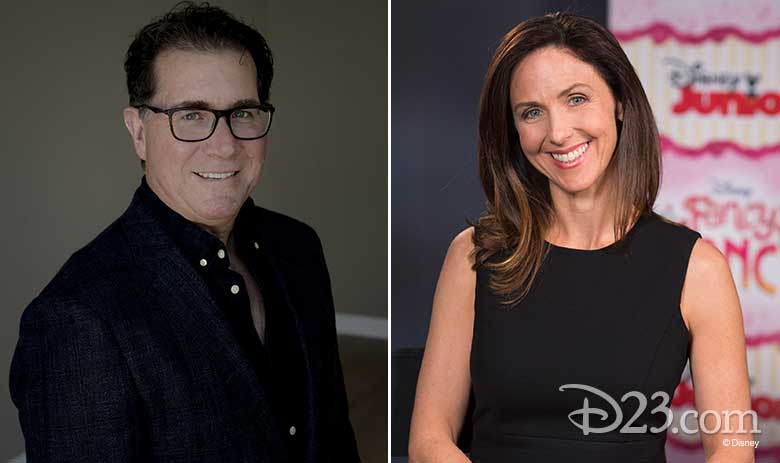 1. Director Jamie Mitchell has designed a rich, three-dimensional world that honors Robin Preiss Glasser's beloved illustrations in the most amazing way.
Mitchell and Tucker—both parents to older children—were always drawn to the Fancy Nancy books when they would see them in bookstores. From first glance, Mitchell loved the pen-and-ink drawings, but knew the series needed to take place within a three-dimensional environment. "Nancy's real," says Mitchell. "She's a real girl. Her friends are real. Everything is real about her." But as true-to-life as Nancy is portrayed, she has a rich imagination that comes to life in fantasy sequences that have a more two-dimensional look that pays homage to Preiss Glasser's original illustrations. Those exquisite fantasy sequences take shape from drawings—ostensibly penned by Nancy, an artiste herself—of the worlds she envisions, which hang on the walls of her bedroom.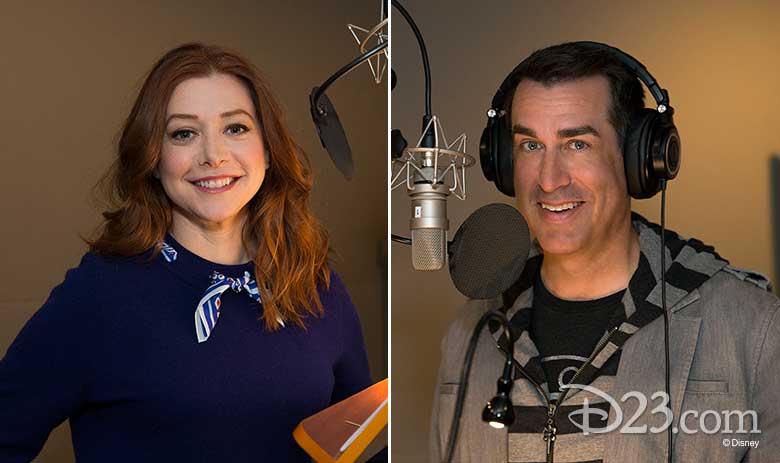 2. The series empowers kids to design the world they want to be in.
Nancy's sense of "fancy" comes from within. Her flannel shirt-wearing mom (voiced by Alyson Hannigan) and her equally understated dad (voiced by Rob Riggle) encourage Nancy to find her own sense of style and to be creative in her surroundings. The series provided an opportunity to dig deeper into the world of the books and flesh out the characters in new ways, such as Nancy's best friend Bree and the other kids from the neighborhood. "Our show is really through the eyes of Nancy and all kids," says Tucker. "It's a safe place, it's a really fun place—a place of exploration—and they're in it together."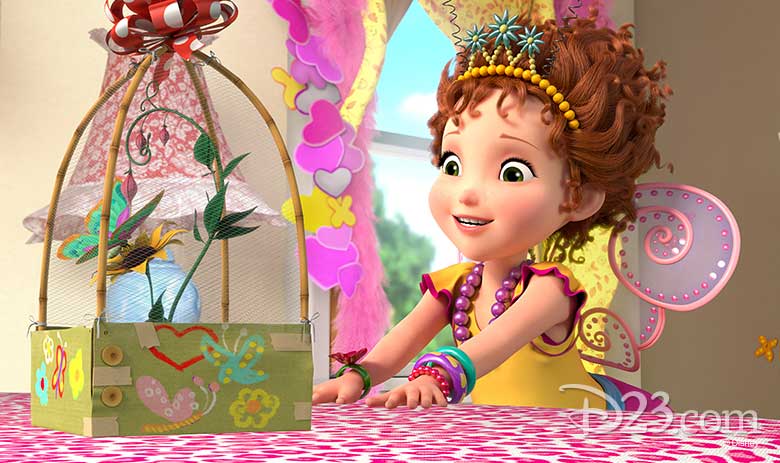 3. The creative team hopes the show will inspire kids to be more creative.
According to Tucker, "Nancy uses what is in her world already to create whatever she wants. She's very much 'do-it-yourself' in a very empowering, original way." When her dad and grandpa finish building her playhouse in the series' first episode, Nancy turns "plain into a palace" with things she finds around the house—no trips to the craft store or visits to Pinterest for mom! A basic beach chair can become the most fabulous chaise lounge, and a simple snack can become a delectable hors d'oeurve—and who doesn't think that tea, or any beverage, tastes best when served in a china cup? Nancy sings in the main title song, "Think what makes you happy and then fancy up the place," and Mia Sinclair Jenness hopes all kids take this to heart. "Nancy is encouraging. She will inspire boys and girls to do something amazing every day."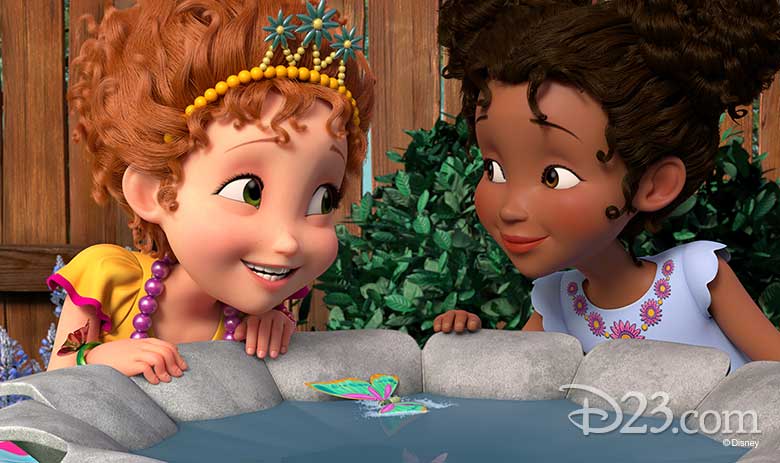 4. Fancy Nancy's fantasy sequences are filled with nods to history and real-world references.
While Nancy may design the world she envisions, the animators have the fun job of incorporating into it historic and realistic details, such as when a protest led by Nancy and her friends turns her playhouse into the headquarters of something resembling the French Revolution. "That is what is so enriching for me as a filmmaker and as a storyteller. Let's go and take this thing as far outside the box as you can take it, but present it through the 6-year-old voice," shares Mitchell.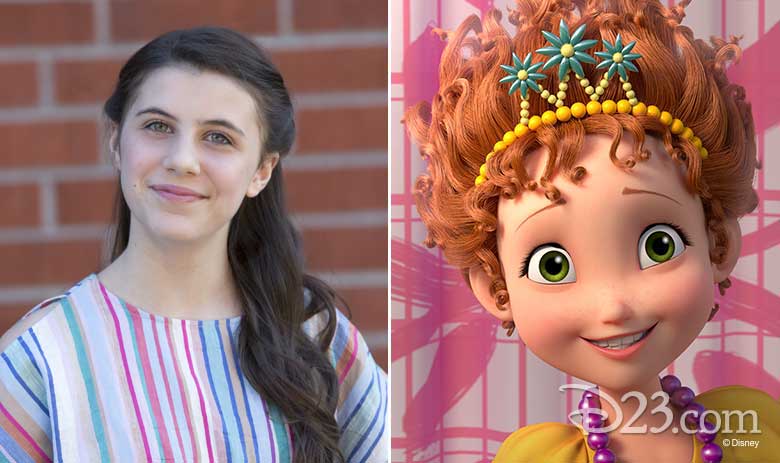 5. Being "fancy" means being yourself.
Sinclair Jenness loves voicing Nancy because "she's not afraid to be different and to be herself. I have always felt that little girls and little boys really need to not be afraid to stand out." Tucker emphasizes that Nancy's external fanciness—her tiaras… her tutus… her bows and her predilection for papillons (that's French for "butterflies," Nancy would be quick to point out)—is just a reflection of how she feels about herself: "To Nancy, being fancy means being who you are and celebrating that broadly."
Add a little fancy to your Friday morning and tune in to Fancy Nancy on Disney Junior, Video on Demand and DisneyNOW! It'll make your day fantastique!