By the D23 Team
With the 100th anniversary of the Walt Disney Company right around the corner, make sure you're stocked up on celebration essentials from our friends and partners joining in the jamboree! Whether you're celebrating with family at home or heading out to the parks, stay stylish and stocked with all-new products celebrating 100 years of the most enchanting memories. Listed alphabetically, be sure to click on each outlet's name to shop the magic.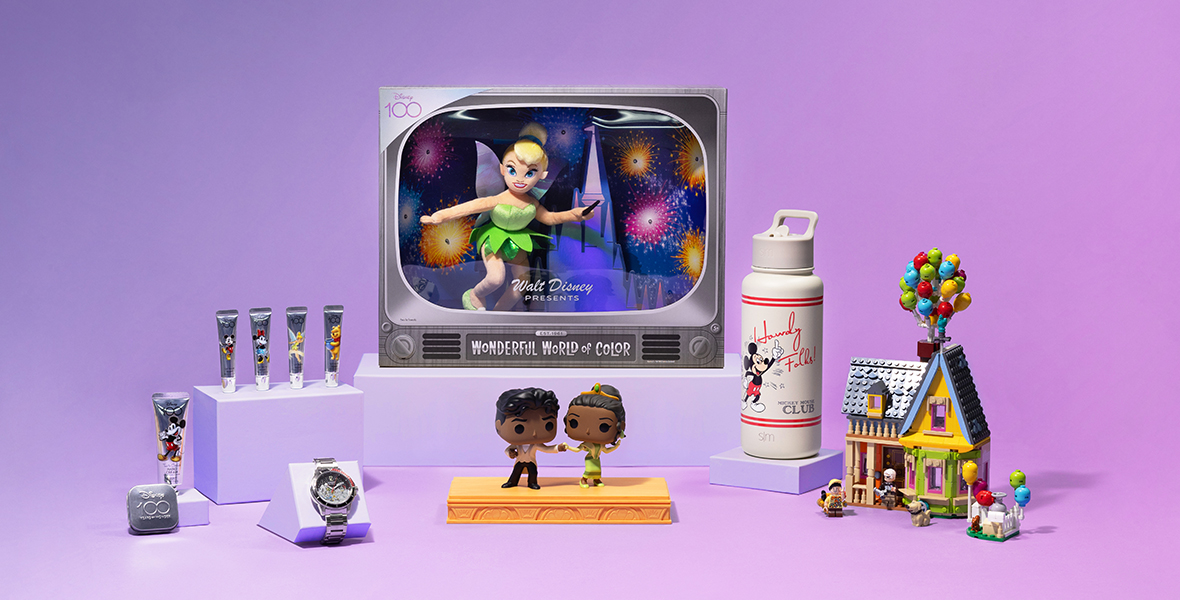 Amazon is celebrating Disney100 by delivering wonder with new apparel, collectibles, and more. Create wonder with the Disney100 selection you will find on Amazon and reflect on all your special Disney memories.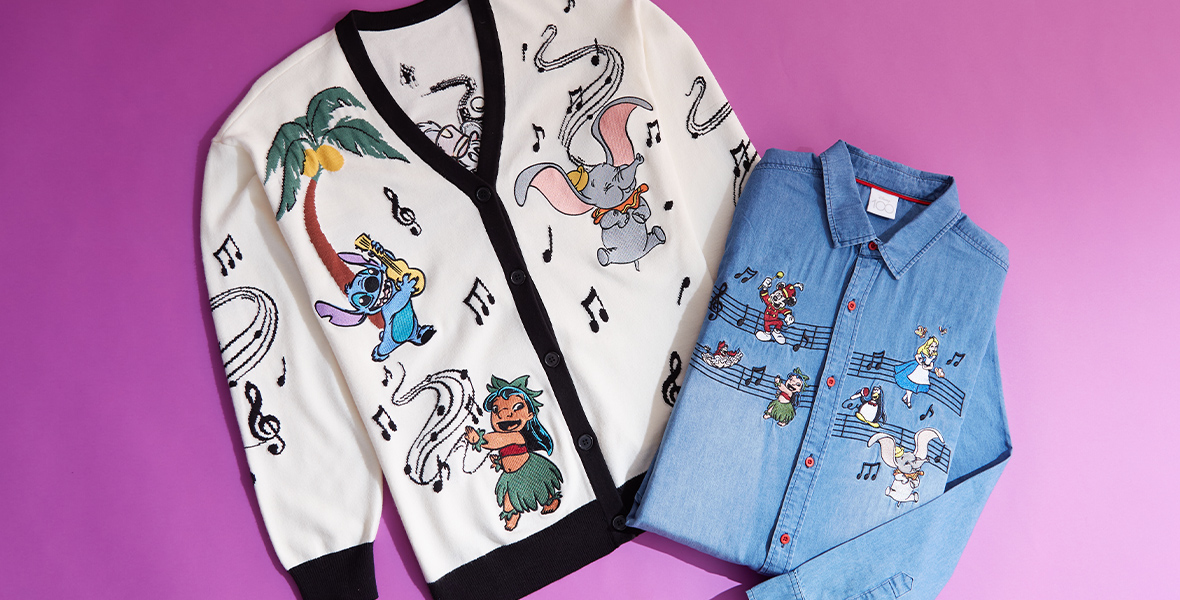 From animated classics to modern favorites, BoxLunch is celebrating 100 years of Disney with their very own D100 collection. Apparel, accessories, home goods, and more featuring characters from across the Disney legacy are available now in stores and online at BoxLunch.com.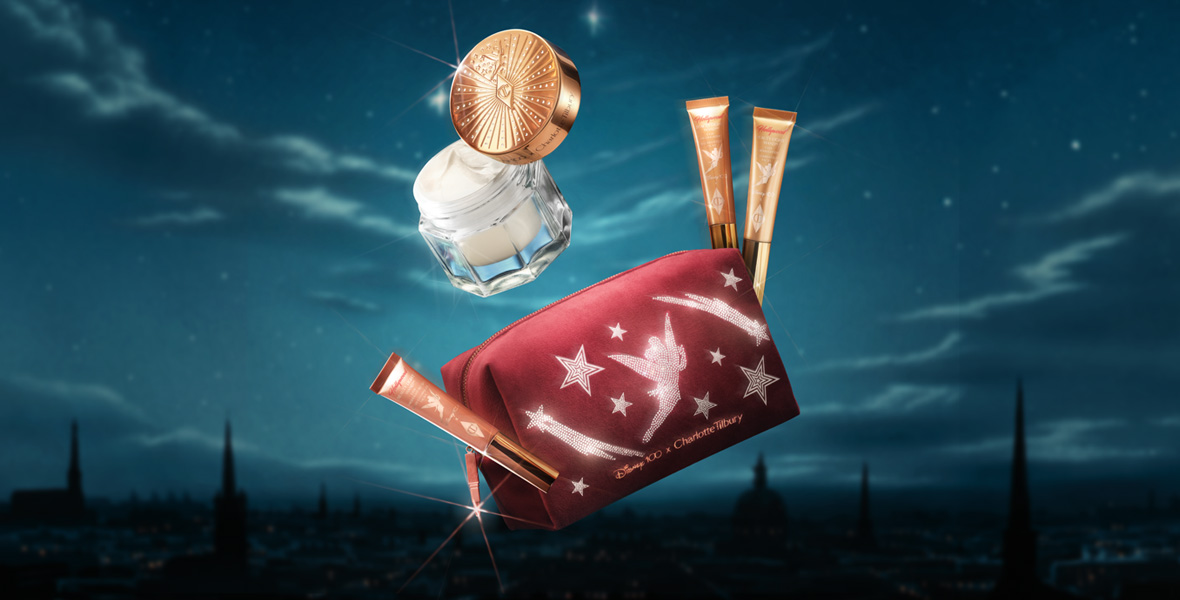 To celebrate 100 years of Disney and 10 magical years of Charlotte Tilbury Beauty, Charlotte's iconic makeup and skincare beauty collectables have been adorned with a limited-edition Tinker Bell design!
Discover Charlotte's award-winning, bestselling immediate skin revival moisturizer Magic Cream, and globally loved, sell-out sensation Beauty Light Wands… for skin that shines so bright, everyone can mesmerize at midnight!
To complete the collection, you can hold all your beauty dreams and secrets safe inside Charlotte's Tinker Bell adorned, collector's edition Beauty Wishes Makeup Bag!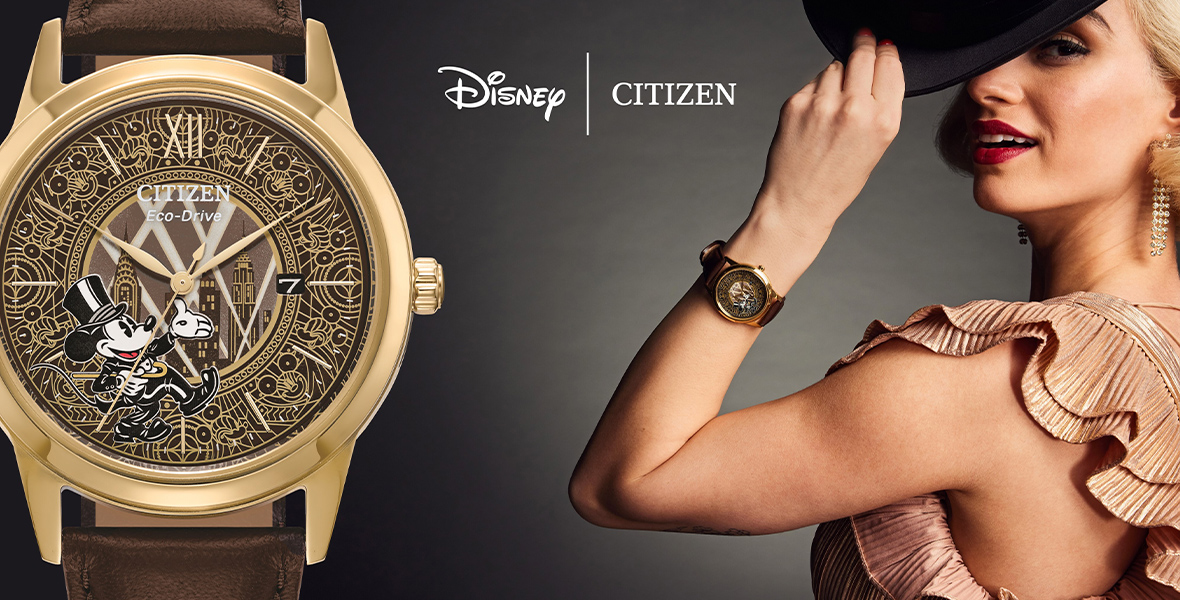 Treasure the magic and the memories with the final watch in our yearlong Disney100 celebration: The third and final Disney100 special edition watch. The Disney100 Mickey Mouse Fanfare Special Edition Box Set comes with a dazzling timepiece and keepsake pin starring none other than Disney's Mickey Mouse. In the center of the dial designed by renowned Disney artist Jeff Shelly, Disney's Mickey Mouse is in the spotlight sporting a top hat and formalwear for the grand occasion. See if you can spot the additional Mickeys hidden in the border! The hidden Mickeys were inspired by the silhouettes and images of Disney's Mickey Mouse placed discreetly in paintings, murals, tiled floors, and beyond throughout Walt Disney World® Resort, together known as the "Hidden Mickeys." The watch is sustainably powered by any light with our proprietary Eco-Drive technology and never needs a battery.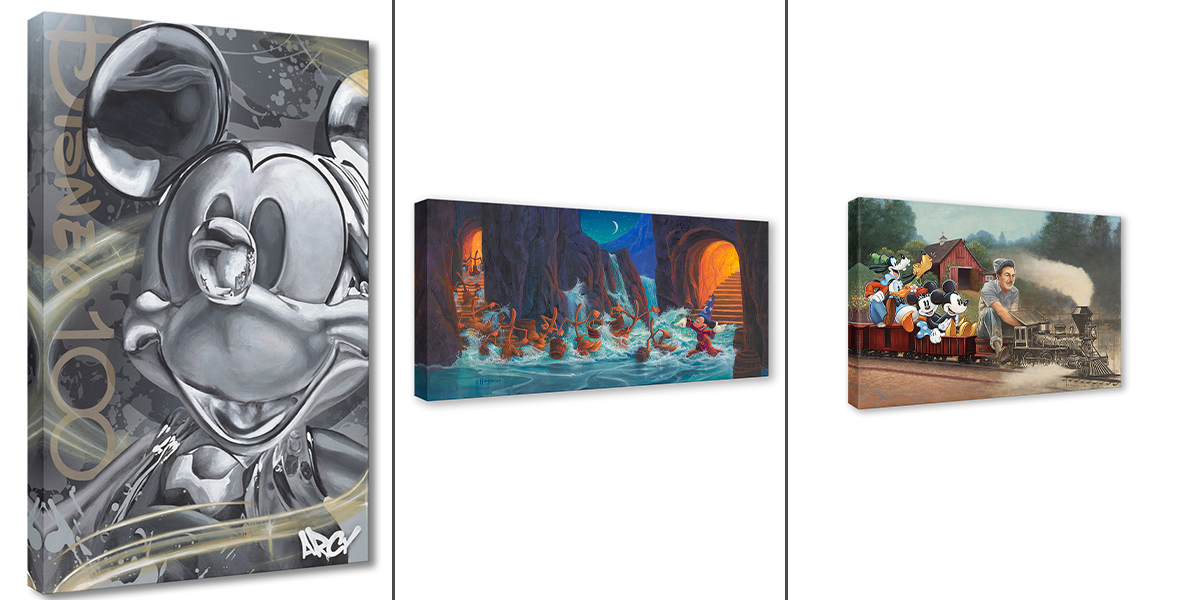 "The Engine of Imagination" by Tim Rogerson
Celebrated Disney Fine Art painter Tim Rogerson delivers a heartfelt and meaningful tribute to Disney's legacy of creativity with this 100-piece limited-edition canvas. Walt Disney is seen aboard his beloved Lilly Belle locomotive, turning the conceptual designs in his imagination into full-color reality, as he steams forward into his creative future. This hand-signed, hand-numbered limited edition also includes a Certificate of Authenticity.
100th "Celebrating 100 Years" by ARCY
Disney Fine Art painter and muralist ARCY, known for his larger-than-life murals which have been featured at numerous D23 special events, commemorates Disney's 100th anniversary with this vibrant and energetic tribute to the mouse who started it all! Featuring Mickey Mouse in gilded silver tones, this individually hand-numbered, embellished limited edition of 100 is also hand-signed by the artist. Includes a Certificate of Authenticity.
"Mickey's March of the Brooms" by Michael Humphries
Legendary Disney Animation veteran Michael Humphries, whose conceptual designs, background paintings, and art direction have graced the silver screen in many Disney animated classics, commemorates Disney's 100 Years with this spellbinding and dramatic depiction of one of Disney's most enduring moments of cinematic magic from Walt Disney's Fantasia. Only 100 of these hand-signed, hand-numbered, embellished canvases have been made available!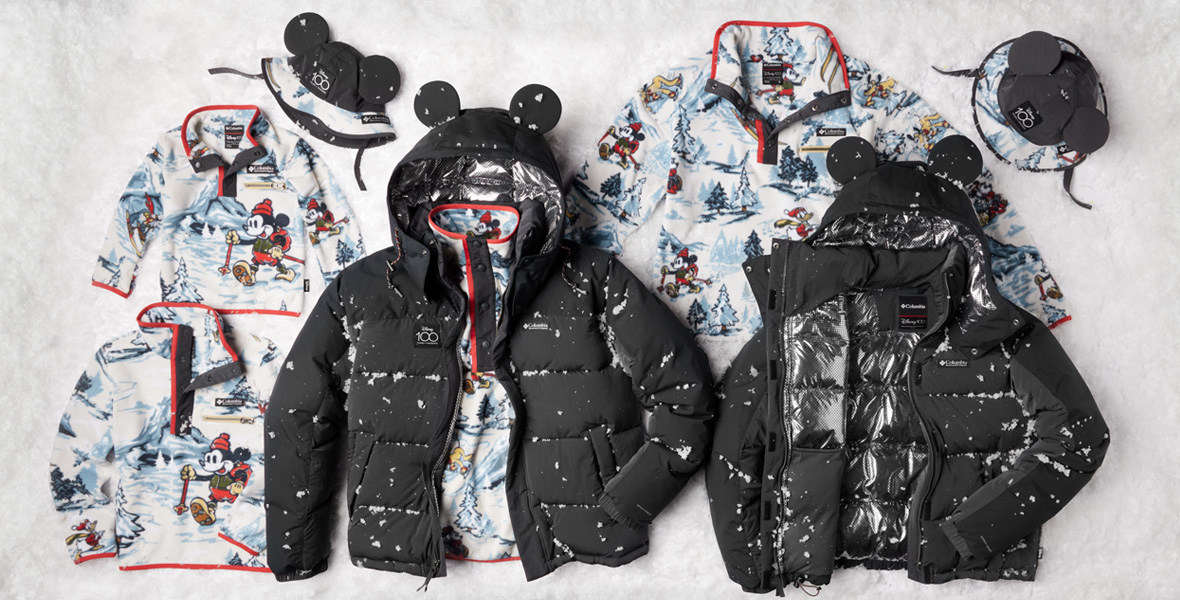 This special-edition collection celebrates 100 years of Disney® magic with classic Columbia gear built to explore the wonder of the outdoors. Designed to keep the whole family warm and protected in chilly conditions, this gear features details that both Disney and outdoor enthusiasts will love, such as pops of silver for Disney's platinum anniversary, special Omni-Heat™ thermal-reflective Mickey Mouse heads, Disney100 insignia, stowable "mouse ears" hood and hat, and prints inspired by vintage Disney artwork and characters from the 1930s.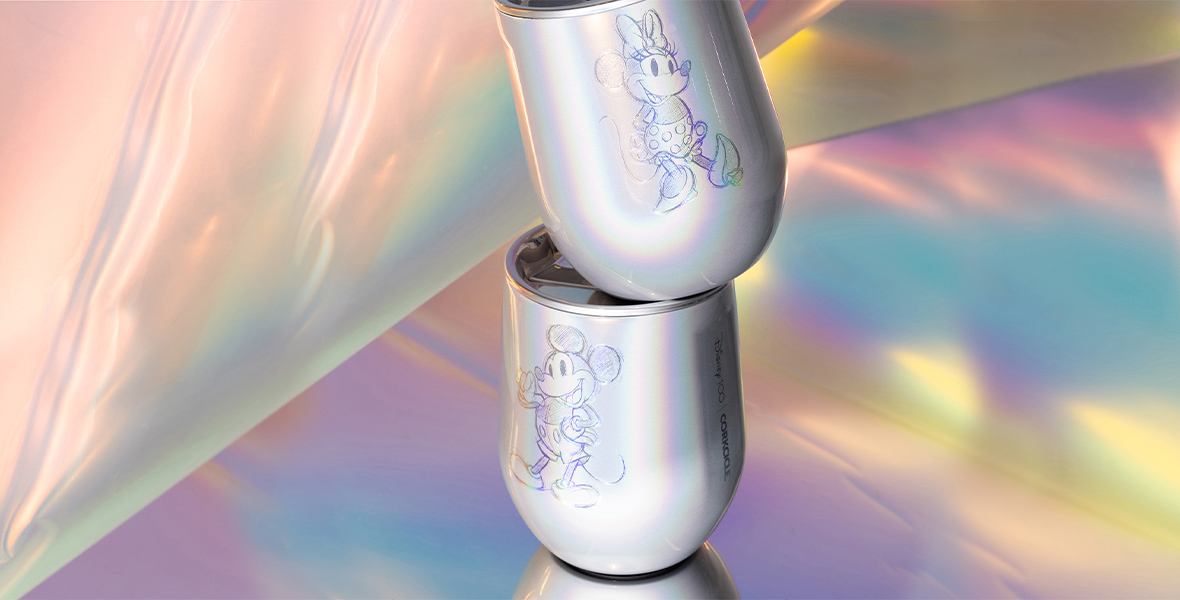 Celebrate 100 years of magic with the Disney100 anniversary edition Drinkware featuring sketches inspired by your favorite Disney characters against a dreamy prismatic backdrop.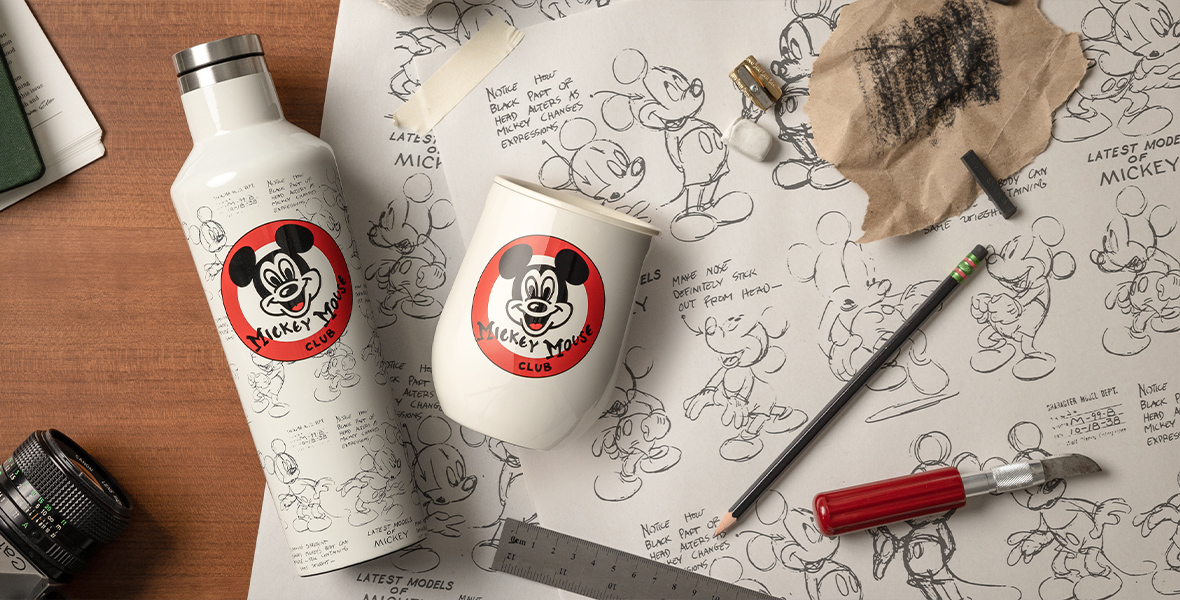 Cheers, Mouseketeers! Limited-edition patterns inspired by Disney's Mickey Mouse Club are here to celebrate Disney's 100th anniversary. Raise a toast with retro sketches of Mickey atop a white background or images of your favorite Mickey Mouse Club moments against a red backdrop. Available in Corkcicle's bestselling triple-insulated Canteen.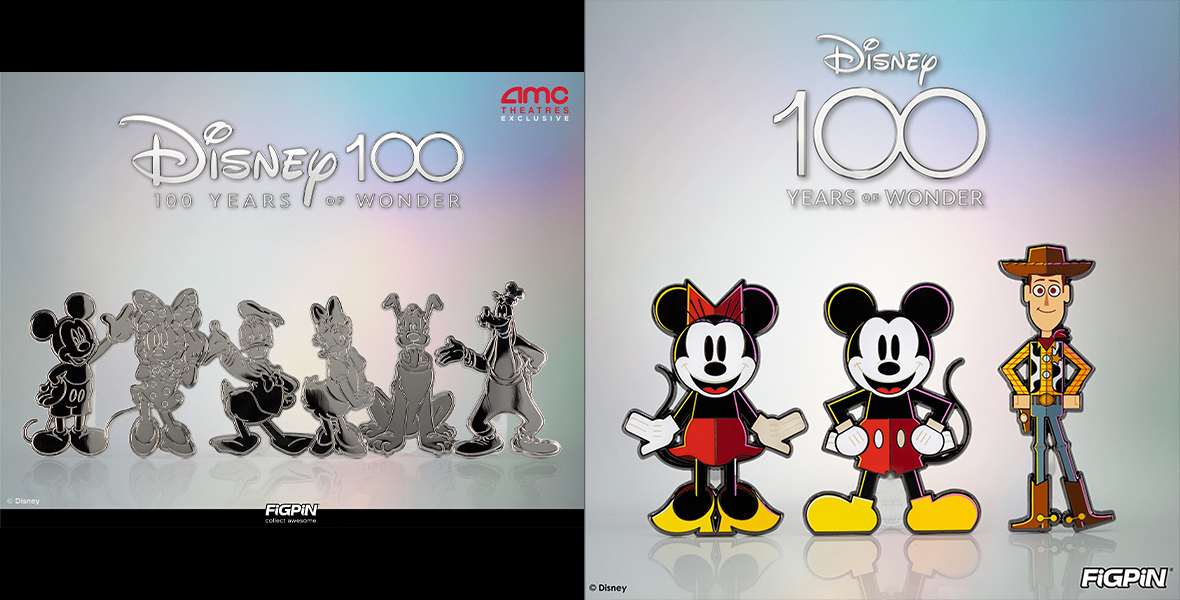 FiGPiN D100 Sensational Six AMC Exclusive 6pc Enamel Pin Box Set: Featuring your favorite Disney characters like Mickey Mouse, Minnie Mouse, Donald Duck, Daisy Duck, Pluto and Goofy! The magic of imagination comes to life with FiGPiN's D100 enamel pins! See your favorite Disney characters like Mickey Mouse, Minnie Mouse, and Toy Story's Woody in a new style that celebrates 100 years of animation, joy, and wonder.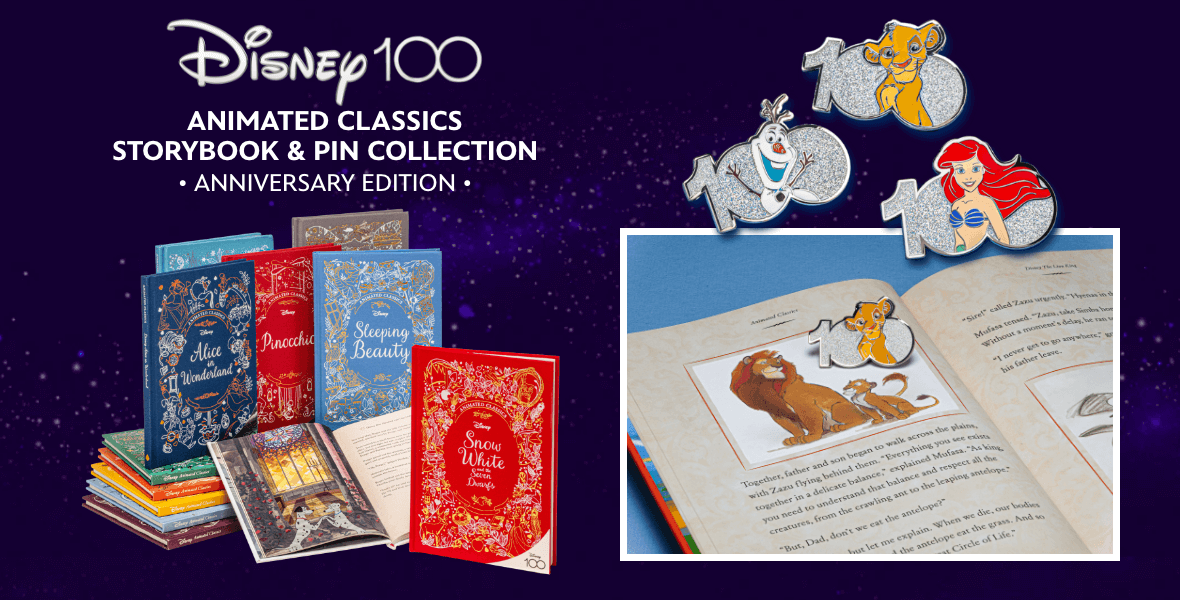 Celebrate Disney's milestone 100th anniversary with this stunning, limited-edition collection of hand-crafted, keepsake books and matching collector pins. This collection is exclusive to D23 and Disney's 100th anniversary. It is forever limited to 2,300 sets and it will never be made again. Only 200 sets are unclaimed. You can reserve this collection until October 23, and it will be shipped to you as one package, arriving before the holidays. Only a $19 deposit is required now to reserve yours!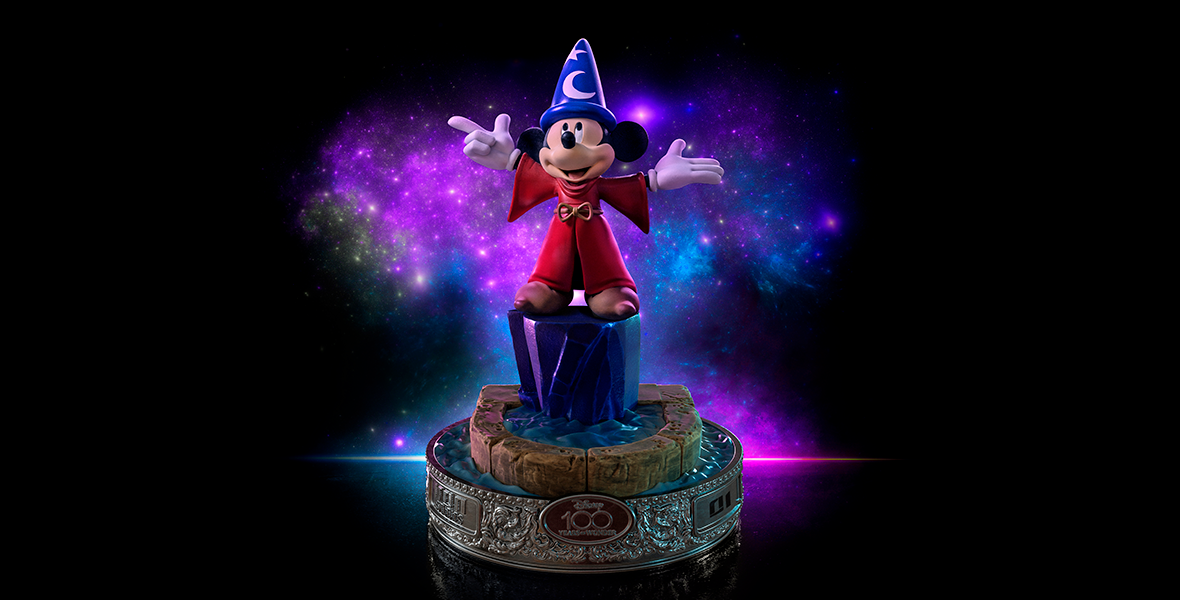 The Mickey 100 Years – Disney 100th – Fantasia – Art Scale 1/10 statue by Iron Studios beautifully captures a young sorcerer Mickey Mouse in the iconic scene from Disney's Fantasia. Mickey, dressed in his red tunic and magic hat, is depicted with meticulous attention to detail as he endeavors to control a legion of humanoid brooms carrying water buckets. The statue boasts intricate movie references and proudly stands upon a richly adorned base, featuring Iron Studios and Disney's 100th-anniversary logos, creating a visually stunning and limited-edition tribute to this timeless Disney classic.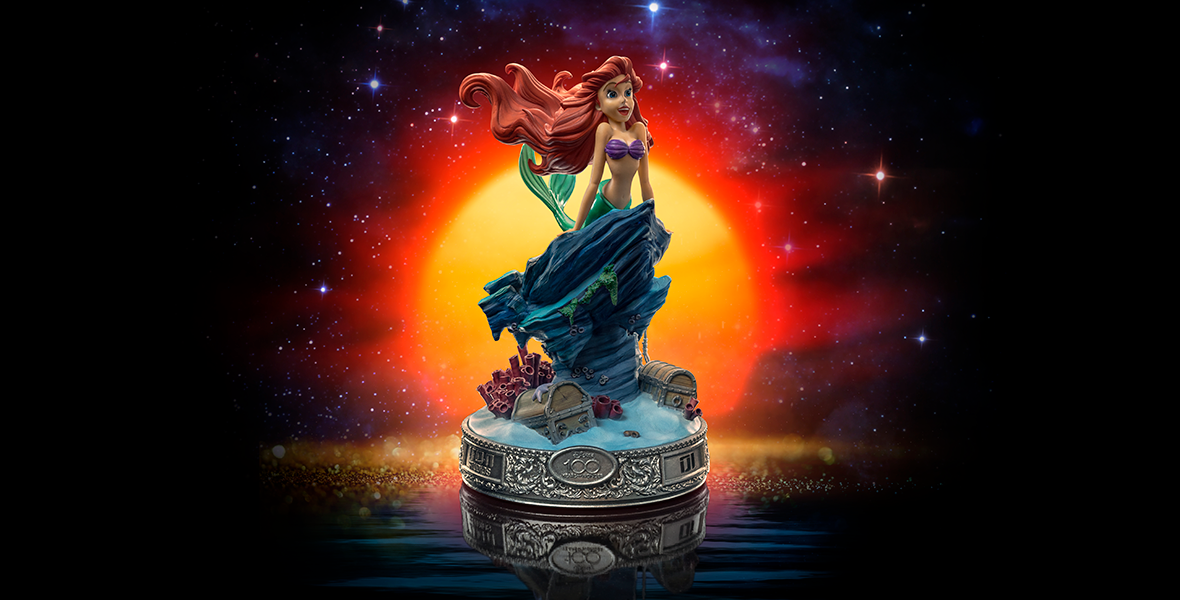 The Little Mermaid 100th – Disney Classics 100 Years – Art Scale 1/10 by Iron Studios is a limited-edition statue that elegantly depicts Princess Ariel from Disney's beloved 1989 film. Ariel is gracefully showcased on a silver base, meticulously adorned to commemorate Disney's 100th anniversary. This exquisite collectible provides fans and collectors with a chance to own a piece of Disney history, with Ariel leaning over her sea rock base, surrounded by her iconic collection of human objects and treasures.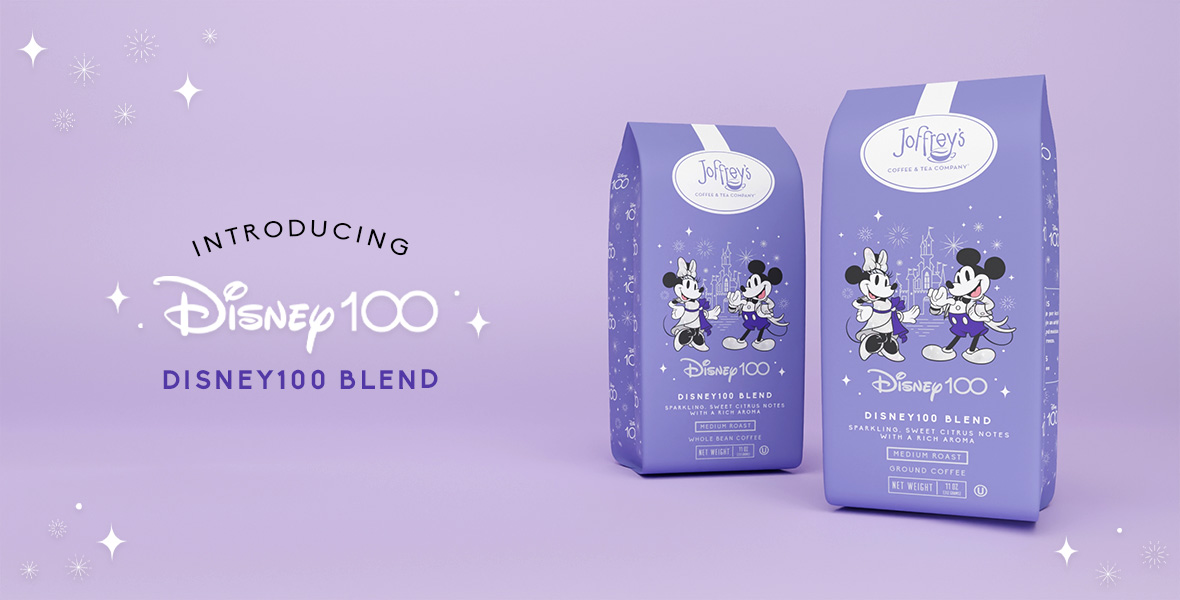 Celebrate 100 years of Disney with the Disney100 Blend. A richly aromatic artisan roasted blend with sparkling acidity, a citrusy sweet structure, and a delicate floral finish.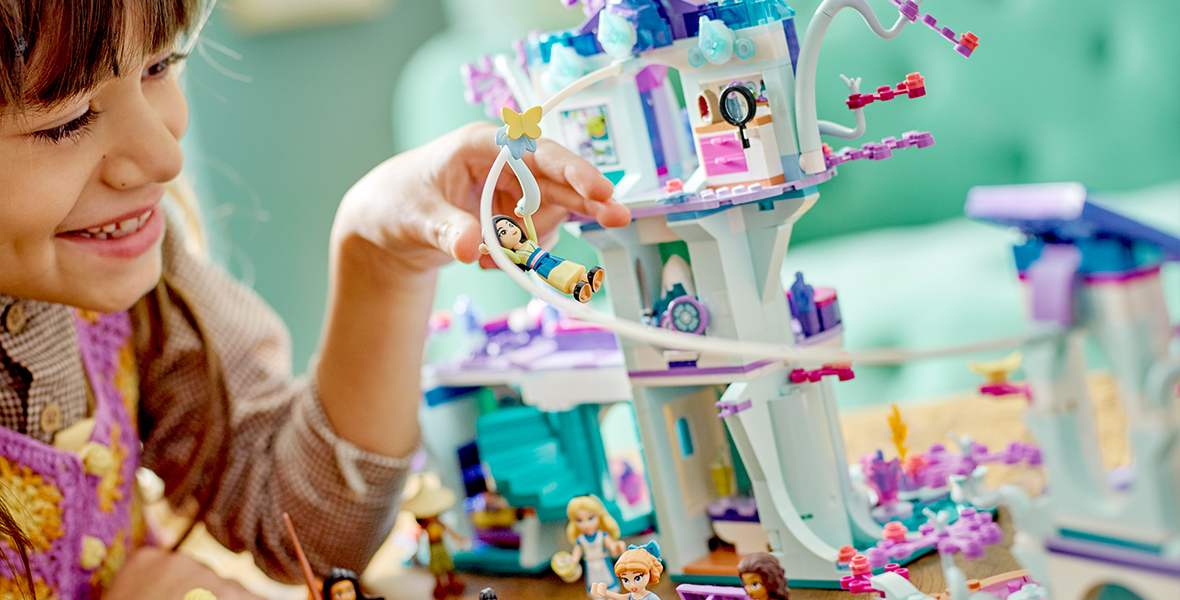 Play out the greatest stories in cinema, featuring iconic characters from 100 years of Disney! Whether it's with a Disney Princess or through the house from Up, there's magic to be found in every LEGO® I Disney set. Build the magic of LEGO® | Disney in your home with our selection of Disney construction toys and celebrate the journey so far, looking forward to the next 100 Years of Wonder.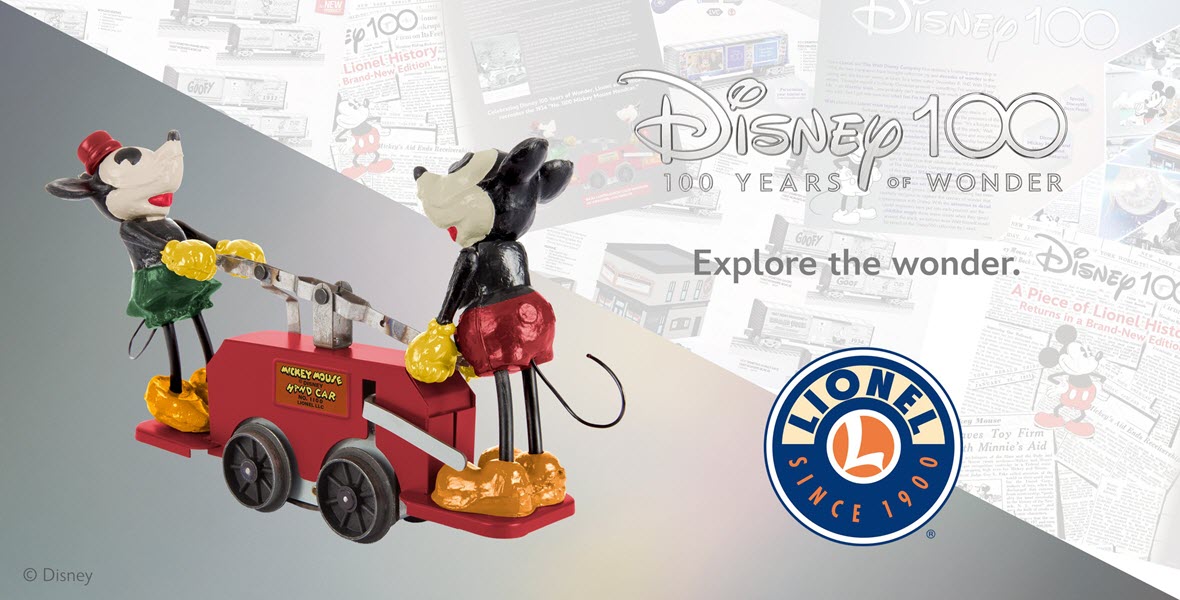 Lionel reaches back into its archive to offer collectors a special Disney100 edition of the ground-breaking 1934 handcar. Just like the original, this new edition will operate using a wind-up mechanism and include a circle of two-rail track. The handcar will be made of stamped metal with resin Disney's Mickey Mouse and Minnie Mouse figurines and cast metal wheels—he same as the original 1930s toy.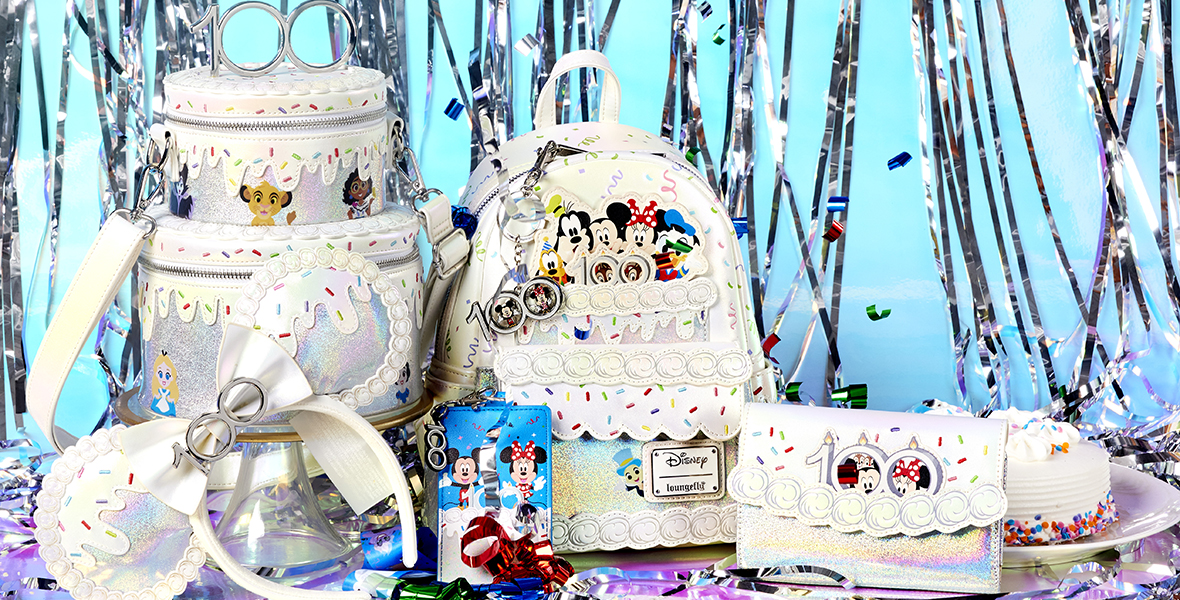 The party never ends with the Loungefly Disney100 Celebration Cake Collection! The magic of Disney comes to life in amazing pieces with iridescent, holographic, and glittering material featuring applique icing, embroidered sprinkles, and exclusive artwork of everyone's favorite Disney characters. Everybody can get in on the celebration with this collection, featuring a mini backpack, figural two-tier cake crossbody, flap wallet, ear headband, and more!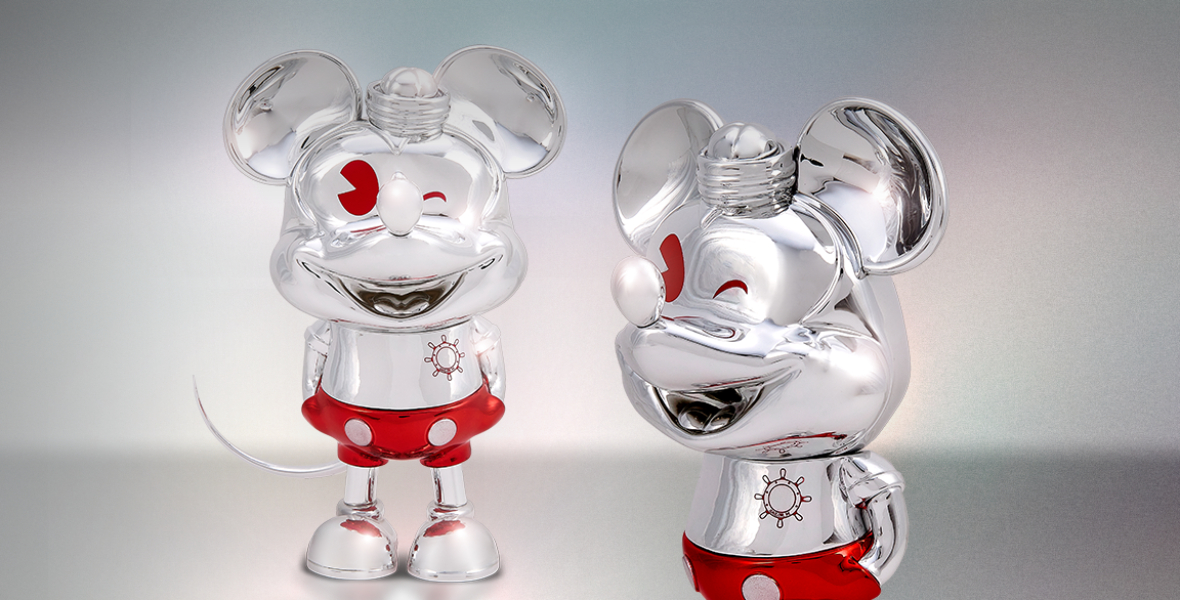 Anchors aweigh! To celebrate Disney's 100th anniversary, Kidrobot created this limited-edition collectible vinyl art sculpture commemorating Mickey Mouse's appearance in the 1928 classic animated short Steamboat Willie. In a metallic silver and red finish, "Sailor M" is a brilliant celebration of Disney's 100 Years of Wonder.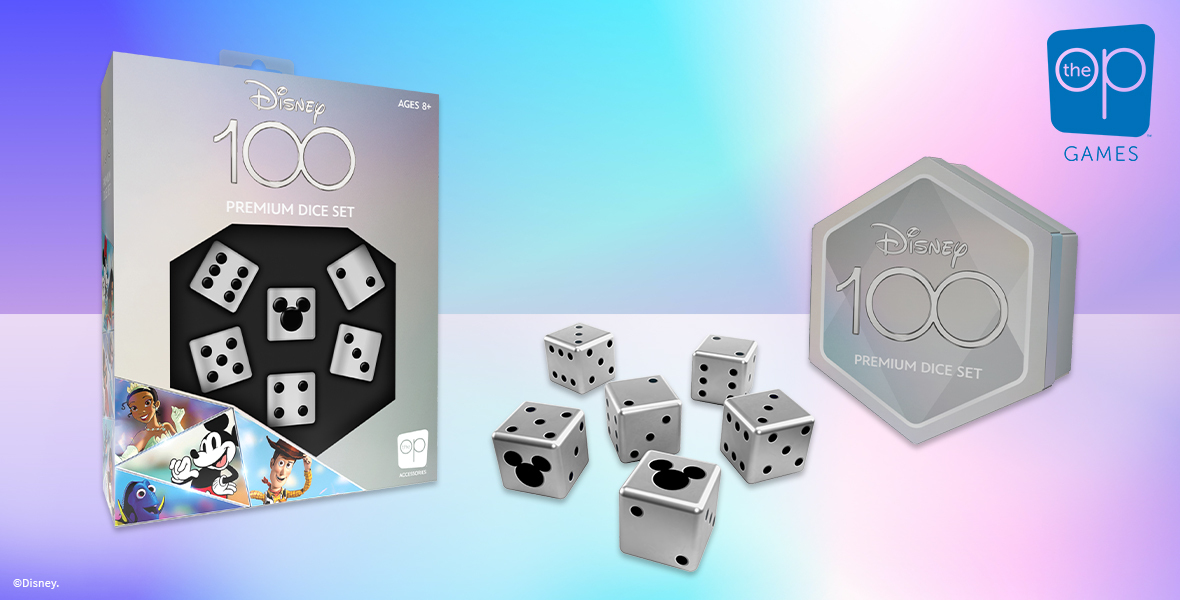 Take 100 Years of Wonder to your next game night with the Disney 100 Anniversary Premium Dice Set! This commemorative, custom zinc 6-sided dice set features the iconic Mickey Mouse head and classic pips, all stored in a hexagonal tin carrying case embossed with the Disney 100 logo and Mickey Mouse head on the lid and bottom. Celebrate 100 years of Disney with a plethora of wonderful games from The Op.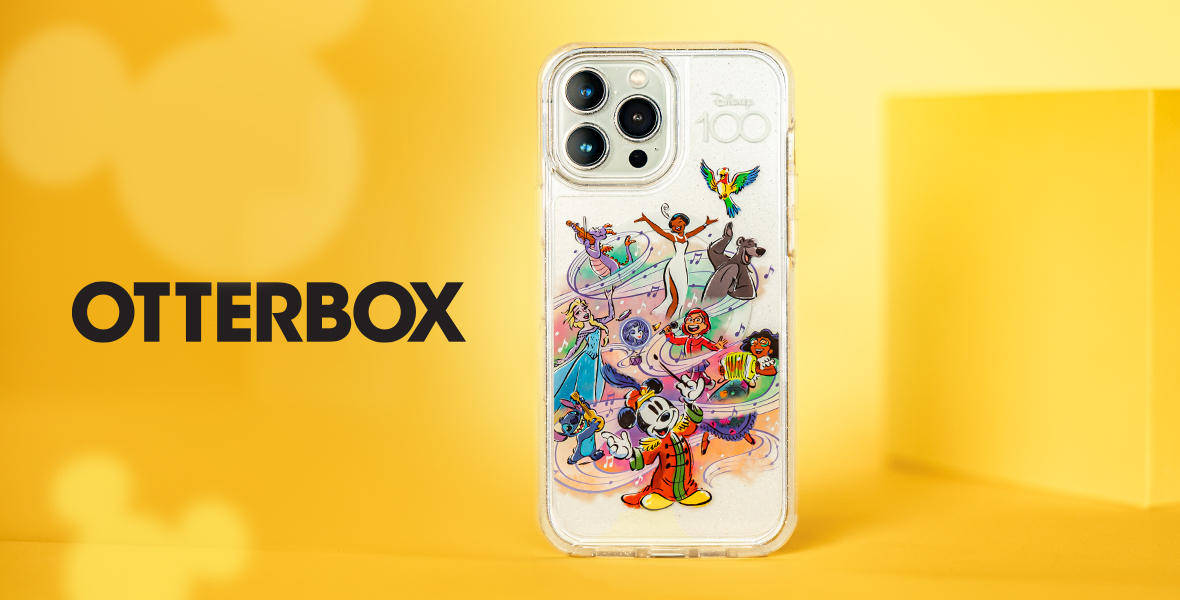 This Mickey Mouse and Friends Drop+ iPhone 13/14 Case by Otterbox features everyone's favorite bandleader conducting a joyful collaboration of Disney characters including Tiana, Elsa, Mei Lee, Mirabel, Baloo, and others. Bright, colorful screen art and the Disney100 logo are featured on the glittery clear case. So very fun and cheerful, it provides superior protection for your phone and great big smiles for you.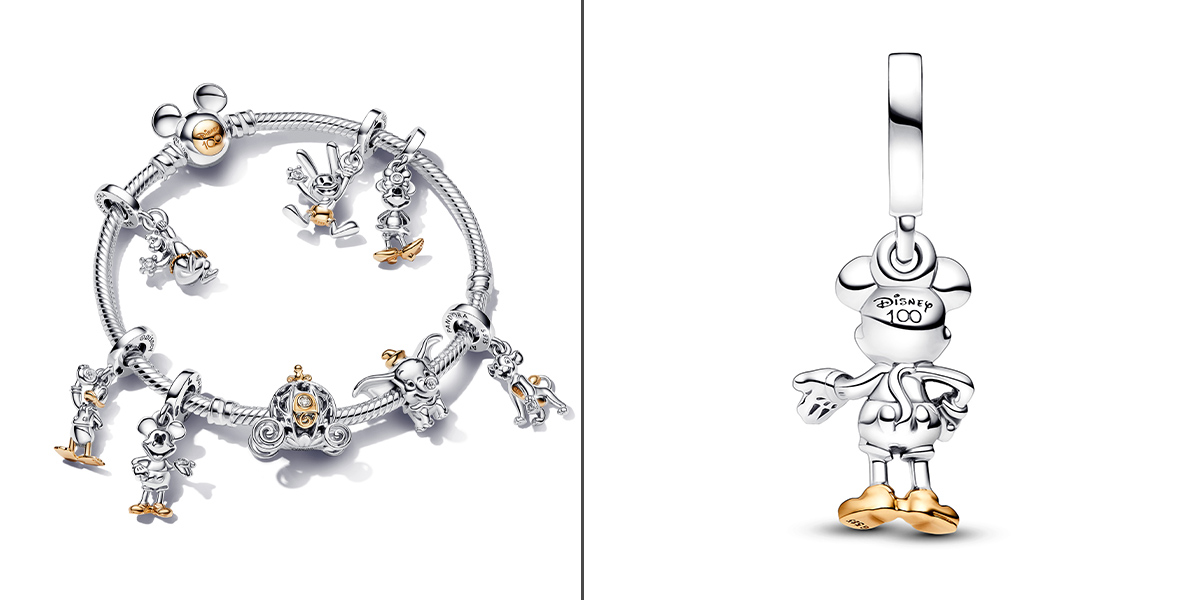 Celebrate 100 Years of Wonder with a beautiful new lineup from Pandora Jewelry. Collect new limited-edition pieces inspired by iconic characters including Mickey Mouse, Minnie Mouse, Oswald, Dumbo, Simba, Baloo, and more. Each charm in the collection is set with a radiant lab-grown diamond. See Pandora's full Disney 100 collection here.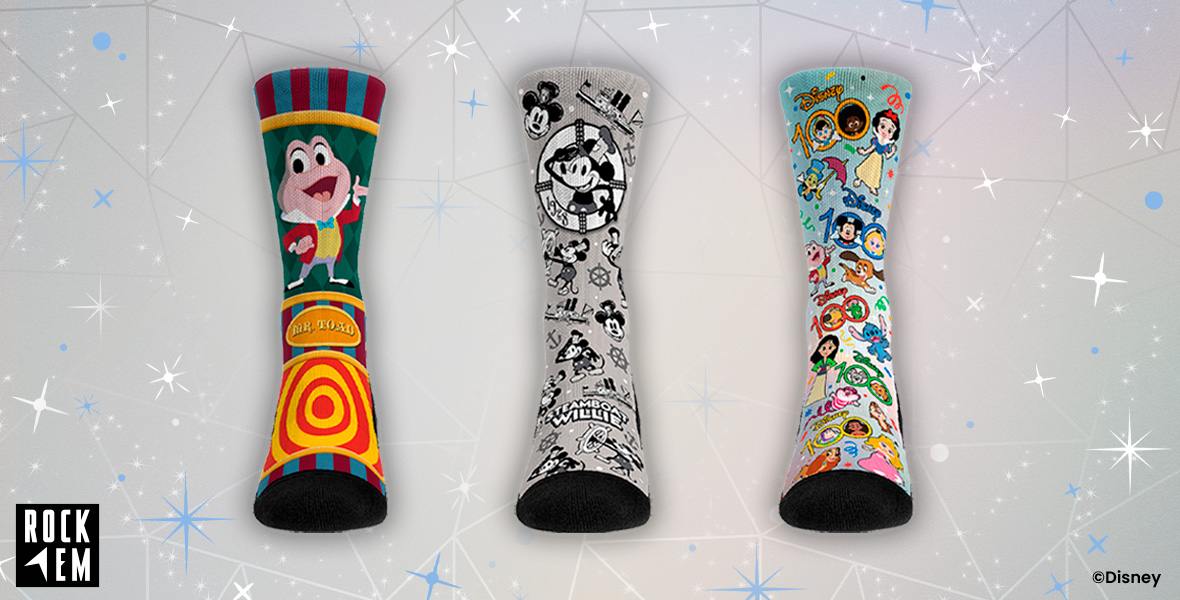 Celebrate 100 years of Disney with Rock 'Em Socks! Don't miss out on your chance to grab exclusive Disney100 sock designs featuring some of the most iconic characters and moments from Disney history.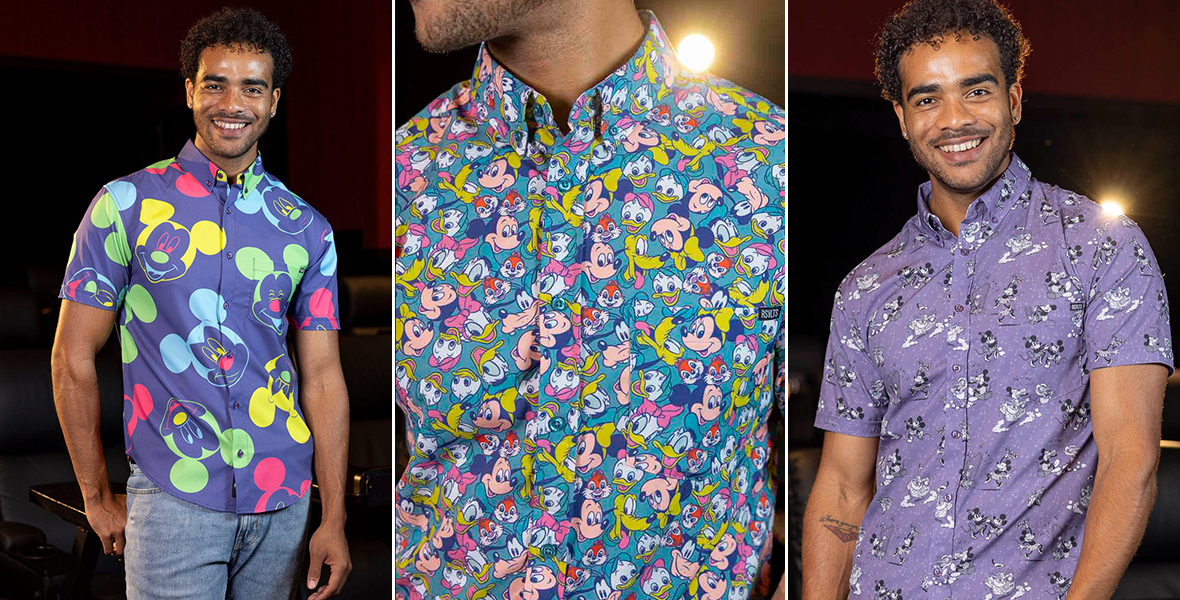 Apparel brand, RSVLTS (rose-uh-velts), has curated a magical collection in celebration of the centennial and wow are they as enchanting as a nighttime fireworks display over the Magic Kingdom! From classic characters and iconography to pop-art patterns that'll brighten up your day, to '80s-era designs and beyond, each item from RSVLTS' Disney100 collection will for sure put a smile on your face from mouse-ear to mouse-ear! All items available in sizes/styles for men, women & children.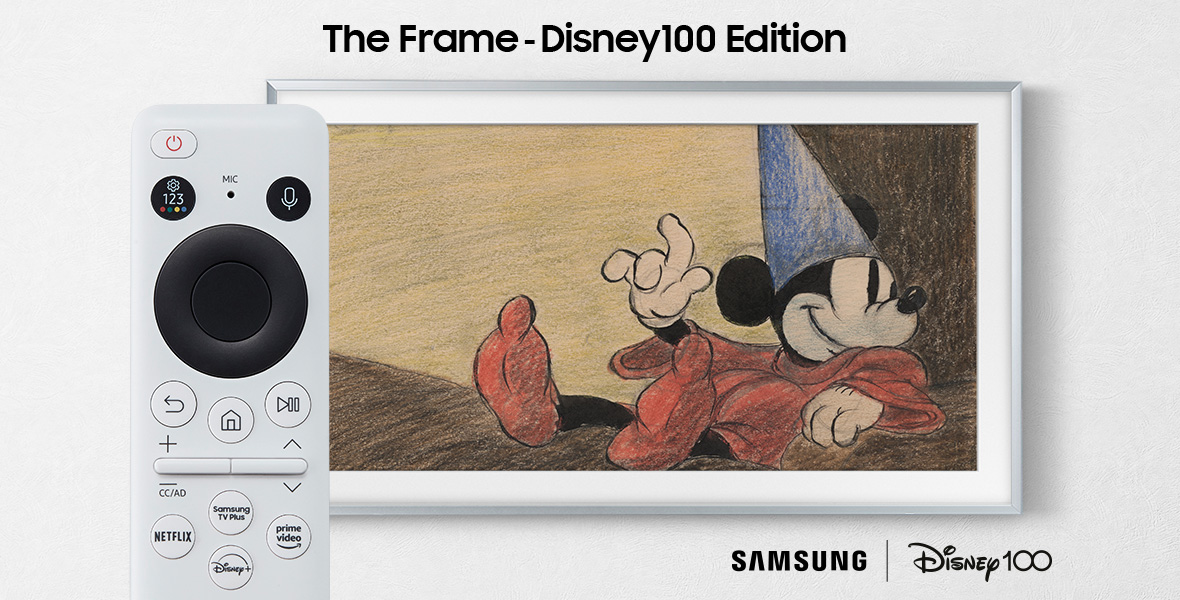 Samsung
Flex your fandom 24/7 with Samsung's limited-time The Frame – Disney100 Edition! The Frame is a TV when it's on and art when it's off – and with the Disney100 Edition, that means 100 pieces of art from some of Disney's greatest stories, as well as a commemorative platinum silver metal bezel, a Mickey Mouse-inspired remote, themed packaging, and a certificate of authenticity. So whether you're watching your favorite movie on Disney+ or appreciating Disney art, it's an amazing way to showcase your fandom. Don't miss your chance to maximize the magic!
Due to popular demand, a second limited time release of The Frame – Disney100 Edition is now available while supplies last at: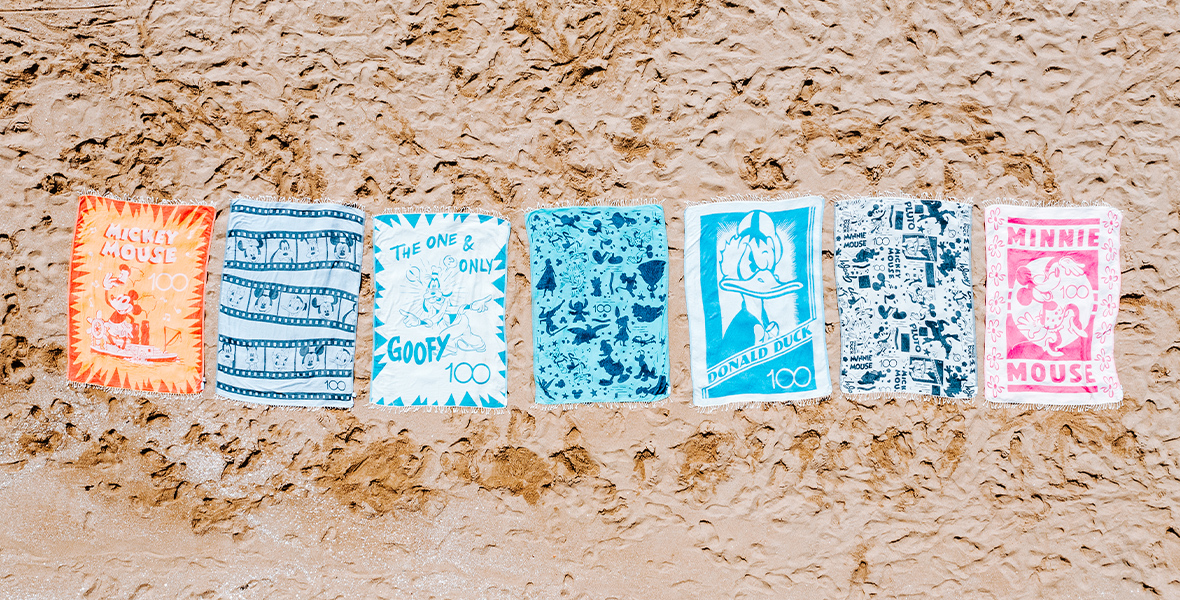 Celebrate Disney 100 Years of Wonder with the limited-edition Mickey & Friends Disney100 towel featuring Mickey & Friends. Made from Turkish organic cotton for a softer hand feel and a better sustainable product, large size, double jacquard weave, twisted tassels, and sand resistant.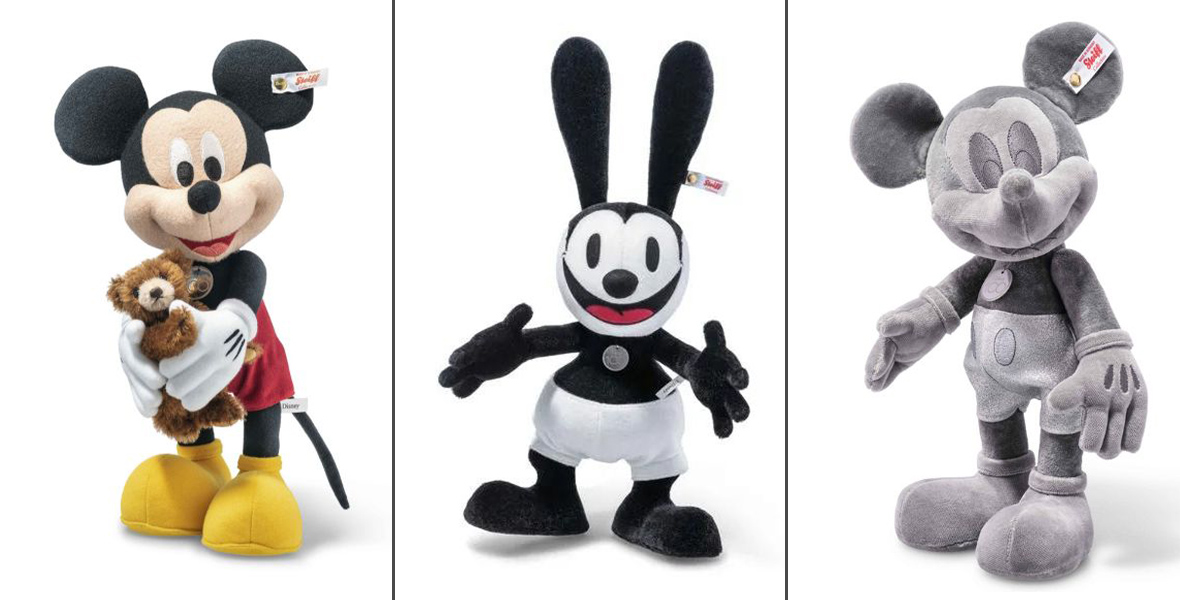 Disney "D100" Mickey Mouse with Mini Teddy Bear
In honor of the partnership that began in 1931, Steiff and Disney are pleased to present their two most iconic figures in one irresistible set. Introducing Mickey Mouse holding his very own Steiff Teddy Bear.
Meet Oswald the Lucky Rabbit! This iconic piece is a tribute to Disney's first character, and thus to the beginning of the Disney Company. On the occasion of the 100th anniversary of The Walt Disney Company, Oswald is now back in the spotlight and we are delighted to present you a treasure of film history with this unique masterpiece, bearing a shiny special chest tag.
Disney "D100" Platinum Mickey Mouse
Platinum, the world's most precious metal, was the inspiration for our newest, most precious Disney collectible yet. In celebration of 100 years of magic, Steiff is honored to present a version of Mickey Mouse unlike any we've ever done before. It's a modern masterpiece that perfectly illustrates the luxurious platinum theme.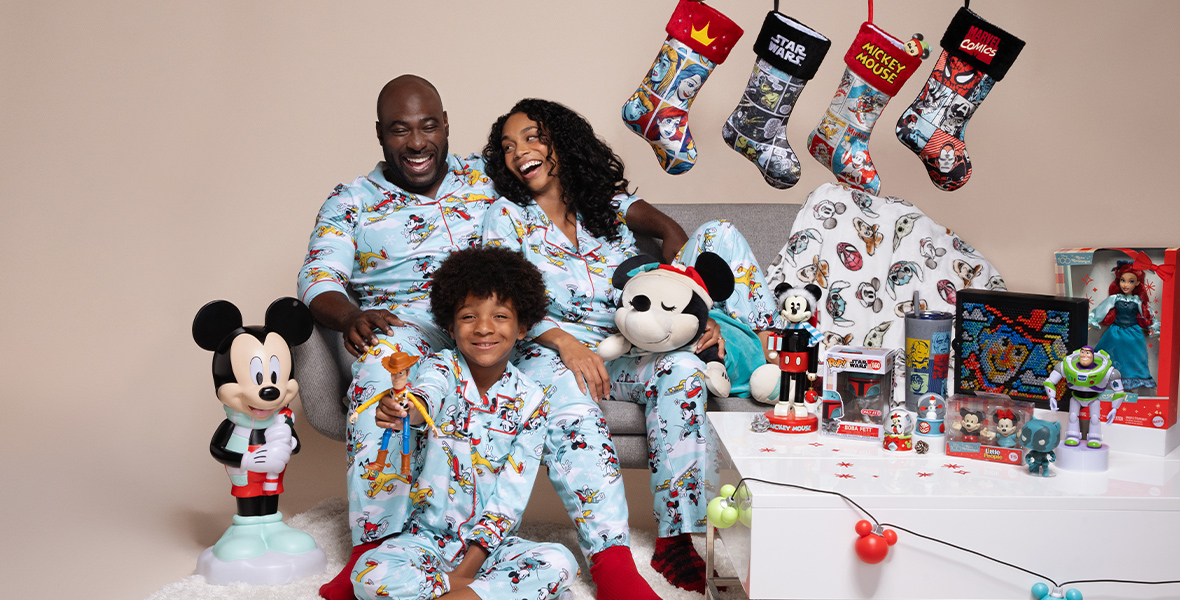 This holiday season, Target is celebrating Disney's 100th anniversary with the launch of an exclusive, limited-time collection of retro Disney toys and other products reimagined for today. The Disney100 Retro Reimagined collection includes more than 100 item across toys, apparel, accessories, home entertainment, and seasonal décor, with more than half under $25. It features characters from Disney, Pixar, Marvel, and Star Wars. Highlights include the Disney Holiday Belle Doll, Pixar Buzz Lightyear and Woody Celebration 2-Pack and new Funko Pop! Target exclusives, including Disney's Mickey Mouse and Star Wars Boba Fett. Coming to stores and Target.com on November 5, with select items available for preorder, the Retro Reimagined collection brings together nostalgic, timeless classics and new-wave products designed to usher in Disney's next century.