By Andie Hagemann
This year, Disney celebrates Women's History Month with a bevy of fantastic content across its streaming services and networks. From the premiere of Disney and Pixar's Turning Red on Disney+ to streamer collections on Hulu and ESPN+ highlighting gender inclusion and trailblazing women, here is the ultimate viewing guide for content from across the worlds of Disney!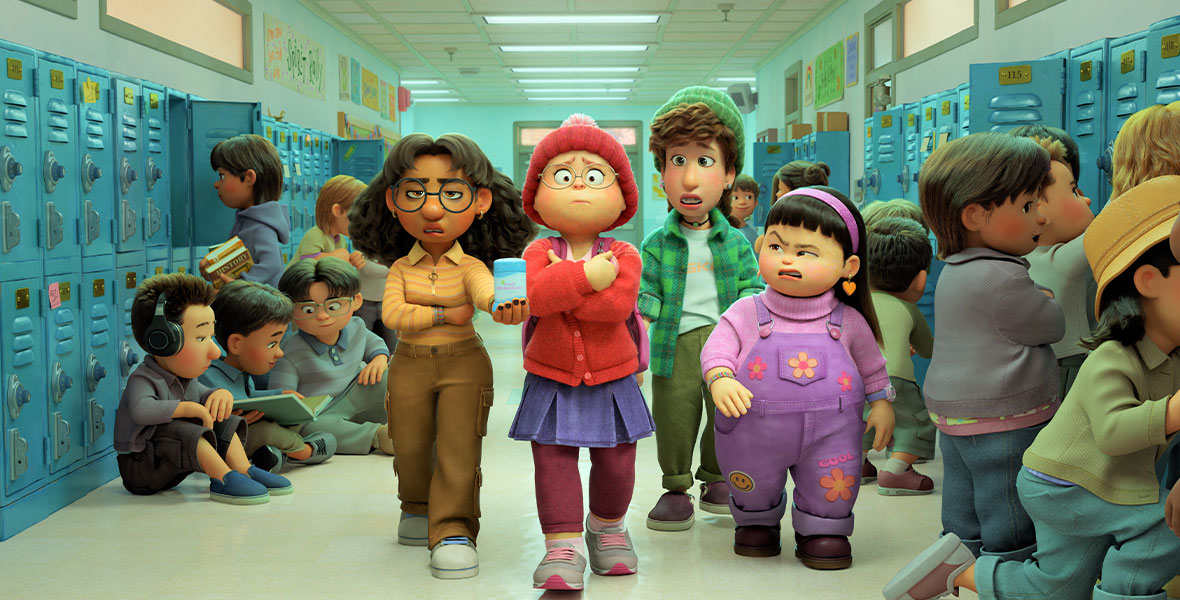 Disney+
Disney+ boasts numerous titles to celebrate Women's History Month throughout March—and beyond. The "Female Leads" collection includes timeless titles Cruella, Marvel Studios' Black Widow, Rodgers & Hammerstein's Cinderella, Hidden Figures, and Queen of Katwe. Plus, fan-favorite animated heroines Elena, Penny Proud, Princess Tiana, Mira, and Moana take center stage. The collection also includes hit Disney Channel Original Movies and shorts with all your favorite leading ladies.
The celebration leads up to the highly anticipated premiere of Disney and Pixar's Turning Red on Friday, March 11, exclusively on the streaming service. The animated feature film, directed by Academy Award® winner Domee Shi, introduces Mei Lee (voice of Rosalie Chiang), a confident, dorky 13-year-old torn between staying her mother's dutiful daughter and the chaos of adolescence. And as if changes to her interests, relationships, and body weren't enough, whenever she gets too excited (which is practically ALWAYS), she "poofs" into a giant red panda.
Later that day, go behind-the-scenes with Embrace the Panda: Making Turning Red exclusively on Disney+. The feature documentary highlights the all-women team at the helm of Turning Red as they share how they brought the heartfelt story to the screen.
The Disney+ Original movie Cheaper by the Dozen, starring Gabrielle Union and Zach Braff, will premiere March 18, exclusively on the streamer. A fresh take on the 2003 hit family comedy, Cheaper by the Dozen is a heartwarming story of the raucous exploits of a blended family of 12, the Bakers, as they navigate a hectic home life while simultaneously managing their family business.
Freeform
Freeform's fan-favorite series Good Trouble returns for its first half of season four on Wednesday, March 9, at 10 p.m. ET/PT, and available the next day on Hulu. (Subsequent episodes will be available March 16, 23, and 30). The show follows the residents of Downtown Los Angeles' The Coterie as they juggle career, love, and the 20-something growing pains at a time in your life where your friends are your family. The series stars Maia Mitchell, Cierra Ramirez, Tommy Martinez, Emma Hunton, Sherry Cola, Zuri Adele, Beau Mirchoff, Josh Pence, Priscilla Quintana, and Bryan Craig.
The fourth season of the Emmy®-nominated series grown-ish is nearly over with only four episodes remaining. It's senior year at Cal U and the countdown is on until graduation day for Zoey (Yara Shahidi) and her friends; tune in to see what hijinks are in store for their final days as college students. The series stars Shahidi, Trevor Jackson, Francia Raisa, Emily Arlook, Jordan Buhat, Chloe Bailey, Halle Bailey, Luka Sabbat, and Diggy Simmons. New episodes of grown-ish will air Thursdays (March 3, 10, and 17) at 10 p.m. ET/PT and the following day on Hulu, leading up to the March 24 season finale.
Single Drunk Female, from 20th Century Television—and starring Sofia Black-D'Elia and Ally Sheedy—airs new episodes on Thursday, March 3, and Thursday, March 10, at 10:30 p.m. ET/PT, with episodes streaming the next day on Hulu... leading up to the March 17 season finale. After a public flame-out at a New York media company, 20-something alcoholic Samantha Fink (Black-D'Elia) is forced to seize the only chance she has to sober up and avoid jail time: moving back home with her overbearing mother, Carol (Sheedy). Back in Greater Boston, Samantha restarts her life, working at the local grocery store while surrounded by all the triggers that made her drink in the first place. Confronted with remnants of her old life, including run-ins with her perfect former best friend (who is now dating her ex), Samantha sets out on a path to move past her worst self and figure out her best self. Single Drunk Female also stars Rebecca Henderson, Sasha Compère, Lily Mae Harrington, and Garrick Bernard.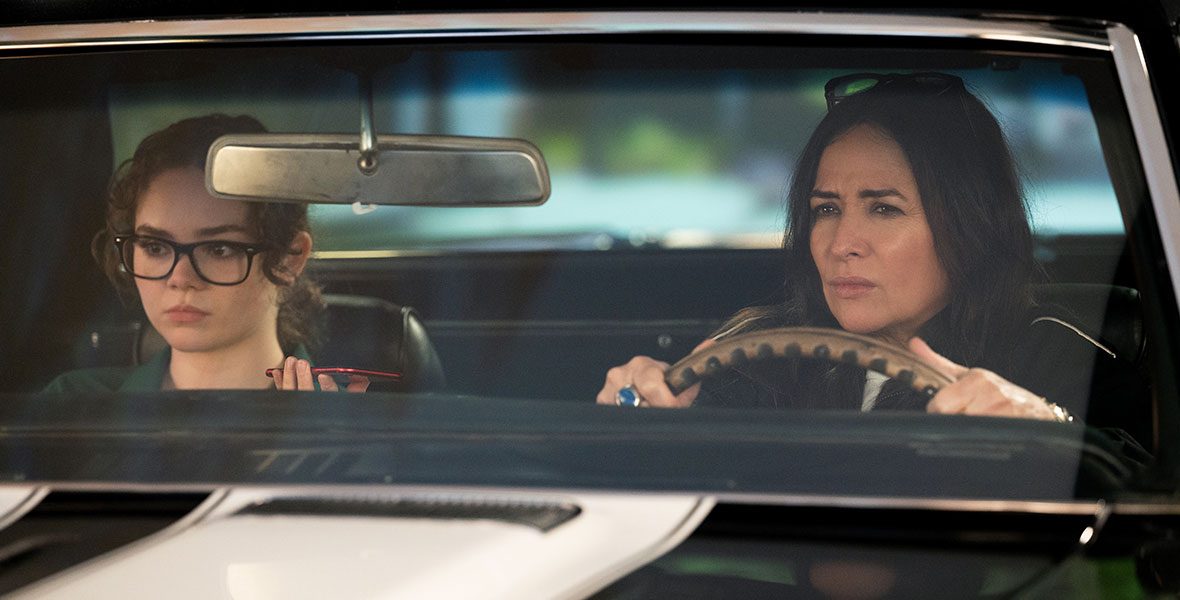 FX
On International Women's Day (March 8), FX will present a movie marathon featuring women directors and/or women in leading roles. The celebration begins with Three Billboards Outside Ebbing, Missouri at 4 a.m. ET; On the Basis of Sex at 9:30 a.m. ET; Hidden Figures at 12 p.m. ET; Little Women (Broadcast Premiere) at 3 p.m. ET; and Bad Moms at 6 p.m. ET (TVMA)... and concludes with back-to-back airings of Charlie's Angels(2019) at 8 p.m. ET and 10:30 p.m. ET (TVMA).
Better Things recently commenced its fifth and final chapter. This season focuses on "the road ahead" for its unconventional, unfiltered heroine, Sam Fox (Pamela Adlon)—so devoted to her life as a working actor and single mother of three that she's left little time for that one elusive thing: herself. As she navigates three daughters; the challenges of her chosen career; and her mother's increasing signs of aging (as well as her own), Sam embraces each moment—and each member of her family—with a fierce love, raw honesty, and biting humor. As each of the Fox women come of age into the next phase of their life, they are inspired to reevaluate themselves, learn from the past, and find their own direction. Better Things airs Mondays at 10 p.m. ET/PT on FX, and streaming on Hulu.
FXX will celebrate with a marathon of The Simpsons on Saturday, March 12, featuring episodes highlighting women (factual or fictional) making a mark on history. Additionally, look for custom content from FX highlighting the Better Things cast, as well as Atlanta's Zazie Beetz. Plus, two movie playlists will be curated on digital to support Women's History Month—with one celebrating women directors and the other highlighting women in leading roles.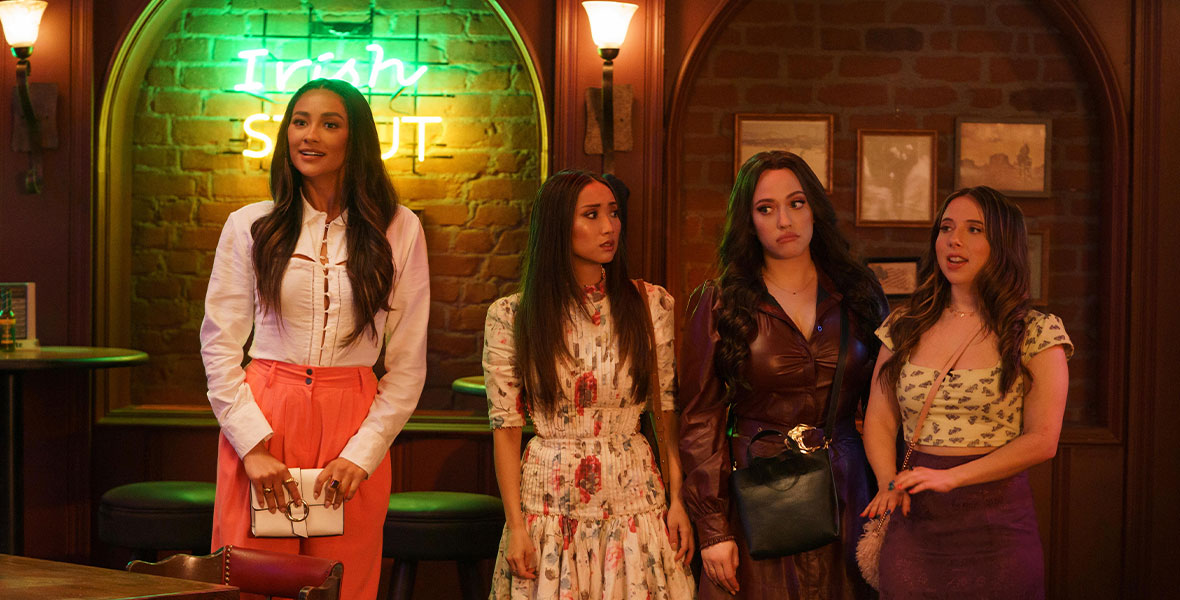 Hulu
Hulu celebrates women in front of and behind the camera with their Made by Her collection, a genre-spanning compilation of content that shows what women can do—as directors, writers, and creators—plus stories that were awarded the ReFrame Stamp for gender-balanced production. During Women's History Month (and all year round), catch exceptional Hulu Originals like The Handmaid's Tale, The Great, How I Met Your Father,Pen15, The D'Amelio Show, Little Fires Everywhere, The United States vs. Billie Holiday, and even more coming soon!
The second season of Hulu's Dollface, which debuted last month, follows Jules (Kat Dennings) and her best friends post pandemic, post heartbreak, and heading toward turning thirty. Having successfully reunited with Madison (Brenda Song), Stella (Shay Mitchell), and Izzy (Esther Povitsky), Jules must now balance keeping their group together as they navigate work, love, and a deeper relationship with each of themselves. All ten episodes are available now.
Hulu's limited series The Dropout tells the story of Elizabeth Holmes (Amanda Seyfried) and Theranos in an unbelievable (but true) tale of ambition and fame gone terribly wrong. The first three episodes debut Thursday, March 3, on the streamer, with new episodes premiering weekly.
The Hulu Original Life & Beth, starring, written, directed, and executive produced by Amy Schumer launches with all 10 episodes on Friday, March 18. Schumer portrays Beth, as she journeys towards building a bolder, bigger, and more authentic life.
Hulu's limited series The Girl From Plainville is inspired by the true story of Michelle Carter's unprecedented texting-suicide case. Based on the Esquire article of the same name by Jesse Barron, the series explores the relationship of Carter (Elle Fanning) and Conrad Roy III (Colton Ryan), and the events leading to his death—and later, her conviction of involuntary manslaughter. The series launches three episodes Tuesday, March 29, with new episodes weekly.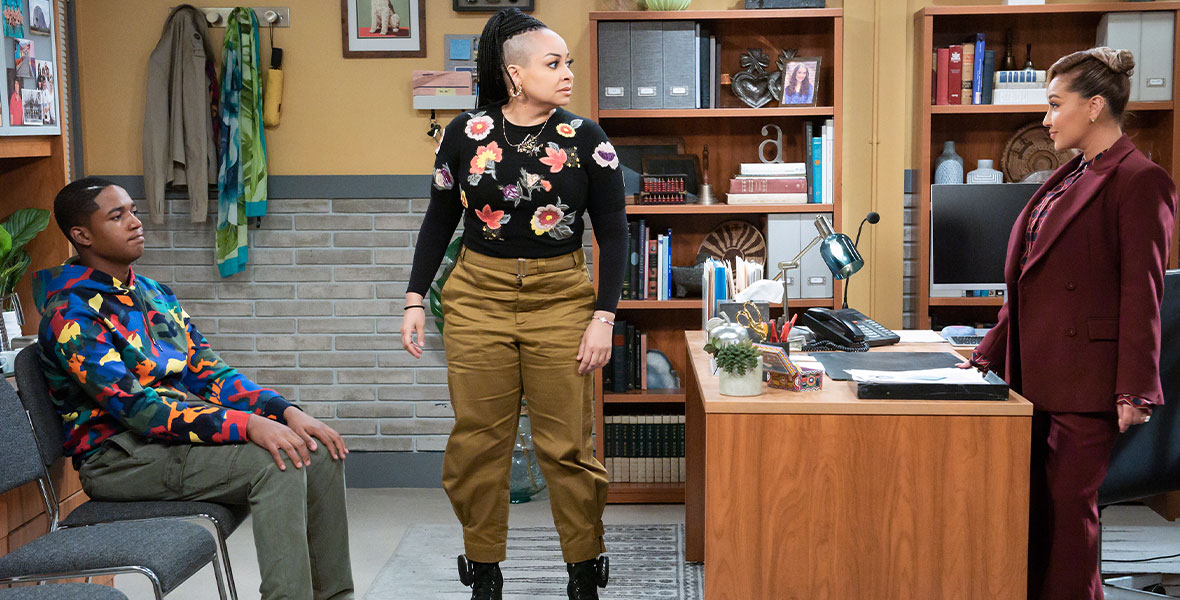 Disney Channel
Raven's Home, the long-running hit comedy series starring and executive produced by Raven-Symoné, returns for a fifth season on Friday, March 11, at 8 p.m. ET/PT on Disney Channel and DisneyNOW. A spinoff of the iconic Disney Channel comedy That's So Raven, the series follows the hilarious adventures of somewhat psychic Raven Baxter (Raven-Symoné) and her son Booker (Issac Ryan Brown), who has inherited his mom's gift to catch glimpses of the future.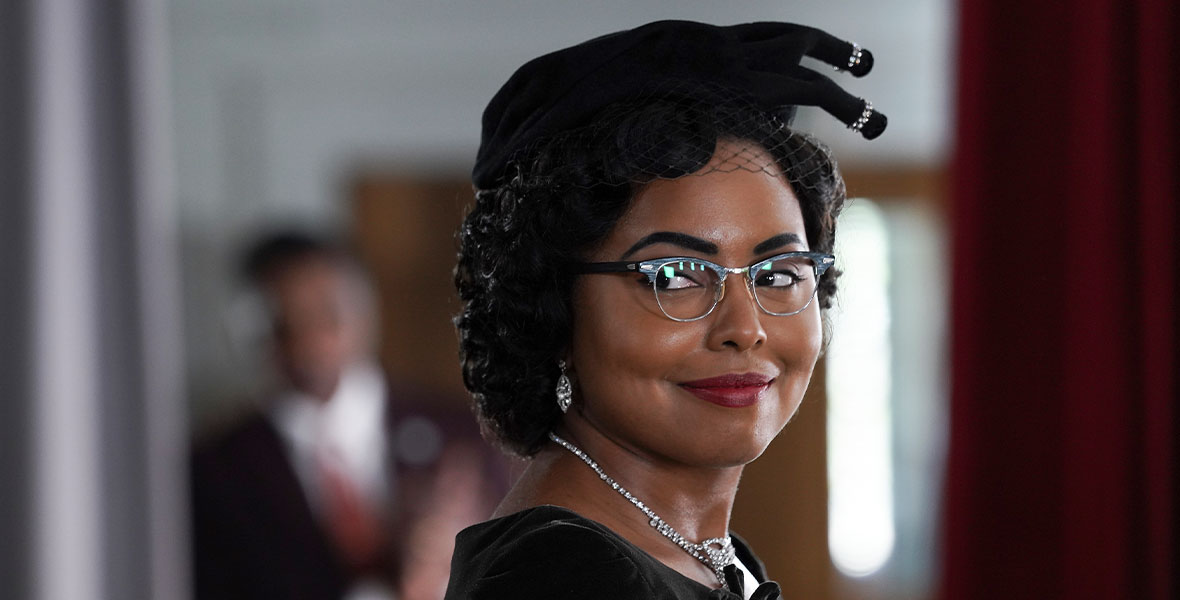 ABC
ABC celebrates Women's History Month with a slate of stellar programming. Don't miss new episodes of American Idol—with superstar judges Katy Perry, Lionel Richie, and Luke Bryan—airing Sundays at 8 p.m. ET/PT. Meanwhile, Station 19 and Grey's Anatomy debut new episodes on Thursdays at 8 p.m. ET/PT and 9 p.m. ET/PT, respectively.
Binge episodes of the new hit comedy Abbott Elementary starring Quinta Brunson on Hulu. In ABC's workplace comedy written and executive produced by Brunson, a group of dedicated, passionate teachers—and a zany principal—are brought together in a Philadelphia public school where, despite the odds stacked against them, they are determined to help their students succeed in life. Though these incredible educators may be outnumbered and underfunded, they love what they do—even if they don't love the school district's less-than-stellar attitude toward educating children. The show returns with new episodes on Tuesday, March 22 at 9 p.m. ET/PT on ABC.
Season two of ABC's Big Sky follows private detectives Cassie Dewell and Jenny Hoyt as they investigate a car wreck outside of Helena, Montana. As they unravel the mystery of the accident, their worlds collide with a vicious outsider, played by Janina Gavankar, who is hellbent on finding answers. New episodes air Tuesdays at 10 p.m. ET/PT on ABC, or stream on Hulu.
ABC's limited series Women of the Movement chronicles the story of Mamie Till-Mobley as she seeks justice for her son Emmett Till. Mamie, portrayed by Tony®-award winning actress Adrienne Warren, risked her life to find justice after her son Emmett was brutally murdered in the Jim Crow South of 1955. Unwilling to let Emmett's murder disappear from the headlines, Mamie chose to bear her pain on the world's stage, emerging as an activist for justice and igniting the civil rights movement as we know it today. All episodes are now available on Hulu.
The 94th Oscars® will be hosted by three hilarious and dynamic actresses: Regina Hall, Amy Schumer, and Wanda Sykes. The ceremony will air live on ABC and broadcast outlets worldwide on Sunday, March 27, at 8 p.m. ET/5 p.m. PT. And in anticipation of the celebration of the year's best films, Emmy® Award-winning choreographers and professional dancers Derek and Julianne Hough are recreating legendary cinematic performances in the brand-new special Step Into... The Movies with Derek and Julianne Hough, premieringSunday, March 20, at 10 p.m. ET on ABC.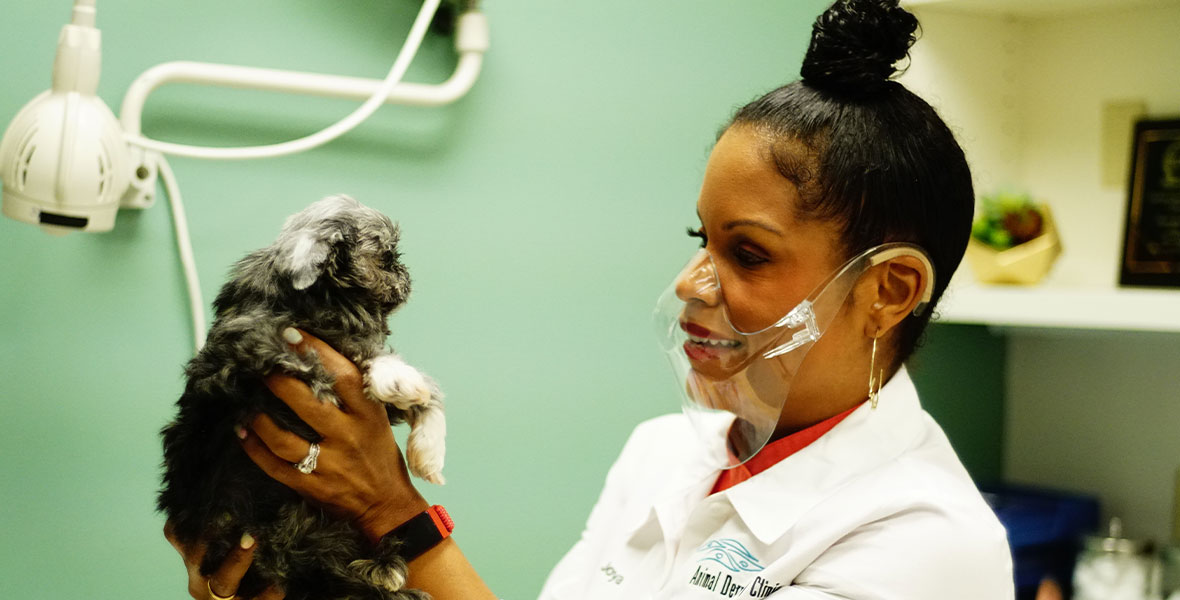 National Geographic
In honor of Women's History Month, National Geographic explores the contributions women have made, both to historical events and to the society that shapes our modern world. Check out the online hub Women of Impact to learn more about the women breaking barriers, changing their communities, and inspiring global action.
Dr. Joya Griffin and her veterinary team take on unique dermatological issues in animals in the National Geographic series Pop Goes the Vet with Dr. Joya. Watch the veterinary dermatologist work her magic as she takes care of patients at her clinic in Kentucky. Episodes are available on Disney+.
The National Geographic special Jane Goodall: The Hope follows Goodall throughout her never-ending travels, capturing her relentless commitment and determination to spread a message of hope. See an intimate perspective of Goodall's pivotal transformation from scientist to activist and leader and how she is galvanizing a future generation to create lasting change. The two-hour documentary is available on Disney+.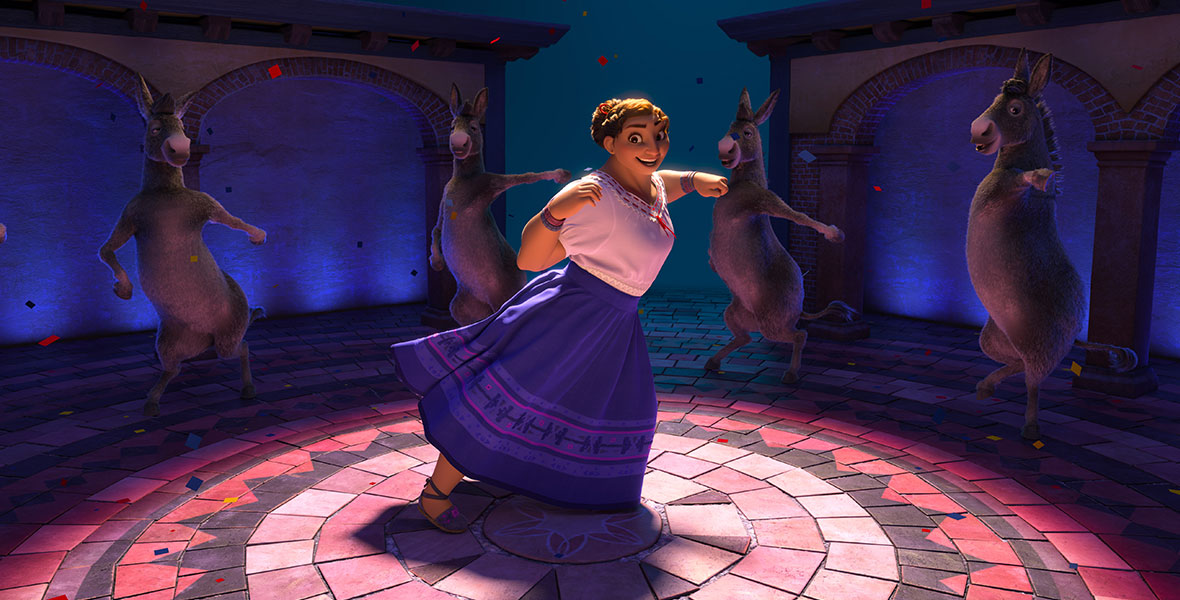 Disney Music Group
Celebrating Women's History Month, Disney Music has compiled a "Girl Power" playlist featuring your favorite anthems from various Disney films and shows. Belt "Surface Pressure" from Walt Disney Animation Studios' Encanto, and other hits from this fantastic playlist available now on your favorite music service.
The upcoming original film OLIVIA RODRIGO: driving home 2 u (a SOUR film) will debut exclusively on Disney+ on March 25. For the first time, Olivia Rodrigo takes audiences on a familiar road trip from Salt Lake City—the shooting location for the first two seasons of High School Musical: The Musical: The Series—where she began writing her triple-platinum Geffen Records debut album SOUR, to Los Angeles. Along the way, she recounts the memories of writing and creating her record-breaking debut album and shares her feelings as a young woman navigating a specific time in her life. Through new live arrangements of her songs, intimate interviews, and never-before-seen footage from the making of the album, follow Rodrigo along on a cinematic journey exploring the story of SOUR, which features her quadruple-platinum debut "drivers license," among other hit songs.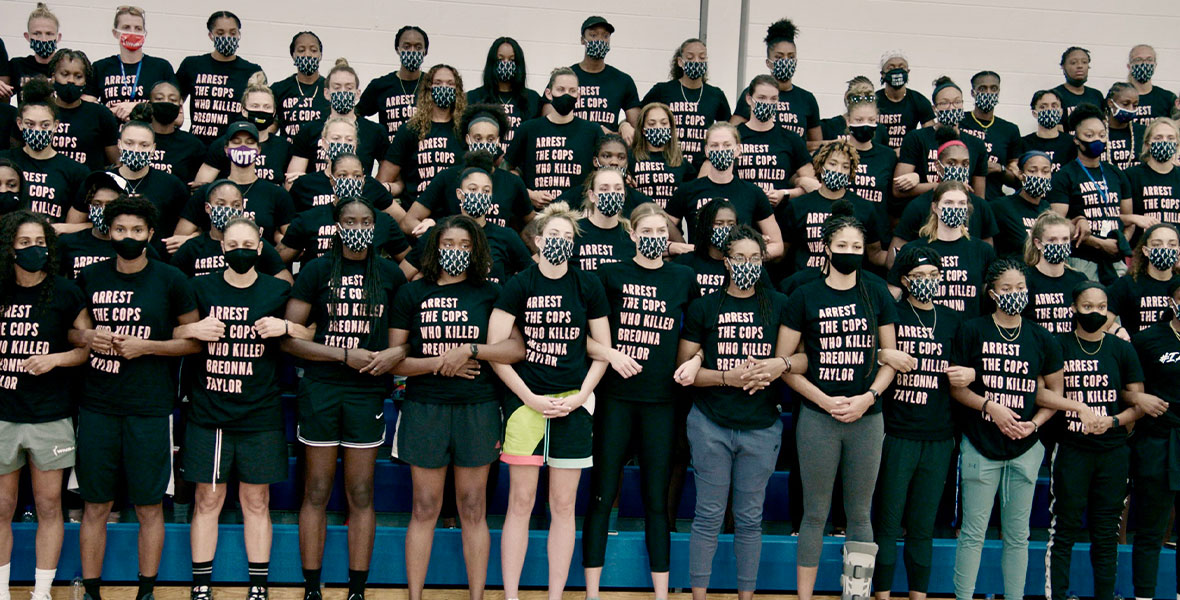 ESPN+
The Women's History Month celebration coincides with the excitement of playoff basketball as women's college programs vie for a tournament berth. ESPN+ will exclusively stream more than 200 games during women's college basketball Champ Week Presented by Principal, tipping off Friday, March 4.
Also, for the first time ever, fans who can't wait for Selection Sunday to begin picking women's tournament winners can play ESPN's Women's Champ Week Challenge. Fans have a chance to win $10,000 by predicting conference tournament winners beginning Friday, March 4, through Selection Sunday (March 13).
ESPN+ also has a collection of series, documentaries, and specials highlighting women in sports on the streamer to continue the Women's History Month festivities. This includes the award-winning 30 for 30 documentaries, E: 60 features, and much more!
The streamer is also the go-to for the acclaimed documentaries Breakaway and 144, which chronicle WNBA superstars and their plight on and off the court. Breakaway, directed by Rudy Valdez, explores the story of Maya Moore, who was one of the best basketball players in the world when she stepped away from the sport for a remarkable reason: to fight for a man she believed was wrongly imprisoned. In 2019, after four WNBA championships, two Olympic gold medals, a WNBA MVP award, three All-Star MVPs, and a scoring title, Moore decided to take a sabbatical from basketball at the age of 29 to devote herself full-time to working for the release of Jonathan Irons, who was wrongly convicted of burglary and assault and sentenced to 50 years in prison. The film chronicles a search for justice, and a relationship that changed the lives of two people forever. Valdez's previous film, The Sentence—winner of the US Documentary Audience Award at the Sundance Film Festival, and the Primetime Emmy® for Exceptional Merit in Documentary Filmmaking—explored similar themes about the criminal justice system.
After the COVID-19 pandemic shut down sports, many leagues were forced to figure out how to save their seasons. The WNBA created a single site at the IMG Academy in Bradenton, Florida, where 144 players across 12 teams played 147 games from July to October 2020. Directed by Lauren Stowell and Jenna Contreras, the latter who spent 62 days in the bubble, the documentary 144 explores the season dedicated to social justice and all that the players overcame to get through it: the pandemic, the demands of activism, and the rigors of an unrelenting schedule.