By Andie Hagemann
This week, the EPCOT International Festival of the Arts presented by AT&T returns to celebrate visual, culinary, and performing arts. Running between Friday, January 13, and Monday, February 20, 2023, the festival includes performances by Broadway's biggest stars, awe-inspiring artwork, mouthwatering dishes (that are not only delicious but also works of art), and so much more! Read on to discover everything to eat, see, and do.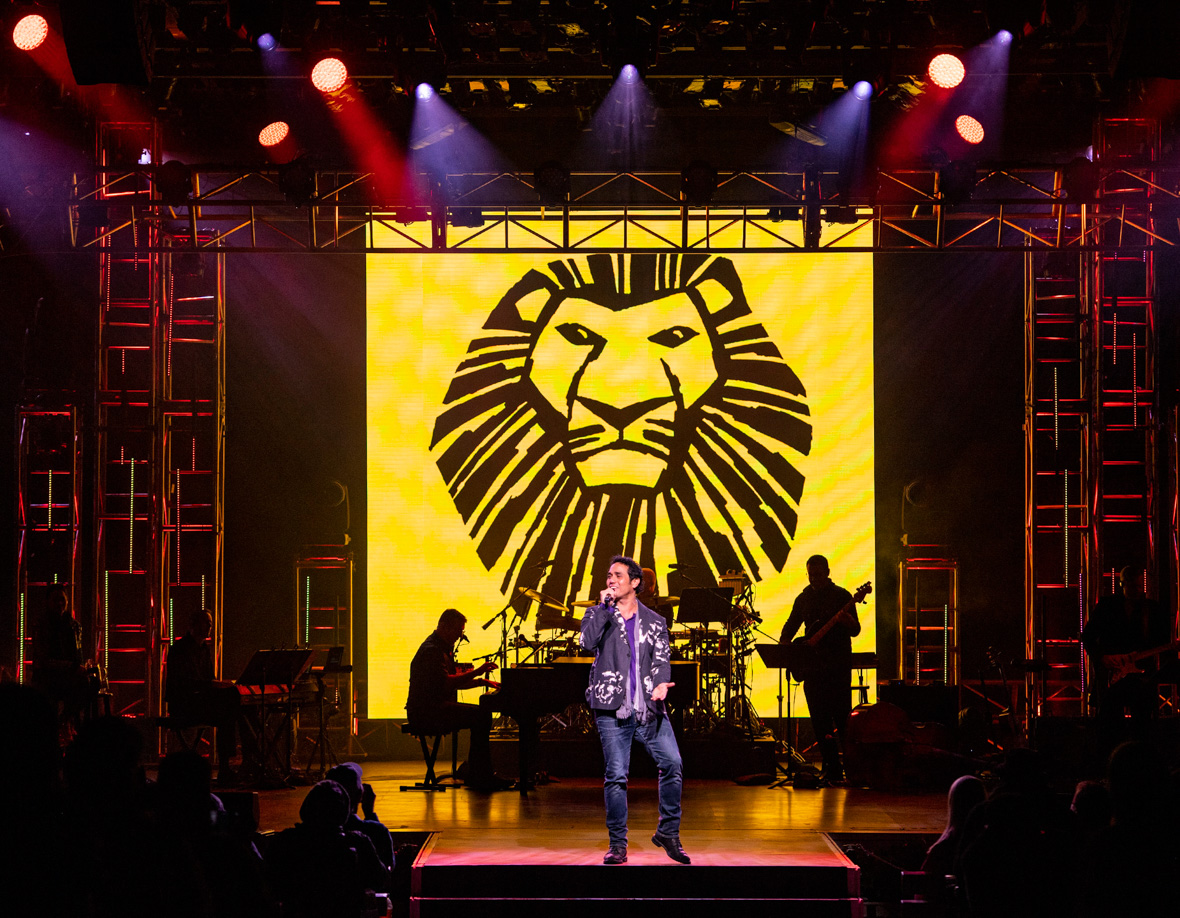 The beloved DISNEY ON BROADWAY Concert Series is back! Throughout the festival, three times each evening guests will be able to watch star-studded performances from more than 25 years of award-winning Disney on Broadway stage productions.
Here's the full lineup of performers:
January 13, 15, 16, 19, 20: Kara Lindsay (Newsies) and Kevin Massey (Tarzan)
January 14, 17, 18, 21, 22: Arielle Jacobs (Aladdin) and Adam Jacobs (Aladdin)
January 23, 25, 26, 29, 30, and February 2, 3: Patti Murin (Frozen) and Robert Creighton (Frozen)
January 24, 27, 28, 31, and February 1, 4, 5: Mandy Gonzalez (AIDA) and L. Steven Taylor (The Lion King)
February 7, 10, 11, 14, 15, 18, 19: Kissy Simmons (The Lion King) and Josh Strickland (Tarzan)
February 6, 8, 9, 12, 13, 16, 17: Ashley Brown (Mary Poppins) and Michael James Scott (Aladdin)

February 20: Special, extended finale performance featuring Brown, Scott, Simmons, and Strickland
Visit ArtfulEPCOT.com for dining packages to pair with concert performances.
In addition to the DISNEY ON BROADWAY concert series, don't miss daily performances by renowned musical artists in the World Showcase Plaza. Don Black (saxophone), Victor Espinola (harp), Dominic Gaudious (didgeridoo), and Nicholas Marks (guitar), are among the featured musicians. Check the My Disney Experience app for daily showtimes.
The EPCOT International Festival of the Arts will also highlight new artists who will immerse guests in stunning artwork filled with color, expression, and soul. In all, more than 100 Disney and visiting artists will participate. Some of the new and returning talent include Larissa Marantz, Yesenia Moises, Ryan Riller, Joe Ledbetter, and Kahran and Regis Bethencourt.
Express your artistic side by visiting the Animation Academy in the America Gardens Theatre, where guests can learn how to draw a Disney character in a session led by an animation artist. From 12:30–1 p.m. daily, the sessions will be taught by one of these artists: Will Gay, Lon Smart, Ron Cohee, Matthew Dewater, Brian Blackmore, Sarah Schmidt, David Holbrook, Michael Montgomery, Alex Maher, and Andy Quiles.
Visit the Expression Section booth to pick up paint, a brush, and an assigned number to contribute to the enormous paint by numbers mural. This opportunity is available from 11 a.m.–5 p.m. daily.
Strike a pose in the picturesque step-in frames around the park honoring iconic works of art. Disney PhotoPass photographers will be on hand at each site to capture the magic and your entire party. Find the step-in frames at the locations below:
International Gateway: Luncheon of the Boating Party (Pierre-Auguste Renoir)
The American Adventure: Washington Crossing the Delaware (Emanuel Leutze)
Between the Italy and Germany Pavilions: Mona Lisa (Leonardo da Vinci) and The Scream (Edvard Munch)

Mexico Pavilion: An homage to Frida Kahlo

Bridge to World Showcase: Peter Pan Storybook and Café Terrace at Night and Sunflowers (Vincent van Gogh)
Italy Pavilion Courtyard: Birth of Venus (Sandro Botticelli)
Kids can create their own chalk-art masterpiece near the bridge to the World Showcase Plaza. This experience is available from 11 a.m.–5 p.m. daily.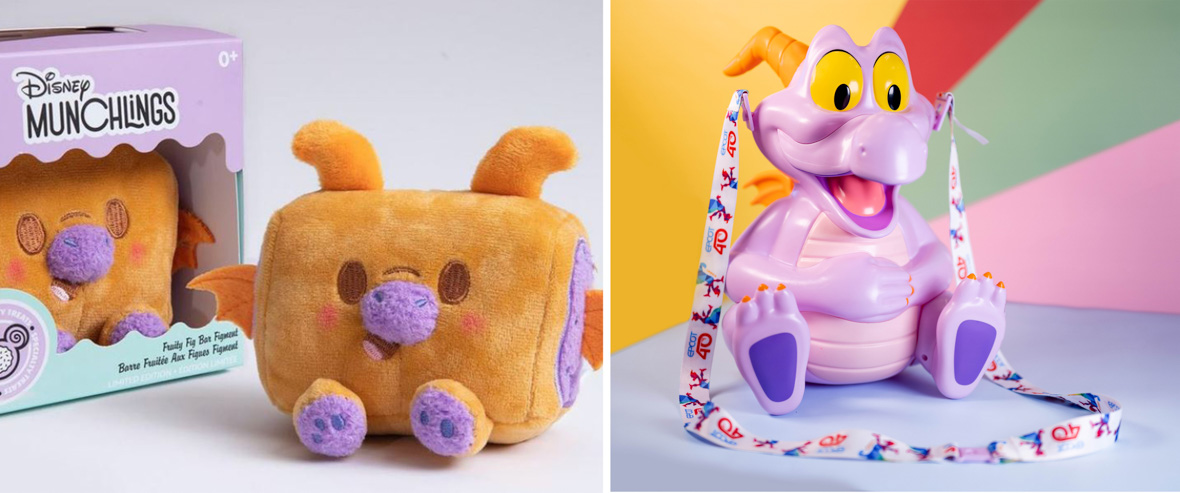 Guests can bring home Figment with the Fruity Fig Bar Figment Disney Munchling, the Figment Premium Popcorn Bucket (now with a new EPCOT 40th anniversary strap), and other Figment-inspired festival merchandise including a Spirit Jersey, a Figment Chalkboard Framed Mug, and a Figment CORKCICLE Tumbler.
The young and young at heart can help Figment learn about art with Figment's Brush with the Masters scavenger hunt around the World Showcase. To get started, purchase a map and stickers (while supplies last) for $9.99 plus tax at one of the following stores: Creations Shop, Port of Entry, and World Traveler.
As guests stroll the World Showcase, they can search for Figment hiding inside art inspired by famous works at each World Showcase Pavilion—look for the Figment-themed picture frame. Each time you find Figment, add the corresponding sticker to the Pavilion on your map. After you complete your journey, return your map to Disney Traders or World Traders for a small keepsake.
No festival is complete without delectable bites and sips! Our friends at the Disney Parks Blog compiled a scrumptious food guide detailing all the offerings available throughout the park, including the Wonderful Walk of Colorful Cuisine offerings.
Take your tastebuds on a tasty trek around EPCOT with seven vibrant dishes—and one technicolor treat to enjoy at the end of your journey. Use the Festival Passport to look for the specifically noted items and track your progress by collecting a stamp after each purchase. Once you've had at least five of the seven dishes—and collected the stamps—bring your stamped Festival Passport to the Deco Delights food studio to receive a complimentary Artist Palette Cookie.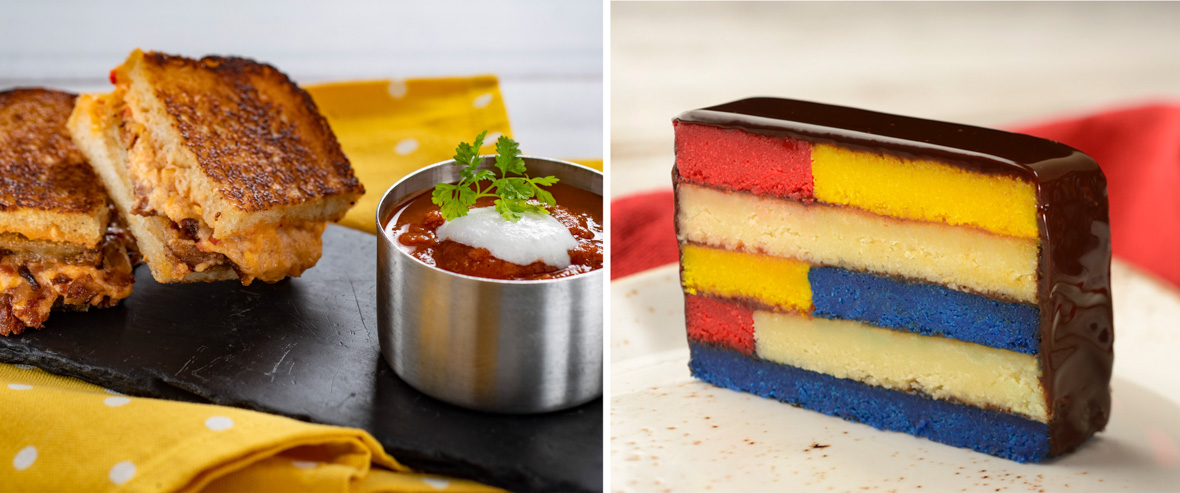 Pop Eats (Near Port of Entry)
Tomato Soup with grilled cheese

Tomato Soup with pimento cheese, bacon, and fried green tomato grilled cheese (New)
Almond Frangipane Cake layered with raspberry jam and Belgian chocolate (Wonderful Walk of Colorful Cuisine Item)

Brooklyn Brewery Pulp Art Hazy IPA

Bleu Spectrum: Blanc de Bleu Cuveé Mousseux with boba pearls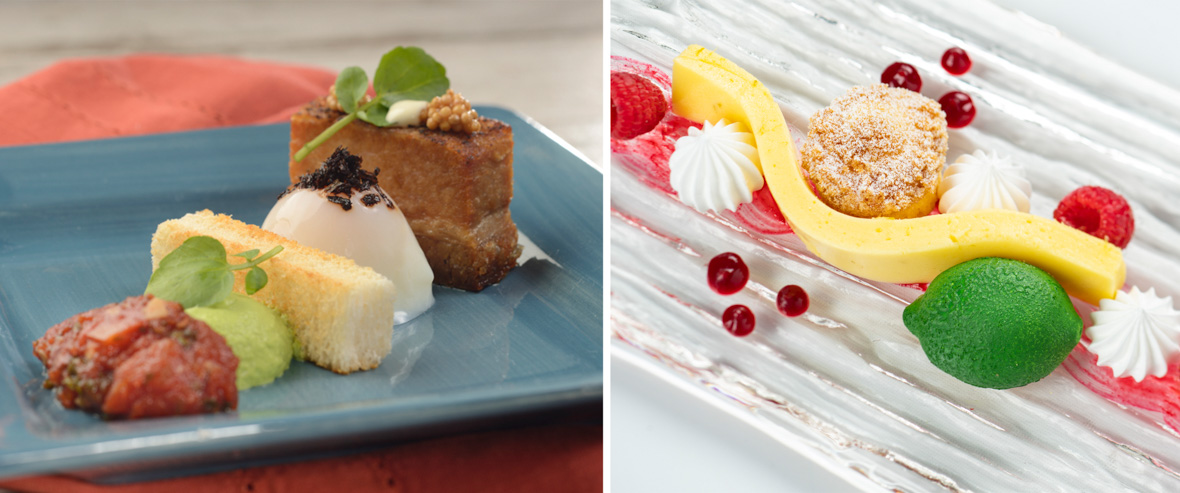 The Deconstructed Dish (Near Port of Entry)
Deconstructed BLT: Pork belly, soft-poached egg, onion bread pudding, watercress espuma, and tomato jam

Deconstructed French Onion Soup: Beef broth ravioli, gruyère cream, onion bread pudding, and onion textures

Deconstructed Key Lime Pie: Flexible Key lime curd, "Key lime" mousse, graham cracker cake, and meringues (Wonderful Walk of Colorful Cuisine Item)  

Deconstructed Apple Pie à la Mode: Apple-cinnamon gelato, cinnamon apple cider, apple pie filling, and streusel (Non-Alcoholic)

Wicked Weed Brewing Blank Canvas Belgian Blonde Witbier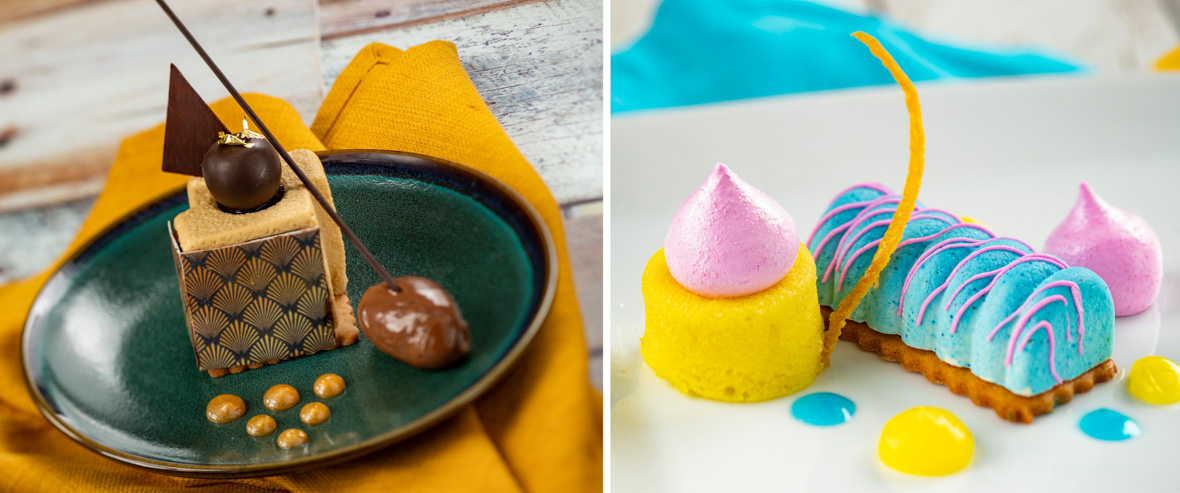 Deco Delights (Near Port of Entry) 
Dulce Chocolate Mousse with chocolate crémeux and dark chocolate truffle

Decadent Valrhona Chocolate with dark chocolate mousse, chocolate brownie, and cassis mousse

Orange Mousse with Lemon Cake and Raspberry Meringues (Wonderful Walk of Colorful Cuisine Item)

3 Daughters Brewing Strawberry Blonde Nitro

81Bay Brewing Co. Vanilla Porter

Playalinda Brewing Co. Milk Stout

Espresso Martini featuring Boyd & Blair Potato Vodka (New) 

Neapolitan Beer Flight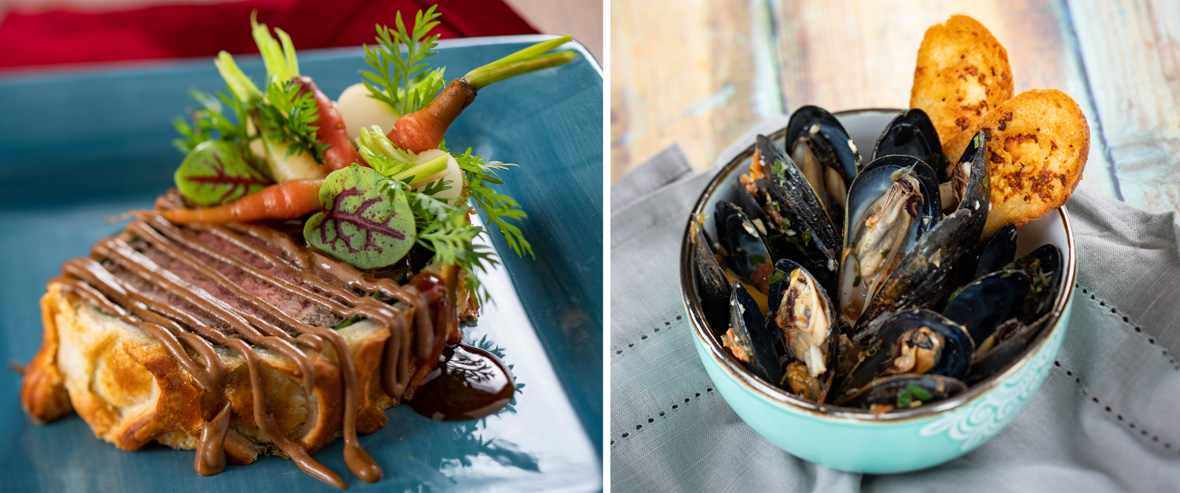 The Craftsman's Courtyard (Near Creations Shop)
Beef Wellington: Mushroom duxelles, prosciutto, and puff pastry with red wine demi-glace and baby vegetables

Cast Iron-roasted P.E.I. Mussels with sautéed tomatoes, garlic, and fresh herbs

BrewDog Jet Black Heart Nitro Oatmeal Stout (New)

Cold Fashion Coffee Cocktail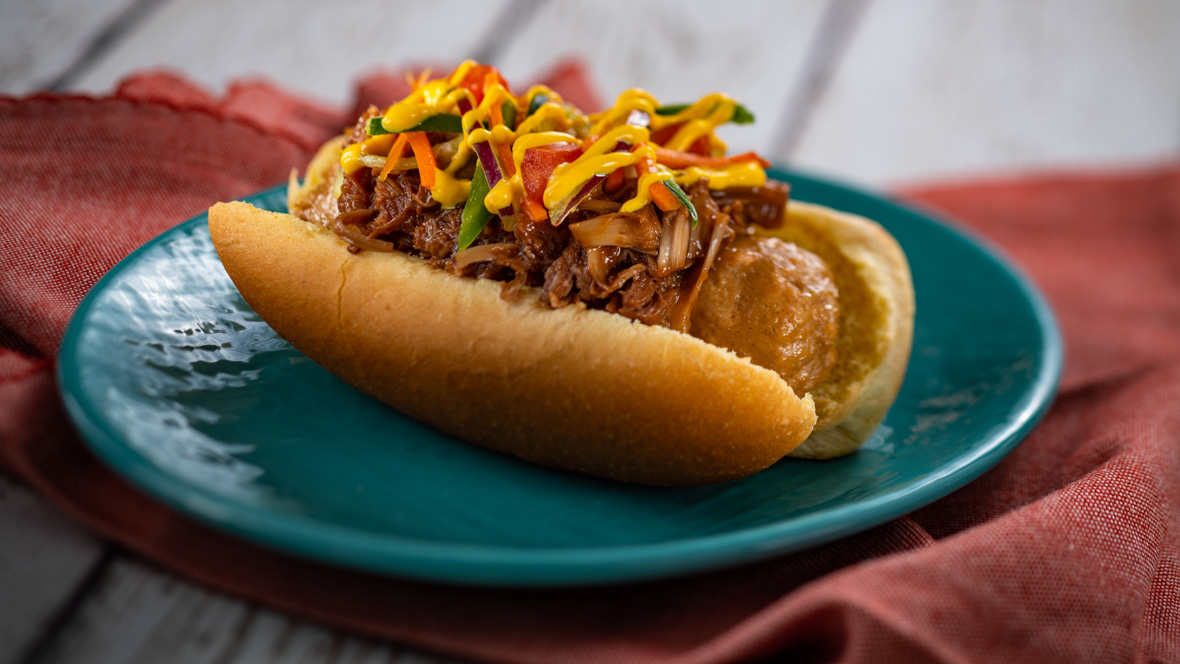 Refreshment Outpost
Plant-based Bratwurst with spicy turmeric aïoli, coffee barbecue jackfruit, and slaw (Plant-based item)

Artist Palette Jumbo Chocolate Chip Cookie

Soft-Serve Waffle Cone: DOLE Whip, salted-caramel soft-serve, or swirl

Ivanhoe Park Brewing Co. Berries & Cream Sour Berliner (New)
Left Hand Brewing Co. Wook Bait IPA (New)

Central 28 Beer Company Wall Art Brown Ale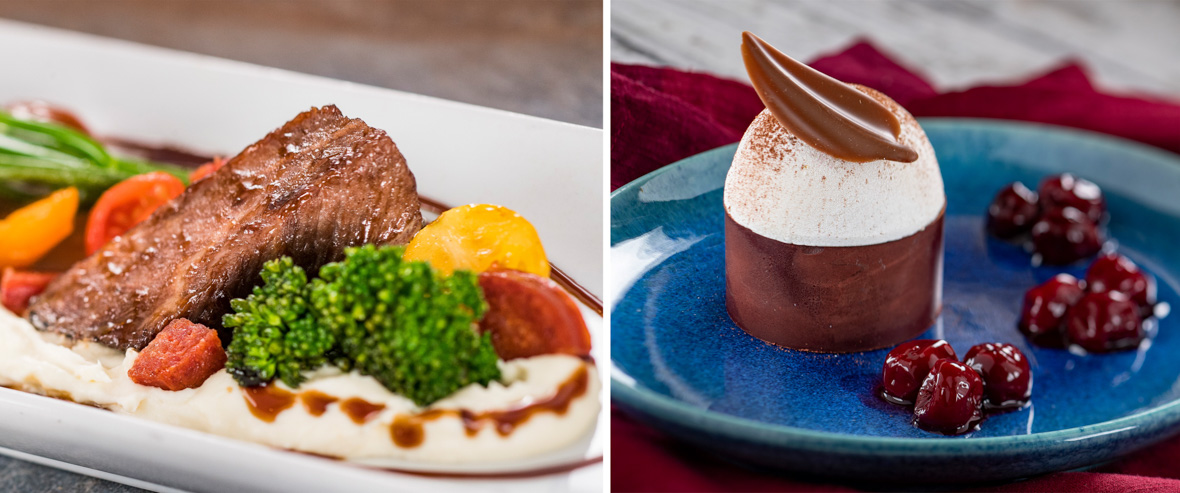 Pastoral Palate (Germany) 
Red Wine-braised Beef Short Rib with parsnip purée, broccolini, baby tomatoes, and aged balsamic

Wild Boar Cassoulet with duck confit, ham hock, and wild boar sausage

Black Forest Cake: Chocolate Mousse with morello cherries and Chantilly cream (New)

3 Daughters Brewing Rosé Hard Cider

81Bay Brewing Co. Rosé Blonde Ale

Frozen Rosé

A Play on Rosé Flight

Marietta Old Vine Rosé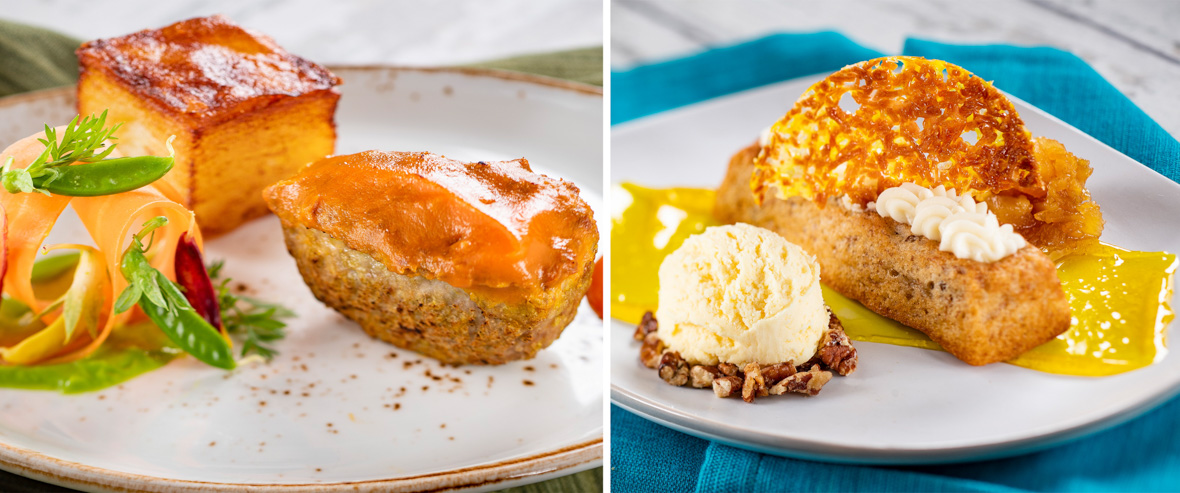 The Artist's Table (The American Adventure)
Three-Meat Meatloaf with "Peas and Carrots": Green pea pudding, carrot ketchup, shaved carrot salad, and snap peas (New)
Duck and Dumplings: Smoked duck breast, ricotta dumplings, petite vegetables, and duck jus (New)
Hummingbird Cake: Banana cake with pineapple, coconut, pecans, and cream cheese frosting with banana sorbet (New)

Sipping Chocolate Flight: White, milk, and dark chocolates (Non-Alcoholic)

Boulevard Brewing Co. Tank 7 Farmhouse Ale (New)
Parish Brewing Co. South Coast Session Amber Ale (New)
Brewery Ommegang Three Philosophers Belgian Quad (New)

Lange Estate Winery Pinot Noir

Symphony in Chocolate Flight: Mozart Chocolate Liqueurs paired with sipping chocolates

Beer Flight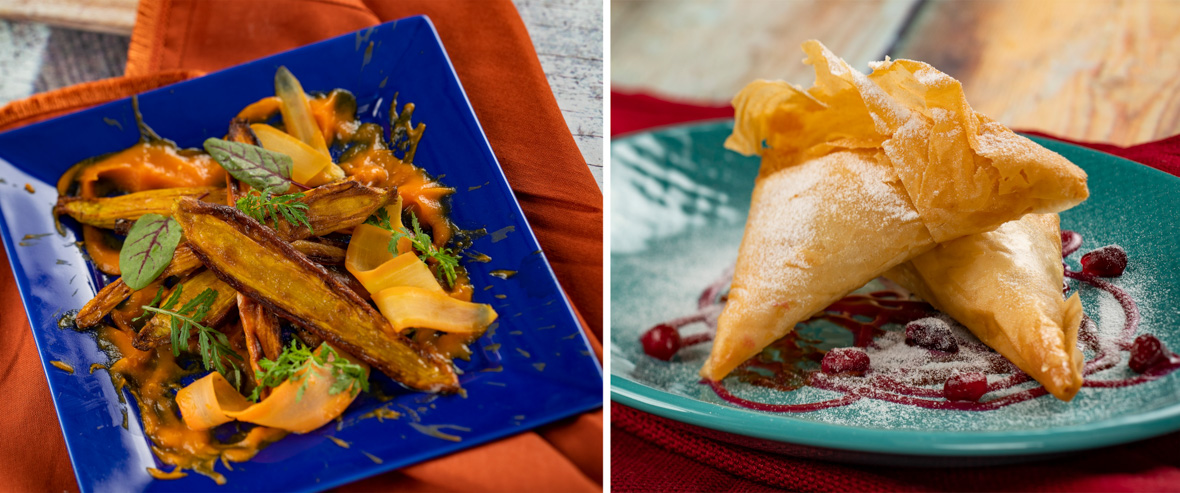 Tangierine Café: Flavors of the Medina (Morocco)
Carrots Three Ways: Chermoula-spiced grilled carrots, pickled carrots, and carrot ginger purée (Plant-based item) (Gluten/ Wheat Friendly)

House-Made Crispy Almond Phyllo Pockets with white chocolate pomegranate and milk chocolate orange

Chai Tea Mint Sparkler featuring Twinings Chai Tea with Sprite (Non-Alcoholic)

Stem Ciders Flockstar Hard Cider

Blake's Hard Cider Co. Mule de Pomme: Pomegranate, ginger, and lime hard cider

3 Daughters Brewing Chai Hard Cider

Chai Tea Mint Mimosa featuring Twinings Chai Tea with Key lime sparkling wine and mint

Cider Flight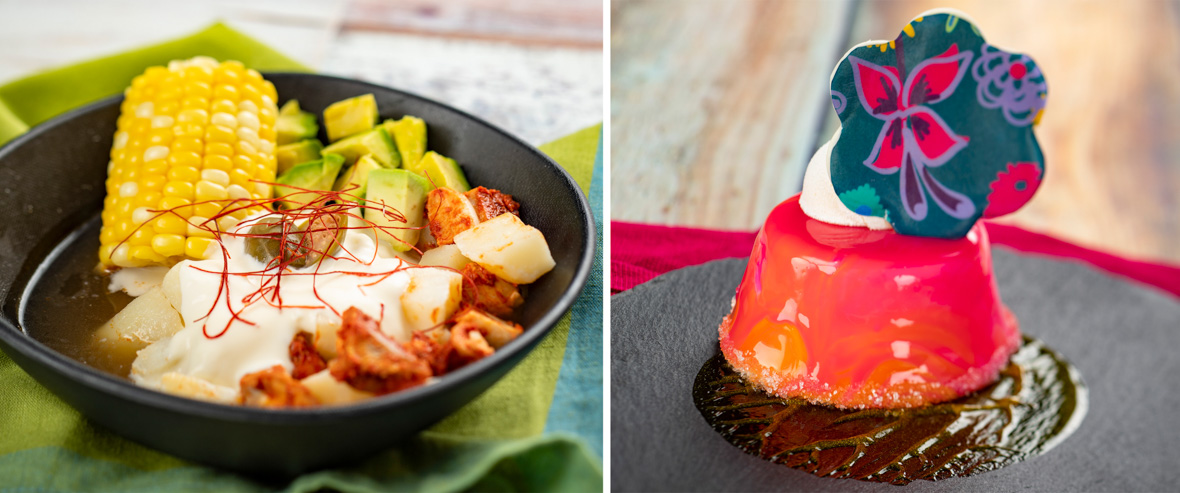 Vibrante & Vívido: Encanto Cocina (Between Morocco and France) 
Chorizo and Potato Empanada with turmeric aïoli and annatto aïoli (Wonderful Walk of Colorful Cuisine Item)  

Spicy Ajiaco Soup with guajillo and árbol chili-spiced chicken, potato, avocado, corn, and crème fraîche (Gluten/Wheat Friendly)

Passion Fruit Mousse with dragon fruit jam (Gluten/Wheat Friendly)

Coconut and Passion Fruit Smoothie (Non-Alcoholic)

Frozen Piña Colada

Passion Fruit Daiquiri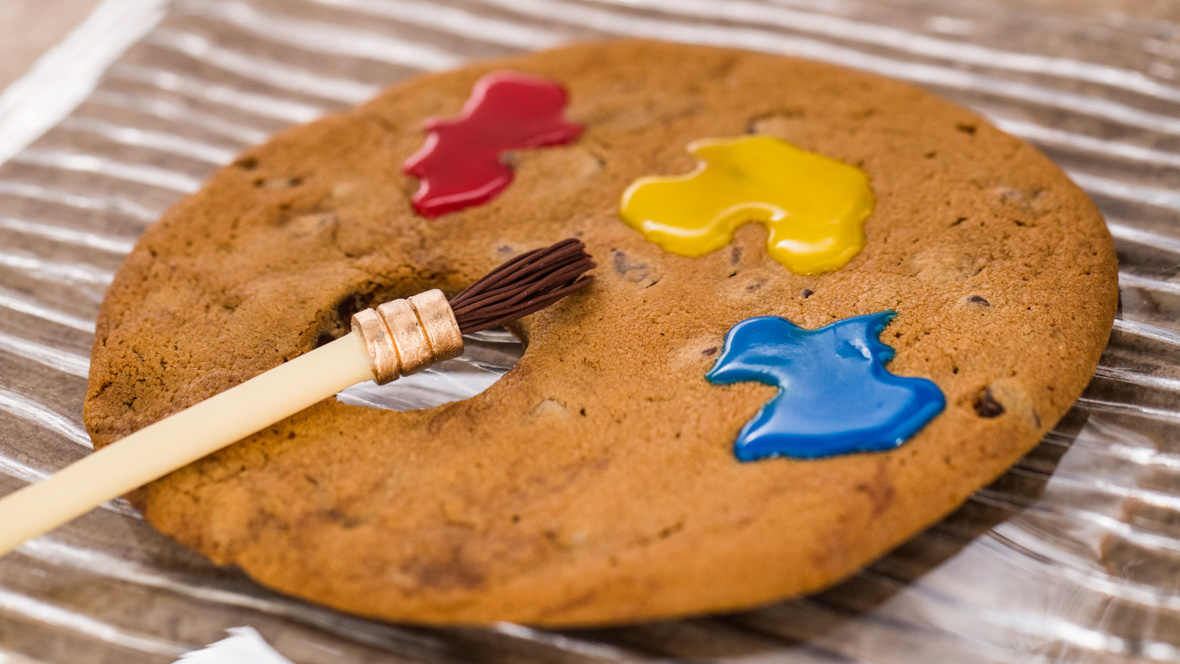 Refreshment Port (Near Canada)
Gnocchi Poutine with red wine-braised beef, cheese curds, basil, and burrata

Artist Palette Jumbo Chocolate Chip Cookie

Soft-serve Waffle Cone: DOLE®Whip Strawberry, DOLE Whip Lemon, or swirl

Blood Orange Cosmo: Boyd & Blair Potato Vodka with blood orange, cranberry, and lime

Boulevard Brewing Co. Quirk Blueberry Lemon & Lavender Hard Seltzer (New)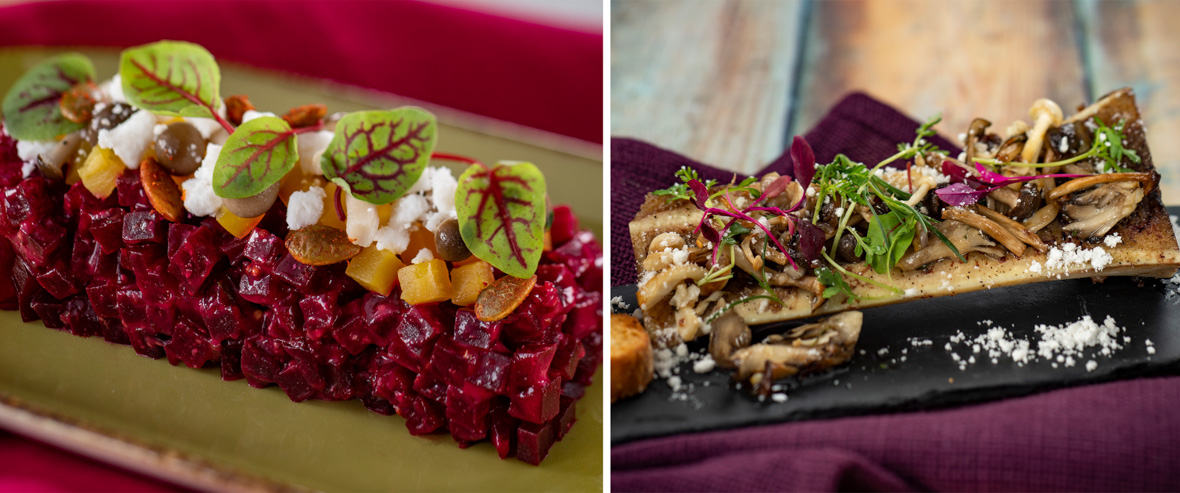 Gourmet Landscapes (Canada) 
Blood Orange-braised Beet Tartare with mustard vinaigrette, pickled clamshell mushrooms, and golden beets (Wonderful Walk of Colorful Cuisine Item) (Plant-Based Item) (Gluten/Wheat Friendly)

Roasted Bone Marrow with onion marmalade, pickled mushrooms, and petite lettuce

Wild Mushroom Risotto with aged Parmesan, truffle shavings, and zinfandel reduction

Whole Hog Brewery Raspberry Chéret Double Radler

Schlumberger Cuvée Klimt Brut

The Meeker Vineyard Winemaker's Handprint Merlot

Frozen Rusty Nail Cocktail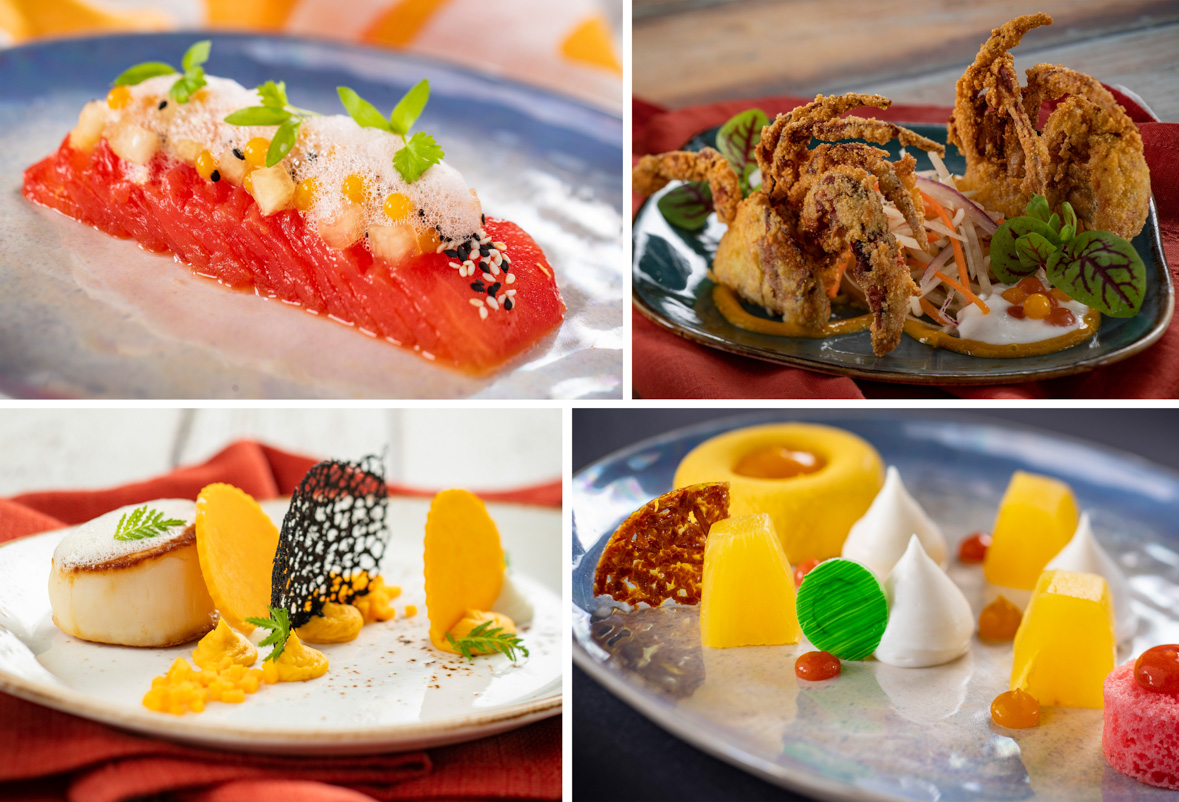 Moderne (Near Test Track)
Compressed Watermelon Tataki with pickled watermelon rind, yuzu pearls, watermelon foam, and wasabi (New) (Plant-Based Item)
Angry Crab: Whole crispy soft-shell crab with green papaya salad, mango-sriracha fluid gel, and coconut-lime foam with pomegranate and mango crush pearls (New) 
Pan-seared Scallops with vanilla-butternut squash purée, brown butter cauliflower purée, and lime foam (Wonderful Walk of Colorful Cuisine Item)
The Tropics: Lilikoi mousse, guava cake, coconut crémeux, compressed pineapple, and mango gel (New)
Watermelon Mary featuring Boyd & Blair Potato Vodka (New)
Lohr Riesling (New)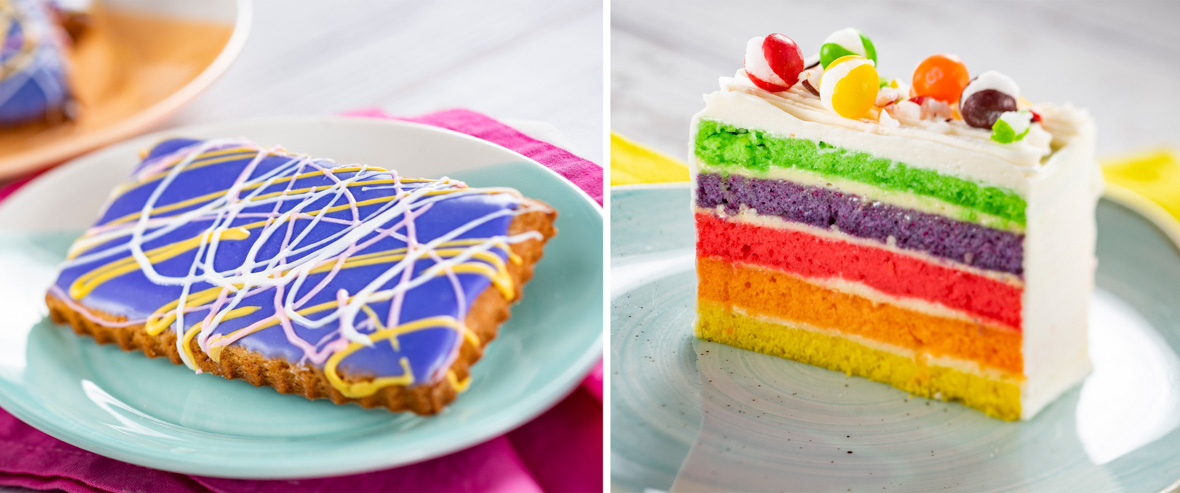 Figment's Inspiration Station at the Odyssey: Art, Food, and Little Sparks of Magic
Fruit Pizza: Watermelon, compressed cantaloupe, berries, and berry balsamic (New) (Plant-Based Item) (Gluten/Wheat Friendly)
Pop't Art: Sugar Cookie with blueberry filling (Wonderful Walk of Colorful Cuisine Item)  

Rainbow Cake with freeze-dried SKITTLES bite sized candies

Figment Premium Popcorn Bucket with rainbow popcorn (Limit 2 Per Person)

Grape Smoothie with freeze-dried SKITTLES bite sized candies (Non-Alcoholic) (New)
3 Daughters Brewing Black Cherry Hard Cider (New)
3 Daughters Brewing Blood Orange Hard Cider (New)
3 Daughters Brewing Passion Fruit Hard Cider (New)
Rainbow Cider Flight (New)
81Bay Brewing Co. Green with Envy Blonde Ale (New)
81Bay Brewing Co. Blue Butterfly Lager (New)
Urban Artifact The Gadget Raspberry & Blackberry Midwest Fruit Tart (New)
Rainbow Beer Flight (New)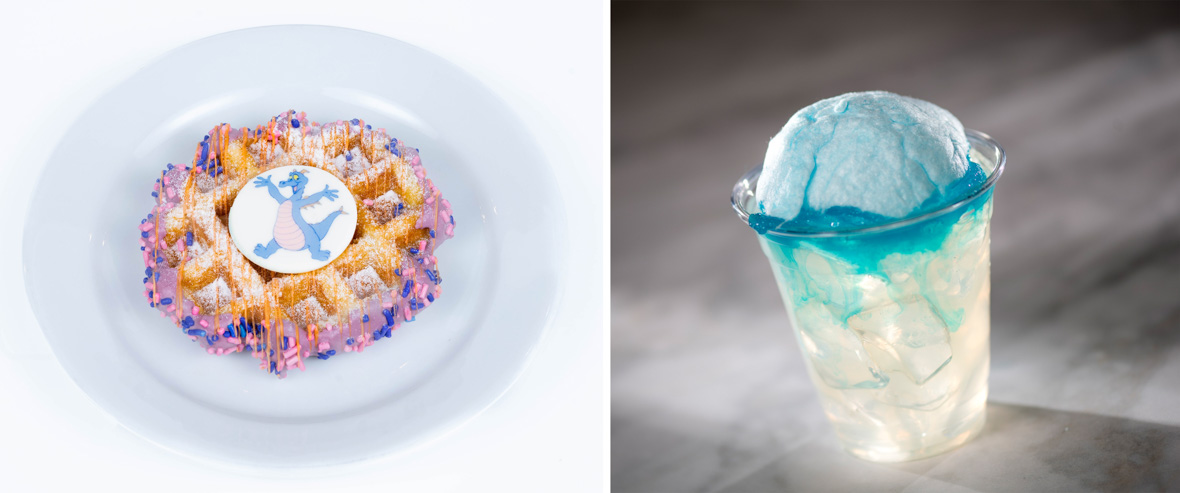 Connections Café 
Figment Liege Waffle (New)
Connections Eatery
Dusk 'Til Dawn: Three Olives Blueberry Vodka, lemonade, and orange juice with cotton candy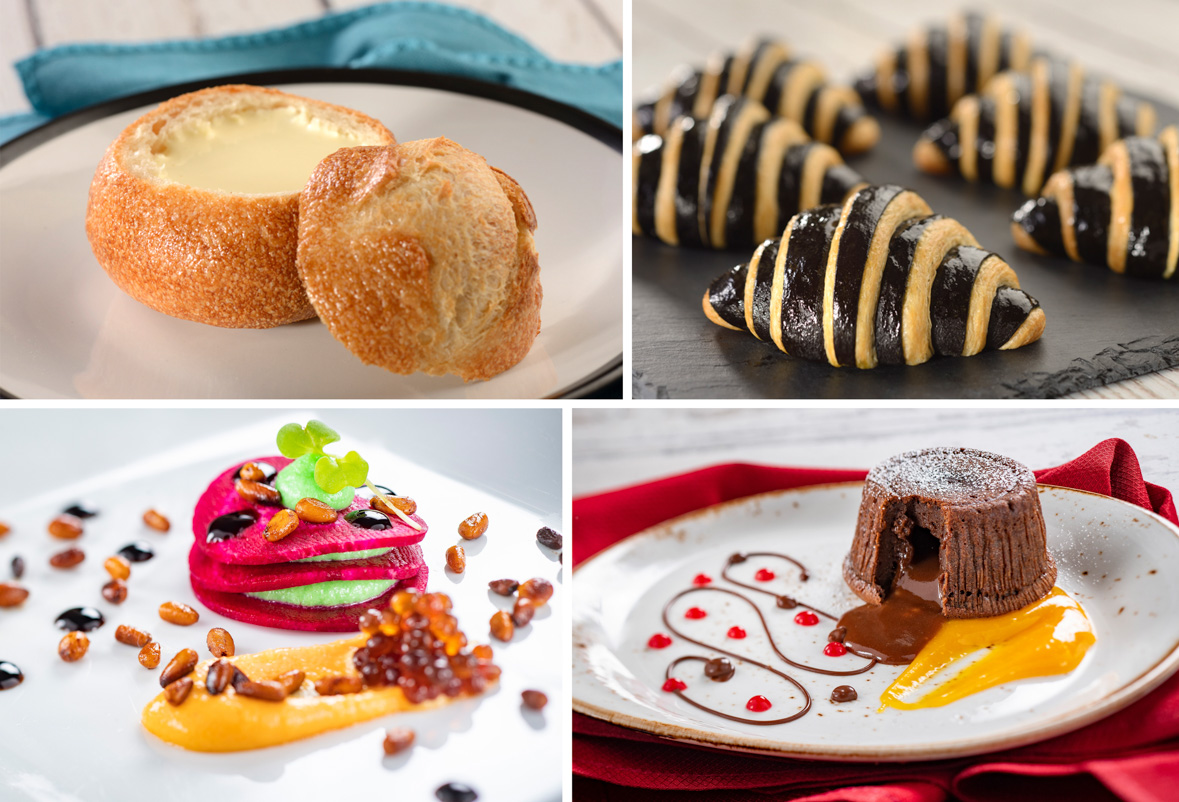 L'Art de la Cuisine Française (France)
Crème de Brie en Petit Pain: Warm creamy brie in a house-made bread bowl

Croissant à la Truffle Noir d'Hiver: Black winter truffle croissant

Mille-Feuille de Betteraves aux Herbes et Noix de Cajoux: Plant-based napoleon with beets, cashew-herb filling, pepper-pine nut sauce, and balsamic vinegar caviar (New) (Plant-Based Item)

Moelleux aux Noisettes et Chocolats Valrhona: Molten chocolate and hazelnut cake with pure origin Valrhona chocolates and passion fruit-mango sauce

Frozen French Martini: Grey Goose Vodka, vodka, Chambord liqueur, pineapple, orange, and grape juices with lemon-lime foam

Charles Lafitte, Brut Rosé Prestige, Méthode Traditionnelle Champenoise, French Rosé Sparkling Wine

Domaine Raphaël Sallet, Mâcon-Uchizy Les Maranches 2020, Chardonnay, Mâconnais, Burgundy (New)
Cîroc Sunset Citrus Vodka Spritz (New)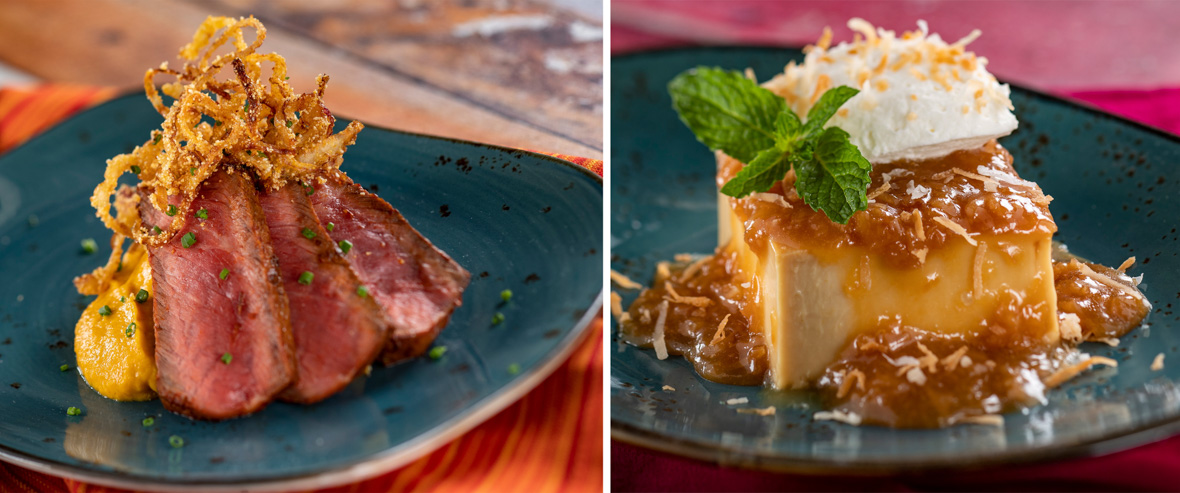 El Artista Hambriento (Mexico)
Carne Asada: Chipotle-marinated beef sirloin, sweet potato purée, and crispy-fried onions (New)
Huarache de Champiñones: Guajillo chile and corn masa huarache with pinto beans, oyster mushrooms, Nopales, queso fresco, and pea tendrils (New)
Flan de Coco: Coconut flan, guava sauce, and whipped cream (New) (Gluten/Wheat Friendly)

Mexican Craft Beer: Cielito Lindo Artisanal Mexican Craft Beer

Bombon Margarita "Marshmallow": Ilegal Mezcal Reposado, marshmallow cordial, lime juice, agave nectar and a hint of coffee and elderflower served with a toasted marshmallow (New)
Las Californias: Tromba Blanco Tequila, strawberry-lime purée, and Las Californias Citrus Mexican Gin (New)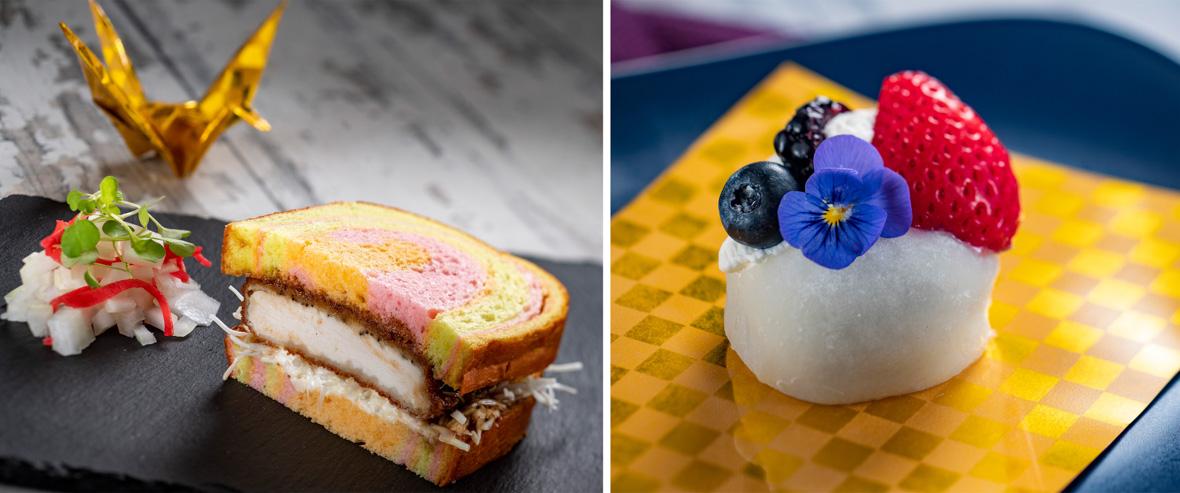 Goshiki (Japan)
Rainbow Katsu Sando: Pork cutlet sandwich with tangy tonkatsu sauce and cabbage in rainbow sweet bread (New)

Sushi Donut: Donut-shaped sushi featuring salmon, tuna, shrimp, cucumber, and sesame seed over a decorated plate of wasabi aïoli, sriracha aïoli, and eel sauce

Ichigo Daifuku: Mixed berry mochi, sweet azuki bean paste, and mascarpone (New)
Sui Sui Watercolor Lager (New)

Masu Sake in a traditional personalized wooden cup

Purple Yuzu Sake Lemonade: Sake cocktail infused with butterfly pea flower and yuzu lemonade (New)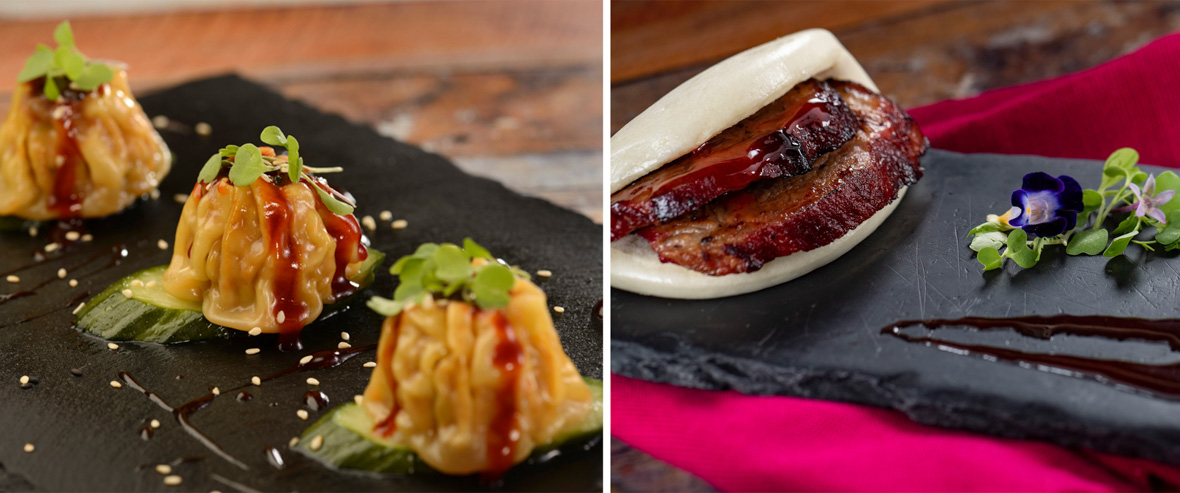 The Painted Panda (China)
General Tso's Chicken Shumai

Char Siu Pork Bun

"Panda" Bubble Milk Tea with black tea, milk, chocolate, and tapioca boba pearls (Non-Alcoholic)

Lucky Foo Pale Ale

Silk Road Hard Lemonade with Smirnoff Vodka, lavender-coconut syrup, and lemonade (New)

Sea Butterfly: Butterfly Pea Flower-infused cocktail with Smirnoff Vodka, light rum, lychee syrup, and magic boba pearls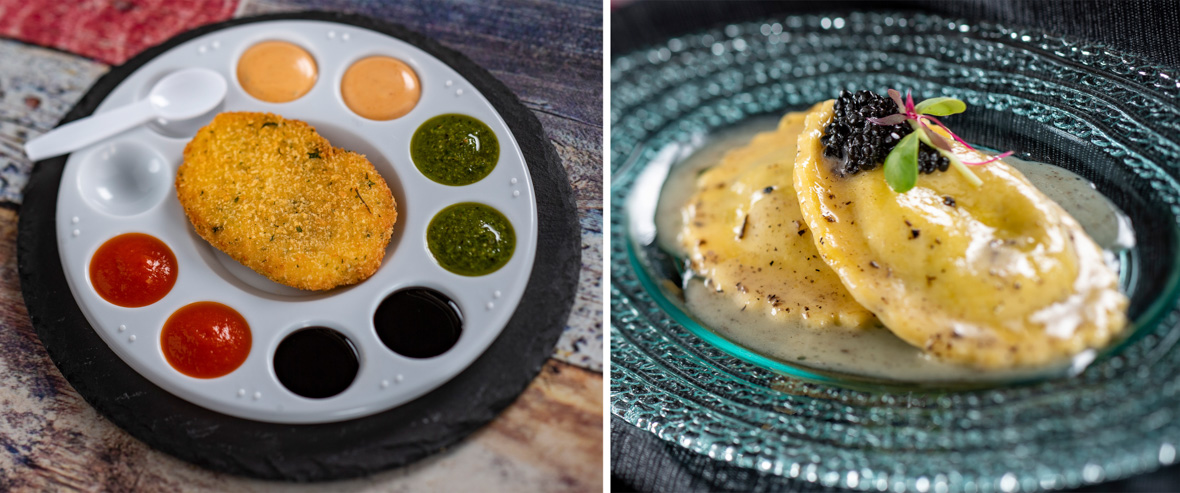 L'Arte di Mangiare (Italy)
Mozzarella Fritta: Flash-fried breaded fresh mozzarella with artist palette condiments (New)
Ravioli ai Funghi, Perle Tartufate: Wild mushroom-stuffed pasta with truffle butter and truffle pearls (New)
Budino al Cioccolato: Chocolate pudding with colorful chocolate décor (New)

Peroni Pilsner

Chianti

Prosecco

Italian Sangria Red or White

Italian Margarita with tequila and limoncello

Amaretto Bellini: DISARONNO Originale Liqueur, white peach purée, and prosecco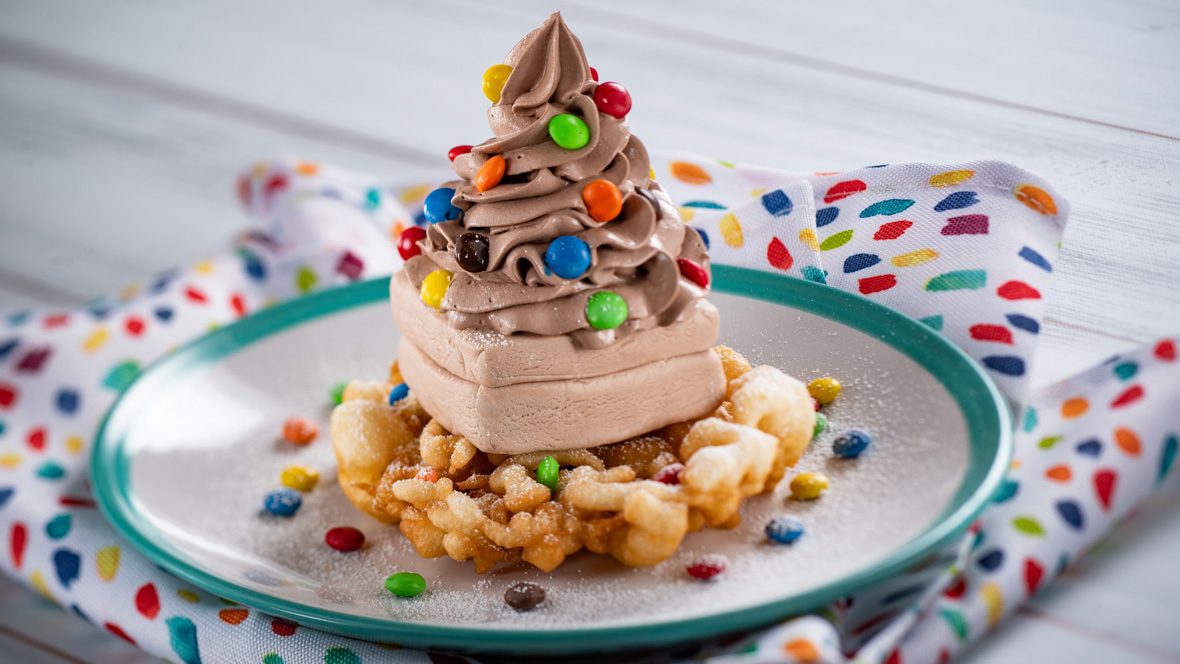 Funnel Cake
Mocha Funnel Cake: Mini Funnel Cake with cappuccino ice cream topped with chocolate whipped cream and M&M'S® chocolate candies (New)
Joffrey's Coffee & Tea Company
World Discovery (Near Mission: SPACE) 
Amber Frost: An artistic blend of frozen lemon ice, a splash of Minute Maid Premium Lemonade, blood orange, and orange popping boba pearls (New)(Alcoholic Version Available with Grey Goose Vodka)
Near Canada
Magenta Frost: An artistic blend of frozen lemon ice, a splash of Minute Maid Premium Lemonade, dragon fruit, and dragon fruit popping boba pearls (New) (Alcoholic Version Available with Grey Goose Vodka)
Showcase Plaza (Near Disney Traders) 
Jade Frost: An artistic blend of frozen lemon ice, a splash of Minute Maid Premium Lemonade, green apple, and green apple popping boba pearls (New)(Alcoholic Version Available with Grey Goose Vodka)
The American Adventure 
Cerulean Frost: An artistic blend of frozen lemon ice, a splash of Minute Maid Premium Lemonade, blue raspberry, and blueberry popping boba pearls 6.39 (New)(Alcoholic Version Available with Grey Goose Vodka)
(Note: All offerings are subject to change and availability.)