By Jocelyn Buhlman
Last night marked the return of the most magical night on TV—American Idol's Disney Night! The top 10 final competitors all received a sprinkling of pixie dust for last night's performances of some of the most beloved Disney songs of all time.
Once again, the judges were joined by some special guests—Mickey, Minnie, Donald, Daisy, Pluto, and Goofy, who all wore their Hollywood best to cheer on the American Idol contestants. Topping last year's Snow White-inspired outfit, judge Katy Perry once again dressed to impress in a full Ursula costume, complete with tentacles perfect for draping across the judges' table (or across the shoulders of her fellow judges, Lionel Richie and Luke Bryan).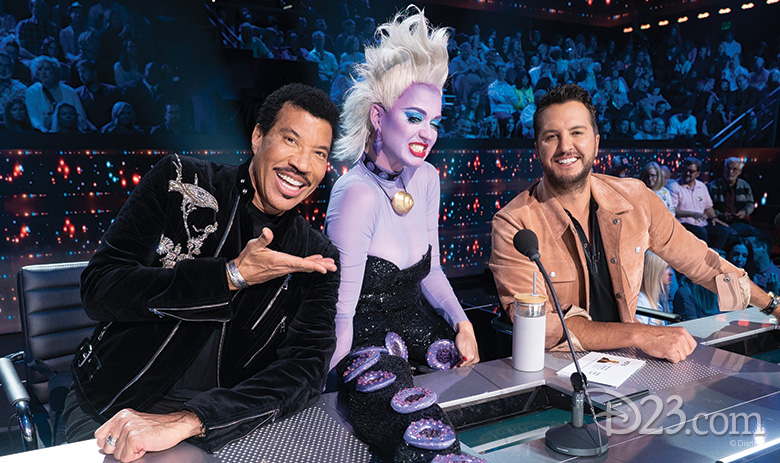 American Idol's in-house mentor (and reigning Dancing with the Stars champ) Bobby Bones sums up the magic of Disney night best, explaining that no matter which song is performed, the magic shines through: "For me, it's all about the songs and what they make you feel," and added that "You've Got a Friend in Me" is his favorite Disney song ever.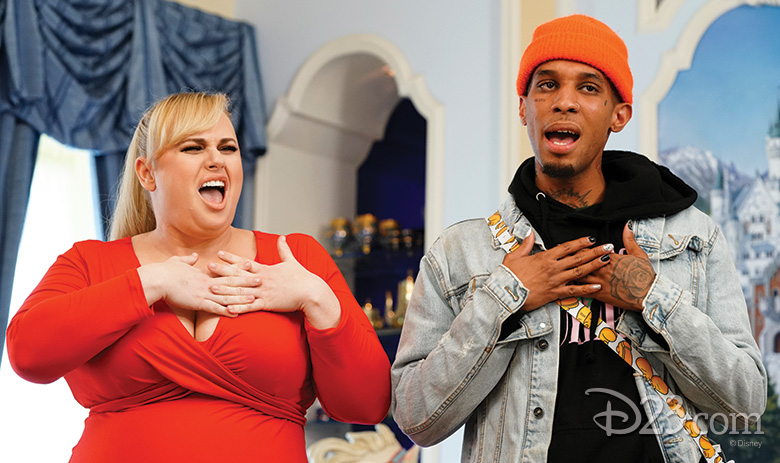 Contestants prepared for the night's performance in the most magical way possible—with a trip to Disneyland! Besides spending an unforgettable day at the Happiest Place on Earth with friends and family (for many of whom it was their first visit ever!), contestants met with Rebel Wilson in 21 Royal, where the comedienne and seasoned Disney musical performer provided advice, snacks, and the occasional bathtub performance.
Uché started off the night with a performance that Powerline would approve of, taking to the stage with a rocking rendition of "I2I" from A Goofy Movie. While this song is one of our Disney favorites, the judges shockingly were not familiar with this 90s classic (time for an American Idol judges movie night?). No worries, however, because Uché got a big hug from Goofy, dressed in his dapper best.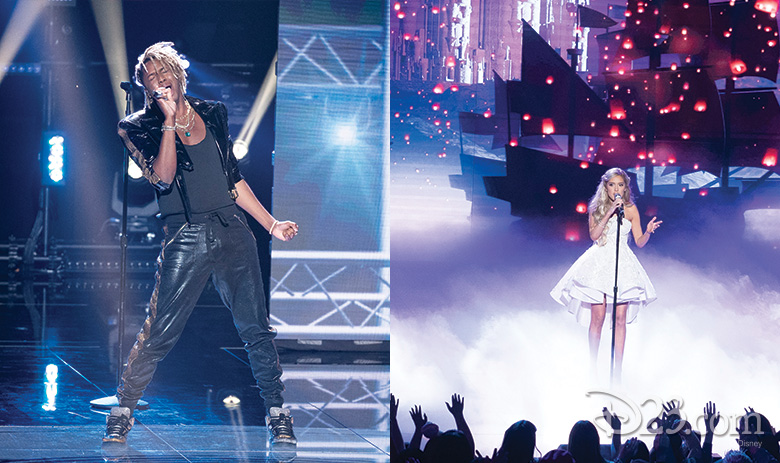 Following Uché's performance, Laci Kaye Booth gave a heartfelt rendition of "I See the Light" from Tangled that she said was inspired by her personal connection to Rapunzel, who motivated her to follow her dreams to American Idol.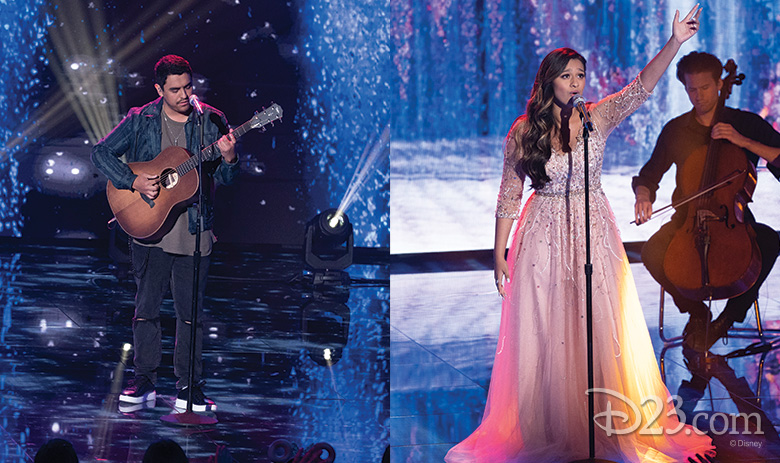 Giving a performance that Perry said she'd "always remember," Alejandro Aranda sang along with his own guitar accompaniment, putting his own spin on the Academy Award®-winning "Remember Me" from Disney•Pixar's Coco. While we wiped away our tears, Alyssa Raghu took to the stage looking like a Disney princess to belt out "Colors of the Wind" from Pocahontas.
Performing next with a heartwarming classic, Wade Cota sang "You've Got a Friend in Me," the main theme from Disney•Pixar's Toy Story series, and even showed off the "Andy" written on his boot! For Cota, this performance hit home for him as the Toy Story movies have been a source of comfort since childhood—and now he's sharing that magic with the world.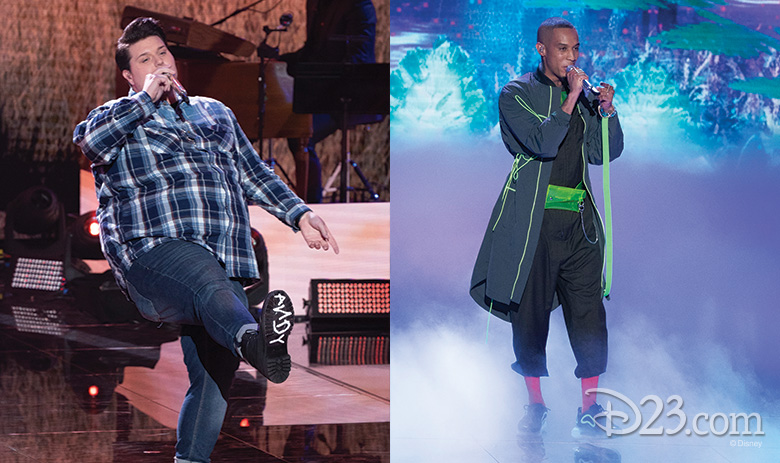 Dimitrius Graham gave an impassioned performance of "You'll Be in My Heart" from Tarzan, which he dedicated to his mother, who had been recovering from recent heart surgery. He was so caught up in the emotions of the moment that Perry had to use all eight of her tentacles to run over to Graham and give him a hug.
We hope you didn't put your tissues away yet, because the songs kept on tugging at our heartstrings. Walker Burroughs performed next, turning Toy Story 2's "When She Loved Me" into a charming piano ballad. If Burroughs seemed comfortable telling the story of this song, it's because he's had years to perfect it—he first performed the song in a 7th grade talent show!  Richie declared that this performance was about as close to a perfect performance as it could be.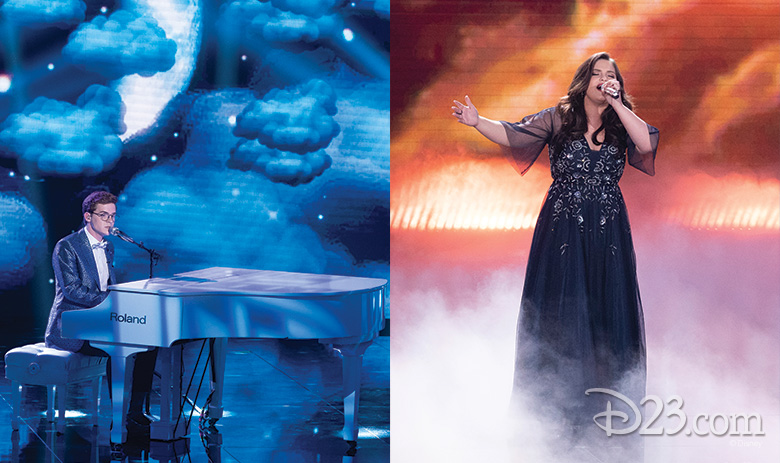 Performing a song she hoped would inspire "girl power" in those watching at home, Madison VanDenburg sang "How Far I'll Go," from Moana, hitting notes that Perry claimed she didn't even know existed.
Bringing us a deep cut from a Disney classic, Laine Hardy gave a country spin to "Oo-De-Lally" from Robin Hood, citing the song as one of his father's favorites. Bryan was so impressed that he warned Hardy, "Be careful, or you might win this!"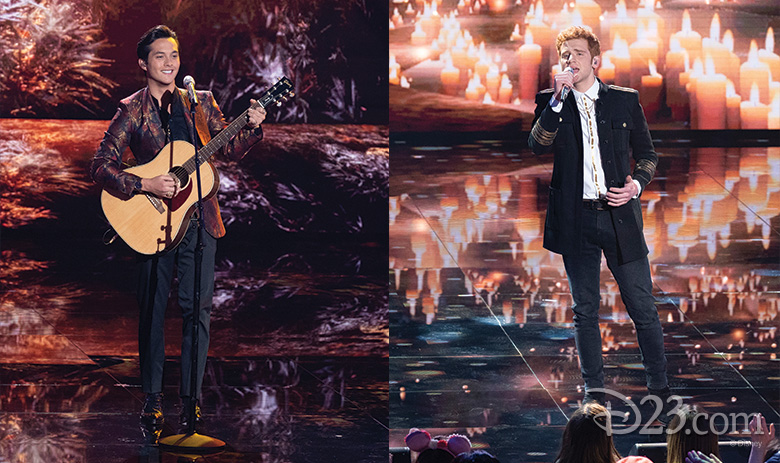 The final performer of the night was Jeremiah Lloyd Harmon, singing the Pete's Dragon classic, "Candle on the Water." This song meant a lot to Harmon, who explained after the broadcast that to him, the song was about "looking to someone you can hope in and lean on." His Disney Night experience was an emotional one, as he was surprised by his sister at Disneyland so they could enjoy an unforgettable day at the park.
Besides the top 10's truly spellbinding musical numbers, we enjoyed two special guest performances: Lea Michele flipped her fins to the American Idol stage to give us a sneak peek at her upcoming performance of The Little Mermaid: An Immersive Live-to-Film Concert Experience at the Hollywood Bowl. Her performance of "Part of Your World" was so enchanting that Perry had her sea shell necklace ready to steal Michele's voice—but Michele left the stage before any sea witch magic could happen.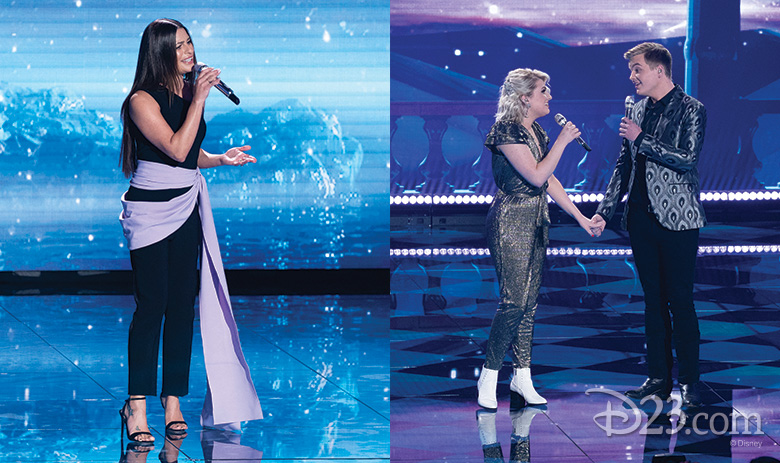 Last season's winner and runner-up, Maddie Poppe and Caleb Lee Hutchinson, respectively, performed a country-fied duet of "A Whole New World" from Aladdin, and we couldn't help but "awwwww" at the sweethearts' special Disney moment together.
We're not sure who had the most fun tonight—the contestants, the judges, or us! Perry revealed to us after the broadcast that while Halloween is her favorite holiday, Disney Night is a close second.
Disney Night brought the return of live voting. Viewers cast their votes throughout the broadcast and the results were revealed at the end of the evening. American Idol said farewell to Uché and Dimitrius Graham. While we may be saying goodbye to these two artists now, we know they'll take last night's extra sprinkling of pixie dust with them into their next adventures.
American Idol 2019 Top 8 Contestants
Laine Hardy
Madison VanDenburg
Alejandro Aranda
Jeremiah Lloyd Harmon
Walker Burroughs
Laci Kaye Booth
Wade Cota
Alyssa Raghu
A special episode of the series—"American Idol: Meet Your Finalists"—airs tonight at 8 p.m. EDT/5 p.m. PDT. Live performance shows resume next week in an all-new episode airing Sunday, April 28 (8 p.m. EDT/5 p.m. PDT). Tune in (and vote!) to see which of the Top 8 will make it to the next round!