By Courtney Potter
Don't Miss This Awe-Inspiring New Trailer for Marvel Studios' Eternals
Just this week, Marvel Studios released an incredible new trailer for Eternals—giving us an upfront look at the MCU's newest team-up, featuring a group of heroes from beyond the stars who had protected the Earth since the dawn of man. Check it out, for the first or (if you're anything like us) 57th time, above.
When monstrous creatures called the Deviants, long thought lost to history, mysteriously return, the Eternals are forced to reunite in order to defend humanity once again. The ensemble cast includes Gemma Chan as humankind-loving Sersi; Richard Madden as the all-powerful Ikaris; Kumail Nanjiani as cosmic-powered Kingo; Lia McHugh as the eternally young, old-soul Sprite; Brian Tyree Henry as the intelligent inventor Phastos; Lauren Ridloff as the super-fast Makkari; Barry Keoghan as aloof loner Druig; and Don Lee as the powerful Gilgamesh; with Kit Harington as Dane Whitman, Salma Hayek as the wise and spiritual leader Ajak, and Angelina Jolie as the fierce warrior Thena.
Academy Award® winner Chloé Zhao (Nomadland) directs the film, with Kevin Feige and Nate Moore producing. Look for it in theaters beginning November 5.
5 Fantastic Things to Watch This Weekend
It might be a tad cliché to say, but it's true—the month of August is legitimately flying by. Should you be looking for some quality entertainment to view from around the worlds of Disney on this, the third (and penultimate) weekend of the month, we've got you covered with another "5 Fantastic Things" rundown… featuring info on the debut of Mickey Mouse Fun House on Disney Channel and Disney Junior; the multi-network Stand Up To Cancer® special; and so much more.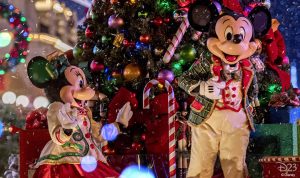 Holiday Fun and Frolic with "Disney Very Merriest After Hours"
Okay, hear us out: We know we're still a few months away from the holiday season (we haven't even gotten to Halloween—although it is, incredibly, just around the corner)… but as we are wont to encourage each year, it's never too early to start planning some festive fun! And as luck would have it, our pals at the Disney Parks Blog recently shared a rundown on what guests can expect from this year's "Disney Very Merriest After Hours"—a once-in-a-lifetime holiday celebration, coinciding with Walt Disney World Resort's 50th anniversary, happening over 24 select nights in November and December.
"Disney Very Merriest After Hours" will include the nighttime spectacular Minnie's Wonderful Christmastime Fireworks and the very special holiday-themed Mickey's Once Upon a Christmastime Parade—in which Mickey Mouse and Minnie Mouse will be joined by pals from Disney's Frozen and lots of other fave characters, including the iconic Toy Soldiers… and, naturally, Santa Claus himself!
Tickets for the four-hour "Disney Very Merriest After Hours" will grant admission to Magic Kingdom Park as early as 7 p.m., giving you more time to enjoy some of your favorite Magic Kingdom attractions. Plus, holiday attraction overlays are making a comeback (get ready for the Jingle Cruise, y'all); characters will be dressed in their holiday best; delicious snacks like ice cream novelties and seasonal treats will be complimentary—with specialty food and beverages available for purchase; and so much more.
Tickets are now on sale! For more info, including specific event dates, click here.
Announcements A-Plenty from Disney Branded Television
If you're looking to fill out your calendar with delightful viewing over these next few months, might we steer you towards our rundown of Disney Branded Television's big announcements from earlier this week? They unveiled all their fall and winter premiere dates for new original movies and series on Disney Channel and Disney Junior, and you won't want to miss a minute of it. Check it out right here at D23.com.
First Look at Disney Channel Original Movie Under Wraps
…And speaking of the ultra-cool stuff coming from Disney Channel in the very near future, we just had to call attention this this brand-new Disney Channel Original Movie premiering this fall.
Under Wraps is a contemporary comedic remake of the 1997 Halloween classic Under Wraps—the first-ever Disney Channel Original Movie, which (as you well know) became a blockbuster franchise with more than 100 titles. This re-imagined story follows three 12-year-old friends—Gilbert, Marshall, and Amy—as they accidentally revive a mummy discovered in a neighbor's basement a few days before Halloween. Take a gander at a first-look trailer for the DCOM, above.
The story unfolds when Gilbert (Daytime Emmy® Award nominee Christian J. Simon), Marshall (Malachi Barton) and Amy (Sophia Hammons) happen upon and awaken a mummy, which they affectionately name Harold (Phil Wright), and must rush to return him to his resting place before midnight on Halloween. Along the way, they narrowly escape a nefarious group of criminals intent on selling the mummy to the highest bidder. When Harold is inevitably captured, the trio must band together to stand up to the criminals, face their fears, and rescue their new (yet distinctly "old") friend.
Look for Under Wraps to premiere in October!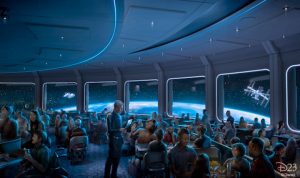 Lift Off with Space 220 Restaurant at EPCOT Next Month
It's another milestone for EPCOT, and it's scheduled to open just in time to help kick off "The World's Most Magical Celebration" (in honor of Walt Disney World's 50th)…
An all-new restaurant, Space 220, is set to debut in September—and it sounds totally out-of-this-world! Located adjacent to the Mission: SPACE attraction, Space 220 takes fine dining to a whole new level. The immersive experience begins as you check in to the Space 220 Departure Lounge in Future World. From here, guests will board one of two "Space Elevators" that will transport diners in what seems like 220 miles above Earth to Centauri Space Station. Looking down through a viewport, they'll see EPCOT "shrinking away"; looking up, they'll see an incredible Space Station come into view.
Once docked, guests will head through the Centauri Space Station-themed dining area, experiencing a breathtaking panoramic view of Earth below, and a variety of work and leisure activities taking place beyond the windows. The views are only one part of the experience—Walt Disney Imagineers are excited to have created this experience for Executive Chef Marc Kusche to showcase all manner of culinary wonders. The Space 220 restaurant menu will feature (inter)stellar dishes and gourmet recipes—with a two-course prix fixe menu for lunch and a three-course prix fixe menu for dinner.
Stay tuned for more details on the Space 220 restaurant as they become available.
Amazing New Trailer for Disney+'s Star Wars: Visions
Earlier this week, the good folks at Disney+ debuted the trailer—and announced the Japanese and English dub voice casts—for Star Wars: Visions, an upcoming anthology series from Lucasfilm that tells new Star Wars stories through the singular style and tradition of Japanese anime. The new trailer provides a glimpse of the captivating tone and stunning visuals from each of the animated shorts, which can all be viewed both with the original Japanese voice cast or the English dub cast when the series launches on Disney+ on September 22.
Among the English dub voice cast are new and returning Star Wars actors including David Harbour, George Takei, Alison Brie, Lorraine Toussaint, Simu Liu, Bobby Moynihan, Neil Patrick Harris, Lucy Liu, and many more. Fans of anime may recognize some of the names of the Japanese voice actors—such as Masaki Terasoma, Asami Seto, Takaya Hashi, and Mariya Ise.
"Lucasfilm is partnering with seven of the most talented anime studios in Japan to bring their signature style and unique vision of the Star Wars galaxy to this inspired new series," James Waugh, executive producer and Lucasfilm Vice President, Franchise Content & Strategy, recently said.
We can't wait to see these new tales unfold…
ICYMI: The Mysterious World of Hulu's Nine Perfect Strangers
It's got a dream cast—including Melissa McCarthy, Nicole Kidman, Bobby Cannavale, and Regina Hall; it's based on a New York Times bestselling book; and it just about guarantees you an enigmatically good time… it's Hulu's latest limited series, Nine Perfect Strangers, and D23.com got the inside scoop from the cast and producers. (And remember: You can also hear directly from another Nine Perfect Strangers costar, Luke Evans, on the 100th episode of D23 Inside Disney podcast!)