By Max Lark
Spend some time in Hawai'i and you may hear a local say, "Hawai'i is the only state in the United States that has never hit 100 degrees" (technically, this is sort of not true: Hawai'i—and Alaska—have both hit 100 degrees only once before, but in each case, that was prior to their joining the United States). Hawaiians may like to think their famed trade winds keep things cool, but on the day D23 visited the Kauai set of Jungle Cruise, the eagerly anticipated film that floats into theaters and Disney+ Premier Access on July 30, an on-again/off-again rain shower was spiking the humidity, and the vast set for the port town of Porto Velho—where the journey up the Amazon will begin in the film—seemed wrapped in the heat of an Amazon-like fever: damp, humid, hot. This was definitely going to be a bad-hair day.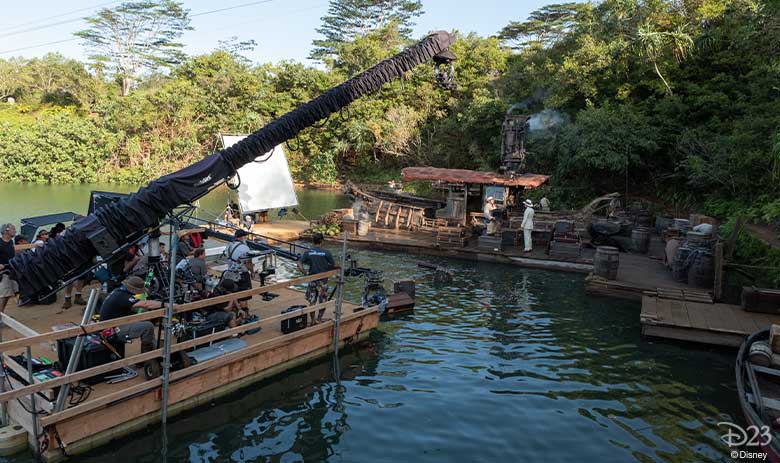 But a superlative, pinch-me day for anyone who loves visiting film sets—especially one as convincing, detailed, expansive, and true to life as this one is. At the center of everything is an S-shaped freshwater reservoir, which gently curves, river-like, through the location. Traipsing through the buildings on its shores was like walking through a town in the upper Amazon Basin, circa 1916. Every structure—from the Porto Velho town set and Nilo's (Paul Giamatti) jungle cruise operation and tavern to Skipper Frank Wolff's (Dwayne Johnson) steam cruiser, La Quila, and his home on the water—seems more like found artifacts left behind in a real jungle rather than a movie set. Each building is kitted out with props—a functional-looking barber shop here, aged books, trinkets, jewelry, and clothing there—that make a set visitor feel more like a cultural anthropologist than a guest. It all looks that real. La Quila, for example, is a real boat, with a real steam engine, that feels like it was transported from the 1951 movie The African Queen (yes, we got to go on board and check it out).
In the film, Emily Blunt (Mary Poppins Returns, A Quiet Place) stars as Lily Houghton, a doctor in botany who is the impetus behind this jungle cruise. Boldly refusing to conform to what women were expected to do during the era in question, she is following up on research conducted by her father, and, using an ancient figurine she believes may lead her to the location of a tree that has mysterious powers, hires Frank Wolff to conduct her down the river. The two, of course, don't get along that well, to put it lightly, but Blunt says that's not the case off screen. "It's a funny thing when you become instantaneous buddies with someone like DJ; it is hard to sum up exactly what that quality is about your chemistry with that person, but we just really got each other, and we both made each other laugh. I think he is kind of amazing, and I adored working with him. We were a good team, we approached the film with the same love for the movie. We were both terribly excited about the film from the get-go. This wasn't just a job for either of us. It wasn't just any other movie. We're both madly in love with films like Romancing the Stone and Indiana Jones—I grew up with those movies! We approached the film and the experience with lots of love and lots of excitement and that ultimately leads to a really productive and creative experience. Although we do like to give each other hell just for fun!"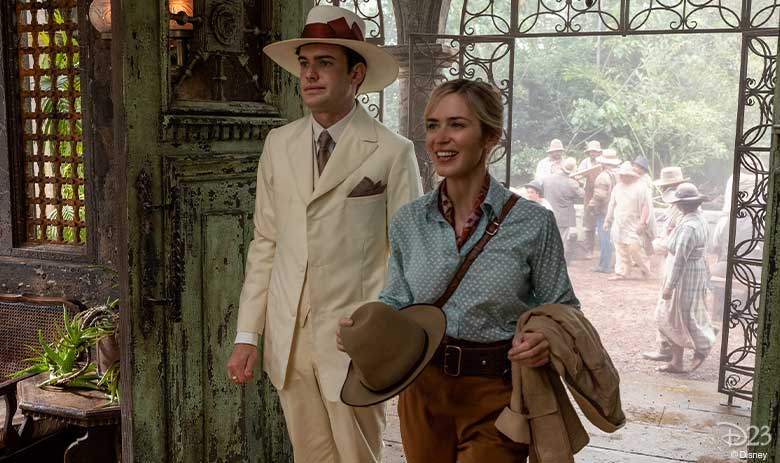 Blunt blames Johnson and Jack Whitehall (Jack Whitehall: I'm Only Joking, The Nutcracker and the Four Realms), who plays her brother, MacGregor Houghton, a foppish dilletante who prefers tea and crumpets with a glass or two of champagne to anything that can be uncovered in a jungle, for some extra work on set. "There were certain scenes that were really hard to get through with Dwayne and Jack making me laugh; it just became a matter of how far would you go to make that person break? And those two boys were evil with me with that. Evil! But it was all great fun."
Blunt sings the praises of the entire Jungle Cruise cast for making the time spent in Hawai'i—and later in Atlanta—so rewarding, but singles out Giamatti for his electric performance as Nilo. "Nilo is this swindling, rather revolting character. No one does rage like Paul Giamatti. No one can play rage and outrage like Paul Giamatti. He's perpetually outraged as his character, and it's just heaven to watch him do that."
For his part, director Jaume Collet-Serra (Non-Stop, The Shallows) says that Jungle Cruise offered the opportunity to make the type of storyline he "loved as a kid, but had never gotten the chance to make, something like Romancing the Stone," he says. "Visually, I wanted to make a movie with a lot of scope. That would feel like you're on an actual journey through the Amazon. And this set really helped us bring that to life. What makes it difficult is that there is a certain tone you are striving for. And you need great actors who can banter like Dwayne and Emily do, but you have to put them in circumstances that are fast-paced and can create visually funny moments.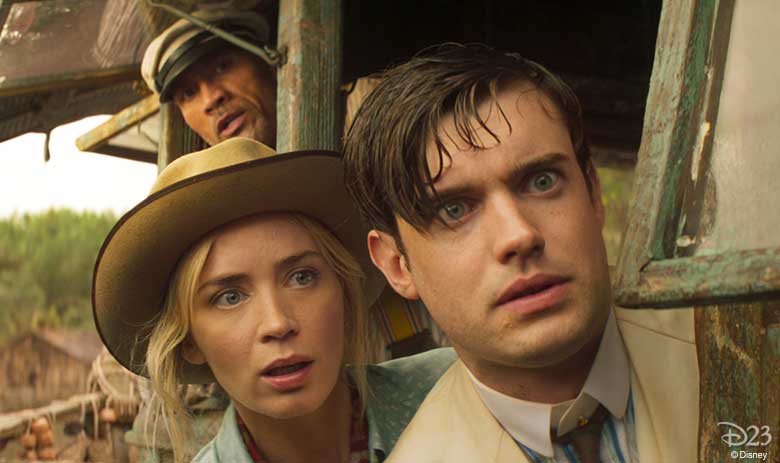 "Another objective was to have a movie that looked like it was shot a long time ago," he adds. "Nowadays with digital, most lenses are cold and sharp, but we wanted to create a look that was old and warm. We shot the film digitally, but we wanted to capture aberrations and flares and mistakes that you associate with a period movie."
Collet-Serra says what will surprise audiences most about Jungle Cruise is the mesmerizing performance of the two stars at the top of the credits. "You probably wouldn't expect Dwayne and Emily, who are probably two of the most different people on the planet, to have that great, even amazing, chemistry. But when you watch it, you can't get enough of it. So I think that chemistry is what is really going to surprise audiences, make them laugh, and ultimately, move them."
Last week, the lucky few of us who traveled to Hawai'i to see the Jungle Cruise set were fortunate enough to see the film's first act. And there it all was. The town of Port Velho. The winding river. The impossible green of the Kauai valley. The La Quila that we all got to board.
And it all looked even better on film than it did in real life.