There's one more adventure left to tell (for now)!
After 75 episodes and more than 15 shorts, Disney's critically acclaimed DuckTales comes to an end with an epic 90-minute series finale special Monday, March 15. Executive produced by Matt Youngberg and co-executive produced by Francisco Angones, the Emmy® Award-nominated series is the No. 1 rated show on Disney XD and has reached more than 234 million views on social media and YouTube since its launch in 2017.
"It's been an adventure," says Youngberg. "Some of the best years of my life have been working on DuckTales with the best people you could imagine working with. I couldn't be more proud of DuckTales and I couldn't be more proud of the way it's ending. There are series finales that feel like they don't pay off, but this is not one of them. This gives everyone exactly what they want."
"Emotionally and professionally, working on DuckTales has been some of the most rewarding work that I've ever done," adds Angones. "I mean, how rare is it that you get to work on something with only people you like? Some of your favorite crew, your favorite cast, getting to work on something you loved as a kid and having it turn out exactly how you want it to turn out."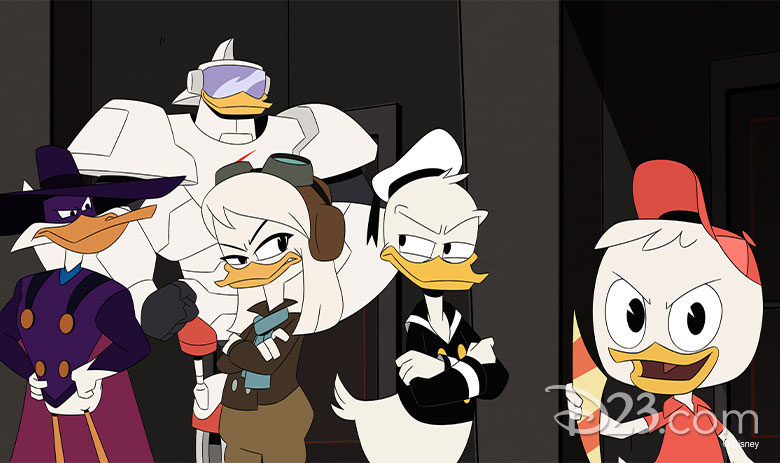 After so many high-flying adventures, what can fans expect in the finale? Titled "The Last Adventure!," the future of adventuring hangs in the balance as the Duck family uncovers earth-shattering secrets in a final standoff with the Fiendish Organization for World Larceny (F.O.W.L.). It brings to a head the mysteries of this particular season, but also the larger conspiracies that have been around since the beginning. The future of all the characters is on the line—not just life or death, but "emotionally and spiritually," says Angones.
Most of all, according to Youngberg, the finale talks about family. "Maybe not family in the traditional sense, but how a family is not just the people born into it, but the family that you make. That's a big part of the theme of DuckTales and these last episodes really pay that off. Family is the greatest adventure of all, and it's unexpected, and that bond can come from anywhere. The big takeaway is found family—what is a family and what makes a family?"
Speaking of that particular family, both Youngberg and Angones identify closely with some of the series' characters. For Youngberg, it's Donald Duck. "He's the single dad trying to keep three kids wrangled and trying to protect them from a world that can be big and frightening."
For Angones, though, it depends on the day—it could be Launchpad or Darkwing or Dewey. "But at the end of the day it's Scrooge," he says, "because he's the guy who family meant something to, and he's discovering what it is to be in a family. When we first started this show I had just had my first kid, and in the middle of season one I had my second kid. And there's a lot of my oldest in Webby and there's a lot of my wife in Della. Every day can bring something new and exciting—that's what Scrooge loved. That adventure and that family is his greatest treasure."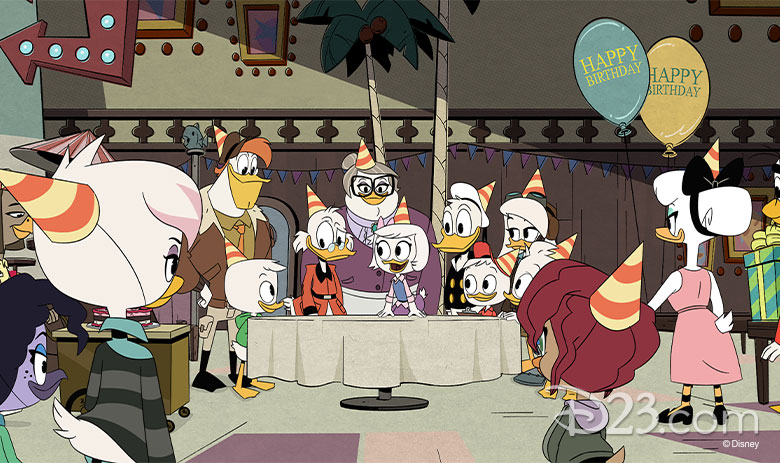 Angones says he feels that DuckTales represents everything we all love about cartoons from our childhood, about cartoons now, everything we love about family, and everything we love about found family. Starting all the way back with the first episode, Youngberg and Angones planned a three-season arc. They always knew how this season—and possibly the series—would end. "This three-season run of DuckTales is something I like to compare to a run of comics," says Angones. "The hope is that we opened enough storytelling possibilities to keep these characters around so that other people can have fun with them, the fans can have fun with them. Hopefully characters like Della and Webby and our versions of the nephews and all these weird side characters stay around, and if we came back and did another run of DuckTales, that would be fun too. But I feel like what we got was a definitive love letter to all that."
Based on the Emmy® Award-winning series treasured by a generation of viewers, DuckTales chronicles the high-flying adventures of Duckburg's most famous trillionaire, Scrooge McDuck; his mischief-making triplet grandnephews, Huey, Dewey and Louie; temperamental nephew, Donald Duck (voiced by Disney Legend Tony Anselmo); and the trusted McDuck Manor team: big-hearted, fearless chauffer/pilot Launchpad McQuack, no-nonsense housekeeper Mrs. Beakley and Mrs. Beakley's granddaughter, Webby Vanderquack, resident adventurer and the triplets' fierce friend.
"I don't think these characters are ever really gone," says Youngberg. "My hope is that in 30 years somebody else picks up the torch and makes another series. That's something I could be proud of because they were inspired by what we did—to see what people take from our show, and take from the earlier series and everything else that comes from it, I'd love to see what people do. Something we say is that Donald Duck has been alive for over 80 years and he's going to outlive us all. We are just leaving a mark on his legacy, and hopefully that mark is one that people will look back on fondly."
The DuckTales series finale special will encore non-stop for 24 hours following its premiere. Ahem—all together now, for one final time: "Woo-oo!"
Here's an exclusive clip from the finale: