By Sarah Sterling
Courtney Quinn lives and breathes fashion.
After graduating with a masters degree in Business Administration, Quinn moved to New York City to pursue a career in fashion design. Along the way, she started a lifestyle brand, Color Me Courtney, as a creative outlet where she could showcase her dynamic sense of style and empower others to "Dress Outside the Lines." Since starting Color Me Courtney, and her subsequent pop culture blog, Color Me Magic, Quinn has amassed more than 1 million followers across her social media platforms. And, as of D23 Expo 2022, Quinn accomplished one of her milestone goals—designing a fashion line with The Walt Disney Company. The Princess Tiana Collection by Color Me Courtney debuted on shopDisney at D23 Expo, and we sat down with Quinn to talk about the collection, her journey to this huge achievement, and what Princess Tiana means to her.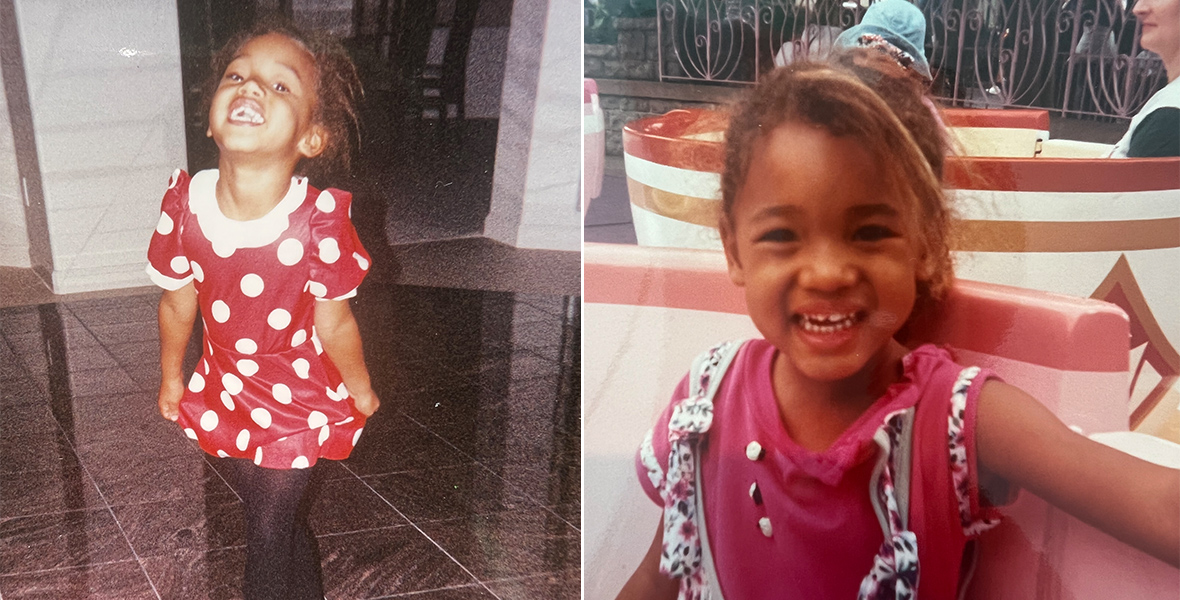 D23: You have always been a huge Disney fan. What gave you inspiration to combine your love for Disney with your passion for fashion?
Courtney Quinn (CQ): As a lifelong Disney fan, I think many of us dreamed of working with the company that means so much to us in some way. As a kid, I didn't quite know it would look like it does now, but I am so grateful my online journey lead me here. I actually got my MBA at 21 and moved to New York with the hopes of working in fashion, but when I couldn't get hired, I put @colormecourtney on my resume, removed my MBA, and eventually found myself working in product development at Coach. This was years ago, and I was living my "Hannah Montana life" (Courtney by day, Color Me Courtney by nights/weekends), while Coach was creating its first Disney collaboration. This caused me to dream (during my Color Me Courtney time) of what a collection I designed with Disney would look like. I was watching The Princess and the Frog around midnight while editing Halloween photos of myself dressed as Disney Princesses when I sketched out a Tiana inspired Minnie ear... and the one you can shop in Disney Parks worldwide now is a near identical match to the dream that sparked so many years ago.
D23: How did your connection to Disney grow or change when The Princess and the Frog debuted in 2009?
CQ: I grew up loving characters like Jasmine and Gabriella (a Black, Deaf mermaid from The Little Mermaid TV series) and constantly watching Hercules and A Goofy Movie because of the nods to representation. There was a year growing up where I watched Hercules every night while doing my homework just to see The Muses, who meant so much to me. I don't think I realized why at the time, but it was obviously because of the representation of seeing someone who looked like me and represented Black culture on the screen. Seeing a film centered around a Black Princess changed so much for so many people, including me. To feel represented and seen on the Disney Princess level helped further cement my bond with the brand. I still get chills knowing little girls now who look like me will never live in a world without a Black Disney princess.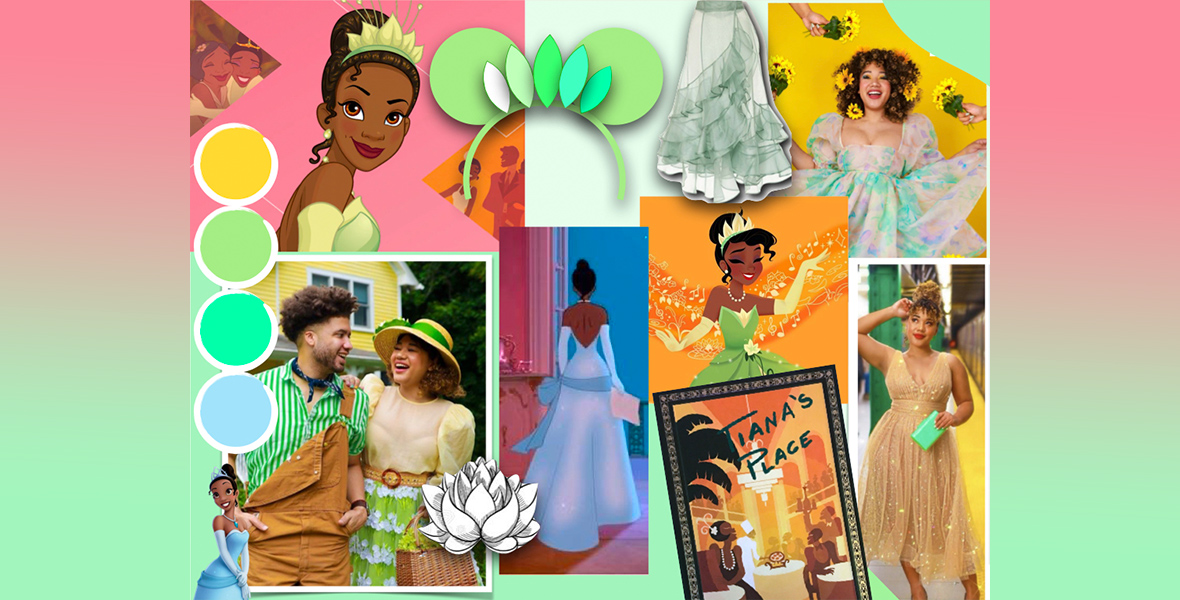 D23: What was the process of creating The Princess Tiana Collection for shopDisney? When did you start and what standout moments did you experience along the way?
CQ: The whole process was really a dream come true. We worked on the collection for years before I could even tell anyone or share anything about it, but I was secretly gathering information from my audience. I would ask about what they would love to see, product-wise, in Instagram captions and took note of their responses. I also thought of a lot of individual members of my Color Me community when designing pieces. One of the standout moments was when I got the call being asked to create the collection and some of the pitches I got to present. The original ask was to create a Disney-inspired collection, so we went through all the possibilities of what we would design before landing on the natural fit: Tiana.
D23: What parts of The Princess and the Frog inspired the designs in your collection? Do you have a favorite item in the collection?
CQ: It's so hard to pick a favorite, but I had the idea of the ears and the varsity jacket for so long! The yellow dress is inspired specifically by the "Dig a Little Deeper" scene. I took a screen shot of the movie and the team was able to design a print around it that I absolutely love! A tulle skirt is something that's always been signature to Color Me Courtney, just as showcasing the color palette of characters and looks is something I've done on my account. So, combining the two of those in one piece while capturing the essence of three of Tiana's signature dresses was very special!
D23: What do you love about Tiana? In what ways do you relate to her character?
CQ: I love that everyone can relate to Tiana's big dream and desire to make it come true, all while being inspired by her work ethic! Everyone has a dream, but not everyone is willing to go after it as fiercely as she does, so she serves as great inspiration in that way. I always encourage my community to shout their dreams, because if they can't voice them out loud, how do they expect them to ever be made real?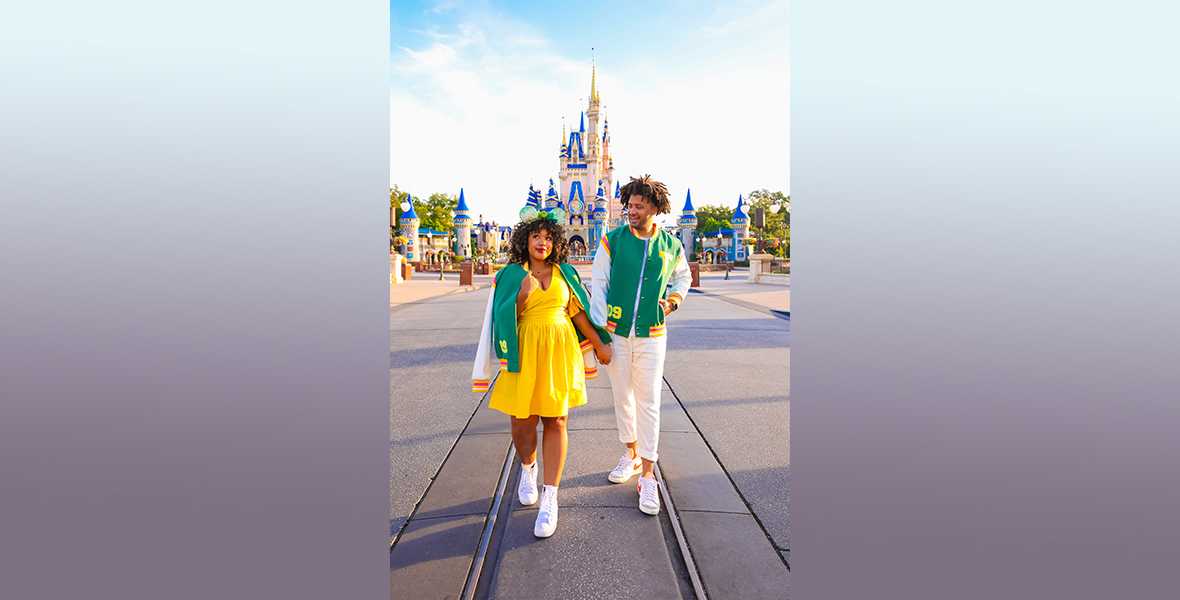 D23: What was your experience like at D23 Expo, where you debuted The Princess Tiana Collection? How did it feel to finally have your collection live on shopDisney?
CQ: Wow, D23 Expo was so special to me! What a dream to be able to launch the collection there and meet so many Color Me Cuties and Color Me Minnies! I think one thing that was amazing about this collection is that I wasn't the only one who got to design something, and I wasn't the only woman of color. So often when I find myself in these spaces, I'm one of one, but being able to launch my fashion collection side-by-side with Ann Shen's darling Aristocats line and Ashley Eckstein, who has changed the face of the Star Wars fandom, made it beyond what I could have dreamed. Because the dream isn't for me to shine, it's for everyone to feel seen and represented by these things we are creating for the community and sharing with others who want the same. It was truly something I'll never forget and forever be grateful for.
D23: What does it feel like now to see Disney fans wearing pieces from your collection?
CQ: Oh, it is such a fun moment! I've been lucky enough to visit the parks quite a few times to see it all. When the collection first launched, most of the people buying at D23 Expo were members of my Color Me community, so I got to meet them for the first time and learn about why they loved certain pieces. But I've also gotten to just wander the parks and watch people who have no idea that I designed it find and fall in love with pieces, which is equally special as it shows the line stands on its own.
The last time I was at Walt Disney World, my friend pointed out someone wearing the ears and the skirt! We gushed about how cute she looked, and she noticed us doing so. It was a fun, full-circle moment, because the girl in the skirt, Mariah—who looked like she could be my model sister—shared why she decided to go after her dream of being a content creator. We've done a social media challenge called "Color Me Mermaid" on @colormemagic since the casting announcement of Halle Bailey in The Little Mermaid, and once upon a time I reposted one of Mariah's looks. This gave her the confidence boost to create on her own! It's just always further proof how much representation does matter, so seeing her in the look and hearing that story was a really fun moment for me.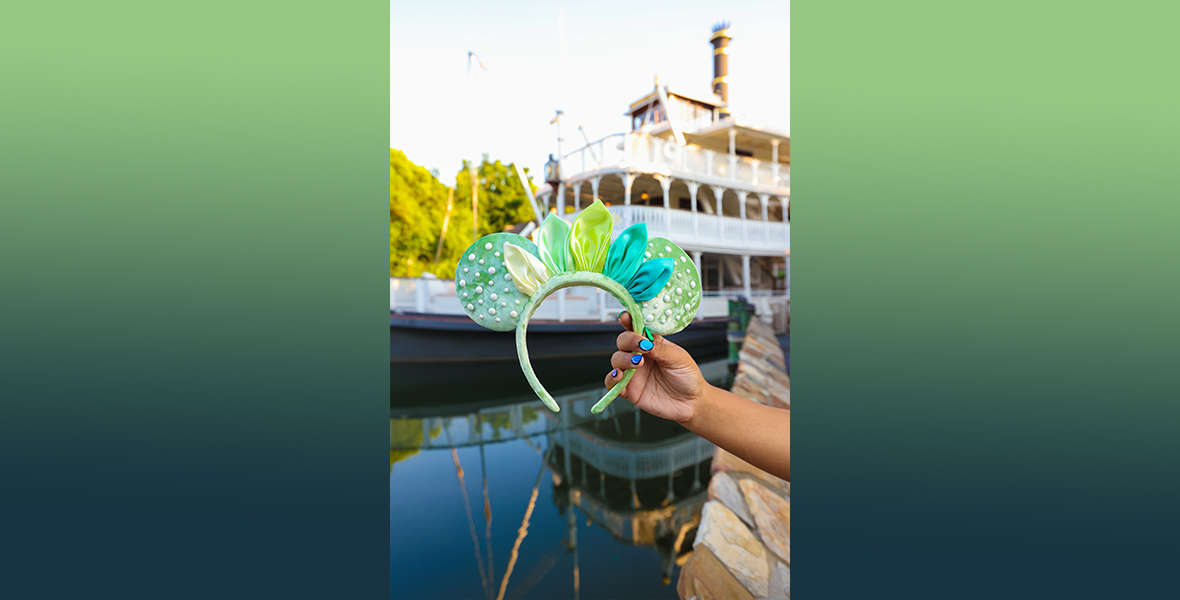 D23: What is next for you? What would your ideal next collection center around and what takeaways did you get from the success of your first shopDisney collection?
CQ: Designing this collection has been my biggest dream come true, but I am dreamer—Disney made me that way—so, of course I have other dreams I would like to pursue! For starters, I want to do more on camera hosting at live events, and Disney has already made that dream real for me as I just got to announce and walk in the Disney Fairy Tale Weddings fashion show. But to quote Ariel, "I want more!" I'm hoping to get more into TV work of the unscripted nature! I've hosted a show before and starred in a commercial but want to continue working that way! And, of course, I hope I get the honor to design a Disney collection again because some of the other initial ideas we worked through are still so special to me and there are so many more I want to come to life!
You can shop The Princess Tiana collection on shopDisney and in person at the Disney Parks!