By Zach Johnson
We want the soul collection.
In celebration of the animated feature film Soul (now streaming on Disney+), Disney and Pixar collaborated with the creative agency HUE Unlimited to bring Joe Gardner (voice of Jamie Foxx) and company to life through a curated collection of wearable art pieces. Together, they commissioned four emerging Black artists—Bee Harris, Biannca Pastel, Arrington Porter, and Corey Van Lew—to create a product line that spans apparel, phone cases, PopSockets®, throw blankets, totes, and tumblers, available exclusively through Amazon.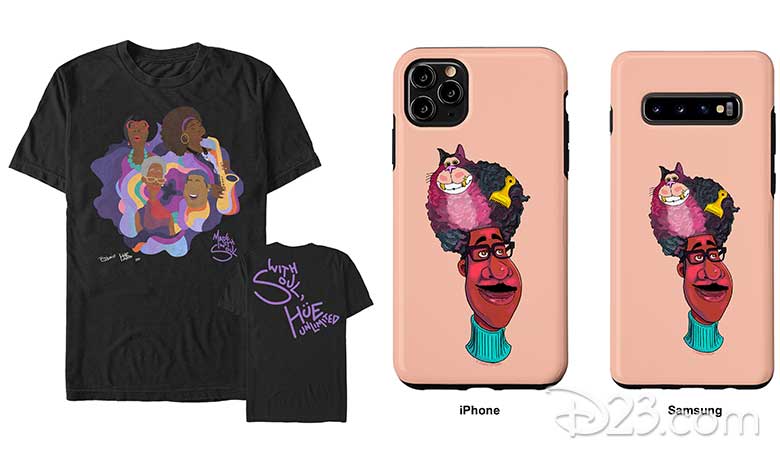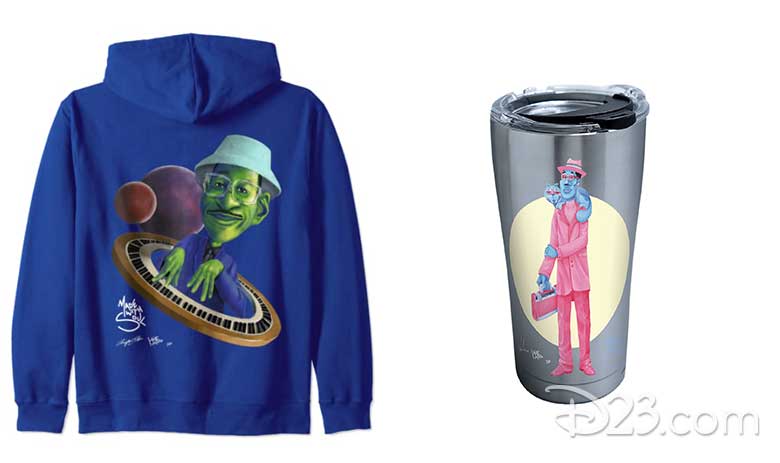 Through TONL—HUE Unlimited's community incubator designed for creatives by Black creatives—Harris, Pastel, Porter, and Van Lew aimed to capture the soul of the film and its heartfelt story of family, friendship, music, and self-discovery, told through their unique perspectives and experiences as diverse creatives. "We're proud to work on this meaningful collection inspired by Soul and to be able to have each artist's unique vision shine through," says Michael Watson II of HUE Unlimited. "As a part of the next generation of creatives, we deeply understand that authenticity is incredibly important to audiences—so being able to curate a collection of products that represents Black voices overall is a dream come true."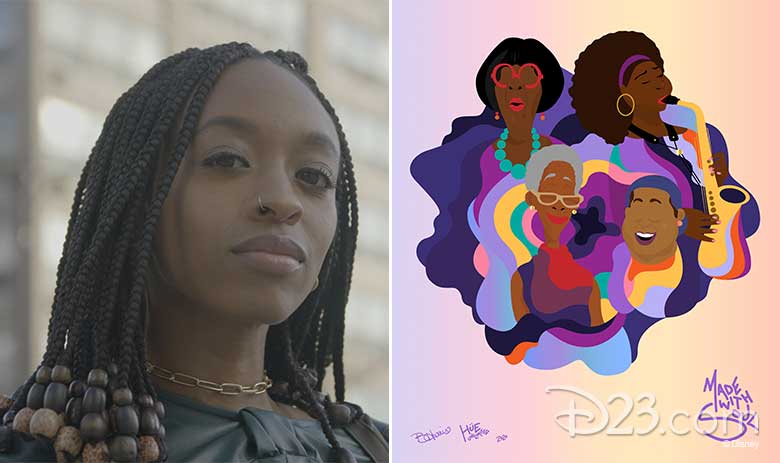 Harris' theme, "The Village," is a collage of the supportive Black women in Joe's life, including his mother, Libba Gardner (voice of Phylicia Rashad); band leader and hero Dorothea Williams (voice of Angela Bassett); and others. "Working on this collection was a dream come true! It was an honor to highlight the four Black women in Joe's village," says Harris, a visual artist and activist whose work reflects and represents the multi-faceted aspects of the Black Diaspora. "These women represent the strong-willed, supportive women in my life who have helped me discover and walk in my purpose. I walked away with a deeper understanding of myself and my capabilities as an artist. It was both challenging and inspiring to create something so unique to things I've done in the past."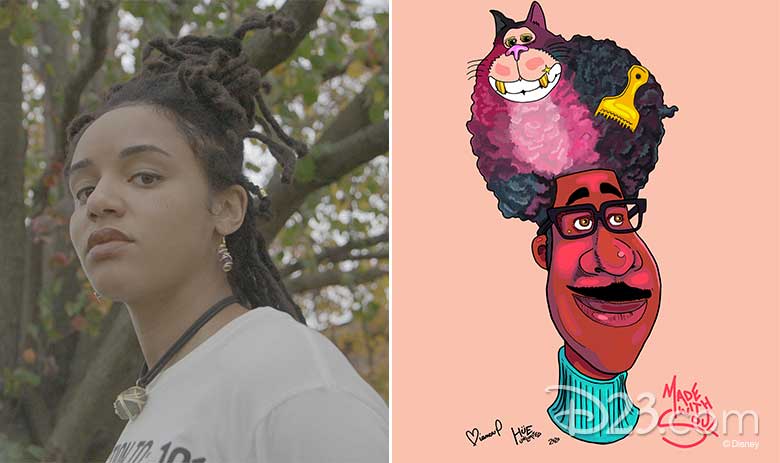 Pastel, meanwhile, chose "Joe & His Fro" as her theme. "Throughout the film, Joe learns some very valuable lessons on his journey, so I wanted to express the connection between colors, characters, and stories in every detail," says Pastel, who draws inspiration from '90s cartoons and movies, music, photography, and more. "My favorite part of this process was choosing color palettes because, for me, it's like picking a feeling. How I want a piece to feel depends on the colors I create with. Throughout the process, I realized I could create authentically, be myself with my process and have fun with my art—which is exactly what I did."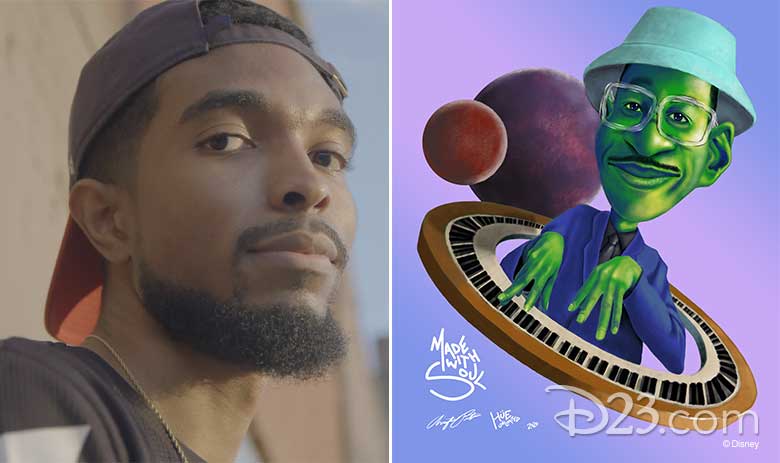 Porter, also known as "Heir Porter," specializes in oil paintings inspired by Black culture, film, music, and people. Porter chose the theme "Joe's World," creating an exaggerated portrait of Joe, wearing his late father's royal blue suit, enveloped by a piano in outer space. "Creating artwork for this collection was an awesome experience! As an artist, I found myself connected to the film, relating back to a familiar place within my own love for music and being in constant pursuit of my dreams," explains Porter. "Outside of being a visual artist, I too am a pianist, so I related to Joe's character on a more personal level."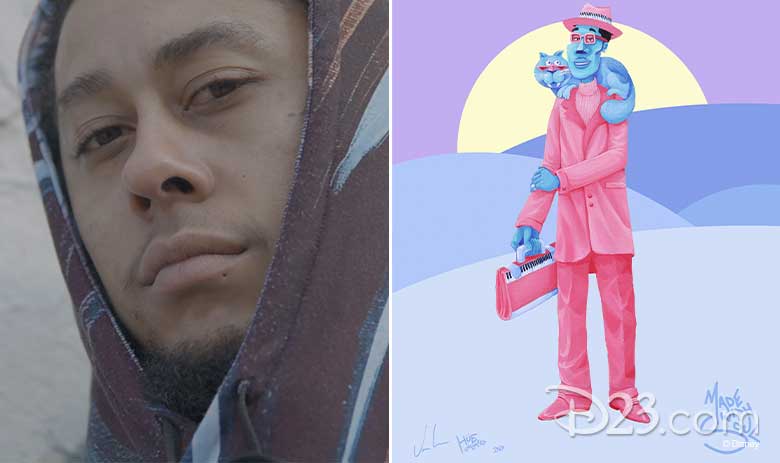 Van Lew, whose work highlights Black excellence and joy, chose the theme "The Great Gardner" and created a full-body portrait of Joe and Mr. Mittens exploring another dimension: The Great Before. "This was an amazing opportunity for us as artists to tap into our version of 'The Zone' and create a visual representation of what this moment means to us!" says Van Lew. "The parallel worlds in the movie go hand-in-hand with the parallel universe I depict in my paintings. Down to the digitally made background paired with the hand-painted characters, I aimed to immerse people in an alternate realm of my own."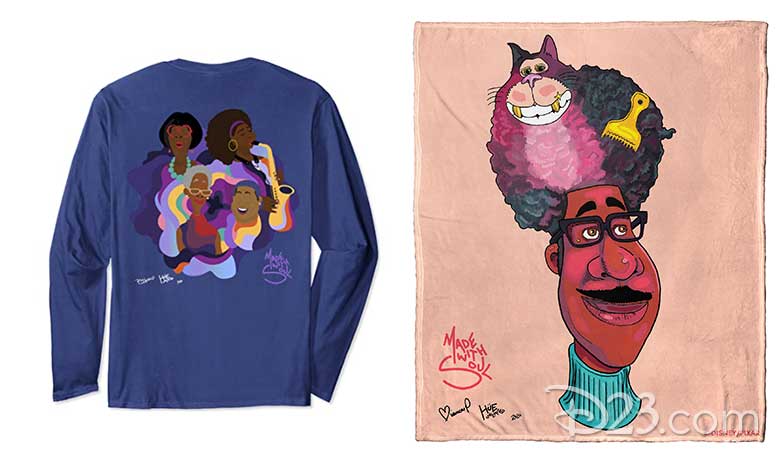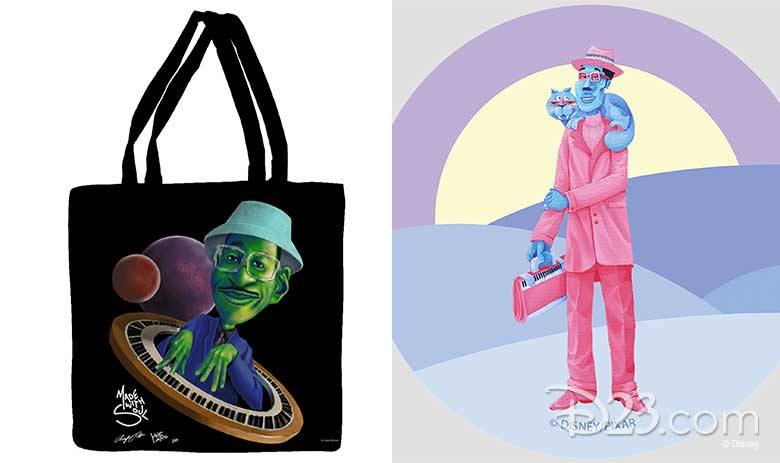 Fans can shop the entire collection featured on the Pixar Soul Shop on Amazon. Fans can also stretch their own creativity by designing personalized products—accessories, home goods, hoodies, and T-shirts—using their favorite piece of artwork from the Soul collection.