By Zach Johnson
This summer, Disney and Pixar will make a splash on the Italian Riviera with Luca, an original feature film from director Enrico Casarosa and producer Andrea Warren. The first teaser for the fin-tastic movie was released today, coupled with the announcement that Jacob Tremblay, Jack Dylan Grazer, and newcomer Emma Berman will lead the voice cast.
The eagerly awaited coming-of-age story follows Luca Paguro (voiced by Tremblay), a young boy in the midst of an unforgettable summer—one filled with music, pasta, and endless scooter rides. The best part? Luca is enjoying these adventures with his new BFF, Alberto Scorfano (voiced by Grazer). But they're harboring a big secret… and if people find out, it could ruin everything.
Curious to know more about Luca? Dive in with Casarosa and Tremblay, who earlier this week spoke with D23: The Official Disney Fan Club about the film, in theaters on June 18.
As the teaser reveals, Luca and Alberto have been living a double life, masquerading on land as humans. In reality, they're sea monsters from another world just below the water's surface… and given how humans feel about sea monsters, Luca says, "No one can find out!"
Tremblay can certainly relate to that feeling. After being cast as Luca in 2019, he had to keep his involvement secret. "I'm so excited to finally be able to share with the world this awesome news that I get to be a part of this," the actor said. "It's really something special."
But back to Luca and Alberto's big secret… How do they conceal their colorful scales? "I think I can tell you a little bit, given that we've shown some of the transformation," said Casarosa. "In the teaser, the key of it is water. We like this idea that somehow through the ages, there's this coping mechanism that when they're dry, they're able to camouflage in their own way. Their true selves are sea monsters. But when they dry up, they can look like you. Water is a problem for them—and the fun of it is if they get splashed, there's trouble!"
As for why humans are fearful of the sea monsters, Casarosa compared it to the lore surrounding creatures like Bigfoot or the Loch Ness Monster. "We like to say, 'There's been sightings,'" he said. Although the humans are afraid, they're also "quite ready to attack them," Casarosa added. "There's definitely plenty to be careful about for these kids."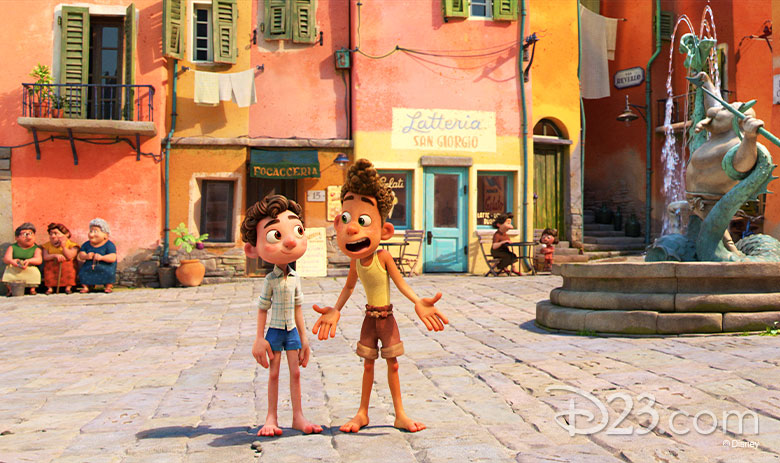 Luca is inspired by Casarosa's idyllic upbringing in Genoa, a Mediterranean seaport in northwestern Italy, and a formative friendship from his youth. "I met my best friend when I was 11. I was a little sheltered, a little timid, a little shy—and he was a troublemaker!" recalled Casarosa. "His family wasn't very present; he could do whatever he wanted. It was the perfect friendship to get me out of my comfort zone and help me grow up." Having spent his summers cavorting on the Italian Riviera with his best friend—the namesake of the character Alberto—Casarosa knew exactly where to center his story. "I thought, 'What an amazing setting for the friendships of summer,'" he said. "There's a sense of melancholy and nostalgia about those important summers where we start finding our own paths in life."
As for the more fairy-tale elements at the heart of Luca? Those are inspired by the "fun, weird, mythical lore that some of these towns have in the Liguria region," said Casarosa. "Between the personal and the fantastical, you start thinking, 'What could happen here?'"
Though he has lived in the United States since his early 20s, Casarosa said Italy will always feel like home. In fact, he and his family travel there at least once a year to visit his parents, and he also made several trips with Pixar artists to ensure they captured the country's vibrant spirit. "One time we were so busy with reels that I couldn't go, but we sent our art team with all the recommendations: 'Try this food. Go for a swim here,'" he said. "It's so important to get the feeling of the place—the light and the details. It has so much history."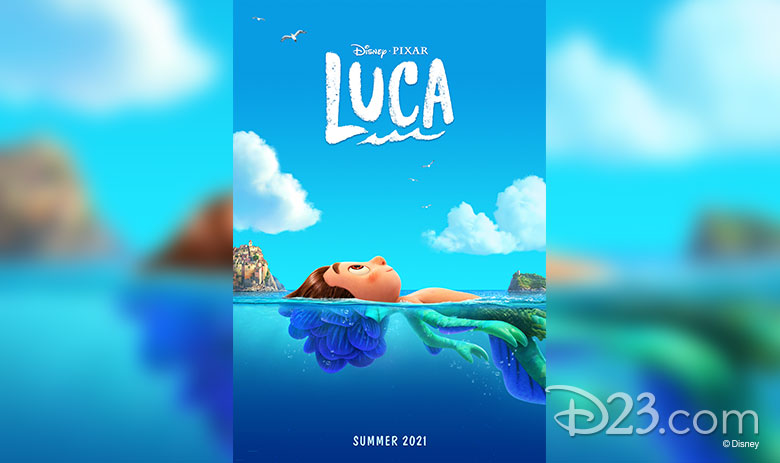 Grounding the story in the themes of friendship and identity was paramount to Casarosa. And in doing so, it helped the actors better understand their characters' motivations. "I can relate to Luca, especially now because I'm really wanting to get out there in the world," said Tremblay. "That's really what Luca is all about. He really wants to explore Italy. Of course, he can't—he's a sea monster—but he just wants to be a part of the Italian culture."
From day one, Casarosa was impressed with Tremblay and his grasp on the character. "Jacob blew us away with his style. He embodied Luca in so many ways," the director said. "First of all, his talent is just amazing. But there's a natural innocence and playfulness to Jacob that felt so right. There's something very special about him in that he's still a kid, but he's also very curious and excited. There's an earnestness that you get very, very naturally when you work with him. He also can play timid and anxious, and that's a wonderful and important part of the journey for an introvert like Luca. Finding the right way to portray an introvert can be difficult, because it can be more internal. It's been a real pleasure to work with him."
Meanwhile, Grazer's natural charisma made him the perfect person to voice Luca's mischievous best friend. "We had to look hard also to find Alberto," recalled Casarosa. "He's a wonderful opposite. He's a couple years older. He is so confident. I'm telling you, he's been to the moon and back! But he does have some vulnerability; there's a little bit of story behind him. And I love that overconfidence." Grazer is also an "amazing improviser," Casarosa added. "He's so good at making up stories. We loved that natural ability he has. He felt like such an easy buy into, like, 'Wow… he is going to drag you into some trouble!'"
While on land, Luca and Alberto befriend a human girl named Giulia (as seen in the teaser). "She's an outsider, but in her own way," Casarosa said. "She doesn't know anything about these guys, but she can sense that they're different like her." Casarosa was delighted to discover a "burst of joy" in actress Emma Berman, who hails from San Francisco, Calif., near Pixar's headquarters in Emeryville. "The first time we met her, she was giggling. There was just such an energy. You can sense when someone has something inside of them that they can bring to the part. We wanted somebody very intense—somebody who feels very strongly." Voicing Luca's parents are Maya Rudolph and Jim Gaffigan as mom Daniela and dad Lorenzo, respectively. Marco Barricelli rounds out the cast as Giulia's father, Massimo.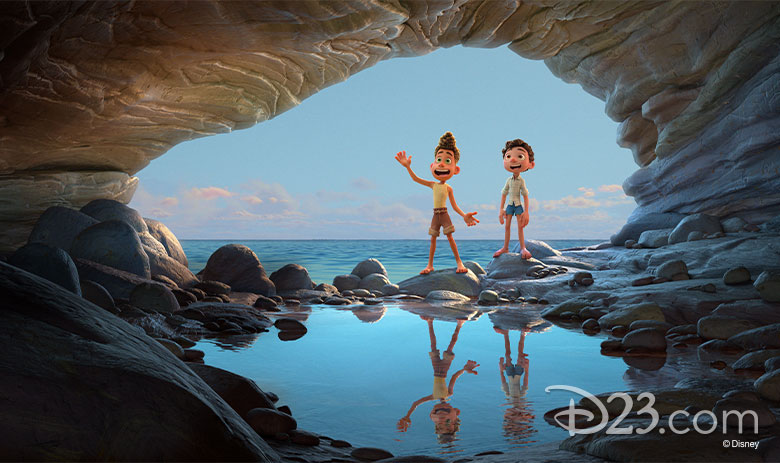 Voicing a character in a Pixar film is a lifelong dream for Tremblay, who got revved up reminiscing about the Cars franchise. "When I was a toddler, Lightning McQueen was like my favorite character," he said. "I had all these Lightning McQueen toys. I even had this Lightning McQueen Power Wheels® car that I would drive up and down the driveway. That's why I'm really excited for Luca and I'm really hoping kids will be able to have the same experience I did with other Pixar characters. This is a very important, cool role. I'm really glad they thought of me for this. I can't wait for there to be Luca merch and kids get to play with Luca toys. I get to be part of their childhood memories. It's gonna be so great!"
Casarosa, who directed Pixar's 2011 Academy Award®-nominated short La Luna, is eagerly awaiting the day that Disney fans get to see the story of Luca unfold on the big screen. "I'm just really excited for the fans to meet this trio—to see their chemistry and to be taken on an emotional ride. There's something really exciting about that," he said. "And there's also something really exciting about thinking, 'Where are those best friends [in my life]?' A lot of us lose them on the way, right? We go our separate ways. I hope this film will make you pick up the phone and say, 'Hey, that was amazing when we were growing up together.'"
Tremblay shares that sentiment, particularly given the current state of the world. "Right now, I know a lot of kids miss their friends; I really miss my friends," he said. "I hope this movie will help everyone remember all those great memories and all of those great times."