By Courtney Potter
Disneyland Paris to Celebrate 30 Incredible Years Next Spring
The year was 1992. Some fantastic, fan-fave Disney movies were released across those 12 months: Aladdin, Newsies, The Mighty Ducks… but that's not all: On April 12, our pals at Disneyland Paris officially welcomed guests for the very first time, after years of planning and imagination to bring Walt Disney's magical dream to life in Europe. Three full decades later, the resort has continued to delight guests while expanding with new stories, characters, and adventures—including franchises such as Pixar, Star Wars, and Marvel—becoming the No. 1 tourist destination in Europe.
With such a major milestone approaching in just six months, guests can anticipate more magic on the horizon as Disneyland Paris kicks off its 30th Anniversary on March 6, 2022. This once-in-a-lifetime celebration of the resort's enchanting past and exciting future will invite guests to enter a shining new era—one where they will dream bigger, laugh louder, and smile wider! (Check out the anniversary's gleaming new logo, above.)
Disneyland Paris' 30th Anniversary will feature a host of unique and festive experiences across Disneyland Park, Walt Disney Studios Park, and the entire resort. Stay tuned as more details of the celebration are released in the coming months.
5 Fantastic Things to Watch This Weekend
It may not be a three-day weekend this time 'round, but there's still plenty of chances to catch some choice viewing from around the worlds of Disney. Look for all-new episode of Disney's Magic Bake-Off themed to The Lion King on Disney Channel; meanwhile, Pirates of the Caribbean: On Stranger Tides joins the Disney+ library, and ABC premieres all-new eps of Celebrity Family Feud and To Tell the Truth. And trust us, there's more where that came from…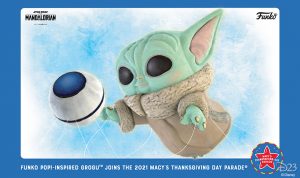 Macy's Thanksgiving Day Parade® to Debut a Funko Pop!-Inspired Grogu Balloon
We know summertime's a favorite for many—but your proprietors here at News Briefs are big, big fans of fall… and this just-released news from the good folks over at StarWars.com has us counting down the days like never before.
Funko and Macy's, in collaboration with Lucasfilm, have announced that Grogu—the beloved Force-sensitive being from the Emmy® Award-winning series The Mandalorian—will debut as a huge Funko Pop!-inspired balloon in the Macy's Thanksgiving Day Parade on November 25! Taking flight in the annual spectacle, the Grogu-inspired balloon will emulate the Funko Pop! version of the character—and it's set to measure 41 feet high, 29 feet long, and 37 feet wide. Travelling through Manhattan on Thanksgiving Day, it's sure to be an adorably memorable tribute to a modern Star Wars fan favorite.
But that's not all: A limited-edition Macy's Parade balloon-inspired product line will be available for sale on Funko.com, and Macy's will have select items from Funko available for purchase at Macy's Herald Square this fall. For a sneak peek, head over to StarWars.com—and be sure to watch Grogu soar through New York City when NBC broadcasts the 95th Annual Macy's Thanksgiving Day Parade on Thursday, November 25, from 9 a.m.-12 p.m. in all time zones.
Haunted Mansion Holiday Gingerbread House: 20 Spooktacular Seasons
Now that Halloween Time has begun at the Disneyland Resort (huzzah!), it means another truly breathtaking new gingerbread house inside Haunted Mansion Holiday at Disneyland park! But this year, to celebrate the 20th season of this most merriest of mansion makeovers (inspired, of course, by Tim Burton's The Nightmare Before Christmas), the cast members from Disneyland Resort Central Bakery and Entertainment Technical Services have truly outdone themselves—paying homage to all previous houses in celebration of this beloved tradition's milestone anniversary.
In the video above, courtesy our pals at the Disney Parks Blog, viewers can get a taste of how pastry chefs spend hundreds of hours baking and decorating the nearly 13-foot-tall house from scratch, and how the technicians move and assemble the five main pieces in the "St. Nick" of time for all foolish mortals to enjoy.
See (and smell) the gingerbread house in person, now through January 9, 2022, at Haunted Mansion Holiday!
Disney+'s Hallowstream Starts September 24
For the second year in a row, Disney+ is offering up thrilling new originals and beloved Halloween classics as part of their Hallowstream programming event! Mark your calendars for the debut of LEGO® Star Wars Terrifying Tales, Just Beyond, and Muppets Haunted Mansion, plus a slew of Halloween-themed episodes and fave films including Hocus Pocus. Check out D23's Hallowstream rundown for more.
New Trailer for LEGO Star Wars Terrifying Tales
Speaking of new (trick-or-)treats coming to Disney+ in time for All Hallows' Eve, the streaming service just premiered a new trailer for LEGO Star Wars Terrifying Tales, the all-new scary special from Lucasfilm and the LEGO Group that will have fans ready for a frighteningly fun Halloween season.
The trailer features a look at the three tales that Darth Vader's loyal servant Vaneé will spin during the special: "The Lost Boy," the story of how a young Ben Solo first meets Ren; "The Dueling Monstrosities," which imagines how Darth Maul and General Grievous were reborn; and "The Wookiee's Paw," which gives a look at what might have happened if all of Luke Skywalker's greatest wishes were immediately granted. The special will leave fans with spine-tingling chills and goose-bricks! (Get it? Bricks?)
After the events of Star Wars: The Rise of Skywalker, Poe and BB-8 are forced make an emergency landing on the volcanic planet Mustafar, where they meet the greedy and conniving Graballa the Hutt—who's purchased Darth Vader's castle and is renovating it into the galaxy's first all-inclusive Sith-inspired luxury hotel. While waiting for his X-wing to be repaired, Poe, BB-8, Graballa and Dean—a plucky kid who works as Graballa's mechanic—venture deep into the mysterious castle with Vader's loyal servant, Vaneé. Along the way, Vaneé shares these creepy stories linked to ancient artifacts and iconic villains from across all eras of Star Wars. But as Vaneé spins his tales and lures our heroes deeper into the shadowy underbelly of the castle, a sinister plan emerges. With the help of Dean, Poe and BB-8 will have to face their fears, stop an ancient evil from rising, and escape to make it back to their friends.
Look for LEGO Star Wars Terrifying Tales to debut October 1, exclusively on the streaming service.
Sneak Peek at New Song for Disney Enchanted at Magic Kingdom Park
As part of "The World's Most Magical Celebration," honoring five extraordinary decades of Walt Disney World Resort, Magic Kingdom park will be premiering an all-new nighttime spectacular called Disney Enchantment this October 1. The show will take guests on a journey filled with adventure, wonder, and empowerment, inspiring guests to believe in magic.
Disney Enchantment will feature music, enhanced lighting, stunning fireworks, and—for the first time—immersive projection effects that extend from Cinderella Castle down Main Street, U.S.A. But wait, there's more: Grammy®-winning songwriter and producer Philip Lawrence (Bruno Mars' "Uptown Funk") has written an original song for the nighttime spectacular, entitled "You Are the Magic." Lawrence has certainly pursued his dreams and made them come true; he got his start in show biz as a cast member at Walt Disney World Resort, performing in shows like Festival of the Lion King and Tarzan Rocks! Lawrence sings on "You Are the Magic," as does another former Walt Disney World cast member, actor and singer Kayla Alvarez.
Check out the creation of the tune in the video, above… and get ready to hear the complete version of the song when Disney Enchantment Presented by Pandora Jewelry makes its big debut next month!
ICYMI: ABC's Dancing with the Stars Announces Season 30 Cast
It's time for another cache of celebrities to start their quest for the coveted Mirrorball Trophy! Earlier this week, ABC's Dancing with the Stars announced the cast of their upcoming 30th season—and it boasts everyone from a recent Olympic gold medalist and a former Radio City Rockette to a Spice Girl and a graduate of West Beverly High. See who to expect on the dancefloor in a few weeks' time by clicking here.