By Zach Johnson
Playing with your food has never looked so fun!
Premiering today exclusively on Disney+, Foodtastic is an immersive global competition series in which highly skilled artists create extravagant scene work and larger-than-life sculptures made entirely out of food. Tempted as you may be to taste these works of art, they aren't made to be eaten! From vegetables and butter to fruit and cheese, watch as everyday food items are transformed into works of art. Each of the 11 episodes is rooted in iconic Disney storytelling, with Keke Palmer serving as host, Amirah Kassem serving as the creative food art expert, and chef Benny Rivera serving as the technical food art expert.With challenges inspired by Disney and Pixar to Marvel and Star Wars, each episode offers something that the whole family will enjoy. We recently chatted with Rivera, founder of NYC's City Cakes, to learn more about the series—and our friends at Disney+ even shared two exclusive clips from the Cars-inspired episode, which you can watch below!
D23: In your own words, how would you describe Foodtastic?
Benny Rivera (BR): Foodtastic is basically an explosion of art using all types of food. It's the very first food art competition show in which people are going to see amazing artists putting together larger-than-life, edible pieces of art, using all types of foods, such as vegetable, fruits, cakes, cookies—you mention it, and you will see on the show—and it's all using popular Disney characters from some of the most popular movies.
D23: Tell us about the food artists on the show. Where did you find them?
BR: You will see people from all over the planet. They are professionals in their own media or skills. We have fruit carvers, we have ice carvers, we have cake artists, we have sugar artists—so, it's a little bit of everything.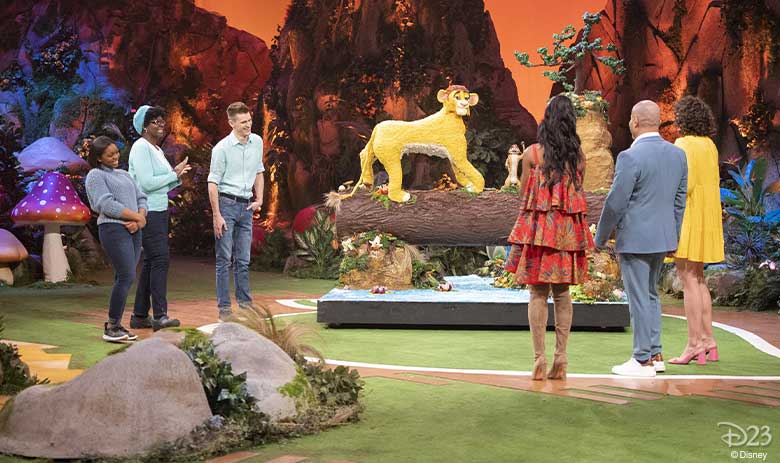 D23: What does your role as the technical food art expert entail?
BR: For this type of competition, there are a lot of technical elements. You have to be careful and make sure things are set up correctly, because so many things can happen…
D23: What surprised you most throughout the course of the competition?
BR: Some of the techniques I'd never seen before, and I was very impressed. Amirah, Keke, and I were always blown away by the quality of work we saw in the competition. After seeing their concepts when they were sketching, we got excited thinking about, 'How are they going to bring this to life? What media are they going to use? What fruits or food elements are they going to use? How are they going to be able to accomplish this?' It was the journey that was very exciting. I'm sure it was exciting for the contestants, but it was more exciting for us, because we were following them for the entire competition.
D23: Which challenge were you most excited to see the food artists tackle?
BR: My favorite Disney movie has always been The Lion King. In that episode, I was blown away by what the teams were able to put together. And the Cars episode is also amazing.
D23: What was it like to work alongside Keke and Amirah?
BR: It was a dream come true. As soon as we met, it felt like we'd known each other for a long time. It was beautiful to see Keke so hungry to learn about food, and she was so amazed by what the artists were able to put together. She was sometimes like a little kid, asking, 'How is that possible?' I would answer her questions. We knew immediately what we wanted to say. The funny thing is that we agreed all the time; we never had any issues discussing our points of view. It was totally amazing working together with both of them.
(This interview has been edited and condensed for clarity.)