By Beth Deitchman
The lifelong fan voices the newest Muppet Baby in the playroom, Summer Penguin, on Muppet Babies, premiering Friday, March 23, at 10 a.m. ET/PT on Disney Channel and in the DisneyNOW app.
If you grew up in the '80s, you quickly discovered that there was just one thing that might be more adorable than the Muppets… and that's those same Muppets as babies. We got our first glimpse of the beloved characters' younger selves in a fantasy sequence of the feature film The Muppets Take Manhattan. Soon the Muppet Babies became a small-screen staple in an animated series that aired for eight seasons and won several Emmys. And now, at last, they're back—returning for brand-new adventures in Disney Junior's Muppet Babies, an entertaining and inspiring series that reimagines the classic show for the next generation of fans.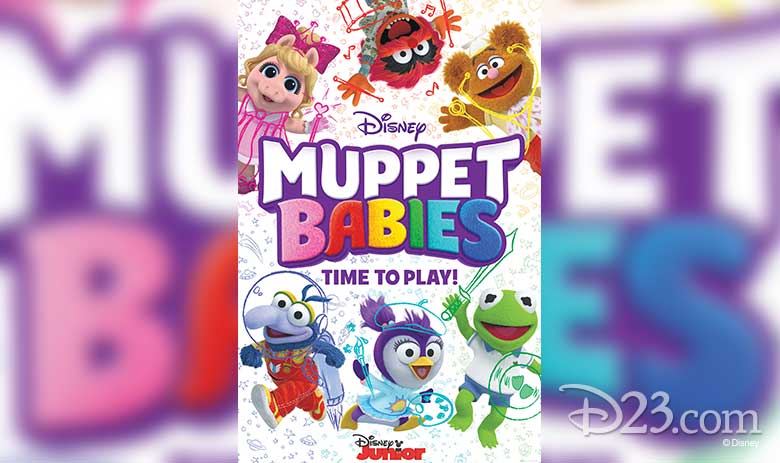 Baby Kermit, Piggy, Fozzie, Gonzo, and Animal are back in the playroom. And, as always, they're using their imaginations to fuel adventures that take them anywhere they can dream. Once again, the Muppet Babies are under the watchful eye of Miss Nanny (voiced by Jenny Slate), and this time around they have a new friend joining the fun. Summer Penguin is Piggy's BFF and an artist extraordinaire; she is bursting with creativity and positive energy—just like the actor who voices her, Jessica DiCicco. We chatted with DiCicco about her long history with Disney and her exciting future with babies—both Muppets and her very own.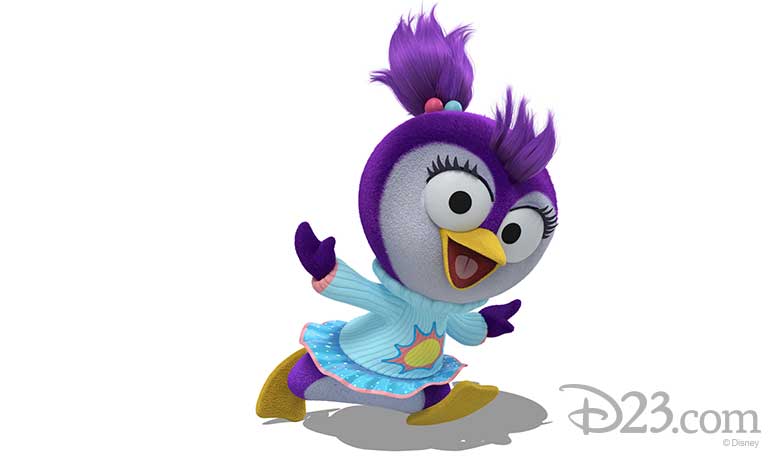 D23: What is it like to bring to life a brand-new Muppet Baby?
Jessica DiCicco (JD): I grew up watching Muppet Babies when I was little, so I was very familiar with the characters—I knew exactly who I was talking to when I auditioned. It was almost like talking to old friends.
D23: How did you go about finding Summer's voice?
JD: For the auditions, they give you a little image of the character and a description, and I felt connected to her right away. She's a creative, artistic girl and not necessarily into the same type of things that Piggy is into. She just wants to have fun, and it was easy for me to relate to the character.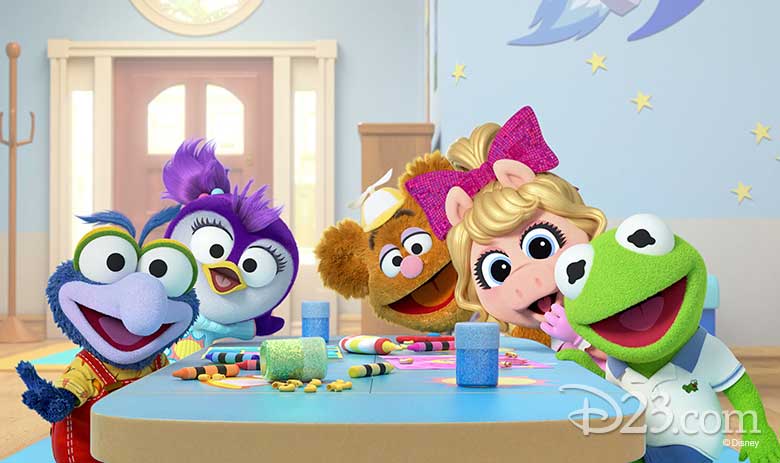 D23: What is Summer's place in the playroom?
JD: She has a lot of heart. She's very sensitive and very empathetic. Summer wants to make sure that everybody feels included, and that everybody is happy—she's just a very sweet character, and she has a great relationship with each one of the other Muppet Babies.
D23: Growing up, were you a Muppets fan?
JD: Yes! I loved The Muppet Movie and The Muppets Take Manhattan. The Muppets' sense of humor just cracked me up when I was younger. I've been acting since I was a kid and, as press for a show that I did, we posed for a photo with the Muppets. I remember geeking out, totally fangirl-ing during that photo shoot. The Muppets have always been a huge part of my life growing up.
D23: You've done so many voices for Disney's animated TV series, from Sheriff Callie and Puppy Dog Pals to Future-Worm and Marvel's Guardians of the Galaxy. They're very different types of shows and roles. What is the process like every time you take on one of these new characters?
JD: Disney has been such a huge part of my life—the bulk of my career has involved Disney projects. Saying that out loud now, my younger self would have totally freaked out if she knew that! I prep for each project and character in a different way. You really just learn to hone in on the actual character, the world that's been created, and the tone of the show. And I love being able to play such a diverse array of characters—it really is fulfilling creatively.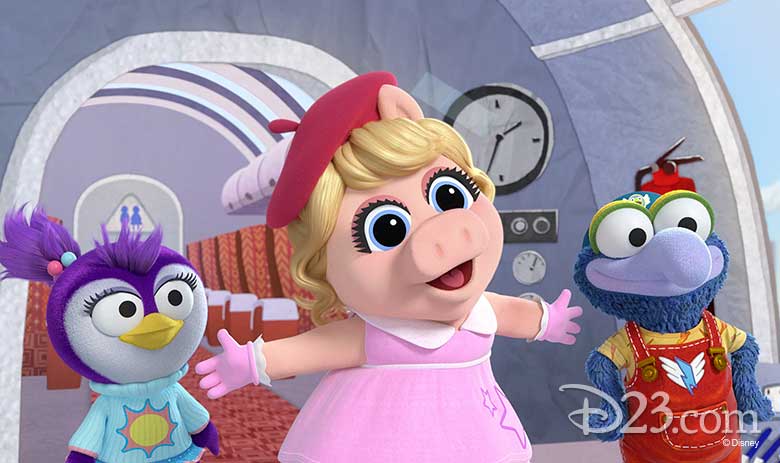 D23: The series you've worked on have so many devoted fans. What are some of your Disney favorites?
JD: I absolutely love going to Disneyland. When a Disney feature was coming out, we would always go very close to opening day. I grew up watching The Little Mermaid over and over and over, Pinocchio, all of the classics. I'm a huge Pixar fan—voicing a Pixar character is like a bucket-list item for me.
D23: And you're having your own baby very soon?
JD: I am! It could even be on March 23, the day that Muppet Babies premieres. As soon as I was aware that the baby was able to hear, I put headphones around my belly and let him hear all of the different scenes. It's like a radio play—he hears the episode. It enhances the experience even more to know that I'm going to have my own Muppet Baby to watch this. It's like history repeating itself, and now he gets to grow up on a whole different version of Muppet Babies. It's going to be so fun to watch and enjoy with him—and being a part of it just makes it so incredible!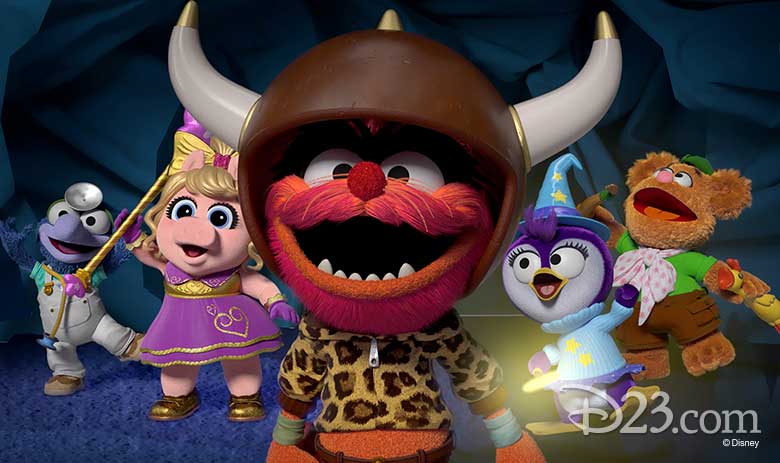 Muppet Babies premieres with two back-to-back episodes this Friday, March 23, on Disney Channel (10 a.m. ET/PT) and the DisneyNOW app. In addition to DiCicco and Slate, the voice cast includes Melanie Harrison (Fish Hooks) as Piggy; Dee Bradley Baker (Milo Murphy's Law) as Animal; Ben Diskin (The Spectacular Spider-Man) as Gonzo; Eric Bauza (The Adventures of Puss in Boots) as Fozzie; with Matt Danner (Gravity Falls), who also serves as supervising director on the series, as Kermit.