By Courtney Potter

Disney100 The Eras Collection Debuts at Disney Parks and Online
An amazing new collection of nostalgic merchandise launched today—Friday, January 27—in celebration of Disney100... bringing to both in-person and virtual shelves everything from comfy apparel to classy home decor.
Disney100 The Eras Collection is a three-part series that celebrates Disney's past, present, and future via three collections, representing The Walt Disney Studios, Disneyland, and a third collection soon to be unveiled. The Walt Disney Studios collection kicks off today on shopDisney and at Disney Parks, while the Disneyland collection sells exclusively at Disneyland Resort before dropping February 6 on shopDisney.
In the Walt Disney Studios collection, there's no shortage of apparel—including sweatshirts with the original Walt Disney Studios logo that appeared atop Disney's Hyperion Studios in the 1920s and 1930s, seen in the image above. Also look for a striped Mickey Mouse Disney Hyperion Studios T-shirt for Women; new ears featuring a Walt Disney Studios clapboard topper; and a Mickey Mouse Walt Disney Studios Tote to help you carry it all! Those local to Southern California can head to Disneyland Resort for the Disneyland collection—where they'll find a Fantasyland Fashion Top for Girls; a Disneyland Woven Shirt for Boys; T-shirts and hoodies inspired by vintage artwork and traditional Disneyland lettering for adults; classic coin purses; and Minnie Mouse Ears with a platinum bow.
Visit our friends at the Disney Parks Blog to see more merchandise highlights, and then get shopping! (And don't forget: D23 Gold Members get 10% off purchases of $50 or more at shopDisney!)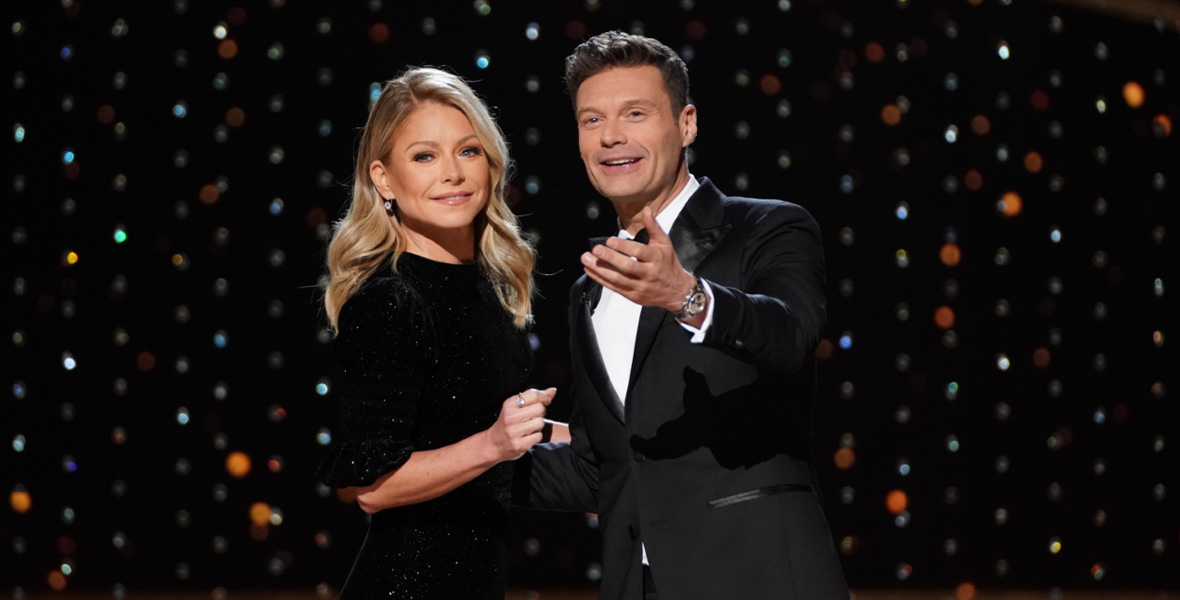 Kelly Ripa and Ryan Seacrest Return to Host the Live After Oscar® Show
Fans of funny banter and Hollywood fun, take note: Kelly Ripa and Ryan Seacrest will once again keep the Oscar® party going when they share backstage highlights the morning after the 95th Oscars.
The Live After Oscar® Show will premiere live from the Dolby® Theatre at Ovation Hollywood in national syndication on Monday, March 13, at 9 a.m. ET, following Sunday's ceremony.
Ripa and Seacrest will be the first to chat with this year's Oscar winners just after their acceptance speeches. Meanwhile, Emmy® winner Carson Kressley—who will serve as a special Live correspondent and report from the Oscar Red Carpet—will join the pair on Monday morning with news of the previous night's glamour.
"After two years producing the show bicoastally, we are beyond thrilled to be back on the Oscar stage for one of our absolute favorite shows of the year," said executive producer Michael Gelman. "Kelly and Ryan and the entire Live team are geared up to deliver that signature Oscar excitement to our millions of viewers at home."
The Oscars will be held Sunday, March 12, at the Dolby Theatre at Ovation Hollywood.
ICYMI: Nikole Hannah-Jones Talks Turning The 1619 Project into a Hulu Docuseries
Pulitzer Prize-winning journalist Nikole Hannah-Jones launched The 1619 Project in the pages of The New York Times Magazine in 2019, to commemorate the 400th anniversary of the beginning of slavery in the United States. Now, it's expanded into a limited docuseries currently streaming on Hulu—and D23 heard from Hannah-Jones about its creation. Read more about The 1619 Project by clicking here.

Marvel Studios The Marvel Cinematic Universe: An Official Timeline Coming September 2023
Fun news from our friends at Marvel.com: They recently shared that Marvel Studios The Marvel Cinematic Universe: An Official Timeline will be released this fall! The visual guide will be the definitive resource for fans and filmmakers who are hoping to understand the web of interconnection between the different Marvel Studios movies and streaming series.
The Marvel Cinematic Universe (MCU) is massive, incredibly wide-ranging, and complex... with different worlds, different timelines, and countless characters. Marvel Studios The Marvel Cinematic Universe: An Official Timeline is written by three MCU experts—Anthony Breznican, Amy Ratcliffe, and Rebecca Theodore-Vachon—who will answer the biggest questions: what happened, when, and where.
Follow the entire story of the MCU, from the Big Bang to the Blip and beyond. Discover the evolution of the Iron Man armors, the hunt for the Infinity Stones, and the formation of The Multiverse. The book will feature exclusive infographics, informative timelines, and captivating movie stills.
Marvel Studios The Marvel Cinematic Universe: An Official Timeline is a collaboration between DK, a division of Penguin Random House, and the Marvel Studios creative team. Look for it in September 2023!
5 Fantastic Things to Watch This Weekend Presented by State Farm®
There are some fantastic titles primed for viewing from around the worlds of Disney this coming weekend... What's in store? Look for Meet the Robinsons on Freeform; the network premiere of a new The Proud Family: Louder and Prouder episode on Disney Channel; the broadcast debut of Marvel's The Avengers on ABC; and so much more.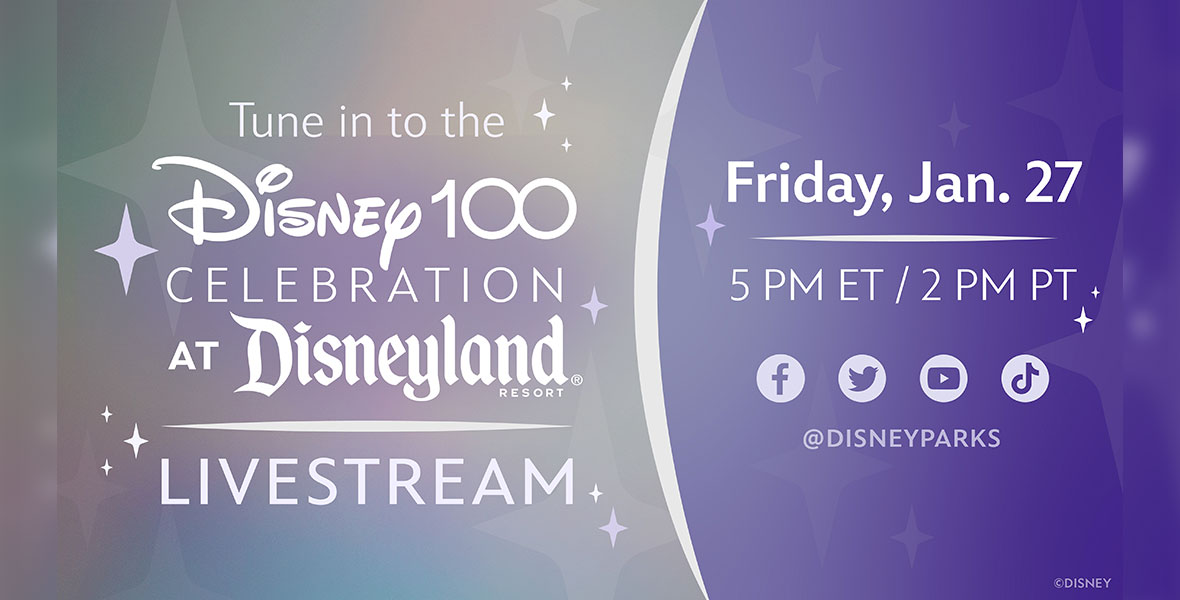 Save the Date: Livestream the Disney100 Celebration at Disneyland Resort
As you know, this year marks Disney's big 100th anniversary—and as you saw yesterday (Wednesday, January 25) if you follow D23's fabulous social media, which you absolutely should—much of the amazing celebration will be at the Disneyland Resort! And thanks to our friends at the Disney Parks Blog, you can join said celebration no matter where you are, with livestreams featuring special performances, sneak peeks at new entertainment, Disney trivia, and so much more.
Guess what? You can join the fun tomorrow—Friday, January 27—at 2 p.m. PT/5 p.m. ET, on the Parks Blog (and as well as at Disney Parks' Facebook, Twitter, YouTube, and TikTok) for an inside look at the Disneyland Resort's all-new nighttime spectaculars World of Color – ONE and Wondrous Journeys, the new attraction Mickey & Minnie's Runaway Railway, dazzling décor, and more.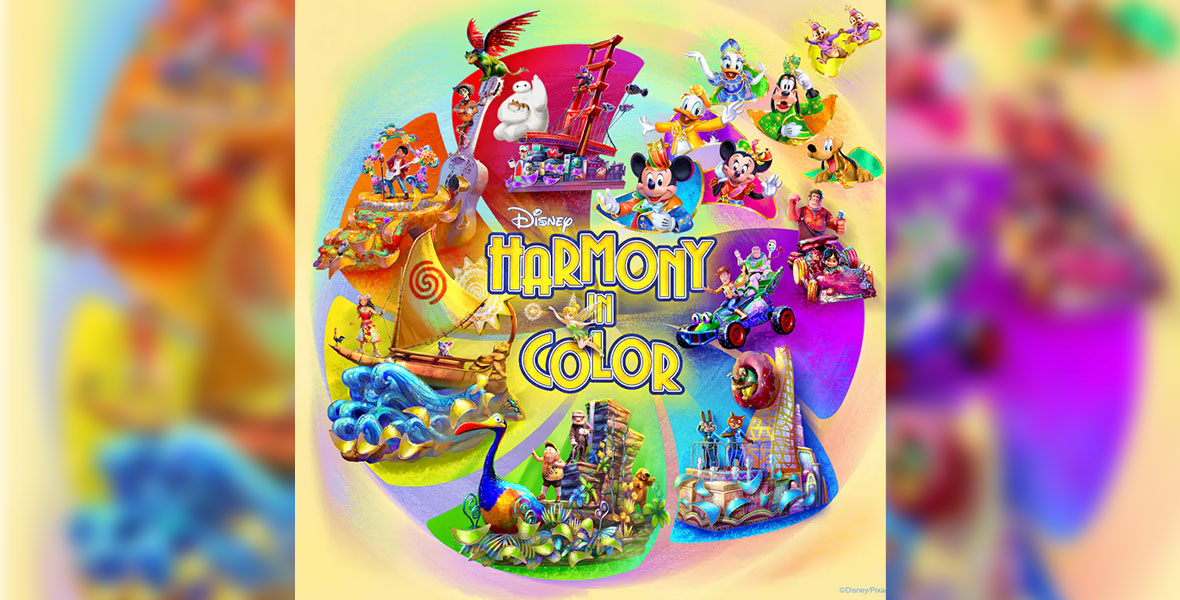 New Celebrations for Tokyo Disney Resort's 40th Anniversary
As Tokyo Disney Resort hits its incredible 40th anniversary, this year's "Dream-Go-Round" festivities will bring a brand-new parade, vibrant decorations, and updated menus of eats and treats.
The celebration kicks off on April 15 and continues through March 31, 2024—nearly a full year to enjoy the party at both Tokyo Disneyland and Tokyo DisneySea! Among the most exciting debuts is Tokyo Disneyland's first new daytime parade in five years: Disney Harmony in Color. Tinker Bell delivers on the cavalcade's name as she kicks it off in a vivid float of colorful petals, followed by a bevy of beloved characters: New arrivals include Wreck-It Ralph's Vanellope and Ralph and Big Hero 6's Wasabi and Honey Lemon, along with familiar friends from Moana and Up, all celebrating adventure and friendship.
Mickey Mouse himself will, of course, be in attendance in a special 40th anniversary outfit during an updated version of "Club Mouse Beat" at Tomorrowland's Showbase—which will feature the anniversary's memorable theme song. Mickey and friends will also make their way over to Tokyo DisneySea, sporting new outfits and ready to greet guests in "Let's Celebrate with Colors."
At both Tokyo Disneyland and Tokyo DisneySea, the spectacular Sky Full of Colors will light up the night, set to the anniversary theme song and other cherished Disney music. Plus, look for new food and merchandise, including Tokyo Disneyland's anniversary-themed ice cream cone and Aquatopia-inspired dishes.
Stay tuned for more delightful details as the anniversary draws closer...
First Look at Te Fiti from EPCOT's Journey of Water, Inspired by Moana
Earlier this week, the good folks at Disney Parks Blog welcomed someone very special to the World Nature neighborhood of EPCOT in Journey of Water, Inspired by Moana: Te Fiti! The Walt Disney Imagineering team has been working hard to bring the truly impressive Te Fiti to life for years.
Go behind the scenes with our pals from WDI in the video, below:
The development of Te Fiti and her pose required close collaboration with Walt Disney Animation Studios and its Creative Legacy team; as guests walk along the trail, they'll encounter Te Fiti, who's seen protecting water as it travels through the water cycle.
In Journey of Water, Moana serves as a steward of water conservation—and Te Fiti also functions as a symbol of how water should be protected and nurtured. The attraction will be a place where guests can engage with water and learn more about the impact we have on nature.
Look for Journey of Water, Inspired by Moana to debut in late 2023.
The Walt Disney Company Leads All Studios With 22 Academy Award® Nominations
It's awards season, all right—and the biggest one of all is right around the corner! Nominations for the 95th Oscars® were just revealed... and The Walt Disney Company received a whopping total of 22 nominations from the Academy of Motion Picture Arts and Sciences—leading the way with two Best Picture nods. See what else got nominated from around the worlds of Disney right here at D23.com. (And mark your calendars for the ceremony, airing Sunday, March 12, on ABC!)
Disney Branded Television Unveils Kiff Premiere Date and Casting News
Disney Branded Television recently announced that Kiff—the nutty new animated buddy-comedy about optimistic squirrel Kiff and her chill bunny bestie Barry—will premiere Friday, March 10, at 8 p.m. ET/PT on Disney Channel and Wednesday, March 15, on Disney+. The series' theme song was also released today; delight your eyes and ears by taking a gander, above.
From creators and executive producers Lucy Heavens and Nic Smal, the series follows Kiff and Barry as they navigate school, relationships, and their often-eccentric community in Table Town, a world where animals and magical oddballs tackle day-to-day life together. Inspired by the people and places Heavens and Smal experienced when they were growing up in Cape Town, South Africa, each half-hour episode, comprised of two 11-minute stories, will include a new original song. In addition to their creative roles, Heavens and Smal also voice characters in the series: Heavens as Kiff's drama teacher, Helen, and Smal as the principal of Table Town School, Principal Secretary.
Kimiko Glenn voices the titular role of Kiff, whose thirst for life takes her on countless adventures through her city alongside Barry, voiced by H Michael Croner. Disney Branded Television also unveiled the voice cast in recurring roles includes James Monroe Iglehart and Lauren Ash as Kiff's parents, Martin and Beryl (respectively); Deedee Magno Hall as Miss Deer Teacher, Kiff's teacher; and Eugene Cordero as The Pone, Kiff's neighbor, and Secretary Prince, the school secretary.