By Jocelyn Buhlman
WARNING! This article contains spoilers for The LEGO Star Wars Holiday Special on Disney+
Earlier this week, Disney+ rang in the biggest holiday in the galaxy in proper Star Wars style with the debut of The LEGO Star Wars Holiday Special. That's right, November 17 is traditionally Life Day in the Star Wars universe—but you can enjoy the special any day, now that it's streaming on Disney+. Already watched the special? While you certainly enjoyed the holiday festivities and epic galactic adventures, did you also keep your eye out for hidden details or Easter eggs? According to Jaqui Lopez, executive producer, "It's LEGO—we feel that we have a license to do anything in LEGO!" If anything goes, that means this weekend might call for a rewatch of the special with your pause button at the ready!
The biggest Easter Egg moment in the special is that "bucket dump moment," as executive Josh Rimes calls it: "It's Vader and Rey chasing each other across all timelines of Star Wars from prequels to the original trilogy and even The Mandalorian." He likens the sequence to a child getting out all of their Star Wars LEGOS at once: "That's our equivalent to kids dumping all their Star Wars Legos on the ground and having villains and heroes from different eras fight each other."
So, what should you be keeping a sharp eye out for? Check out some of the notable moments and details the creative team has noted, and then let the Force guide you in your quest to spot them for yourself!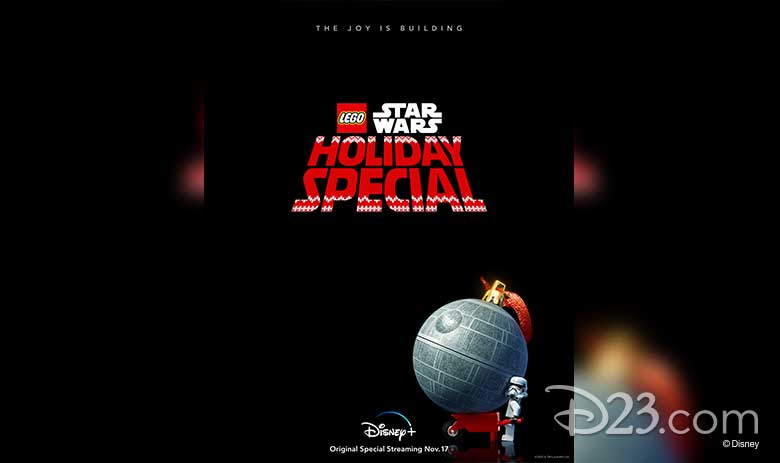 What Child is This?
The epic "bucket dump" moment Rimes references includes characters from all across the galaxy—including a certain Emmy Award-winning Disney+ series. "We have [The Child] for a brief moment and I just love that as soon as everyone sees [The Child], all action stops. Everyone's like, 'Aw!'" Lopez recalls. The cameo got a blessing from The Mandalorian's creator himself: "You know, Favreau's a big LEGO fan, so he's supporting of it."
Listen for Some Familiar Quotes
Part of that "license to do anything" in LEGO that Lopez mentioned includes referencing quotes that have become iconic catch phrases for Star Wars fans. From Admiral Ackbar delightedly opening his gifts with an exclamation of, "It's a wrap!" to a chorus of Obi-Wans greeting each other with, "Hello there!" the special delights in celebrating quotes that fans can't help but repeat. Some lines are not directly quoted (for example, Poe Dameron mentioned a certain ill-fated Senate Speech delivered by Jar Jar Binks in Star Wars: Attack of the Clones), and a certain moment references a fairly new memetic Star Wars line that debuted with the launch of Disney+, (One word: Maclunkey!) so make sure to keep your ears open while you're enjoying the special.
Batuu's Hottest Life Day Gifts
Let's be honest, if you lived in the Star Wars galaxy, wouldn't you do all your gift shopping at Black Spire Outpost? Darth Vader certainly shops there, as he mentions he bought Emperor Palpatine's gift at Batuu—the home planet of Star Wars: Galaxy's Edge at Disneyland and Walt Disney World Resort. That's not the only reference to our favorite not-so-far, far away Star Wars planet. Tip-yip, one of the tasty treats you can buy at Docking Bay 7 Food and Cargo is also enjoyed in LEGO form. (Wait until they find out about LEGO Ronto Wraps!)
A Family Reunion
As those familiar with the original Star Wars Holiday Special know, going home for the holidays isn't just a human tradition—Wookiees also need some quality time with their fuzzy family to celebrate. Chewie's wife, son, and father all appear in the original, live-action special—and since it's that holiday season again, it only makes sense that we'd possibly get another glimpse of Chewie's loved ones. "There is a Wookie that has markings of Itchy [Chewbacca's father from the original Star Wars Holiday Special]," Lopez hints.
Being able to recreate these Star Wars Holiday Special characters in minifigure form is something Rhimes describes as "really funny," but also, he thinks, "It's just nice—there are moments that are just nice little nods to that original." While only a few elements of that original holiday special made it into Star Wars canon right away, (Hey, Boba Fett!) it's nice to spot some familiar faces making merry in this latest Star Wars adventure.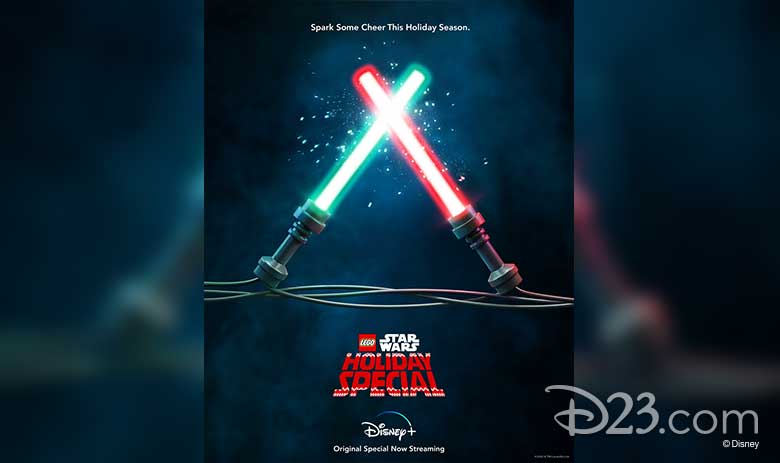 Festive Freemakers?
While the team was coy, it seems that loyal fans of the LEGO Star Wars animated series have another reason to go back and rewatch the special—"There is a small blink-and-you-miss-it nod to the Freemaker Adventures" Rimes teases.
Did you catch all these Easter eggs and details? Hoping to spot some new ones? You can stream The LEGO Star Wars Holiday Special right now on Disney+. Want to learn more about how Lopez, Rhimes, and more of the LEGO Star Wars team built this epic special? Check out the Winter 2020 issue of Disney twenty-three magazine for an exclusive, behind-the-scenes story.