By Beth Deitchman
Director Kenny Ortega has always been surrounded by heroes, sometimes even literally. As a young boy, Ortega's bedroom was filled with wood cut-outs of Disney characters that his father, an artist with a love for Disney animation, created for him. But for Ortega, there was something unmistakably captivating about Disney villains. "Although my heroes were not the villains, the villains inspired me in ways," he shared. "They were just so colorfully sculpted, and I loved that."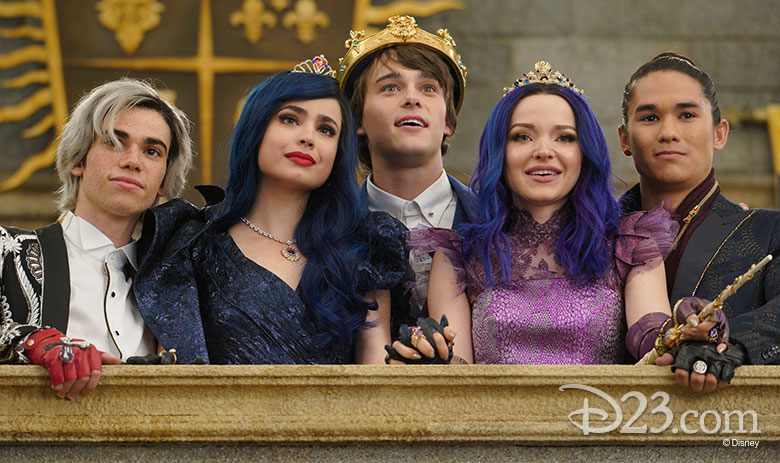 For the last five years, Ortega has immersed himself in a wickedly wonderful world that turns the entire concept of villainy on its head. On Friday, August 2, the premiere of Descendants 3 on Disney Channel brings this chapter of the Villain Kids' story to a satisfying conclusion. The trequel finds the "core four" graduating from Auradon Prep. Mal (Dove Cameron), Evie (Sofia Carson), Carlos (Cameron Boyce), and Jay (Booboo Stewart) return to the Isle of the Lost in search of a new group of deserving VKs to follow in their footsteps on the other side of the barrier. But when Mal senses that her new home is under threat, she resolves to close the barrier completely—a decision that leads to the biggest challenge yet for the daughter of Maleficent and her friends.
"I hope that we fulfill the expectations and hopes of our fans, in that we have a story here that encapsulates all of our main characters but gives them all a kind of wonderful final run around the track, landing them in a place that I think is special and deserved," Ortega told D23.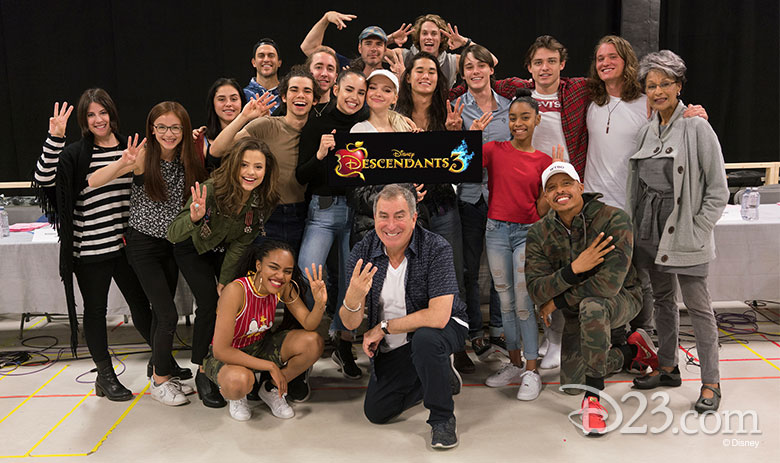 Beloved baddies Uma (China Anne McClain), Harry Hook (Thomas Doherty), Gil (Dylan Playfair), and Dizzy (Anna Cathcart) return for Descendants 3, as do their not-so-evil-born counterparts, including King Ben (Mitchell Hope), Audrey (Sarah Jeffery), Chad Charming (Jedidiah Goodacre), Doug (Zachary Gibson), and Jane (Brenna D'Amico). But Descendants fan are in for a devilish introduction to the franchise for two frightfully familiar foes: Hades and Dr. Facilier, played by Cheyenne Jackson and Jamal Sims, respectively.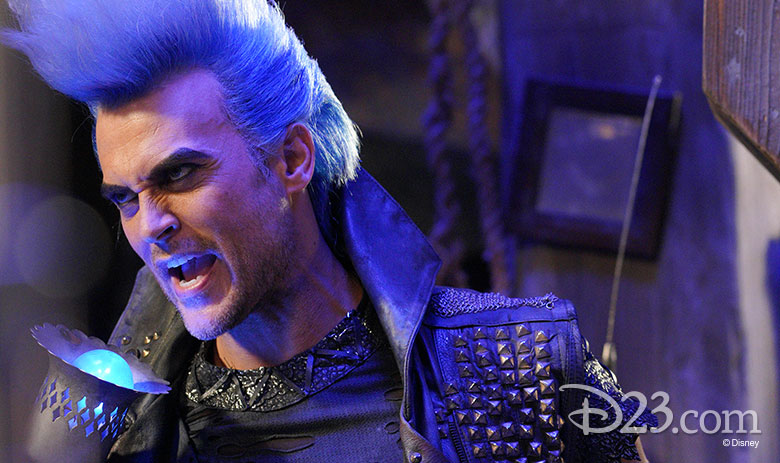 Ortega points out that working with these heritage characters, rather than their offspring, presented a thrilling opportunity for the filmmakers. "We're bringing back the actual characters in a live-action film. It's important that the DNA is connected [to how they've been portrayed in the animated classics], but there's a certain freedom that we have," he explains. "We can show new colors—great, great colors—but we can't throw the baby out with the bathwater."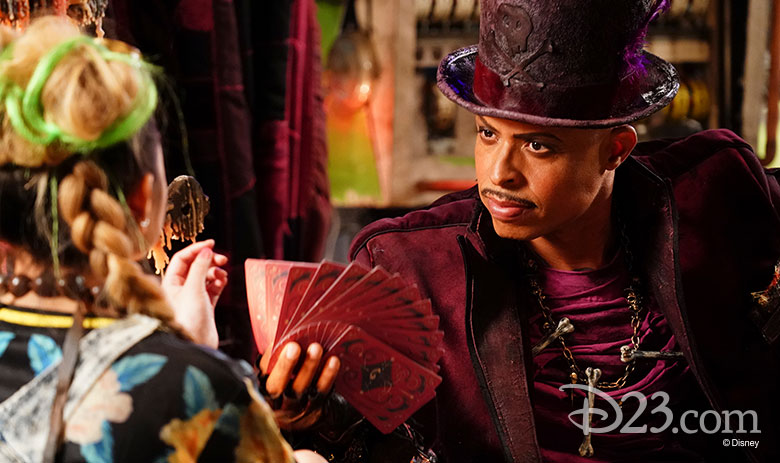 With Jackson and Sims, Ortega says they cast actors who stayed true to the villains fans grew up loving, but also infused the characters with surprising new qualities. "Both of these gentlemen came in with something that gave us the confidence that they would be the right people—and so much fun," Ortega says. "Cheyenne comes from Broadway and television and film; and Jamal is an extraordinary world-class choreographer who just did the live-action Aladdin for Disney. They came to us with a life of experience and know-how."
The soon-to-be-Disney Legend, who was also the creative force behind Disney Channel's hugely successful High School Musical franchise, emphasizes that when he casts actors he looks for people who will become partners, sharing his passion and approaching the project with their own voices and ideas. He found that—and more—in the talented young cast of Descendants, to whom he's grown incredibly close since Mal first graffitied the rallying cry, "Long live evil."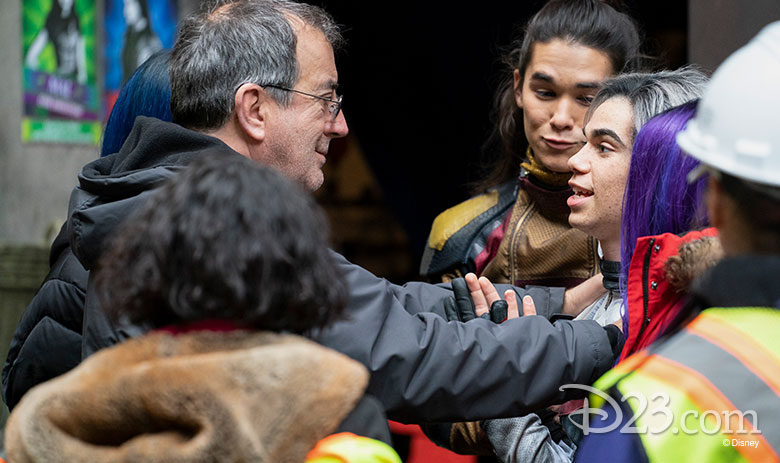 After five years together and three movies, Ortega remains grateful for the "continuous enthusiasm and energy in which they approached every day; the love that they had for their characters and each other; their dedication to the work; and wanting to come back and continue to do it again."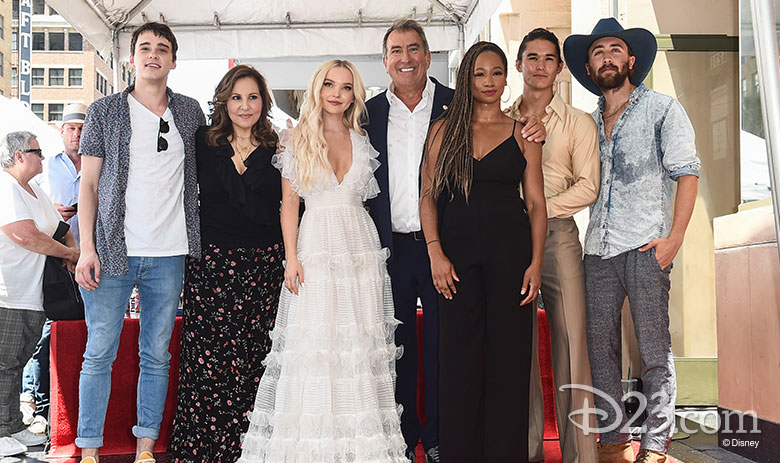 When he spoke with D23, Ortega described actor Cameron Boyce, who passed away on July 6, as "an artist's artist," who he cast in the role of Carlos on the spot when they first met.
Boyce's family joined Descendants stars Dove Cameron, Zachary Gibson, Mitchell Hope, and Booboo Stewart to support Ortega as he was honored with a star on the Hollywood Walk of Fame on July 24. "His all-too-brief appearance in this life inspired me beyond words and many of us here and generations of kids and families all over this world," said Ortega of Boyce during the ceremony. "His extraordinary talent and loving heart will be remembered through his foundation. The foundation is called The Cameron Boyce Foundation and has been set up by his family to remember Cameron by continuing his pursuit to make positive change in the world. Cameron said, 'We can't take it with us, so it's about what you leave.' With this, I promise Cameron that I will carry this goodness with me in all the days of my life."
Disney Channel will dedicate the August 2 premiere telecast of Descendants 3 in Cameron Boyce's memory. Tune in at 8 p.m. EDT/PDT to see Carlos, Mal, Evie, and Jay return to the Isle of the Lost one last time.