Visiting any one of Disney's theme parks is a multi-sensory experience with so many engaging sights, tastes, smells, and visions… and in the most magical of ways. For those audio-inclined D23 Members who enjoy the melodies of Epcot, singer-songwriter Bob Moline occupies a special place in your hearts—and ears!—for his monumental contributions to the literal tone of the park, penning such iconic tunes as "Golden Dream" and "Listen to the Land." On the 30th anniversary of the park's opening, D23 looks back on Bob's history with Disney and how he put his stamp on the Epcot experience.
Bob's tenure with Disney began in the 1970s when Billy Long, Disneyland's then-director of Marketing, heard him singing in the Wine Cellar dining room at the Newporter Inn in Newport Beach, California. After taking in Bob's performance, Billy asked him to compose the music for a commercial promoting Disney's 20th anniversary. This became Bob's first step down the Disney path, and his wife, Sheri Moline, tells D23 that Bob also wrote the jingle for the "It Could Only Happen at Disneyland" promotion. As further proof of Bob's enormous talent, his efforts on this campaign were rewarded with a CLIO Award nomination, a globally recognized honor for creative excellence in advertising.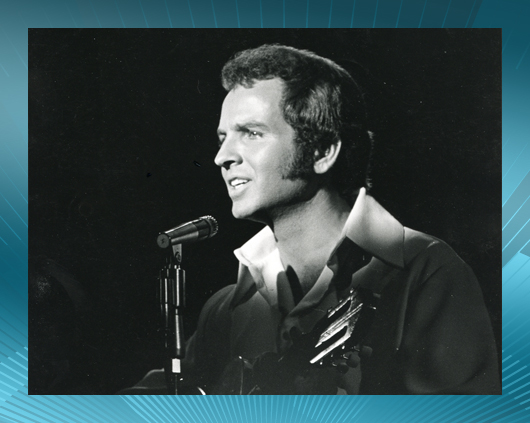 While Bob's parks prowess began at Disneyland, the opening of Epcot in 1982 prompted his greatest body of work for a single Disney park. The prolific songwriter spent years crafting many of the songs that flowed throughout the pavilions, and when it came time to celebrate the opening of the park, the entire Moline family was on hand. Bob, Sheri, and his children, Justin and Jennifer, arrived at the gates clad in custom red shirts emblazoned with the words "Visiting Epcot to hear Daddy's songs." Standing out just like Bob's trademark lyricism, the stylishly proud family was quick to dive in and see what their patriarch had created.
As the family entered Epcot, Bob's first song was on the right, where "Listen to the Land" streamed from the eponymous ride in the Kraft Pavilion. One of this song's hallmarks is its ability to appeal to guests of all ages, and Justin is quick to point out to D23 that this is one of his dad's strong suits. "He always had that part of him that never grew up and could always connect to childlike wonder," Justin says. "I think that is where he drew a lot of his lyrical substance from, which you can hear in his songs like 'Listen to the Land.'"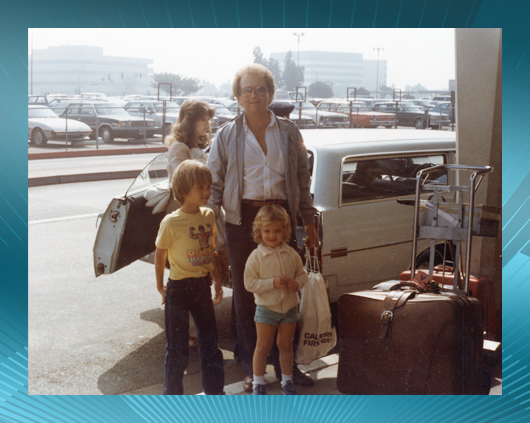 The Moline family made their way out of Future World and into World Showcase, and the first stop on the right yielded "Canada (You're a Lifetime Journey)," another Moline masterpiece. While the song has a distinct international flair with lyrics in both English and French, it was written and recorded, like nearly all of Bob's works, in Southern California. "I oftentimes would go to the studio with him down in Newport Beach… so I could look through the window in the studio into the booth and see him singing," Justin reminisces. At the end of the day, Bob would bring Justin into the booth so he could hear the finished recording and finally hear what his father had been working on.
As with any creative exercise, Bob was constantly thinking of the next medley or lyric. "He would write a lot of lyrics at the house, or at the table, or wherever he happened to be," Justin explains. It was impossible to tell when inspiration would strike so Bob kept a pad of paper by his bedside and wrote whenever his passion struck him, seemingly pulling the notes out of thin air. "I remember seeing him get up from bed in the morning. He had a paper and pen by his bedside, and he would jot down some things that came to him in the night," Justin notes. "To me as a kid, it seemed like magic."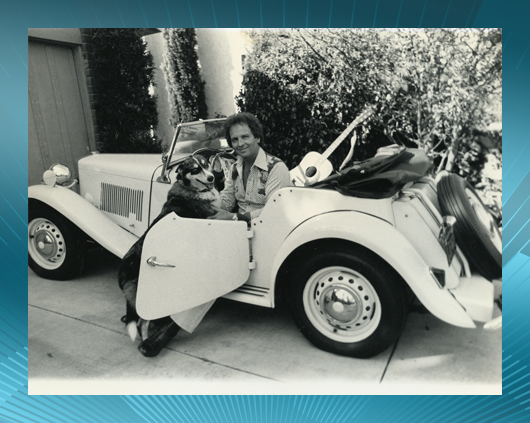 As the family continued around World Showcase, they came to the site of one of Bob's most magical, inspirational, and famous compositions, "Golden Dream." The rousing end to the combination video and Audio-Animatronics® show The American Adventure is a family favorite and a true classic, as Sheri explains. "'Golden Dream' inspires hope and unity for America which is so vital at this time." Justin notes how the song "always gives me goose bumps," and he had the distinct pleasure and pride of hearing it performed by a marching band in a road parade. "At first I was like, wait, why are they playing my dad's music? But it is actually a huge compliment," Justin says. This surreal experience was the ultimate tribute to his father, something Justin could only describe as "phenomenal."
The Moline family spent two days at Epcot, taking in the sights and most importantly, the sounds.  "I can't begin to express the happiness and excitement we felt while visiting each pavilion and sharing in the excitement of actually seeing our long-awaited dreams come true and knowing that Bob would leave his mark in life," Sheri says. At the end of the trip, the gang was riding back to the airport on a shuttle bus with other park guests. To make the trip a little more enjoyable, Bob began to sing his songs from the park, much to the delight of those on board. Sheri tells D23 that at the end of the ride, another famous "Bob" emerged from the front of the bus: Robert Sherman was also on board the coach, and Sheri says her husband felt it was the ultimate compliment when one of Disney's greatest songwriters came back to shake his hand.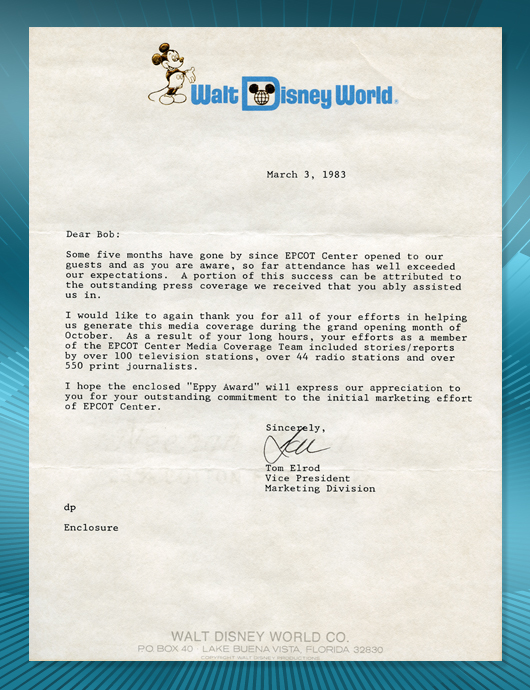 Bob was recognized for his hard work with an official EPPY award presented to him by Tom Elrod, vice president of marketing, for his efforts in promoting Epcot. This award now resides in daughter Jennifer's home; quite the souvenir! While Bob's songs continue to live on in Epcot, his contributions to Disney do not stop there. "He loved doing everything for Disney" remarks Justin, and Bob continued to contribute lyrics and music to the Magic Kingdom and Disneyland, and he even wrote the theme song in 1994 for the then Disney-owned professional hockey team the Mighty Ducks.
Sadly, Bob passed away in December 2011, and the Disney parks and the world lost a great singer and songwriter. However, Sheri notes, "long after his passing, his music will continue to live on, thanks to Disney." While all the families that visit Epcot may not wear matching red shirts honoring Bob's work, they all surely appreciate Bob's deft lyrics and beautiful musical notes as they enjoy the magic and wonder of the park.
From all of us at D23, and all those who have heard or ever will hear your wonderful songs, thank you Bob.