By Peyton Liebler
Wake Up—It's showtime! And, in case you've been asleep for too long, it's also time to celebrate the 60th anniversary of Walt Disney's Enchanted Tiki Room! To commemorate the magically melodious memories of the Enchanted Tiki Room, D23 is proud to share a cute collectible featuring the iconic barker bird Juan! This is a special keepsake for anyone looking to show off their fanhood for the fantastical feathered friends that inhabit the Adventureland attraction.
Inspired by the iconic attraction, Walt Disney's Enchanted Tiki Room at Disney Parks. Since making its debut on June 23, 1963, guests around the world have been delighted by the musical stylings of this eclectic tropical hideaway. It was the first ever attraction to feature Audio-Animatronics® figures in a Disney Park! Boasting a colorful cast of avian actors, botanical beauties, and mysterious tiki gods, this beloved attraction continues to inspire generations of fans.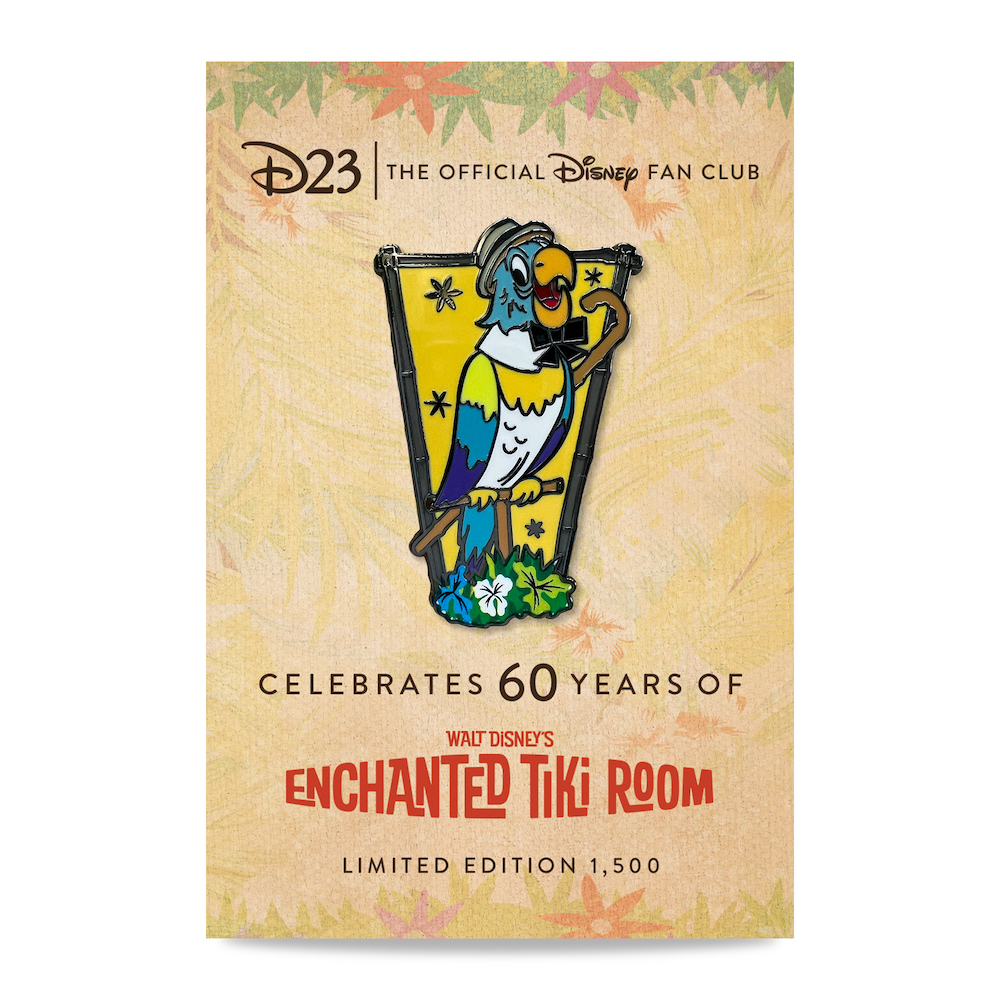 D23-Exclusive Walt Disney's Enchanted Tiki Room 60th Anniversary Pin – Limited Edition
Celebrate an enchanted place where the birds sing words and the flowers croon! This D23 Gold Member exclusive pin is a tropical way to celebrate 60 years of Walt Disney's Enchanted Tiki Room. It features one of the original parrot personalities, Juan the Barker Bird! A great find for anyone looking to wet their beaks with island style and dazzling star power!
Our D23-Exclusive Walt Disney's Enchanted Tiki Room 60th Anniversary Pin, offered in a limited edition of 1,500 is available to D23 Gold Members starting at 8 a.m. PT on shopDisney, Tuesday, June 20, 2023.
Not a D23 Gold Member?
Sign up today to access limited edition merch
and year-round discounts and offers!
Available while supplies last. To purchase, you must log in to shopDisney.com with the Disney account tied to your D23 Gold Membership. These pins are sold for $19.99 each, plus applicable sales tax. Maximum of two (2) pins of this style for purchase per D23 Gold Member for online orders. Shipping not available to PO boxes; shipping and handling fees may vary for all online orders. Other restrictions may apply. All information is subject to change including, but not limited to, artwork, release dates, editions sizes, and retail prices.