Disney fans come to D23 EXPO to see things they simply can't see anywhere else.
And Collectors Editions will be presenting three brand-new works from notable Disney artists at D23 EXPO 2015, where Disney fans will have the opportunity to purchase them for the first time anywhere.
Collectors Editions' Official D23 Fine Art offering of Tim Rogerson's "A Colorful Mind" will launch at EXPO and will be available in various editions, including the original.
"Six years ago, I had the honor of painting "In Company of Legends," the official art for the first-ever D23 EXPO," Rogerson says. "It was a painting that celebrated The Walt Disney Company and how 'it was all started by a mouse.' When it came time to create the next official art for D23 EXPO 2015, I felt compelled to create a piece that celebrated the man behind the mouse. Walt Disney was a master storyteller who created the most beloved and cherished characters the world over. From cheerful Mickey Mouse, to sassy Tinker Bell, to the terrifying Chernabog, Walt Disney created hundreds of unforgettable characters in his career, from early black-and-white cartoons to colorful full-length feature films. My newest work of art, 'A Colorful Mind,' celebrates those amazing characters that Walt himself had a hand in bringing to life."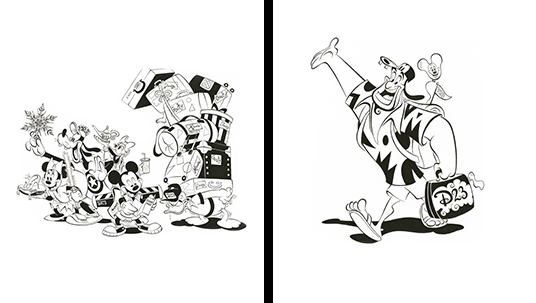 Disney Fine Art will also be presenting two D23 EXPO 2015-exclusive releases from legendary Disney artist Eric Goldberg to coincide with the launch of his new book, An Animator's Gallery: Eric Goldberg Draws the Disney Characters. "Genie's D23 Vacation" and "The D23 Gang" will also make their debut at D23 EXPO 2015.
Both of these programs will appeal to all levels of art collectors, offering a variety of formats, sizes, and price points.
Look for these exclusive images at D23 EXPO 2015, where Disney Fine Art by Collectors Editions presented by Stage 9 will be located in Hall B.