By Alison Stateman
To celebrate Tuesday's publication of Proud Mouse from Disney Legend Idina Menzel (Frozen) and her sister, Cara Mentzel, an acclaimed writer and teacher, we sat down with the siblings for an exclusive chat about the sequel to their children's picture book Loud Mouse. The new book, with illustrations by Jaclyn Sinquett, is a lyrical tale geared to readers ages 3 to 5 about a proud sister learning to find her own way in the world.
D23: What inspired you to write a sequel to Loud Mouse?
Cara Mentzel (CM): We always wanted it to have a companion [book]. It was a pair.
Idina Menzel (IM): It's a story about sisters. The real spirit in it is the sibling relationship. Loud Mouse might have begun with the impetus to write about my own honest early childhood experience as a little girl, discovering her own voice, literally and figuratively, but because my sister is such an important part of my life, she would be in the book no matter what. And, of course, she's the person I turn to for guidance, so it became evident that we wanted to explore their dynamic more. I actually wanted to take the spotlight and put it on her for a change.
CM: I really love the idea of two people who love each other being able to stand as individuals, but also being highly connected.
D23: For Loud Mouse, one of the themes was about embracing the light inside of ourselves. How does Proud Mouse build on that theme?
CM: In Loud Mouse, you've got Dee, who takes this part of herself, this talent, out into the world and then has this unique experience of it. There is some discomfort in that for her, and then she has her journey to figure that out. And in Proud Mouse, Cara Lee is so excited to take herself out to school for the first time and introduce herself to the world. Then she has this uncomfortable experience she's not sure what to make of, and she has her own self-discovery experience.
IM: Cara likes to say that it's a little misleading when we say to kids "just be yourself" all the time, as if that's the easiest thing in the world. We're all trying to figure that out as grownups. It's something we'll continue doing forever, always trying to assess who we are and how we take up space in the world and what we want to say in the world. So asking little kids, "What do you want to be when you grow up?" is essentially putting the cart before the horse. I think it's actually rare for someone like me, at 7 years old, to say, "I want to be a singer and that's it." Most people in the world are exploring and asking questions and trying different things. I love that in this followup book, it's about Cara's curiosity and the questions she asks, the desire to understand herself—whether it be in her own reflection or standing beside other people and in connection to the world around her, but that it's okay to have questions.
CM: She so values this idea of being a student of the world and being a student at school, and what she realizes is one of the things she has to learn about is herself. And, of course, we encourage kids to learn about the world and to learn about others too, but in this instance, it's her sense of self that she's not sure about, because she's sort of sister-adjacent all the time and doesn't know the world without her sister in it.
IM: What's really nice about this project for the two of us as adults is that obviously art really does imitate life in so many ways. It's this beautiful lens that we're seeing our own relationship through.
D23: Cara, how did your experience as a teacher lend itself to writing Proud Mouse? What lessons from teaching have you applied to this story and storytelling in general?
CM: I started out teaching third grade, but have since taught second, fourth, and fifth grade—and then I taught as a literacy specialist for kindergarten through fifth. It informed the book in so many [ways]. Everything from what words I chose—the fact that it's Dee and Cara Lee, so there's a rhyme there—to wanting to make sure the storyline is explicit and clear. But there's also all of these sophisticated semantic levels, so if you're an older sibling or a parent or just someone who's read the book 100 times, there's something new that you're getting out of it. And the humor, knowing what's going to make a kid laugh.
IM: I don't think I would have done it without her, honestly, because she gives it the integrity that it has because of her understanding of language and it being age-appropriate for children's development. And the idea that, knowing that I would want to have a musical aspect to it, knowing how refrains are such wonderful ways to encourage and help with literacy—
CM: To give kids access to the text. Even if they can't read the book yet, they memorize the refrain. They feel like they're part of the experience.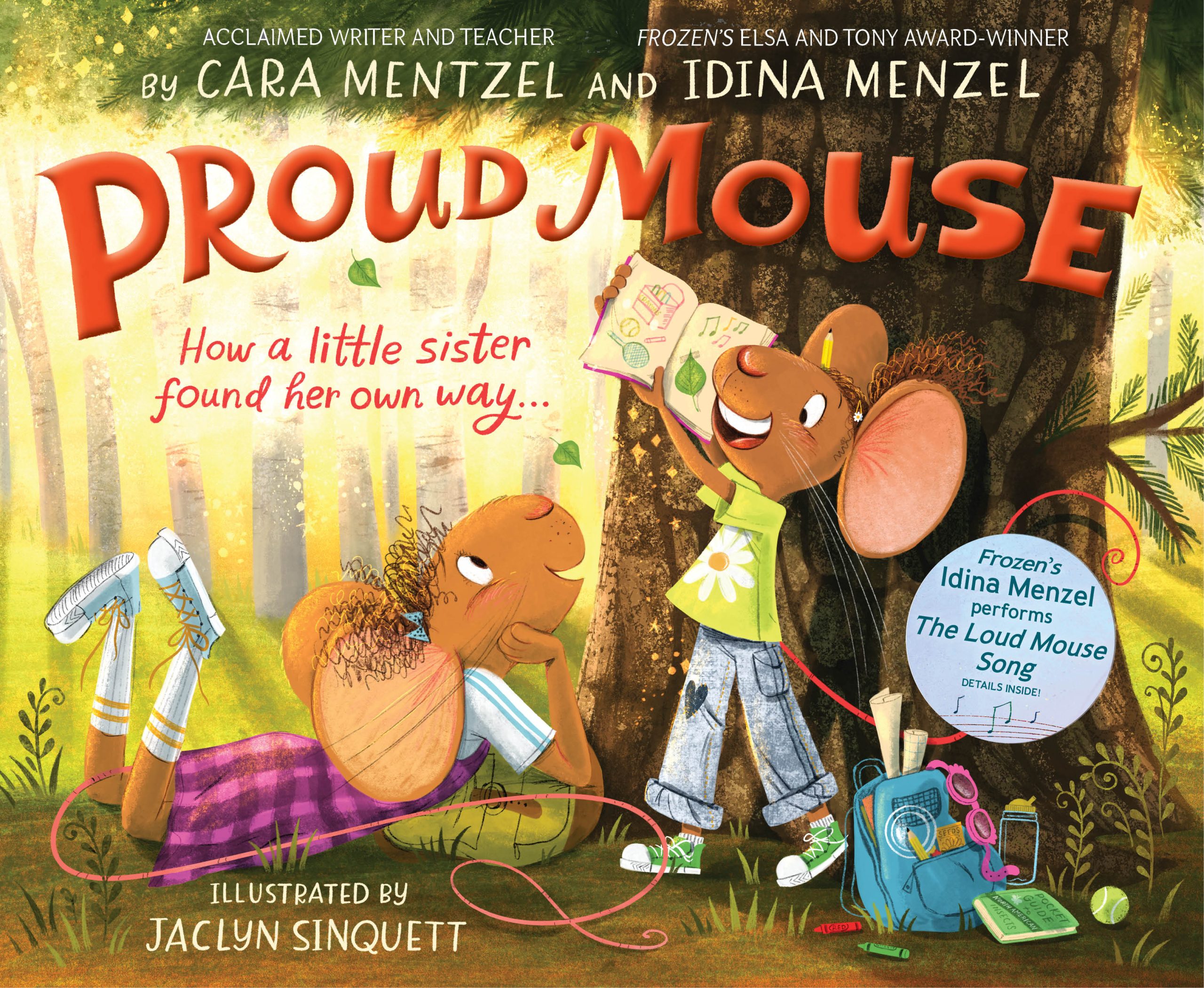 D23: The illustrations in the book are really sweet and funny. Do you have a favorite page or moment?
CM: It changes every time, because Jaclyn Sinquett is just so talented and she's captured so many beautiful things. Part of what makes it hard is that sometimes there are these frames that are just so gorgeous, and other times there's some that are just so detailed and funny.
IM: It was important that we had both in the illustrations, when we were looking to choose who would illustrate the book. So when you go back and read these books over and over, as you normally do with your kids, you discover new things. But I think the ponytail…
CM: Ah, the ponytail…
IM: But there's also this beautiful pool and she dives into it.
CM: Yeah, when she dives into her own reflection.
D23: What made you want to pick mice as your main characters?
IM: We had a bunch of classic books that we love that were mice—
CM: Stuart Little, or [The Tale of] Despereaux, or the Kevin Henkes books.
IM: And then we also felt when we were talking about a being needing to grow really big—when they're full of their passion and their love for what they do—it would make the best juxtaposition for it to come from something that's not normally seen as being very boisterous.
CM: We thought it was really fun, and animals are very universal in terms of access.
IM: They make it less specific to us, so kids can see themselves in an animal more than perhaps a little Cara.
D23: You have created a book focusing on each one of you. Can we look forward to more adventures between the two siblings?
IM: We're working on it being out in different mediums and we have other stories and characters, little Easter eggs in both books that we've put there so the other characters can come to life perhaps a bit more—[particularly] the Deaf and hard-of-hearing character, and Val, who is a they. What we like writing about are complicated emotions for kids. We as moms prided ourselves on giving our kids a verbal way of expressing their emotions, being able to put words to the way they feel, which I think gives them more power in their life.
CM: [Kids need to know] that you can feel more than one emotion at a time. From a teacher perspective, the social and emotional learning piece is something that's important to us. We wanted there to be a lot of access points for conversation.