By Justin Arthur
Yesterday, D23 made its San Diego Comic-Con panel debut with Celebrating 90 Years of Mickey Mouse with D23: The Official Disney Fan Club, an amazing behind-the-scenes look at the world's favorite mouse, with plenty of surprises!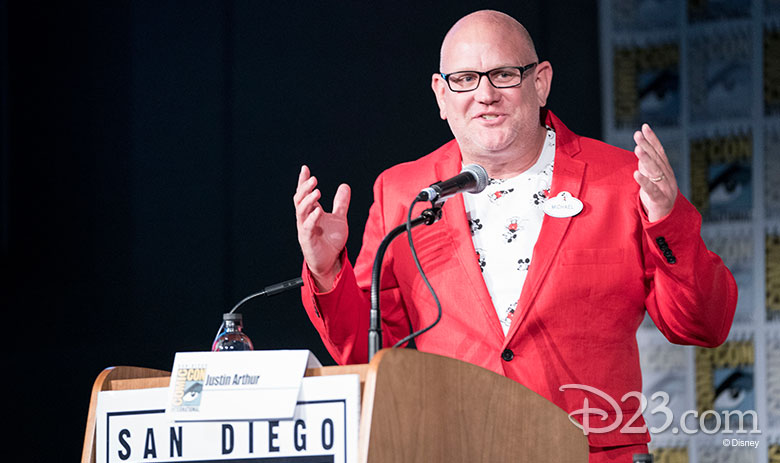 Michael Vargo, head of D23, welcomed a packed room of fans—many of them D23 Members—a sea of mouse ears, sorcerer hats, and Minnie-inspired bows. Michael kicked off the panel with an exciting video of some of Mickey's greatest moments from the last 90 years, to the cheers of the excited crowd.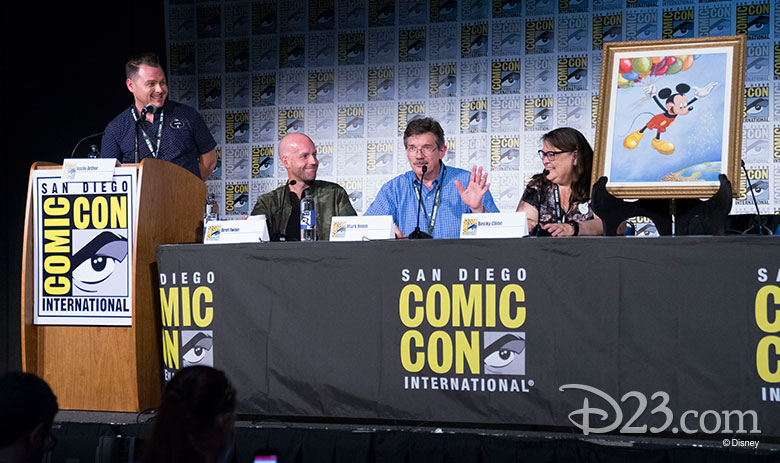 D23's Justin Arthur, who served as moderator, introduced an incredible panel that included Becky Cline (Director, the Walt Disney Archives), Bret Iwan (the Official Voice of Mickey Mouse), and Mark Henn (Master Disney Animator, Walt Disney Animation Studios), who looked at Mickey's legendary roles in animated films, television shows, merchandise, the Magic Kingdoms, and beyond!
From Steamboat Willie to Get a Horse! and everything in-between, the presentation explored how Mickey became a phenomenon and why he continues to be a cultural icon today. Becky shared some outrageous photographs of Mickey's runaway success in the early years. Bret recounted the history of voicing Mickey Mouse: Walt, of course, was the original voice and Bret  is only the fourth person in history to take on that mantle. Mark traced how the big cheese developed through some of his greatest animated roles, and highlighted the animators who influenced those changes—including Mark himself, who has animated many of Mickey's most recent roles! Justin included a sneak peek at some of Disney's big plans to celebrate Mickey this year.
Of course, it wouldn't have been San Diego Comic-Con without some surprises! Bret brought along a brand-new video celebrating King Mickey's role in the Kingdom Hearts series, and announced that he's currently working on KINGDOM HEARTS III, which will be playable on Xbox One and PlayStation 4 on January 29, 2019.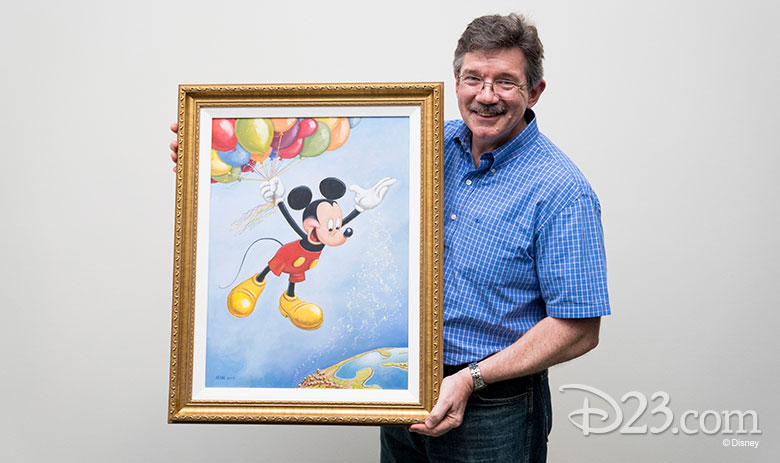 Becky then shared with the audience the history of the official Mickey birthday portrait, a tradition that started in 1953 for Mickey's 25th birthday. The grand finale was a grand reveal: Mark Henn, the artist chosen to paint the iconic mouse for his 2018 milestone, had brought along his "mouse-terpiece," titled "Spreading Happiness Around the World," for its world debut!
Thanks to all of the amazing fans who joined us for our Mickey panel, who we hope to see today at our D23 San Diego Member Mixer, and this evening for our final event of this year's San Diego Comic-Con, 25 Years of Tim Burton's the Nightmare Before Christmas with D23: The Official Disney Fan Club.