By Courtney Potter
If you're anything like us, you've spent years wondering just how Cruella De Vil became the villain we know (and obsess over) today. All that fabulous fashion, all that hair-raising ruthlessness… what a delicious combo! And now, thanks to Disney's Cruella—debuting in theaters (and on Disney+ with Premier Access, available in most Disney+ markets) in just a few days time—we'll all get the inside scoop on what really happened during the iconic character's rebellious early days…
There might be no one better to divulge all the behind-the-scenes intel about the making of the film than its two stars: Academy Award® winners Emma Stone (Estella/Cruella) and Emma Thompson (Baroness von Hellman)! Luckily, D23 was privy to a rollicking virtual press conference with "the two Emmas"—to better help delineate questions, moderator Grae Drake called on Stone and Thompson using a variety of hilarious nicknames (example: "Stoney Baloney")—where they revealed some totally memorable stories about their Cruella experience. Don your best deconstructed ballgown, stomp the proverbial runway, and enjoy!
Stone on how the chance to delve into the origins of an iconic Disney villain came about:
"I loved [the original animated] One Hundred and One Dalmatians," she admits. "I especially loved that the dogs looked like their owners. I always thought that was so funny. And I remember as a kid trying to see if dogs did in fact look like their owners—and a lot of times, they do. But yes, I loved the [animated film] and I thought Cruella was such a fun character."
Stone's trajectory towards Cruella wasn't as clear-cut as one might expect: "It wasn't as straightforward as getting a call to play [the role]," says the actor. "It was about six years ago. Long before we shot the movie, there was [just] an idea; Disney has all this history, all these characters, and they brainstorm… I think taking the character and putting her in the '70s works; as much as she is Cruella from One Hundred and One Dalmatians, she's also not, because you've taken a character and created this whole new story for her—with fun nods to One Hundred and One Dalmatians, obviously. I think once [director] Craig Gillespie and the screenwriters came on board, it really started to fly and get very exciting. It was like, 'Oh my God, we're making Cruella!' It's unbelievable."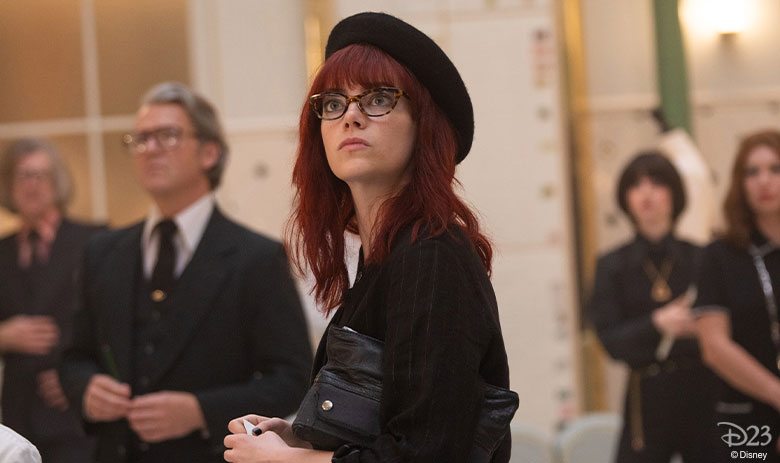 Stone and Thompson on what drew them to their characters…
"It's interesting, because there is a sort of rejection of Estella that comes at a point," says Stone. "Estella is sweet, but she's not fully embodied. So I would say there is something about Cruella that's pretty enticing, because she just is who she is. She's in full acceptance and autonomy there. So I am pretty interested in that Cruella world. She does some things—[there are] some lines that I don't think I would necessarily cross. But to be honest, I sorta prefer Cruella. It's so much fun to do. For a lot of roles, if you're someone like me, that has a face that's made of full rubber—I used to always try and contain a little bit; 'teaspoons,' instead of 'buckets.' But when you get to throw buckets, it's a joy."
As for the Baroness, "I drew on the life, obviously," Thompson jokes—adding, "I think if my husband were in the room, he'd say, 'And no acting required, really.'" But in all seriousness, Thompson "had such fun playing her. I've been asking for quite a number of years if I could be a villain—a proper villain. And I spent decades playing what my mother used to call 'good women in frocks.' And now I got to play a really evil woman in frocks. But oh boy, the frocks! I mean, they wore me, actually, is what happened. I had just the best, best time. Every time [Stone] and I would come on set, we'd just look at each other and walk around each other—like we were sculptures or works of art or something, which we were. In a way, everyone created the Baroness, and then I sort of stepped in and just said the words."
Speaking of the film's awe-inspiring "frocks"—not to mention the wigs, and the shoes…
"My very, very favorite outfit, that was absolutely ludicrous, was the dress that I wear on the garbage truck," Stone admits. "And it was just phenomenal—I mean, it's nothing you would ever be able to even remotely wear in real life. So it was such a 'moment.' There was also that insane skirt [I wear] when I cover the car. That was epic, too; trying to walk up onto a car and then cover an entire car with a switch of the skirt was just fantastic."
"Those were moments that were real, weren't they, Emma?" adds Thompson. "You were really [doing all that]—I was there for those bits, and none of it is CGI. It's all real. You actually walked onto the car and pulled the material around, and you did it about a million times because it was hard… I love that about [this film], that it wasn't a 'CGI movie.'"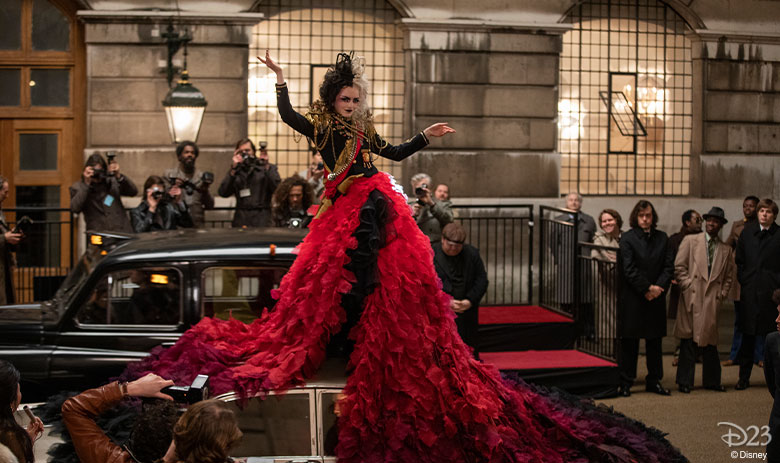 As for Thompson's costuming, her recollections of becoming the Baroness are—as you might expect—merrily vivid: "My underwear was like a sort of ship's rigging," she comically explains. "There were people hauling on ropes. [Using the bathroom] was hard and involved a team of people. And the shoes were a real challenge, because I don't wear anything higher than a flip-flop in real life. I had wigs as well—so I was a great deal taller than I'm used to being. I used to have to move in and out of spaces sideways as well, and generally I had three dalmatians at my feet, too! So yeah, the underwear was a big ordeal—not for [Stone], obviously, because she's as slender as a lily…"
Stone laughs, interjecting: "Your costumes had such structure… I mean, you had some very intense, shapely costuming!" Ever self-effacing, Thompson adds, "The thing is, Emma, you're little and slight. What you don't have, if you have flesh [like me], then what you can do is just what they used to do in the olden days—you take the flesh, and you squeeze it in the middle. It moves up and down like toothpaste in a tube. So you can really make kind of quite extreme shapes, and that's really good fun."
Thompson on a memory from her youth that came flooding back, thanks to Cruella's incredibly realistic production design…
"It was very touching, actually," Thompson admits. "The red London buses are very different now, they look a lot different. But when I was a little girl, they [looked like they do in the film]—they looked exactly the same. And it was the same bus number that brought me into town from where I lived, which is where I still live, because I'm weird," she adds, chuckling. "But it was the same bus—the 159, and it was the little 'hop-on, hop-off' bus. When I saw that this was the bus [Stone] gets on… it just was like being little again; being a teenager, going into London to maybe buy myself a top, you know—which would have cost maybe 50 pence or something, because we'd only just gone decimal. It was the dark ages," she jokes.
Stone and Thompson on the trajectory of their characters—an association that sets the course of a now-iconic Disney villain's life:
"Of course, we're acting, so we're not really being mean [to each other]," says Thompson. "I mean, there is nothing more fun than pretending. I found pretending to be mean came horribly easily… The Baroness is hardened, completely, and believes in that hardness. She thinks that's the only way—and that's what's so unusual about her, actually. Like Emma [alluded to earlier], I am very interested in the dark side of a female character, because they're so rarely allowed to be dark. You know, we're all supposed to be nice and good, aren't we? And bad mothers are simply unforgivable. I mean, nobody can find the words for the 'bad mother.' We don't know about where they've all come from and how they've developed, but the Baroness is just so single-minded—and she says this wonderful thing. She says, 'If I hadn't been single-minded, I might have had to put my genius at the back of the drawer.' Like so many other women of genius who died without producing anything and without using their genius… And actually, it is a very good point. So whilst, as Emma says, I wouldn't necessarily walk that path, her commitment to her own creativity is rather admirable. And difficult, probably."
Stone agrees: "I don't think I would ever be able to play a character if I truly thought, 'Oh, they're just bad; they're just a villain.' Do you think anybody evil walks through the world thinking they're evil? I mean, I don't think so. I think they think they're right. They think they're correct. Who walks through life thinking, 'I'm the bad guy'? It doesn't really make sense for playing a human being. Maybe for playing some type of a robot," she adds, chuckling.
She continues, "It's very 'nature versus nurture,' this story. So what [Estella] would find a weakness early on—or what her mother would deem a weakness early on, with just her ability to really 'hit the ceiling' quickly, her volatility, her reactiveness—becomes her strength, through her creativity and through her genius. It's interesting. I think it really is a movie about how your weaknesses [can] become your strengths, in a way."
Cruella premieres in U.S. theaters—and on Disney+ with Premier Access (in most Disney+ markets)—on Friday, May 28. Don't miss it!