By Courtney Potter
In just a few days' time, we'll finally learn all about the rebellious early days of one of film's most notorious—and notoriously fashionable—villains: the legendary Cruella de Vil…
Disney's Cruella, set in 1970s London amidst the punk rock revolution, follows Estella (Oscar® winner Emma Stone)—a clever and creative young grifter determined to make a name for herself with her fashion designs. After befriending a pair of thieves who appreciate her appetite for mischief, the trio are able to build a life for themselves on the gritty London streets. One day, Estella's flair for design catches the eye of the Baroness von Hellman (Oscar winner Emma Thompson), a terrifyingly stylish fashion legend. Their relationship sets in motion a course of events and revelations that will cause Estella to embrace her wicked side and become the raucous, and revenge-bent Cruella we know and love today.
It should come as no surprise that a film chronicling the start of such an iconic Disney character would also be a visual wonder. Directed by Craig Gillespie (Million Dollar Arm), Cruella also features the work of hair and makeup designer Nadia Stacey; production designer Fiona Crombie, and costume designer Jenny Beavan. D23 was lucky enough to attend a virtual press conference featuring all four filmmakers, who shared strikingly swank stories from behind the scenes; read on for a few of the morning's memorable moments…
Craig Gillespie on his primary goal in directing the origin story for one of the greatest villains ever:
"Villains are always so fun to portray," he explains, "because you have more license to do things that aren't quite appropriate, [and you can] push the boundaries and create these larger-than-life characters. It was really important to me that it wasn't black and white—obviously no pun intended there, with Cruella." He chuckles, adding, "But I wanted there to be this gray area, and be able to empathize with the choices that she was making and the situations that she was responding to. And I wanted to do it in a way that was really fun."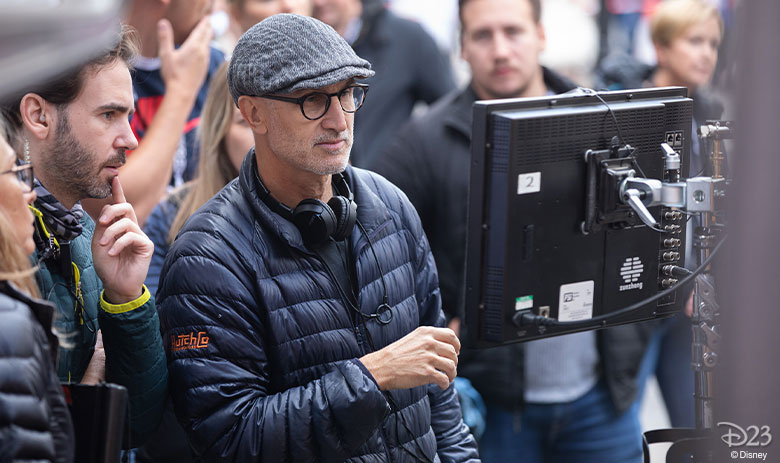 Jenny Beavan on her familiarity with the film's 1970s London fashion, and what it felt like to see it all come to life again:
"Yes, I'm afraid I'm very old," jokes the self-effacing Beavan, eliciting laughs from her fellow filmmakers. "I absolutely remember [the era], because it was that time after college when I was just beginning to work in theater—not film; I really wanted to be a set designer. And I was just beginning to earn a tiny bit of money [to buy clothing with]… I mean, it was really interesting how you kind of forget things, and then you do something like Cruella and it starts to all come back. The best moment [for me] was that very first day outside Liberty's [a high-end department store in London that served as one of the film's locations]. Oh my god, when I looked around at the crowd, it was like, 'Oh, I had one of those!' You know, that's what we looked like! And actually, it was really fun."
Fiona Crombie on the challenges of designing such a rich, robust world for the film:
As Crombie explains, "I think the biggest challenge was actually the number of sets. Cruella has great pace, and we move around a lot—and there's lots of little moments that are important [and] that require different sets. So we were very busy; there were, you know, 120-odd sets to create across the course of the shoot. And some of them are enormous, and some of them are tiny little rooms. But I think one of the things that I'm most pleased about with the film is the level of detail in every single one of those sets."In fact, Crombie and her team were so active during Cruella that it's made her next project feel a bit different: "I'm making [another] movie at the moment, and sometimes I'm like, 'I'm not busy enough. What's happened?'," she adds, chuckling.
Nadia Stacey on a surprising dilemma surrounding Cruella's iconic hair:
"It was really busy at the time that we shot [the film], in terms of wig makers," Stacey admits, "and we couldn't get the white hair. It's really hard to get hold of, because it has to be processed in a particular way. So I only had two wigs [for Emma Stone] for a long time! I kept using them and then changing them. [For instance], when Cruella has a bob with fringe [English for "bangs"], the fringe is a separate piece—so I changed things, took things off, added things to. Which kind of all works with who Cruella is. And then when I saw what Jenny was doing and how much she was changing up the costumes, it kind of all worked."
"As Fiona was saying, it was so fast-paced," she continues. "We were moving all the time, changing locations, changing scenes, and those moments with her were so kind of different every day that I was just kind of styling during the evenings, or the mornings before she came in, or even on [Stone's] head. It was a pretty quick turnaround with everything, but very fun."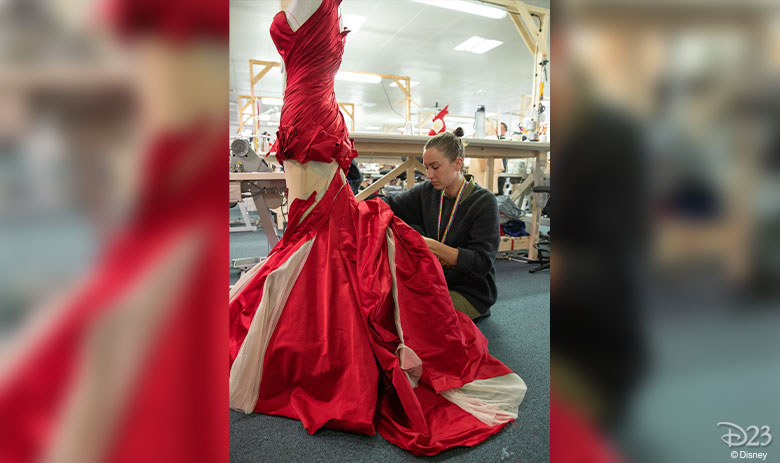 Beavan on which real-life designers inspired both Cruella's and the Baroness' looks:
"I think Cruella comes out of the script, actually," she explains. "I think the inspirations were various because she's so diverse in all her different looks… I just looked at so much stuff. And then out of it, you kind of pull what appears to be the narrative thread. So of course I looked at Vivienne Westwood and Alexander McQueen and John Galliano and BodyMap [an influential British designer in the early '80s], and I sort of dug into my past at [iconic London clothing store] Biba and, you know—just trying to really find all those things that we loved."
As for the Baroness, "she's actually terribly clear once you get into that mindset of who she is, where her influences came from, and her current situation," Beavan says. "It was obviously a slight Dior [and] Balenciaga inspiration—all those great '50s and '60s fashion designers. [The Baroness] is a very good designer; she's just slightly past her 'sell-by date'. But she became clear in [my] working with a costume maker named Jane Law; we found a style for her—obviously asymmetric and very fitted, and very 'snobbish,' I think I'd call it. We just had fun!"
"I'm not a fashion designer," admits Beavan. "I'm a storyteller with clothes. In fact, in my real life, I don't have much interest in clothes. I just love telling stories with them. So for me, that was just brilliant."
Gillespie on how he incorporated dalmatians into this film's storyline:
"Obviously, the dogs are a large part of all of 101 Dalmatians," the director explains. "But I wanted to bring them in in a more grounded way. We worked on story a lot, [in terms of] the role of the dalmatians and Cruella's relationship to them… They're very intertwined with her emotional journey. And then also, having these mutts that were part of their crew, and just being able to have fun with that—and design these [scenes] that were grounded in reality and plausible for dogs to be able to do. They were supporting characters in a way, and they had their own personalities and concerns… They have some great little moments."
… and Gillespie chats about the chemistry between Cruella and her two cohorts, Jasper (Joel Fry) and Horace (Paul Walter Hauser):
"That is the heart of the film," he admits. "It's like, they're our 'family,' the three of them. And they all play very different roles. I worked with Paul on the film I, Tonya, and I loved working with him [on Cruella]. He's doing this humor, and you see the human being underneath it—the pain, and, y'know, where that humor might be coming from or what it's deflecting or hiding. He gets to do all those layers with his humor. And then Joel is so accessible, and he has such a big heart. He was the heart of the show, and he's sort of the moral compass for Cruella. He would call her [out] on stuff in a brotherly way. I felt that that dynamic between the three of them really worked beautifully. I'd give them room to improvise, and they could play off of each other so well. They're all so talented that way. So it really made it feel effortless, natural, to have them in the room together."
See Disney's Cruella when it debuts in theaters, as well as on Disney+ with Premier Access (available in most Disney+ markets), on Friday, May 28.