By Beth Deitchman
When thinking about One Hundred and One Dalmatians, one can't help but run through the numbers. First there were two. Then a litter of puppies found Pongo and Perdita heading up a family of 17. And by the time this fan-favorite, madcap animated adventure drew to a close, Roger and Anita Radcliff had become the human guardians of a staggering 101 dogs and were making plans to build their very own "Dalmatian Plantation." We'd try to report on how many spots appear on screen, but we're not sure we can count that high. In fact, One Hundred and One Dalmatians was the first feature to use the Xerox process to transfer the animators' drawings to cels and this new method must have been immeasurably useful, given the vast number of spots on Lucky, Rolly, Patch, and the other 98 pups.
But there has always been only one Cruella De Vil, One Hundred and One Dalmatians' wickedly wonderful villain. She careened into our consciousness in the 1961 film, and "that devil woman," as Perdita first described her to Pongo, has given us chills—and thrills—ever since. Here are some of Cruella's most noteworthy Disney appearances: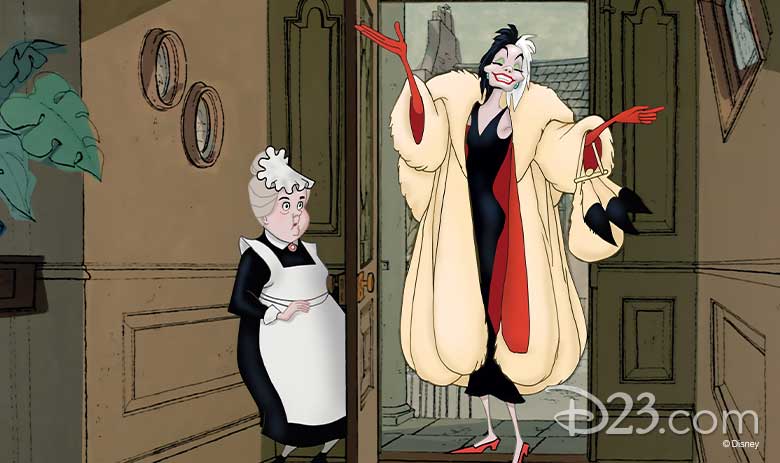 One Hundred and One Dalmatians (1961)
"Cruella De Vil, Cruella De Vil… If she doesn't scare you, no evil thing will." The introduction of Anita's schoolmate (voiced by Betty Lou Gerson) inspires Roger to burst into a melodically mischievous song; and her quest to make a coat out of Dalmatian puppy fur leads Cruella to show us just how devilish she can be, seizing Pongo and Perdita's brood along with dozens of other adorable pups. The Twilight Bark—think of it as a canine phone tree—helps lead Pongo and Perdita to Cruella's sinister-looking home, Hell Hall, where the daring Dalmatians make their escape. After a suspenseful chase that spotlights even more of Cruella's mad driving skills, Ms. De Vil and her henchmen, Horace and Jasper Badun, get their just desserts.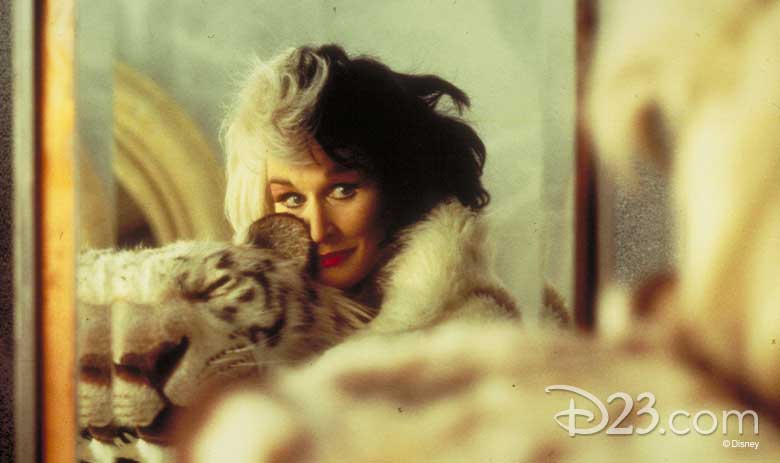 101 Dalmatians (1996)
Glenn Close stars alongside the cutest-ever canine cast in this live-action adaptation of Dodie Smith's book and Disney's 1961 animated feature. Set in London, Anita—who works as a designer for Cruella De Vil—loses her job when she refuses to sell Pongo and Perdy's 15 Dalmatian puppies to her boss. The spotted-fur-loving Cruella dognaps the litter, along with every other Dalmatian pup in London. A countrywide search ensues, and Pongo and Perdy rally their fellow animals as the film builds toward a paw-some climax.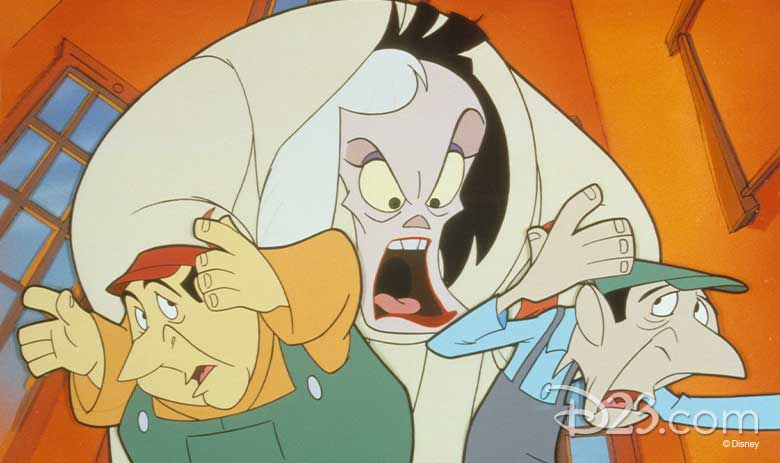 101 Dalmatians: The Series (1997)
Our favorite pups embark on wild adventures at a farm in the country, where they discover Cruella De Vil is their new neighbor. The animated television series, produced by Walt Disney Television Animation and Jumbo Pictures, aired in syndication and on ABC beginning in September 1997, and it's now available on Disney+.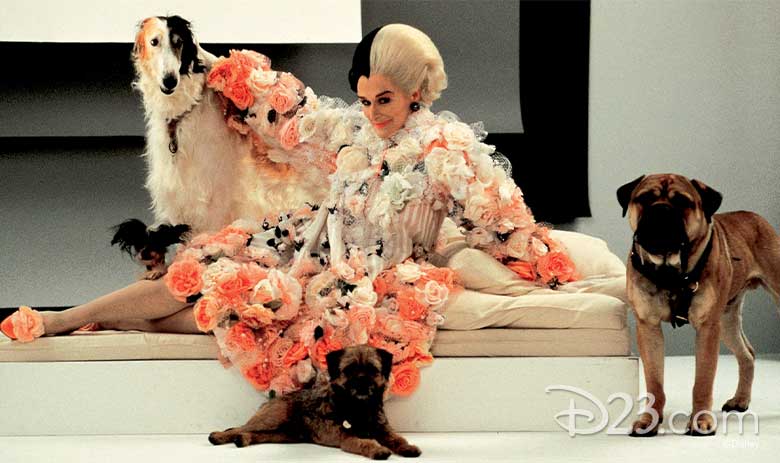 102 Dalmatians (2002)
Cruella tries to mend her ways in this sequel to 101 Dalmatians, but remember that saying about old dogs and new tricks…? This 2002 feature finds Cruella De Vil released from prison on good behavior, swearing off of fur for good. But try as she might, Cruella can't keep her promise and is soon in cahoots with French fashion designer Jean Pierre Le Pelot to get her ultimate Dalmatian coat. The rollicking journey takes viewers from the streets of London to a Parisian bakery, with Oddball, a spotless Dalmatian puppy, and Waddlesworth, a wisecracking macaw who thinks he's a Rottweiler, at the center of the canine commotion.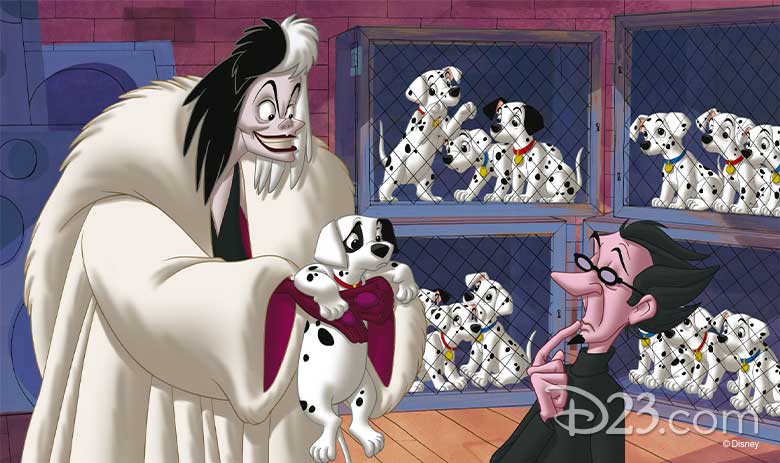 101 Dalmatians II: Patch's London Adventure (2003)
Cruella returns in this animated direct-to-video sequel to One Hundred and One Dalmatians, which finds Patch accidentally left behind when his family moves to their new farm. Patch sets out to meet his hero, canine star Thunderbolt, who uses Patch to help him carry out real-life heroics. Cruella De Vil has a new use for the puppies, who she seeks—dead or alive—to serve as models for an artist whose work is an ongoing study in spots.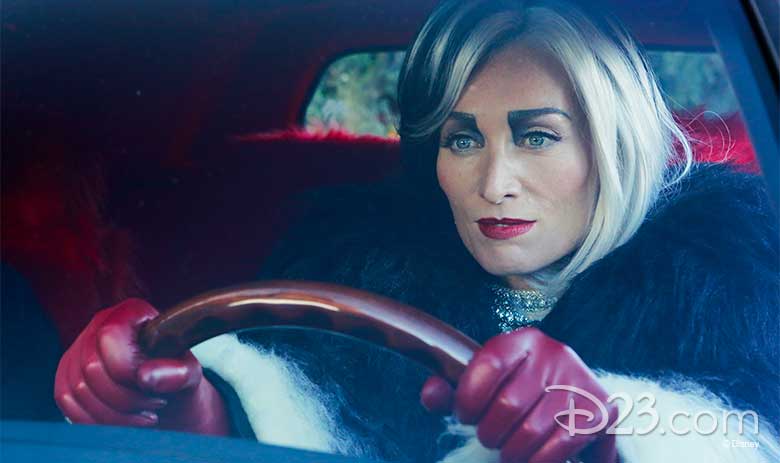 Once Upon a Time (2015)
Midway through the fourth season of Once Upon a Time, Cruella De Vil arrives in Storybrooke as part of a terrorific trio alongside Maleficent and Ursula. The series creators reimagined the character for the fairy-tale world of the ABC series, taking into account how different that world is from London as depicted in the animated film that introduced Cruella. Adam Horowitz told D23 in a 2015 Q&A, "We have a twist on the Cruella character. She's not quite what you know from the movie, but at the same time we have plenty of nods to the movie and famous things about her. Like we do with most of the characters, we've found a connection to our Once universe we are excited to reveal. And she's just delicious to write." Their goal was to capture the spirit of the iconic character, while creating something completely new. "The movie took place in the '50s, and our Cruella is much more of a Zelda Fitzgerald, Jazz Age flapper with powers. So we took our own spin on it," Eddy Kitsis noted.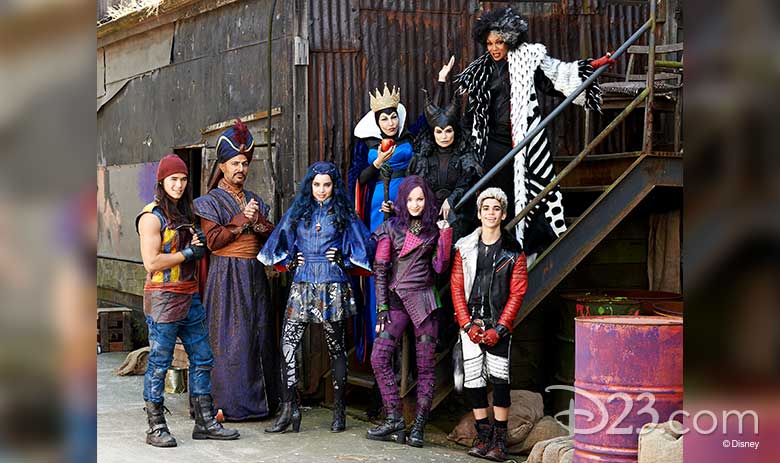 Descendants (2015)
The 2015 Disney Channel Original Movie, the first in the über-successful Descendants trilogy, introduced the offspring of some of Disney's most iconic villains and followed their adventures going from the Isle of the Lost—where the evil ones have all been banished—to the kingdom of Auradon. The late Cameron Boyce plays Carlos De Vil, son of Cruella—who's still smarting at having been outwitted by scores of Dalmatians. Cruella's parting words to Carlos, as he embarks on his new life in Auradon: "Bring home a puppy!"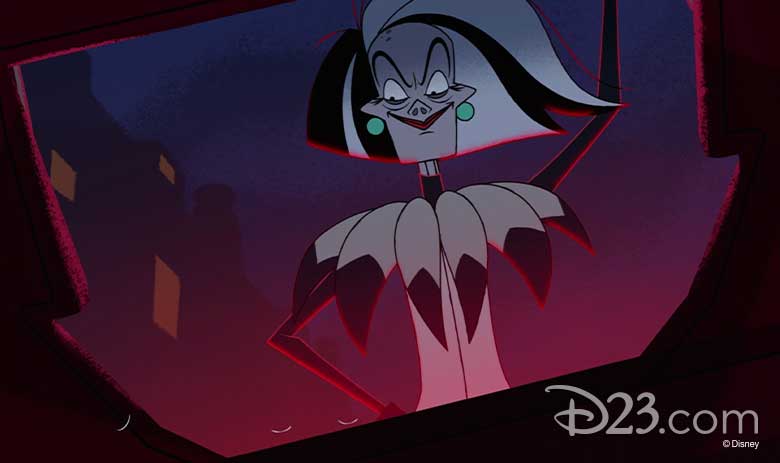 101 Dalmatian Street (2018)
This new animated series, which launched in 2018 and can be streamed on Disney+, follows the urban adventures of a whole new group of Dalmatians—direct descendants of Pongo and Perdita—led by oldest siblings Dolly and Dylan and their parents Delilah and Doug. During the series' inaugural season, our four-legged heroes sniffed out that the series antagonist, Hunter, isn't just a mischievous boy who likes Dalmatians: He's Cruella De Vil's grand-nephew. Cruella has her sights set on the next generation in her quest for a Dalmatian fur coat, and Dolly and Dylan's 97 younger siblings just might have what she's looking for.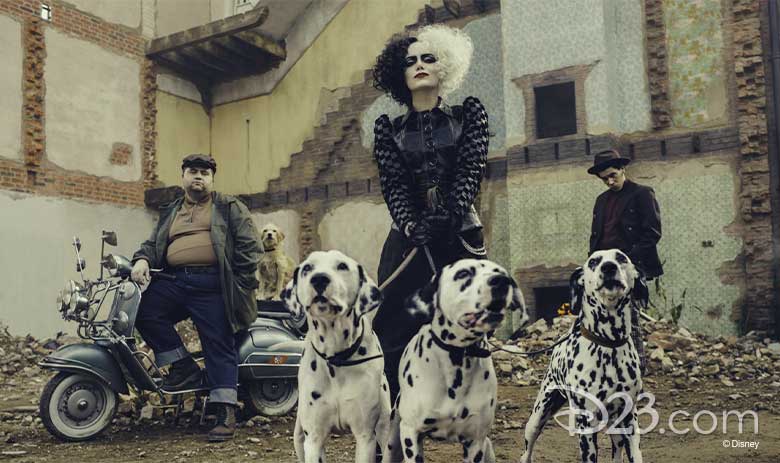 Disney's Cruella (2021)
We're eagerly anticipating Disney's all-new feature film that takes a completely new approach to the delightfully devilish De Vil. Coming later this year, Disney's Cruella examines the early days of one of the most notorious—and notoriously fashionable—villains. The film stars Oscar® winner Emma Stone in the title role, along with Emma Thompson, Paul Walter Hauser, and Joel Fry. Craig Gillespie directs.