By Courtney Potter
In just a few days' time, Walt Disney Animation Studios' Raya and the Last Dragon will take flight—both in theaters and on Disney+ Premier Access (in most Disney+ markets). The film tells an incredible tale: Long ago, in the fantastical world of Kumandra, humans and dragons lived together in harmony. But when an evil force known as the Druun threatened the land, the dragons sacrificed themselves to save humanity. Now, centuries later, that evil has returned—and it's up to a lone warrior, Raya, to find the legendary last dragon Sisu to restore the fractured land and its divided people. Along the way, she'll learn that it takes more than a dragon to save the world—it also takes teamwork and trust.
As with any animated film, countless hours go into creating the look and feel of the characters—from their facial features to their clothing, from the flow of their hair to how they walk, run, or even fly… and literally everything in between. D23 recently heard from several members of Raya and the Last Dragon's Character Animation team about the amazing work that went into creating both Raya and Sisu, the storied last dragon. Read on for a few behind-the-scenes tidbits from Amy Smeed, co-head of animation for the film; Avneet Kaur, simulation supervisor; and Luis Logam, story artist.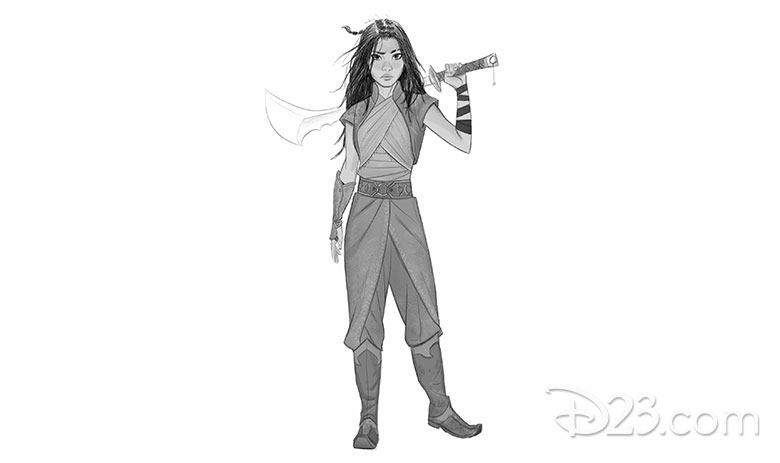 Taking a look at warrior Raya (voice of Kelly Marie Tran):
"With Raya and the Last Dragon, we have a vast world, filled with unique characters," explains Kaur, "and our approach to creating these characters is driven by the story, the design of our Kumandran world, and the cultures of Southeast Asia."
"Raya, as a character, is always moving forward," continues Smeed. "She's very determined. She's also very clever and resourceful, and really a very confident and incredible fighter. When we meet her in the film at 18, she has closed herself off from genuine connection and truly lacks trust in others. As for her costume design—because she is a warrior, she really needs to be very agile. Her clothing is inspired by [garments] from Southeast Asia, and it really lends itself to easy mobility." Functionality was a key aspect of the costume design, so the teams created breathable draping styles inspired by the sabai top and sampot pant found in Laos, Cambodia, and Thailand. "So the wrapped and tied-down aspects of the [outfit] truly captured her personality while facilitating for her mobility and her wide range of motion," Kaur adds. "Her cloak, accordingly, was designed to give her a sense of mystery, almost like acting as a shield… It was very important to the directors that everything in her character design and performance resonate with her personality, whilst being inspired by Southeast Asia. For example, her hairstyle is carefully designed to frame her face beautifully. It keeps out of the way, hence the double braid pinned back—allowing her sightline to be clear for agile action, and for the audiences to read her expressions clearly."
…And that level of detail extends to how Raya and the film's other characters fight:
Combat sequences throughout Raya and the Last Dragon were inspired by martial art forms specific to the cultures of Southeast Asia, including Pencak Silat from Malaysia and Indonesia, and Muay Thai kickboxing and Krabi Krabong configurations from Thailand—and were created through collaboration between the film's co-writer Qui Nguyen (credited for additional fight reference choreography); the Character Animation team; and fight reference choreographer Maggie MacDonald. "Even at a young age, Raya is a very skilled fighter," says Smeed. "Qui was such a huge help to us, defining the fighting style for this film… it was all so beneficial to us, because most of our animators are not martial artists—let alone have knowledge about styles as specific as these. And even after we were all sent to work [on the film] from home, Maggie still found ways to send us reference as inspiration for the animators."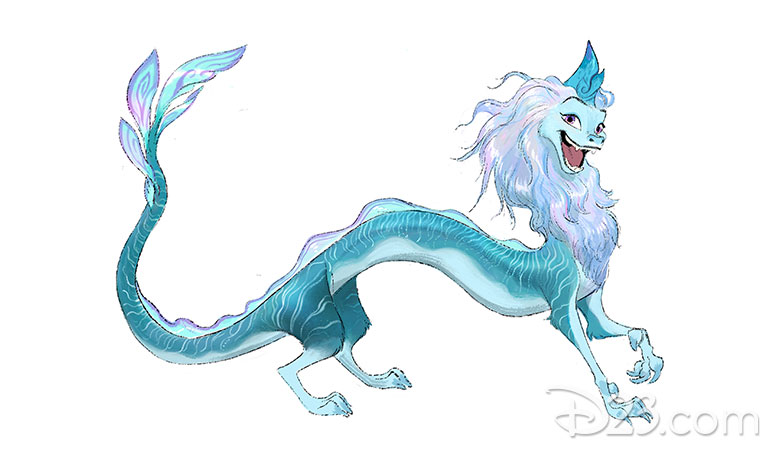 Bringing a dragon to life:
"Sisu, short for Sisudatu, is a divine water being of unspeakable beauty," says Logam, "though maybe at times, not quite as majestic as Raya expected. In her character introduction, the directors wanted Sisu to completely throw Raya off guard and out of her comfort zone. So they encouraged me to have Sisu act with a lot of physicality in [their first] scene, which was really fun to storyboard. She trips and knocks Raya upside-down, picks her up, flips her around, and gives her a big bear hug… In many ways, Raya's character works because of Sisu. Throughout the movie, there's this constant push and pull between them, and Sisu largely represents the hope, joy, and trust that Raya's lost."
"The directors wanted Sisu, as the dragon, to look breathtakingly beautiful," adds Kaur, "and her design, inspired by the mythical Naga, was created to reflect just that… her hair was meant to make her feel light and ethereal, through its almost magically weightless motion, which accentuates her being divine and mystical. The design team also closely collaborated with Dr. Steve Arounsack [a visual anthropologist and consultant on the film] on Sisu's design; her serpentine body, her connection to water, and her elevated and elegant crest were all integral to her final look."
…And how Awkwafina (voice of Sisu) helped influence the final design:
"For Sisu [in her various forms], we looked to Awkwafina for inspiration," says Smeed. "There's a real specificity in the way Awkwafina acts and moves that really brings entertainment to her dialogue, as well as the 'pantomime' moments… For example, Sisu tends to nod and move her head around a lot, as she's thinking, and she has very broad expressions. She can transition into a huge smile very quickly, which really helps give her a lot of life and charm."
On the challenges of creating such memorable characters from home:
"The theme of the film can be described in the sentence, 'It takes more than a dragon to save the world; it takes trust and teamwork,'" says Kaur. "And this became a living metaphor to describe how we all came together to accomplish the successful completion of the characters for this film when working from home. Trust was indeed the glue that held us all together… I'm so proud and thankful for my journey on this film."
Logam agrees, adding, "Despite the circumstances, all the different teams involved were able to finish this movie and make it truly remarkable. I'm really excited to see it, and for everyone to get to see it as well."
"Working from home was definitely a challenge," continues Smeed, "but with the amount of trust that was given to us by our directors, as well as the trust we all put into our own teams—not only were we able to complete the film, but we gave a large sense of ownership to all the artists that were working on their shots. I'm so incredibly proud of this film."
See Raya and the Last Dragon when it comes to theaters—as well as to Disney+ Premier Access, in most Disney+ markets—Today!