By Courtney Potter
Twenty-five years. A quarter century. It's an illustrious milestone in the history of Broadway. Only two other productions have achieved such status before... and on November 13, Disney Theatricals' The Lion King joined those rarified ranks. Featuring songs by Disney Legends Sir Elton John and Sir Tim Rice, the show opened in 1997 at the New Amsterdam Theatre and has since moved to the Minskoff Theatre—where it celebrated this past Sunday with a truly star-studded 25th anniversary performance.
Not only has The Lion King been thrilling theatergoers for two-plus decades in New York City, but it's been simultaneously bringing its tale of heart and home to audiences in over 100 cities in 21 countries, and on every continent except Antarctica! Performed over its lifetime in nine different languages (English, Japanese, German, Korean, French, Dutch, Spanish, Mandarin, and Portuguese), there are currently nine productions of The Lion King around the globe: Broadway, London, Paris, Hamburg, Madrid, Tokyo, on tour across North America, and on tour in the U.K. & Ireland, with a separate production touring internationally. Winner of six 1998 Tony Awards®, including Best Musical and Best Director of a Musical for Julie Taymor (the first woman winner ever), the show—produced by Disney Theatrical Productions (under the direction of Thomas Schumacher)—has now been seen by an astonishing 112 million people.
Such a momentous achievement within the show's "Circle of Life" is obviously worth celebrating—and to that end, we spoke exclusively with several members of The Lion King's current cast and staff, many of whom have been with the show for nigh on two decades... and one who was there when it all began!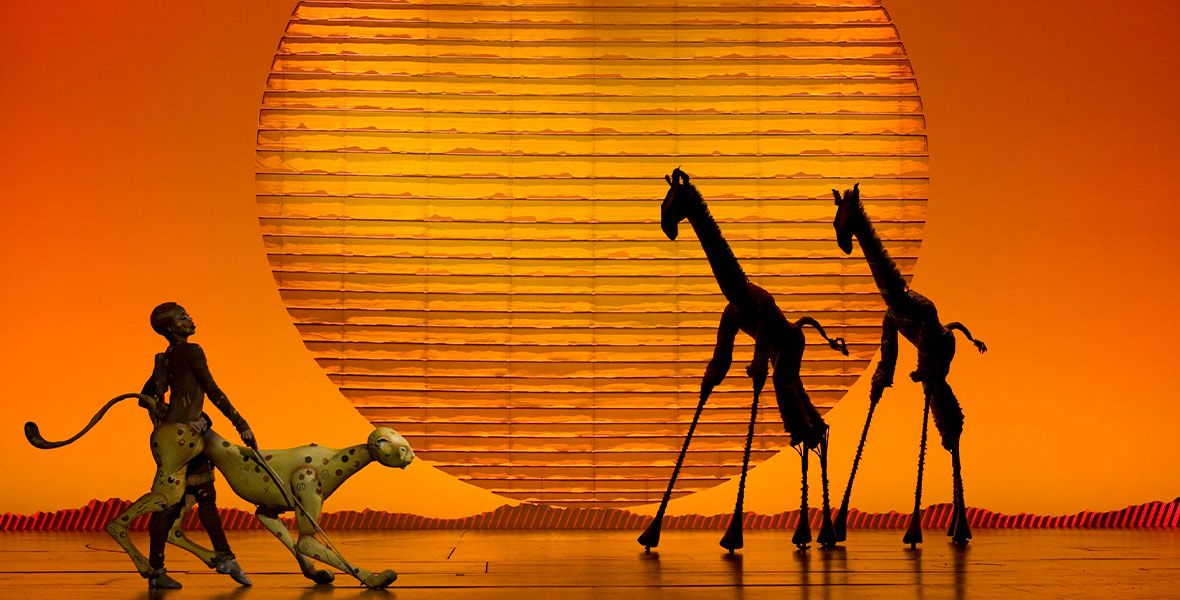 Where it began, in fact, was in Minneapolis, Minnesota—where South African performer Lindiwe Dlamini joined the show during its summer 1997 pre-Broadway run. Incredibly, and historically, she's been with the show's triple-threat ensemble ever since. "When we first started, I had no idea what the show was going to look like," she explains. "So going through the audition process, and then starting rehearsals—we started to see the costumes, and I thought to myself, 'How are we going to perform in these? How do we walk in a hyena costume?'... But just to see the whole thing unfold—learning all these movements; the singing, the dancing, with the puppets. The first day of previews came, and that's when I thought, 'Oh, we have something amazing here." Dlamini and those Minneapolis cast members are in a particularly exclusive group: they got to watch as audiences encountered the show—director Julie Taymor's soon-to-be-Tony-winning vision—for the very first time: "It was an experience that I wish a lot of people who perform in The Lion King [now] could experience," she admits, "because it was the first time that people saw something this different in theater."
Two of Dlamini's Broadway castmates—L. Steven Taylor and Bonita Hamilton, currently starring as noble patriarch Mufasa and cunning hyena Shenzi, respectively—have been with The Lion King for nearly as long... a testament to the familial warmth that permeates the show, not just onstage but behind the scenes as well. In Taylor's case, it took several years of auditions—including a week-long "Lion King School" in San Francisco, learning different South African languages and traditions—before he joined the cast; at the time, it was only for a temporary "replacement" role, in the ensemble and as a Mufasa understudy, covering someone who was taking a leave of absence. "One of the things that stands out for me is, all of my rehearsals were with the music supervisor, the dance supervisor, and the resident director; I didn't really meet a lot of the cast until I had my final 'put-in' rehearsal—and I'll never forget how everybody rallied around me. It sounds cliche, but it's true: it's like they had known me all my life. It really set me up for success... and 17 years later, here I am."
Meanwhile, Hamilton's Lion King audition story reads like Hollywood script: Newly graduated theater performer goes to New York City, navigating the transit system for the first time to attend frenzied concurrent auditions; later, in a rush to get back to upstate New York for the show she was currently performing in, she's pulled over for speeding! "The state trooper said, 'Where are you going so fast?'" Hamilton recalls, chuckling "And I said, 'I just had two Broadway auditions! But I've got a show to get to!' And he said, 'I'm going to give you a warning in hopes that one day I'll see you on the Broadway stage.' By the time I got back to my apartment in Albany, my agent called me." Hamilton had booked both auditions that day—but chose The Lion King, and has been with the show for 18 years.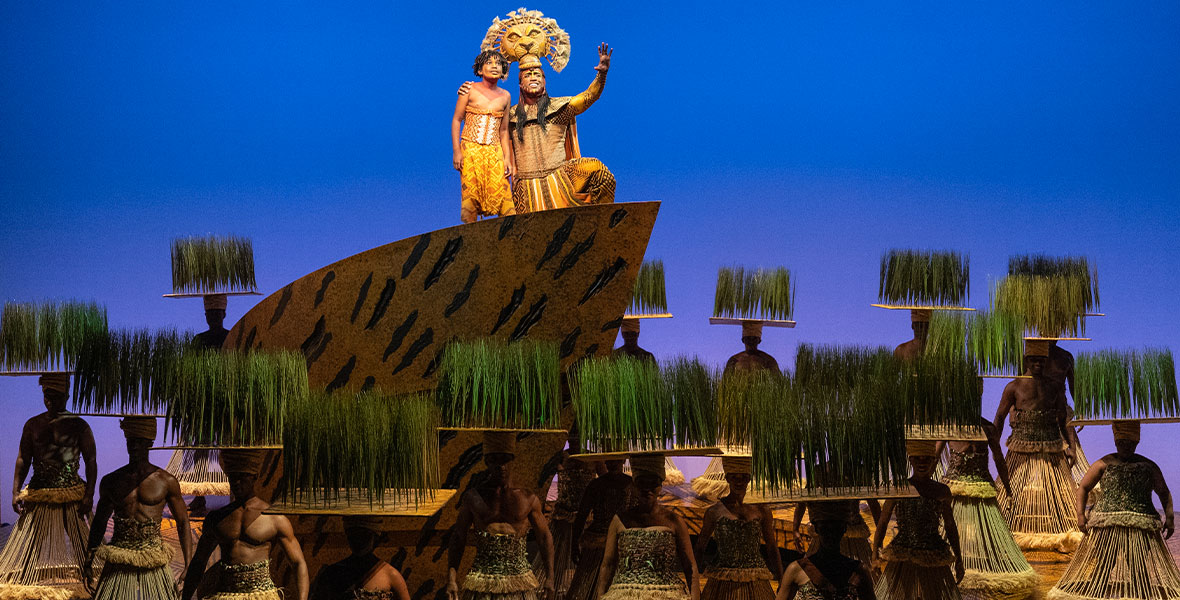 Behind the curtain, several former Lion King cast members have transitioned into current staff roles—a common occurrence for long-running productions, but all the more prevalent when the show truly feels like a second family. Rufus Bonds Jr. joined The Lion King's first national tour in Los Angeles in 2000, as Mufasa, and toured with the show for two years. Several other Broadway (and London) shows later, as well as another Lion King tour stint, Bonds decided to go back to school for his Masters in Fine Arts—kicking off a trajectory in both teaching theater and directing; not only is he currently a visiting professor in Syracuse University's drama department, as of 2021, he's also The Lion King on Broadway's resident director. "It's something that I've always wanted to do," he admits. "What my role really is now with The Lion King is to make sure that everyone show authentically as themselves—and not to hide behind the mask. To be the 'duality' that Julie [Taymor] always talks about; to really create that and to bring their own lives to their roles... My goal is to make sure everybody in the building understands the importance of their role and what they do."
Kendra Moore, a fan of the 1994 Disney animated hit from a young age, saw the original Broadway production in 1997: "I remember being amazed—sitting up in the balcony of the New Amsterdam Theatre and thinking, 'Wow, this is a really unique piece of theater. But it's probably not something I'm ever going to be involved in, especially being a concert dancer and classically trained; that's not my thing.' Little did I know what the future had in store for me!" Moore wound up joining a new touring company of The Lion King, starting in Chicago in 2003; all told, they visited more than 80 cities across the United States, Canada, and Mexico. Ultimately, though, Moore decided she needed a change of pace—and, using skills she'd honed producing charity performances the Lion King cast would do "on the road," parlayed her experience into a job with the tour's Company Management office in 2016. A year later, she joined the Company Management team on Broadway—and right away helped plan celebrations for the show's 20th anniversary.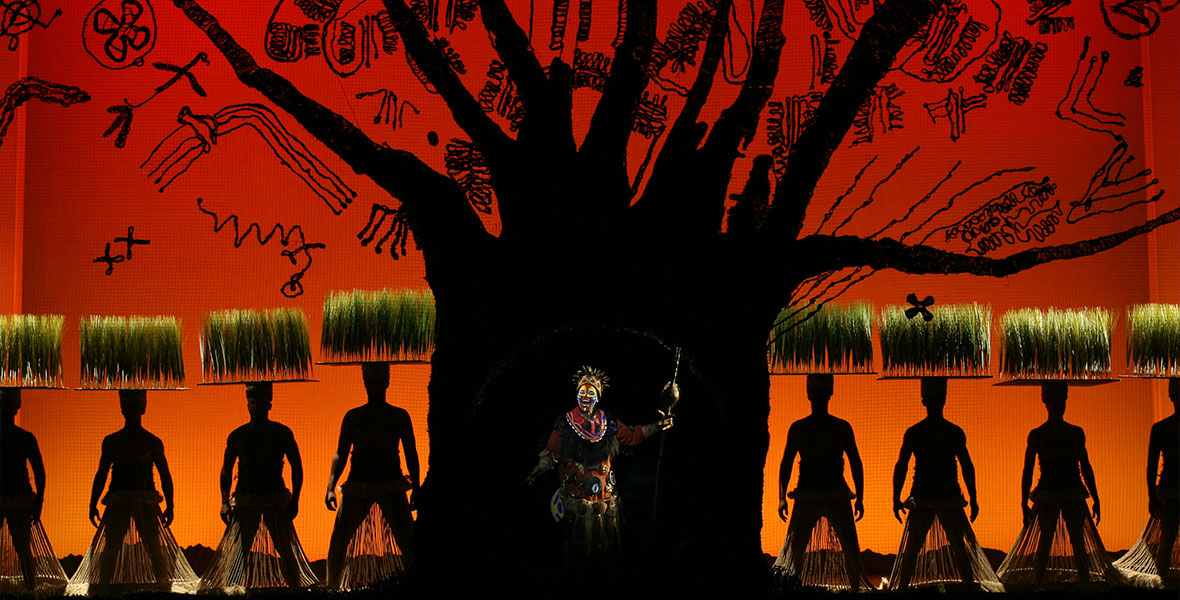 These five individuals have an undoubtedly unique perspective on the 25-year history of the production—and it truly is history, especially considering the very recent past. Several mentioned, as a stand-out memory, the show's return after Broadway's extended hiatus due to the COVID-19 pandemic. "The day we re-opened, September 16, 2021, we performed 'Circle of Life' on ABC's Good Morning Americain Times Square," Hamilton recalls. "That was pretty amazing."
"Just bringing life to Times Square that morning," Dlamini adds, "It was so early, but we were so excited to go do it!"
Hamilton continues, "In Simba's song 'Endless Night,' he says, 'I know that the night must end, and the sun will rise.' We didn't know if we were going have an audience; if people would feel safe to come and sit shoulder-to-shoulder with someone for two hours and 30 minutes. That Times Square performance was, to me, an indication—one of the moments that made it very clear to me that 'the sun will rise' and we will get through this."
And the future of the show is as bright as that sun in its perpetual "sapphire sky," thanks in part to the heartfelt tale at its very core. "At the crux of its longevity is the story," Moore explains. "It's a story we all connect to. It's how we tell that story. It's the incredible the vision that Julie Taymor had, of taking the movie to the stage... And it's the people. Not only the performers, the talented group of people that make up the show—but also the talented people behind the show, from the front of the house to the back of the house, to the people in marketing and ticketing. It's not just one person that makes it so special; it's the whole collective."
"These characters may seem larger than life," adds Taylor. "But I've always said that the thing that makes the show timeless is that the characters actually have real-world circumstances that are relatable to everyday people. And that changes, according to where you are in your life. Take my character, Mufasa, for instance; what parent can't identify with wanting to impart some knowledge and wisdom onto their child, and then struggling to place responsibility on them without dimming their light?... People go through phases and stages as they grow and evolve. And it's kind of wild, because when you look at the show through the lens of 25 years [of life], the theme of evolution and growth—which is what our show is about—it's represented right there, in the two-plus decades of the show."
Watch the video below for a look at this Sunday's incredible anniversary celebrations...
The Lion King, now in its 25th year, is currently playing at the Minskoff Theatre in New York City—and probably in a city near you! For more information, and to purchase tickets, visit lionking.com.