By Zach Johnson
Christmas comes but once a year… most years, anyway.
But in the Disney Channel Original Movie Christmas… Again?!, debuting tonight at 8 p.m. ET/PT, 12-year-old Ro (Scarlett Estevez) unexpectedly finds herself reliving the holiday. How, exactly, does something like this happen? For starters, Ro isn't handling her parents' divorce well. After a disappointing day with her family, she asks a local Santa Claus (Gary Anthony Williams) for a do-over. Now, in order to break a magical, mysterious loop, Ro must learn to appreciate her family as it is and to embrace the true meaning of Christmas.
"Ro is very bold," says Estevez, who cites Good Luck Charlie, It's Christmas! as one of her favorite DCOMs. "She can be stern, and she likes to get what she wants; if she doesn't, she'll do anything to get it. But she's also very loving, and she cares a lot about her family."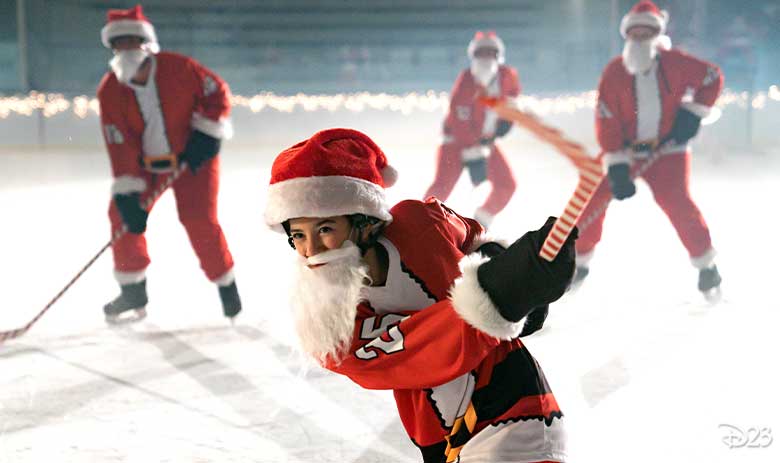 In fact, despite her parents' divorce, Ro had been excited about continuing her family's holiday traditions, like watching the Santas vs. Elves hockey game with her dad (Daniel Sunjata) and visiting the Winterfest Carnival. Not on the agenda? Spending time with her dad's girlfriend, Diane (Beth Lacke), and her 8-year-old son, Louie (James McCracken). To make matters worse, the other members of Ro's family refuse to see things from her POV.
But is Ro willing to see things from their side? "You'll definitely see how her opinions change," Estevez assures us. "She starts to discover that maybe people aren't as bad as she thought. In the beginning, she convinces herself that these people are out to get her, so that makes it OK for her to block them out. But Ro starts to realize that maybe those opinions were wrong­, that they really are nice people who want to be a part of her family."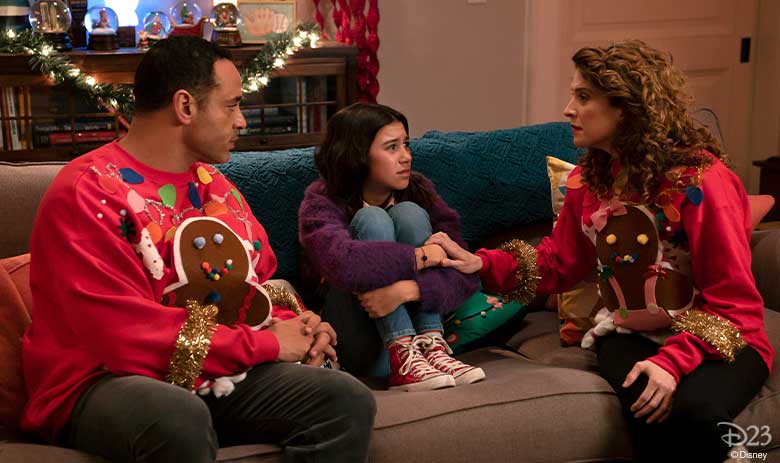 "At the end of the day, they all love each other," adds Alexis Carra, who plays Carolina, Ro's warm-hearted and outgoing mom. "Even though families come in all shapes and sizes, it takes some time for Ro to accept that her family has changed. It doesn't mean that her parents love her any less or any differently. And who doesn't need to be reminded of that?"
Suffice it to say, making Christmas… Again?! was a "magical experience," says Carra. Estevez also shares "fond memories" from her time on set, particularly when it came to "repeat" scenes. "It was super fun, but also a little crazy, because I would lose track of what loop we were in," she recalls. "I would be like, 'Wait, what scene are we doing?' It was super cool and very different, and I don't know if I'll be able to experience something like this again."