By Courtney Potter
Hosted by D23's very own Jeffrey Epstein, D23 Expo 2017 welcomed Once Upon a Time creators and executive producers Edward Kitsis and Adam Horowitz—as well as Hook himself, actor Colin O'Donoghue, to the Expo Arena stage for a fairy tale of a discussion about all things Storybrooke… and what to expect when the show's new season begins this fall.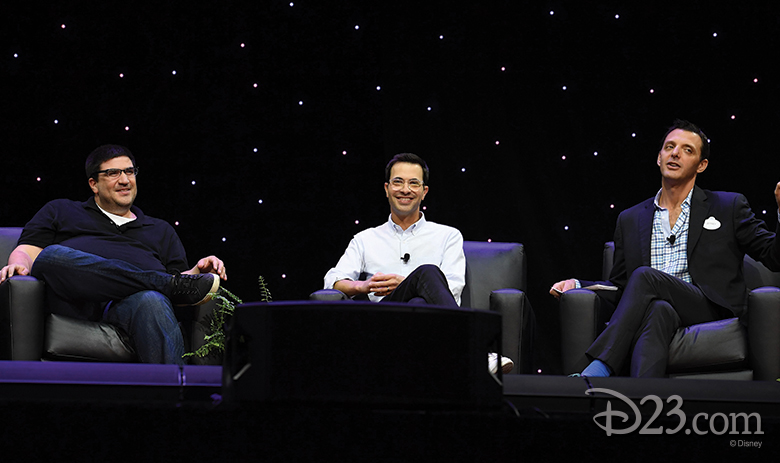 As Once fans know, the series ended its recent sixth season by flashing forward—establishing Henry as an adult (played by Andrew West) and debuting a little girl named Lucy… who's Henry's daughter! Edward and Adam began the panel by chatting with Jeffrey about the show's "new chapter," which introduces fresh locations (Seattle, Washington, in the present day, and the Enchanted Forest in flashbacks) and exciting, brand-new characters. Case in point: D23 fans were the very first to see a photo of Henry's wife, played by Dania Ramirez from Devious Maids. And if that weren't exciting enough, she's portraying a "different version" of Cinderella!
As Adam explained, "It was time to close [one] chapter and start a new one." The plan has always been to keep moving these stories forward, explained Edward. But never fear: When Jeffrey asked whether fans would see some beloved Once Upon a Time "friends" in some future episodes, Edward admitted, "I'd be disappointed if we'd didn't." And both Edward and Adam urged fans to keep their eyes peeled for big happenings in the first half of the season… like whether or not Henry has a sibling (via mom Emma and step-father Hook), as well as tons of backstory on Hook's current situation in Seattle.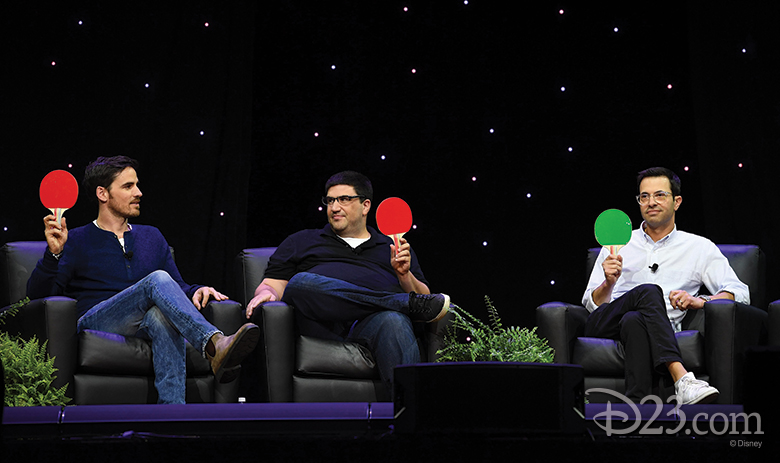 Speaking of Hook, the assembled crowd went absolutely wild when Colin took the stage! Jeffrey spoke with all three gentlemen about last season's fantastic musical episode (written by Disney company composers Alan Zachary & Michael Weiner)—and Colin clued fans into a secret: he'd broken his foot during that episode's shoot. (In fact, it's still broken!) But in the grand tradition of musical theatre, "the show must go on," and Colin finished filming the show. Eventually, Jeffrey and the panelists played a game built for a serious Once fan—asking them some fantastic "deep-cut" trivia questions about Hook's backstory.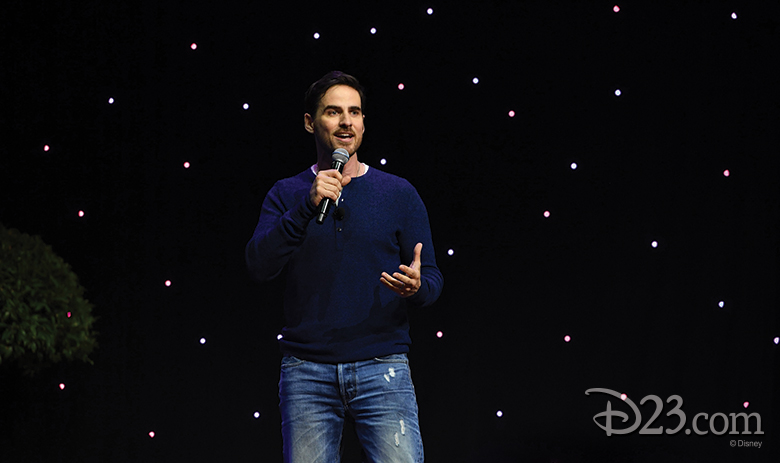 As a surprise for the Expo Arena crowd, Edward and Adam debuted a sneak peek of a featurette about the making of the musical episode—one that'll be available on the DVD of Once Upon a Time Season Six, available this August. But Colin had one more surprise up his sleeve. At Jeffrey's behest, with microphone in hand, he delighted the crowd with an amazing live rendition of "Revenge is Gonna Be Mine," his big song from the Once musical episode!
Stay tuned for Once Upon a Time's "new beginning" when the show premieres its seventh season this fall.