Creating a Disney-themed wedding can be a literal dream come true… and for the last three decades, Disney's Fairy Tale Weddings & Honeymoons has been helping the betrothed do just that, at Disney destinations all around the world! Just this week, in honor of their big 30th anniversary, Disney's Fairy Tale Weddings & Honeymoons unveiled some new products—including dazzling gowns from Allure Bridal—to help couples add even more magical touches to their special day. In fact, all the Allure Bridal gowns debuting for 2021 will be showcased this Friday, February 12, during a very special virtual fashion show and anniversary celebration at www.DisneyWeddings.com/fashion-show—beginning at 10 a.m. ET and running through Valentine's Day Weekend.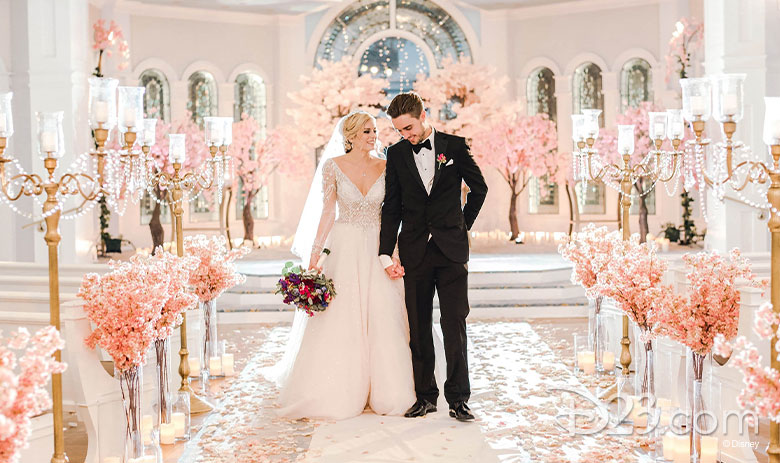 "For the past 30 years, Disney's Fairy Tale Weddings & Honeymoons has helped create once-in-a-lifetime memories for couples around the globe," says Korri McFann, marketing director for Disney's Fairy Tale Weddings & Honeymoons. "As we celebrate this milestone year, we are delighted to offer even more products and experiences to help turn fantasy into reality." There are endless possible locations around the globe to celebrate nuptials with Disney's Fairy Tale Weddings & Honeymoons, from sandy beaches and chic resort restaurants to its veritable crown jewel: the recently redesigned Disney's Wedding Pavilion. Couples can even say "I do" in front of Cinderella Castle at Walt Disney World Resort! There's truly something for everyone.
Back in 2020, Disney and Allure Bridals launched a bridal line offering modern brides sophisticated, on-trend gowns that capture all the memorable style and spirit of favorite Disney Princesses—and to kick off this yearlong anniversary celebration, Allure Bridals is releasing its all-new 2021 Disney Fairy Tale Weddings Collection. But wait, there's more: Three dresses from this new collection are elegant Belle-inspired gowns that pay homage to another huge Disney anniversary—the iconic, beloved Disney animated hit Beauty and the Beast was released the same year (1991) as Disney's Fairy Tale Weddings & Honeymoons began!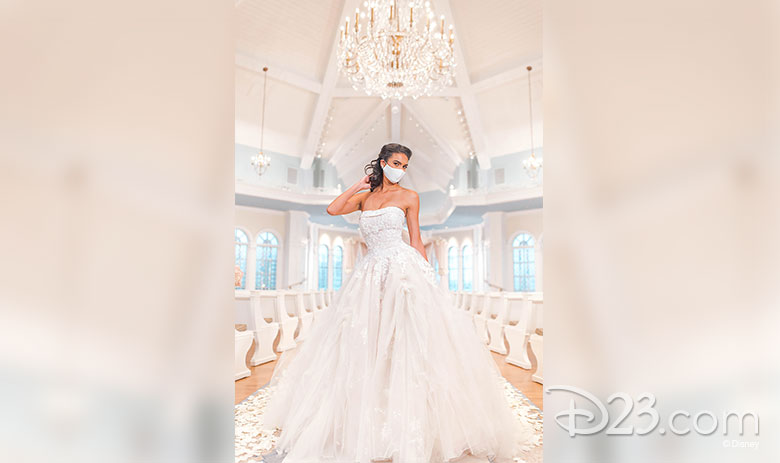 Each of the Belle looks, like the one seen above, was inspired by her iconic ball gown and includes custom embellishments that cater to a wide range of brides. Gowns feature all manner of beading and beautiful appliques; for the Platinum Belle design, more than 30,000 beads and crystals were carefully placed on 132 yards of fabric (that includes a cathedral train!).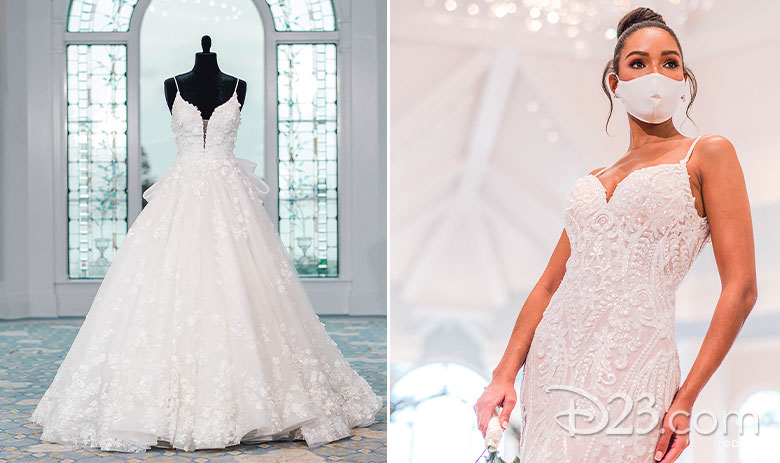 The 2021 Allure Bridal line will also include dresses inspired by Ariel, Cinderella, Jasmine, Snow White (seen above, left), Aurora, Rapunzel, Pocahontas, and Tiana (seen above, right). All gowns are available in sizes 0 to 30 for both collections and will start at $1,200. And here's some great news for 2021: The Disney Fairy Tale Weddings Platinum Collection will be available exclusively at Kleinfeld in New York and Toronto and the Disney Fairy Tale Weddings Collection will be available at select bridal boutiques across the United States, Puerto Rico, Canada, Mexico, the United Kingdom, and the Republic of Ireland!
In addition to the brand-new collection of gowns, couples can now say "I do" with magical, Disney-style symbols of love. Refined engagement rings, wedding rings, and bands with distinctly Disney designs are available on shopDisney in a variety of designs. Plus, a new design is being introduced in honor of Disney's Fairy Tale Weddings & Honeymoons' 30-year milestone! All rings are customizable, with the option to choose carat style and preferred metal (white gold, platinum, gold, or silver). Engagement rings start at $3,000 and groom bands start at $900.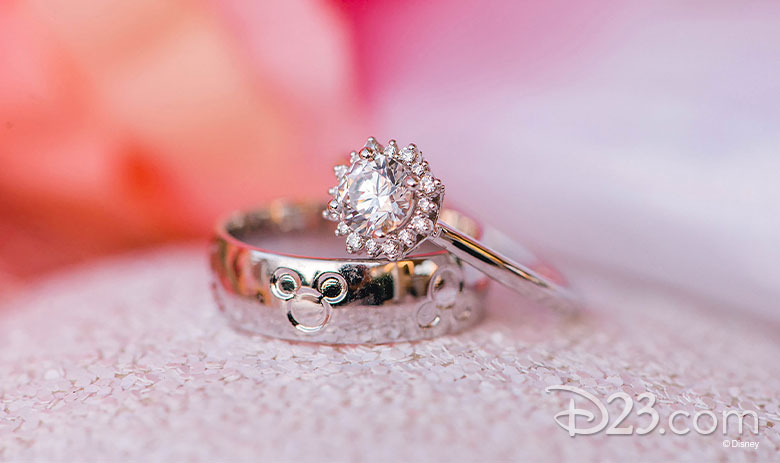 That's not all: Brides-to-be can also celebrate in style with a redesigned Minnie Mouse bridal headband! This glittery satin band with a tulle veil features pearl accents in tribute to the 30th anniversary of Disney's Fairy Tale Weddings & Honeymoons. And couples can both join in on the fun with additional themed bride and groom Mickey Mouse and Minnie Mouse bridal ears.
For more information on all things Disney's Fairy Tale Weddings & Honeymoons—including how they're working with Disney safety professionals, and following guidance from government agencies and health authorities, so couples and wedding guests can celebrate in a truly magical way—visit DisneyWeddings.com.
Wanna see some recent weddings (and other romantic milestones) come to life at all manner of Disney destinations? Check out Disney Fairy Tale Weddings, streaming now on Disney+! And make sure to tune in this Friday, February 12, for the big reveal of Allure Bridal's 2021 Disney Fairy Tale Weddings Collection—only at www.DisneyWeddings.com/fashion-show, starting at 10 a.m. ET.