By Zach Johnson
Kevin Rafferty, the brilliant and charismatic Imagineer who conceived, designed, wrote, and oversaw the creations of some of Disney Parks' most memorable attractions and lands, has announced in a memo to staff that he will retire from Walt Disney Imagineering, effective April 1, 2021. His end date is not an April Fool's joke, he assures us in an exclusive exit interview. Rather, his decision to retire stems from this simple truth: "It feels like it's time."
Following both the publication of his book, Magic Journey: My Fantastical Walt Disney Imagineering Career, and the opening of Mickey & Minnie's Runaway Railway—the first-ever ride-through attraction to feature Mickey Mouse and Minnie Mouse—at Disney's Hollywood Studios, Rafferty says his nearly 43-year journey with Disney has reached its peak. "I wanted to go out at the top of my game, if you will," he explains. "It just felt right."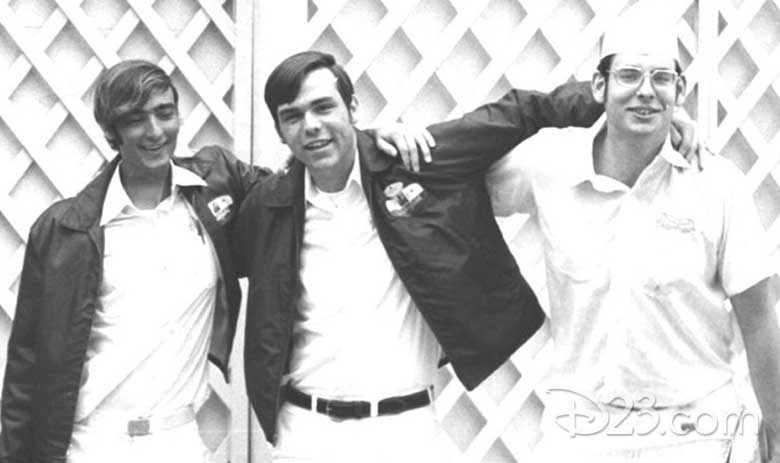 In a wide-ranging conversation, Rafferty reflects on his storied career with The Walt Disney Company, from his early days as a dishwasher at Disneyland Park to a chance job posting that changed the trajectory of his career. Ultimately, he became a seasoned creative executive at Imagineering, working on the show writing and creative direction for a number of guest favorites including Cars Land, Toy Story Midway Mania!, Test Track, Rock 'n' Roller Coaster® Starring Aerosmith, The Twilight Zone Tower of Terror™, Mickey's PhilharMagic, Finding Nemo Submarine Voyage, and more.
Rafferty will leave behind a legacy that few can rival—one that began with the incredibly talented Imagineers who mentored him who, in turn, led to the long list of those whom he inspired. "When I started, there were only two Disney parks in the world. It's really been my honor, my pleasure, and my joy to be around and watch the expansion of the magic that Walt Disney Imagineering has made," he says. "I've been there for all that. It's been an amazing ride."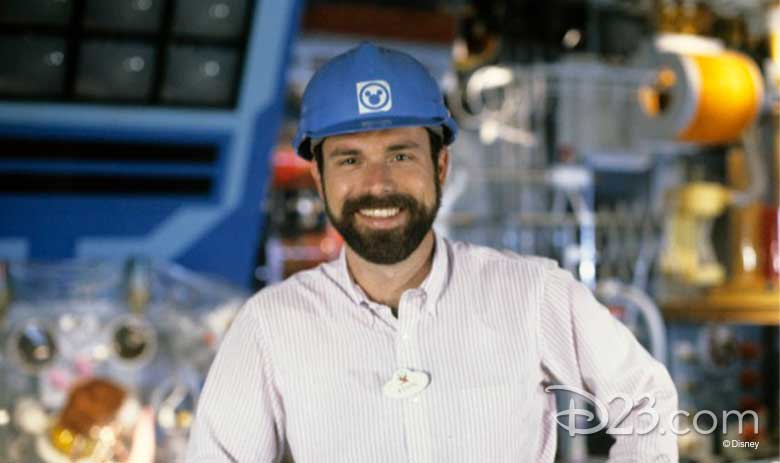 D23: Let's go back to the beginning. Tell me about how you got your start at Disney.
KR: I started my career washing dishes at the Plaza Inn at Disneyland, which was just a crazy hard job to do. But I stuck with it because I wanted to work for Disney. My love was for Disney movies—Disney animation—so I wanted to be an animator. I grew up loving TV, variety shows, Broadway musicals—all that stuff. I was meant to go into Imagineering, because now that I look back on this long and fruitful career, I realize I got to do a little bit of all of that stuff. I was a creative kid. But I didn't have any particular interest. I had an interest in all of the arts, performing and visual, and it all really came to play in my career as an Imagineer. In one way or another, I've worked on projects that have included every aspect of that. I've been able to write songs and work on animation. It could not have been more perfect. I am so blessed to be able to have had this career that allowed me to grow, learn, and expand on all of my hobbies and the things I was interested in. If you can make a career out of the things you love, man, you're the luckiest guy in the world!
D23: How did you make the jump from washing dishes to becoming an Imagineer?
KR: I'm a local kid in Orange County; I've never lived more than 10 miles away from Disneyland my whole life. I thought I would work at Disneyland because not only did I love the park and I was close to it, but I figured I'd get my foot in the door and be able to naturally segue from the dish room up to the Disney studio to become an animator. But as we all know, it wasn't that easy. We used to have costume windows at Disneyland, where we would pick up our costumes and return them at the end of our shift. There was a bulletin board with a poster of Mickey holding Mickey ears that said, 'Mickey Wants You.' I thought, 'Mickey wants me for what?' I looked at that poster very closely, and it read, 'WED Enterprises is currently designing and developing a new project called EPCOT Center and is looking for artists and designers.' It's funny because at the time, I had an interview set up at the Disney studio with a producer whose name was—I'm not kidding—Donald Duckwall. I was going to interview to be an in-between [artist], because I'd just graduated from college and I had some animation classes that were taught by an ex-Disney animator and had done a couple of student films. But I was really intrigued by WED Enterprises, because working at Disneyland, I fell in love with it even more than I did going there as a guest. I understood it operationally, and I saw the power every day of how it made people happy. So, I actually canceled my interview with Don Duckwall because I was able to land an interview with WED Enterprises. And I had these grand illusions of going there and jumping in with my art degree and helping to design EPCOT Center right away.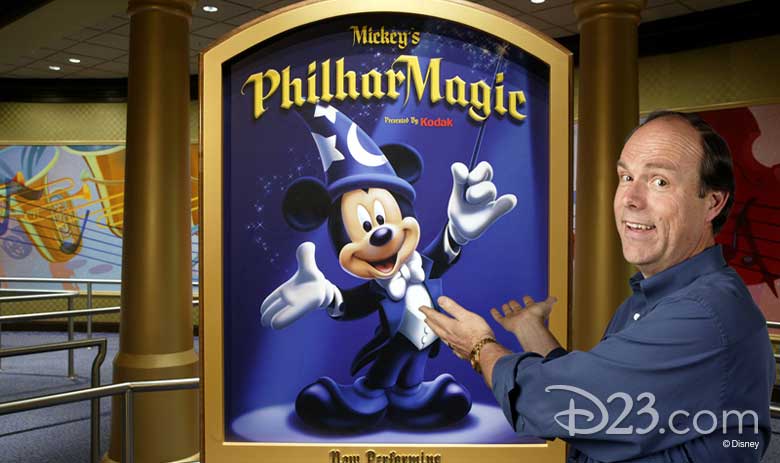 D23: Describe what your early days at WED Enterprises were like.
KR: The reality of it, Zach, is that when I got my first job at WED Enterprises, it was pretty much the equivalent of working in the dish room at Disneyland! It was dusting models, emptying trash cans, setting up conference rooms, sweeping floors, and mounting and matting the artwork from the real artists—these legends. After all the time I'd spent at Disneyland, now I was finally getting to meet and to know the men and the women who invented the industry. It was such an incredible gift to me to get this entry-level foot-in-the-door job at WED, because in cutting mats and mounting the art of the designers who were designing EPCOT Center and Tokyo Disneyland at the time, I was kind of at the hub of activity. They would say, 'Hey, Kev, here's a concept sketch. Can you mount this and put a mat around it? I have a presentation.' It was people like [Disney Legends] Herbie Ryman, Claude Coats, Ward Kimball, John Hench. And my boss at the time would say to me, 'You see that guy? That guy is [Disney Legend] X Atencio. He wrote the song for Pirates of the Caribbean.' I was a curious kid, so I would start asking them questions. And, of course, all great artists and designers love to talk about their work. It was really amazing, because I was often the first guy who they would pitch their ideas to. Ultimately, I realized what an amazing opportunity it was for me to work there and get to know these people and their philosophies, their talents, and their stories. Looking back, man… it was the best thing I could have done! That was the solid foundation upon which I was able to learn about the Company and understand how it works, as told to me by the people who lived it.
D23: Who were some of the mentors who helped you along the way?
KR: Artistically, it was Claude Coats. I've always been a huge, huge fan of Pinocchio and the art of it, and one of the things that had inspired me to get into Disney animation the most was: How can human beings make something so beautiful by hand? Once I got to WED Enterprises and started working with him, I found out that Claude was a primary background artist for the movie. It was just like, boom! Head explosion. Claude and I worked on a couple of projects together, just because we hit it off. My other mentor was [Disney Legend] Randy Bright. He was kind of my hero, because he got to write music and design shows, and he also came from Disneyland; he was a sailor aboard the [Sailing Ship] Columbia. Randy rose to become the Vice President of Creative and Show Writing. After a while working in Special Services, there was an opening in a department called Scope Productions for a scope writer. It involved technical writing mixed with flowery descriptions of new projects that were going on. Scopes were kind of like the encyclopedias that everybody at WED could go to get information. I had to interview all the designers and the architects and the engineers. I really wasn't a trained writer; I was a trained artist. But it wasn't until then that I really found out I wanted to be an animator—not because of my love of the art of it, but because of my love for the storytelling of it. It suddenly dawned on me: That's the magic of Imagineering. As you get there and you experiment, you learn and you grow, and you find out your hidden talents. I'd sit in these meetings where they had brainstorm sessions. I'll never forget one day when I was biting my lip, because I was chomping at the bit to say something. And, God bless him, Randy Bright could see me squirming. He said, 'Hang on, everybody. Kev, what do you think about this?' Everybody was looking at me, like, 'Who's this kid?' I jumped at the opportunity, and it took off from there. Randy saw my passion about the project and my excitement and my storytelling sense, which he recognized in me before I did. Randy took me under his wing and he nurtured me.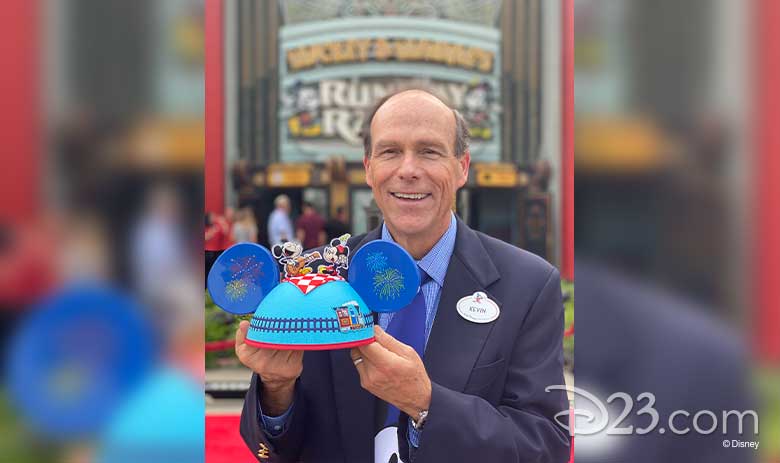 D23: Let's revisit some of your career highlights. You've had a hand in everything from Cars Land to Toy Story Midway Mania!, The Twilight Zone Tower of Terror, Mickey & Minnie's Runaway Railway, and much more. Talk about which projects brought you the most pride.
KR: Thank you for mentioning The Twilight Zone Tower of Terror. Walt Disney Studios needed more attractions with a shorter duration. We started to brainstorm what those attractions could be, and one was a haunted Hollywood hotel. I was in [Imagineer] Steve Kirk's office, and I couldn't get the haunted hotel thing out of my mind. Steve was drawing something at his table, and I asked, 'How could this thing possibly fit into the studio park?' It's a funny thing, Zach: When ideas are meant to happen, that's when a little lightbulb turns on. I said, 'Steve, what if this is like your own episode of a TV show? What if you're part of The Twilight Zone?' I started thinking about stuff like the outer limits and sci-fi and other elements from the '50s. One of the things I've loved about my career is being able to come up with names for a lot of attractions and restaurants; that's the other thing Randy Bright had me do. Suddenly it just came to me: 'What if it's The Twilight Zone Tower of Terror?' And I'll never forget, Steve Kirk dropped his pencil on his drawing table, and he looked at me and said, 'I think you're on to something.' My first pitch was to [Disney Legend] Frank Wells and Michael Eisner, who ran the Company at the time. We put a little storyboard together and some concept art. Michael Eisner just lit up when I said, 'Twilight Zone Tower of Terror.' When he asked, 'What happens?' I knew I had him. I said, 'The elevator car goes up, and then it breaks free of the shaft and travels horizontally into the darkness and brings you into the Twilight Zone. And then when you least expect it, it drops you.' By the way, I had no idea how anybody was going to do any of this; it just sounded really good theoretically. This is one of my most vivid memories in my entire career: Michael looked at me and said, 'This is a home run. We've got to do this.' It was awesome!
D23: That's incredible. Tell me about conceiving Cars Land for Disney California Adventure.
KR: When I was washing dishes, I used to park my car in the cast member parking lot in about the exact same location where the courthouse sits now in Cars Land. Who would have ever in a million years dreamed that I'd have the honor and privilege—and daunting responsibility—to help create something that went in that very spot? And then, that close by would be Twilight Zone Tower of Terror [now Guardians of the Galaxy – Mission: BREAKOUT!] in the same parking lot? It hit me like a ton of bricks. I went back to my dish room days, thinking, Somebody wake me up. This can't really be happening. Cars Land will obviously always, always have a special place in my heart. It is so epic. There are more than 280,000 square feet of hand-sculpted and hand-painted rockwork, and I see all of the blood, sweat, and tears and love that went into that land and how it evolved and how it really happened.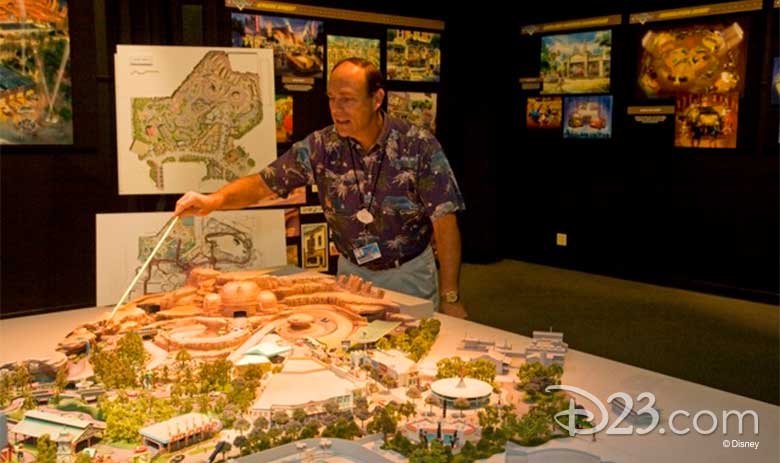 D23: What was it like to conceive and develop Mickey & Minnie's Runaway Railway?
KR: Quite candidly, I was very, very scared about being responsible for delivering Mickey's first ride-through attraction after all this time. There have been lots of concepts over the years, but this is the one that stuck… and maybe that's because it was meant to be. Mickey and Minnie are the hardest, because they have been everywhere and have done everything. So, what do you do with that? The attraction was inspired by technology that Imagineering had been developing for about 10 years through its scenic illusions group—and, of course, by the new Mickey shorts and the comedy, the cadence, the music, the art direction, and the edginess of those. We came up with the original story and theme song for that attraction. The moons were all in alignment for that. For 60-something years we'd been thinking about a Mickey ride, and now here it is. And I'm doing it? Talk about daunting! I'm proud of it. It's a beautiful cherry on top of the amazing cake of my career.
D23: What will you miss most about your time with Walt Disney Imagineering?
KR: It's got to be my colleagues. Imagineers are very unique and special people. I've always told my teams over the years, 'Dreams come true because teams come through.' We all learn from each other, and what one person lacks, another person picks up. The magic of Imagineering is that people figure things out. It's one thing to come up with an idea; it's another thing to deliver it. I'm going to miss my friends and colleagues the most, but I'm also going to miss pitching new ideas and coming up with new ideas. If there's a need at the park, your gears start turning, and then an idea lands on you, and then you really get to do it. There's nothing better than that, other than when it's open and guests are enjoying it.
D23: What advice do you have for young or aspiring Imagineers?
KR: Wow, that's a great question. Well, never take it for granted. And realize the value and importance of what it means to be an Imagineer. There are people who can't sleep the night before they go to a Disney park because they're so excited. There are a lot of jobs in the world, but really, how many Imagineers are there? They're just a drop of water in an ocean of careers. And that's very important. Walt said 'Disneyland will never be completed as long as there is imagination left in the world'—which is spread throughout the entire world now with many, many more parks. It's our responsibility and honor and privilege to continue that legacy. It's not just a job. It means a lot of work and it means having a lot of faith in yourself. It means stepping off the edge sometimes, and it means being a bit brave and being bold and responsible at the same time. But mostly it's about putting everything you have into creating nothing less than excellent, because that's what our park guests deserve. You're not going to make magic if you're just sitting around doing nothing, man. You have to do the work. You have to. And it is a lot of work. And it's challenging. It's the toughest job you'll ever love. How many people get to make a living making things that make people happy? That's pretty special. So, to any young Imagineer, I would tell them, 'You are absolutely here for a reason. It's no coincidence. You're here. Now get to work. Make the magic. Make people happy. And don't you ever, ever take a day of it for granted.'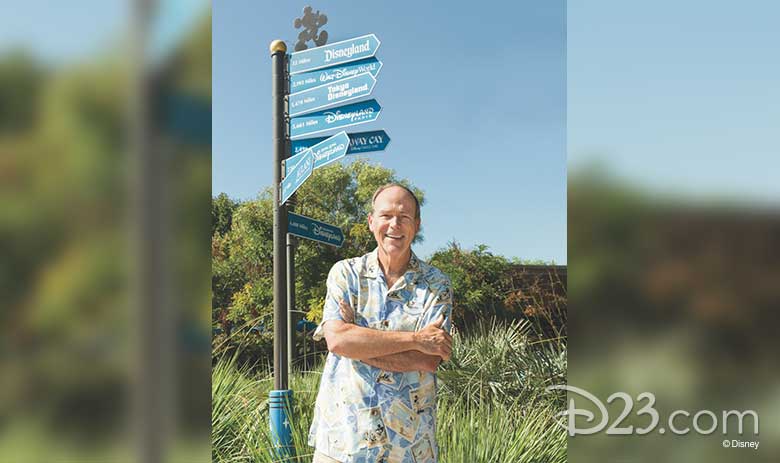 D23: What legacy do you hope to leave behind once you retire?
KR: [Disney Legend] Marty Sklar used to tell me, 'You can't make fun unless you're having fun yourself.' I've always been very optimistic and very positive. I've never been negative—ever—about anything. How can anything good come out of negativity? Don't talk yourself into thinking you can't do something, believe that you can. Marty always used to say, 'Don't tell me you can't because; tell me you can if.' That's the way I've always worked and that 'believe you can' example is the legacy I'd like to leave. But staying positive is only part one. Part two is remembering the harder the challenge, the sweeter the end result; it's like a good story. And from my storytelling perspective, creating a good solid story for a show or attraction, and using that story as your North Star to guide and inform every aspect of your design and development from beginning to end, is the real legacy I'd like to leave. Don't start with design first. Start with story first! You must create a good story sequence for your show or attraction before you do anything else, and then that becomes the hook upon which you can hang your entire design and development. Then when seemingly impossible challenges and questions arise throughout the process of your project, referring to and sticking to your story without compromise, always staying positive and believing in yourself, your team and your shared vision, will make your dreams come true. Every time.