By Peyton Liebler
You will always remember this as the day YOU could catch this sinisterly simian pin! In celebration of 20 years of Pirates of the Caribbean: Curse of the Black Pearl, D23: The Official Disney Fan Club is bringing the yo-ho to your pirate life with this exclusive glow-in-the-dark treasure. Made especially for D23 Gold Members, this pin features an eclectic pirate named Jack... and we mean Jack as in the undead monkey "matey" of the Black Pearl, of course!
This pin is, obviously, inspired by the hit 2003 feature Pirates of the Caribbean: The Curse of the Black Pearl—the blockbusting release that smashed box-office records and sparked numerous sequels. The film itself was inspired by the classic Disney Parks attraction Pirates of the Caribbean, and featured countless nods to the beloved watery adventure throughout. In the film, the roguish yet charming Captain Jack Sparrow's (Disney Legend Johnny Depp) idyllic pirate life capsizes after his nemesis—the wily Captain Barbossa (Geoffrey Rush)—steals his ship, the Black Pearl, and later attacks the town of Port Royal, kidnapping the governor's beautiful daughter Elizabeth (Keira Knightley). In a gallant attempt to rescue her and recapture the Black Pearl, Elizabeth's childhood friend Will Turner (Orlando Bloom) joins forces with Captain Jack... what Will doesn't know is that a cursed treasure has doomed Barbossa and his crew to live forever as the undead.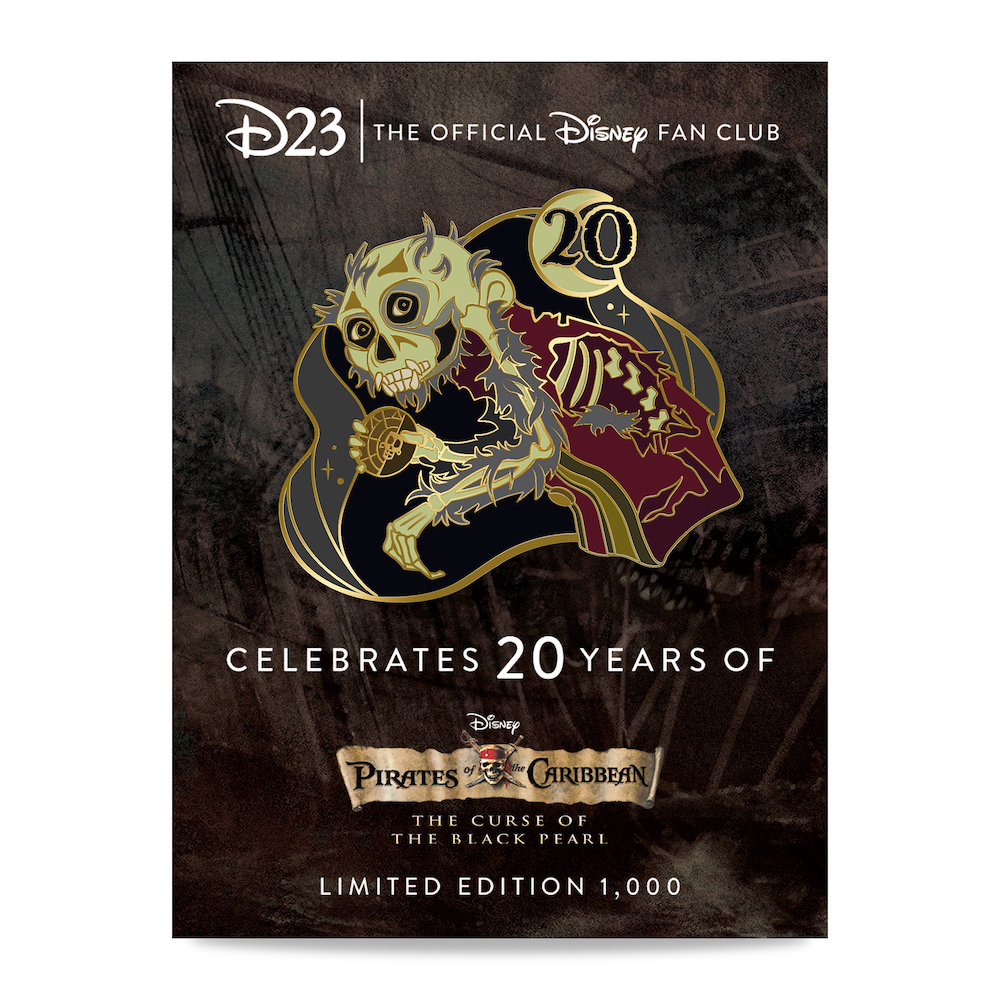 D23-Exclusive Pirates of the Caribbean: The Curse of the Black Pearl 20th Anniversary Glow-in-the-Dark Pin
You best start believin' in ghost stories with this pirate pin, me hearties! This D23 Gold Member exclusive is the ultimate treasure—depicting the undead form of the mischievous capuchin, and occupant of the Black Pearl, Jack the monkey! Just like the phantom crew of the titular cursed ship, the pin radiates a ghostly glow when viewed in the darkest of shadows.
Our D23-Exclusive Pirates of the Caribbean: The Curse of the Black Pearl 20th Anniversary Glow-in-the-Dark Pin, offered in a limited edition of 1,000, is available to D23 Gold Members at 8 a.m. PST on Tuesday, July 11, 2023, on shopDisney.
Not a D23 Gold Member?
Sign up today to access limited edition merch
and year-round discounts and offers!
*Available while supplies last. To purchase, you must log in to shopDisney.com with the Disney account tied to D23 Gold Membership. These pins are sold for $19.99 each, plus applicable sales tax. Maximum of two (2) pins of this style for purchase per D23 Gold Member for online orders. Shipping not available to PO boxes; shipping and handling fees may vary for all online orders. Other restrictions may apply. All information is subject to change including, but not limited to, artwork, release dates, editions sizes, and retail prices.