By Zach Johnson
If the Descendants movies have taught us anything, it's that no one is ever just one thing. Villains can be good, heroes can be bad, and it's OK—normal, even!—to be a little bit of both.
Before Descendants 3 premieres this Friday, August 2, at 8 p.m. on Disney Channel, we talked to three of the film's stars to find out what happens after the original Villain Kids Mal (Dove Cameron), Evie (Sofia Carson), Carlos (Cameron Boyce), and Jay (Booboo Stewart) return to the Isle of the Lost to recruit a new batch of villainous progeny to enroll at Auradon Prep. "A lot happens," promises Anna Cathcart, who portrays Dizzy. "You definitely won't be disappointed!"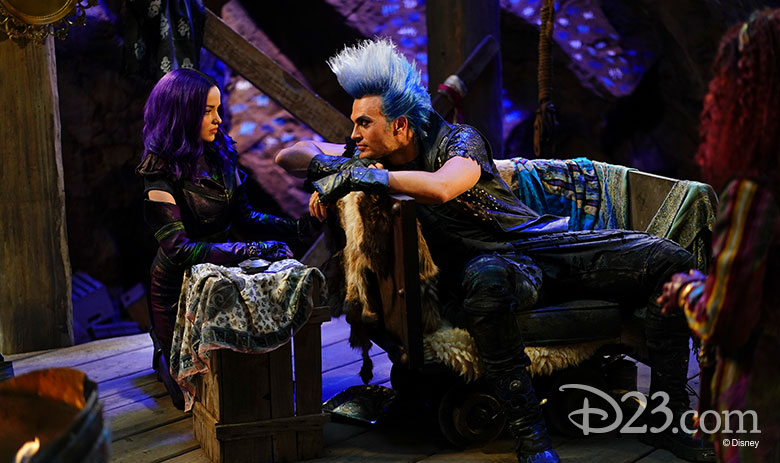 After talking to Kristin Chenoweth, who played Maleficent, Cheyenne Jackson jumped at the chance to play Hades and work with director and executive producer Kenny Ortega. "She told me, 'Cheyenne, just go for it. Just jump in. Make big choices,'" he recalls. "It was really fun! I decided to have a great time—and I did! I loved everybody. Kenny is wonderful to work with."
When the Descendants 3 cast began dance rehearsals in Vancouver over a year ago, they marveled at the scale of the production. "The first day we were like, 'Whoa! This is like boot camp!'" Cathcart says. Jadah Marie, who plays Celia, the daughter of Dr. Facilier (Jamal Sims), shared that sentiment. "It was like boot camp!" she says with a laugh. "But it was so much fun. We were like, 'We could get used to this. Can we have this experience every day of our lives?'"
Jackson, used to the rigors of performing on Broadway eight times a week, was particularly impressed by the young cast's dedication to their craft. "The first time we were shooting, a couple of the cast members were completely surrounded as if they were The Beatles or Madonna! I finally got the impact of their fame, but they don't act like that," he says. "They're really cool kids, and they're really great artists who know what this franchise means to people."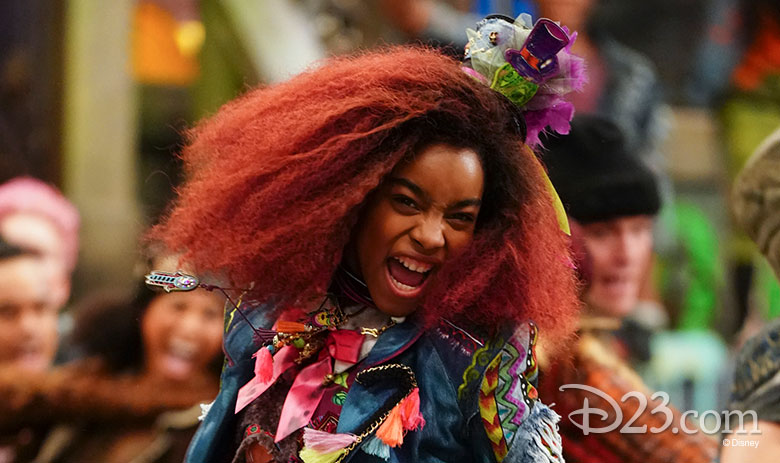 It helps that the actors themselves are fans of the films. "This is all like a dream to me," says Cathcart. "I think we're more excited than the fans, honestly, because we haven't seen it yet."
As was true in the first two films, nothing should be taken at face value. "Nobody knows what I do in the movie yet. Am I bad? Am I good? And if I am bad, how bad?" asks Jackson. "I hope I've created something that's multidimensional. I purposely didn't watch the animated movie, because I didn't want to have anything [voice actor] James Woods did in my head. I read a lot of books and then just created something with Kenny. We wanted something that was organic and over the top, but also grounded, because he is a person—yes, Lord of the Underworld, yes, stealer of souls—but he also has dreams and he has wishes and he has hopes and he has fears."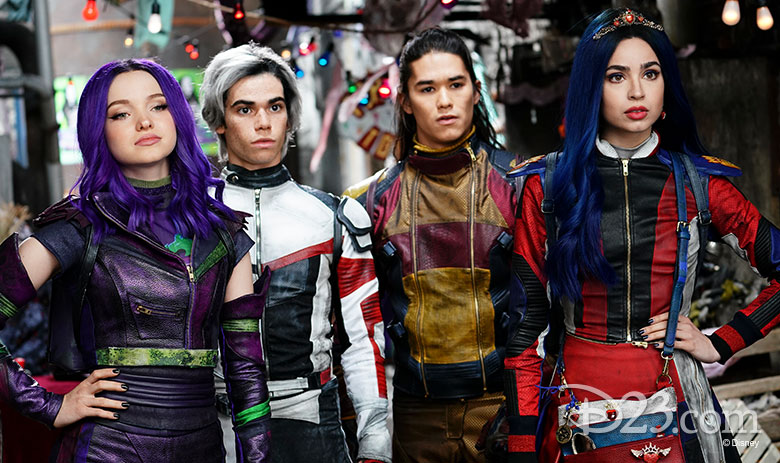 Good or bad, he'll present one of the biggest challenges the Villain Kids—aka the VKs—have ever faced. After a barrier breach jeopardizes the safety of Auradon, Mal decides to close it for good, fearing that her old nemeses—Uma (China Anne McClain) and Hades—will seek revenge on the kingdom. And yet, despite her actions, a mysterious dark force threatens the people of Auradon, meaning it will be up to Mal and the VKs to save everyone in their biggest battle yet. "Honestly, I can't reveal much," Cathcart says. "But there are definitely some twists and turns!"
Descendants 3 premieres Friday at 8 p.m. on Disney Channel and DisneyNOW.