By Bruce Steele
Bob Weis, Global Imagineering Ambassador and former President of Walt Disney Imagineering (WDI), announced today that he will retire at the end of the year. "I will always be proud to have led Imagineering from 2016-2021, and to be your Global Ambassador in 2022," he wrote in an email he shared today with his fellow Imagineers. "I am proud to have been an Imagineer, a collaborator, and someone who loves to do impossible things with impossibly talented people."
Weis grew up in Southern California and fondly recalls his family's annual visits to Disneyland on his birthday every year. While studying architecture at California Polytechnic University in Pomona, he worked in Disneyland Park as a cast member selling popcorn and ice cream and absorbing everything going on around him. He joined Walt Disney Imagineering, then called WED Enterprises, in 1980, soon after graduating college, and within eight months had relocated to Japan as part of the WED team creating Tokyo Disneyland.
Subsequent assignments included creative leadership on Disney's Hollywood Studios (at the time, Disney-MGM Studios), Tokyo DisneySea, and the reimagining of Disney California Adventure. In recent years, he led the creative team for the development, design, and construction of Shanghai Disney Resort. After the resort opened in China in 2016, Weis was named president of WDI, a position he held for six years, a period when more than 200 distinct projects were delivered, despite the challenges of the COVID-19 pandemic.
"It's been great to have the confidence of the company behind us," Weis says. "When I was leading Imagineering, we delivered hundreds of projects that brought new experiences, new stories, new innovations to our guests around the world. And D23 fans who attended the Expo [in September] had a chance to see so many more that we have well under way. It's truly an exciting time."
In 2022, Weis took on the role of Global Imagineering Ambassador, following in the footsteps of one of his mentors, Disney Legend and former WDI president Marty Sklar, the first to hold the ambassador title. Sklar left behind a massive collection of Disney artifacts and memorabilia that Weis has been reviewing with a team of specialists. As Weis shared with Imagineers, "When I retire, I am relishing the opportunity to write a book for the Marty Sklar Archives and I'm in the process of developing a screenplay for Walt Disney Studios. I may even find some time to just go down and walk around Disneyland once in a while."
Weis gave the following exclusive interview just before sharing the news of his departure with his colleagues.
D23: What are some of the biggest changes you've seen at Walt Disney Imagineering during your career?
Bob Weis (BW): Well, that's quite a timespan. I began on Tokyo Disneyland, so I'd say the biggest shift for me is we went from two theme parks in the United States to 12 around the world. That's just been a huge growth curve in my experience. We've also discovered that there are certain things that work across the globe that people want to do together. Certainly, the way we design has changed; the way we develop and visualize and engineer things has changed. But the fundamental power of storytelling, of getting people together for a Disney experience [has not changed].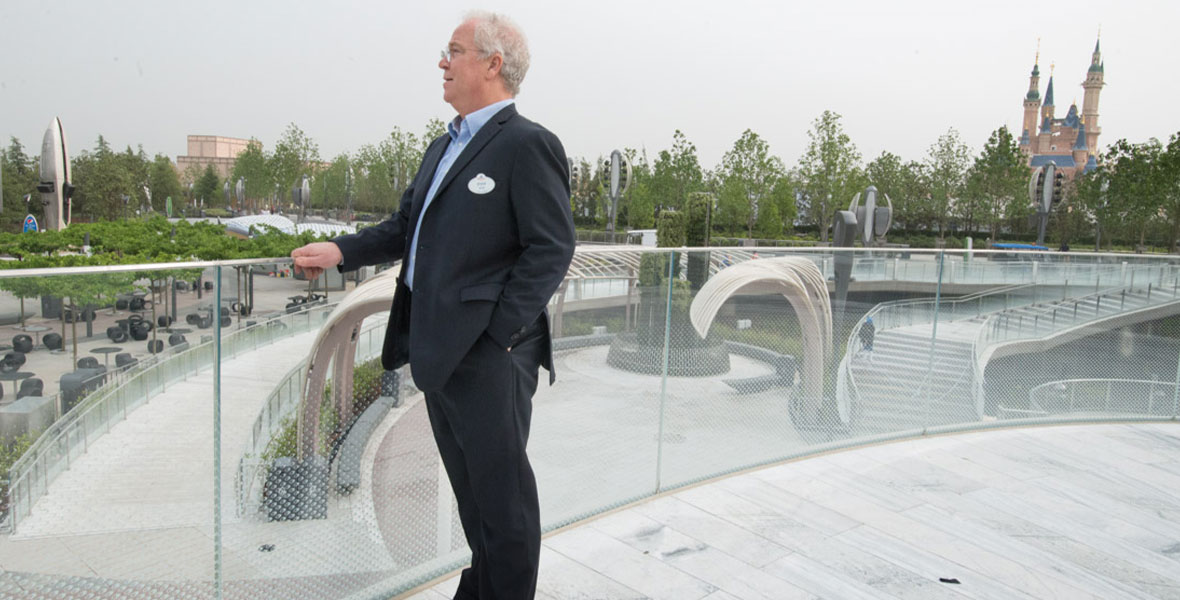 D23: You were president at WDI during the height of the COVID-19 pandemic. What was that like?
BW: We marched boldly forward. I have huge admiration for [The Walt Disney Company CEO] Bob Chapek for marching ahead [with us] and believing in the projects that Imagineering does and that the audience would be there [when the pandemic eased]. It certainly wasn't guaranteed at that time. But he was right. So, this is a nice time for me, where a lot of these major projects are wrapping up in these next few months. It's good timing for me to think about wrapping up my assignment as well.
D23: You said in your in your email to the Imagineers that "babies born today will someday be taking their grandkids on the experience you're creating." How do you, as Imagineers, wrap your head around that kind of responsibility to the Disney legacy?
BW: Well, I was one of the kids once, and now I'm in the older generation. [Across the years,] we've all seen that—we've seen things that we've created have that kind of lasting power across generations. To me, that is the magic of Disneyland—that people take their kids and want them to have the same experiences [that they had as children]. But also, as Marty [Sklar] said, our theme parks are not museums. We have to keep them fresh. We have to keep moving forward. So, there's this balance: How do you how do you keep the classic things that people remember but at the same time be constantly upping your game, making things better? And that's one of the great joys of being an Imagineer. We're always trying to listen to the audience to see how we could make things better—how we could take new stories, new IP [intellectual properties], and put them into our kind of artistic medium to create experiences for our audience.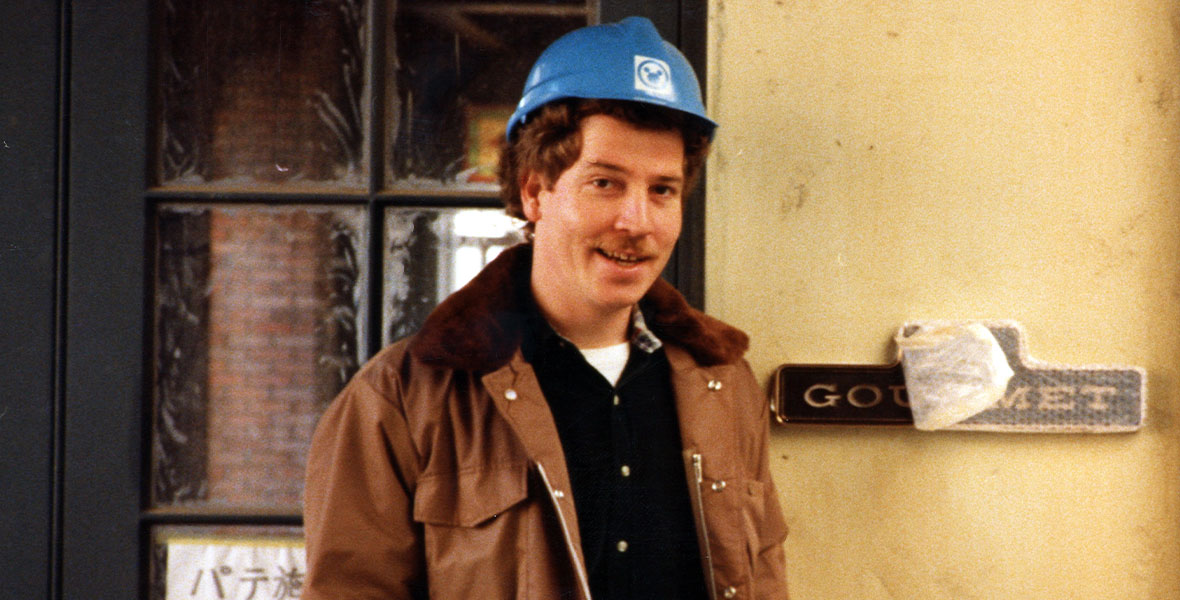 D23: You were indeed one of the kids once, since you once sold popcorn and ice cream at Disneyland.
BW: I did, in college. It was very informative to my urban planning and architectural studies, because when you stand out on the street throughout the day, you see behavior; you see how people use the park spaces of Disneyland and how it changes throughout the day and through the cycle of the seasons. It really was a great way to learn from Disneyland. How do you attract people's attention to move into a space? How do you tell a story in [three-dimensional] space? How do you make Disneyland simple to navigate, so that you don't really have to think about where you're going? It's as if you're a character in your own movie and you're drawn through it. We're not directing you specifically one way or the other. We're really letting it be your experience. The parks have to have that kind of clarity, and I think that's a big hallmark of what Imagineering has done in all the parks.
D23: In your farewell email, you wrote that Imagineering "still reflects [Walt Disney's] creative energy, his storytelling, his belief in talent and collaboration, and his passion for always 'moving forward.'" Can you talk a bit more about how Imagineering remains driven by the spirit and imagination that Walt Disney established?
BW: This has been high on my mind recently, because I've been working on [sorting through] this huge discovery of [documents and artifacts] that Marty Sklar collected during his 50-year career. There's plenty in there that Marty wrote, and there's plenty of references to Walt's philosophy in his first decade in this business. And it becomes very clear that the idea of telling stories for people to experience over and over and in their own way—as I said, as characters in their own experience—Walt was very clear about wanting [the park to be] a seamless environment. He didn't want to see the world outside. He wanted people to really escape the world that they were living in and have a great time—an experience that was reassuring, that was celebratory. I think those fundamentals are still the same. Whenever we do something—it might be adventure, it might be fantasy, but it's always in the service of great storytelling and fun. People are really looking for an experience about optimism. That's one of the big things that Marty was writing and speaking about: a sense of optimism. And that hasn't changed—that life-affirming, aspirational way of thinking and having a day together where you can celebrate that.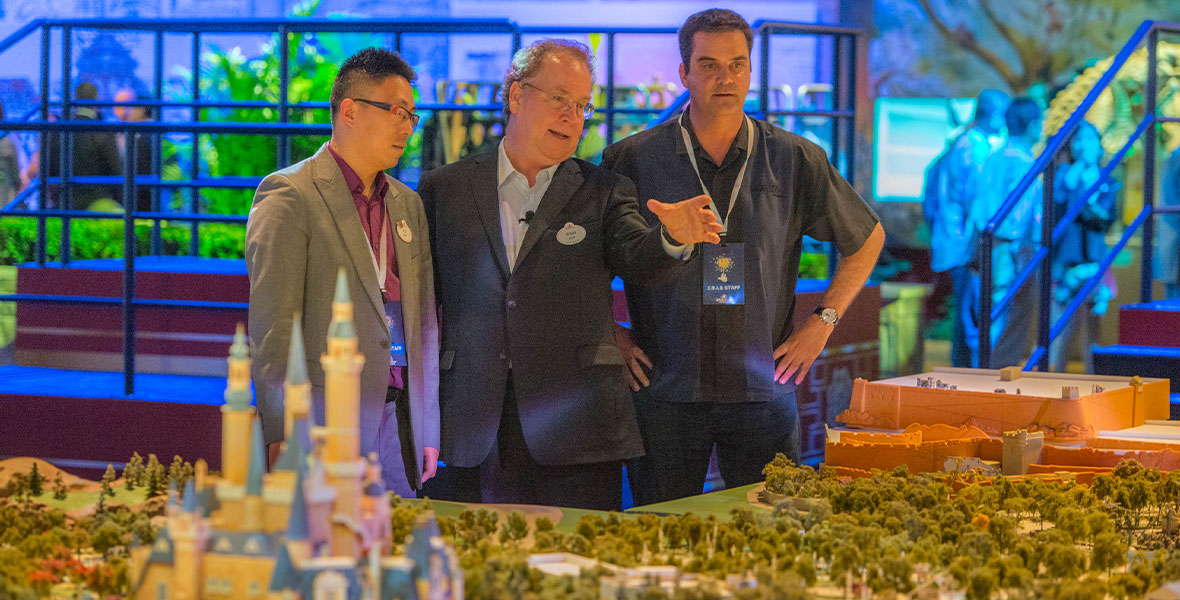 D23: What's it like for an Imagineer to visit a park filled with guests?
BW: Seeing the parks with people in them and seeing the way that people love the parks—whether it's their first visit, their 10th visit, or their 100th visit—is so inspiring to me and to all people who work or have worked in Imagineering. We're really thankful to the fans because of the way that they love [the parks], but also because of the way we are able to learn from them by watching how they react to things. This goes back to Walt's talking about Disneyland—that he could come in and change it whenever he wanted, that it was a living medium. I went back to Shanghai after we opened and saw how quickly the Shanghai audience—relatively inexperienced in theme parks or in Disney—adopted it and made it their own. It's an incredible privilege to have this living lab that you can go to and see how people react. And I think the important thing is for Imagineers to listen to fans and listen when things are working and also be willing to admit when things aren't working—and so, it's time to update or to make some changes. But fans inspire you. The most emotional time for any Imagineer is when you when you stand out front when something opens and you see the fans come in for the first time and hear their reaction for the first time. There's nothing more satisfying or more rewarding than that.
D23: Is there anything else you wanted to say to D23 Members and fans?
BW: One of the most gratifying things for me over the years has been [the emergence of] D23 and seeing the union of all those people who love Disney, who love parks and love Imagineering. And it was a joy to work with Leslie [Iwerks] on her documentary about Imagineering [The Imagineering Story, streaming on Disney+]. Just over the last decade. [we've been able to] lift the veil a little bit and not be so secretive. It's been gratifying to have that connection to D23 and to be able to show some pride about what we do and show a little bit behind the curtain.