Fighting an evil villain and saving the day are probably not very high on an average teenager's bucket list. But for Hiro Hamada, star of Walt Disney Animation Studios' upcoming animated feature Big Hero 6, those tasks just happen to pop up on a typical weekday.On November 7, you can join the mini mastermind and his inflatable robot sidekick, Baymax, on an action-packed adventure as they get entangled in a dangerous plot unfolding in the bustling, East-meets-West city of San Franskoyo.
Big Hero 6's Ryan Potter Talks About Why He Loves Working in Disney Animation's World ►
And although its headquarters are thousands of miles away from Silicon Valley, the Disney Animation team didn't hesitate to set up its very own start-up atmosphere in Burbank to dream up the high-tech story.

This time around, Marvel's vault of epic Super Hero tales was opened to explore new ideas. "They [Marvel] encouraged us to take Big Hero 6 and do our thing with it," director Don Hall reveals. "From the get-go, they were very gracious with their property and are incredibly supportive." Producer Roy Conli added that Joe Quesada, chief creative officer, Marvel, and Jeph Loeb, executive vice president and head of Television, Marvel, were a part of the development process at the film's early stage. "It's been an amazing relationship," he says.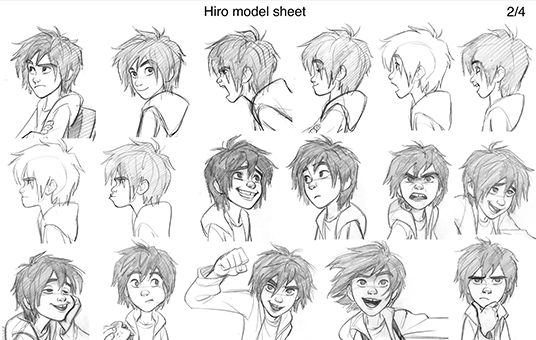 They may have been inspired by the comic book's title and characters, but there's no question that Walt Disney Animation Studios created its own unique world with Big Hero 6. For Don and his counterpart, director Chris Williams, creating the film has been an unforgettable experience. "It's kind of a dream come true," Don admits. "The action part of the story appeals to my 8-year-old self. But the core emotional relationship between Hiro and Baymax appeals not only to my 8-year-old self but to my 45-year-old self, as well."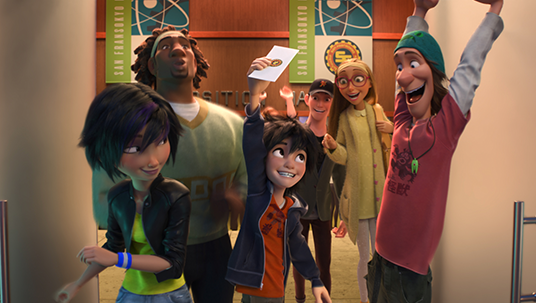 Defining that connection between the leading pair was an especially exciting challenge for Chris. "Finding the personality of this movie was a journey on its own," he mentions. "That idea inspired us to challenge each other a lot." To find those characteristics, filmmakers relied on multiple sources of inspiration, which included landmarks from San Francisco and Tokyo. They even went back to school and visited Carnegie Mellon University and MIT to research and learn more about the science behind robotics.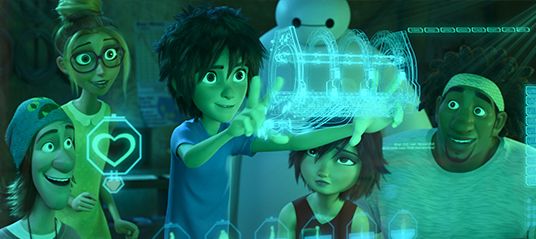 Technology may be a predominant focus in Big Hero 6 but it was just as big of a priority behind the scenes. To bring the largest cast of main characters in a Disney animated film to life, John Kahwaty, character technical director, and his team invented a proprietary software called Denizen. "On our average animated Disney films, we have two to three main characters," Zach Parrish, head of animation, points out. "Frozen had six main characters. On this show we have about 15 main characters." This system helped animators create more than 700 unique characters and set up their motions so each of them could walk, talk, and more.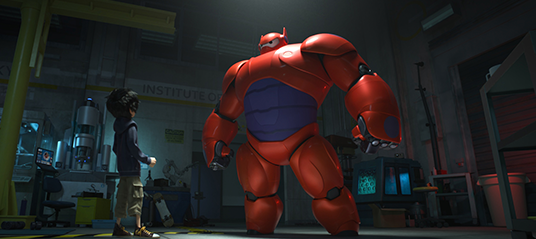 Another milestone for the film was its action sequences—the most for any Disney animated movie. To meet the creative and technical demands of each production, Walt Disney Animation Studios has continued to expand its Visual Effects team over the years. "As a department we've actually grown significantly over the past few films," Nathan Curtis, effects production supervisor, observes. "In Tangled we had 13 effects animators, and in Big Hero 6 we've actually grown to 40." By bringing more of these visionaries to the table, the Studio can push animation boundaries and make each film more and more lifelike.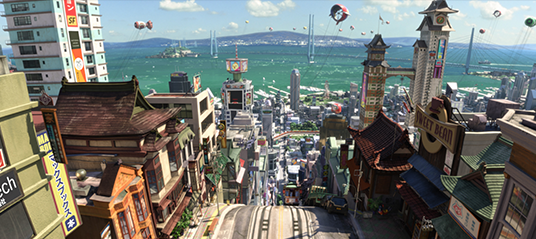 With a little less than a week left until Big Hero 6 hits theaters, Don, Chris, Roy, and the team are closer than ever as they patiently wait for audiences to see the fruits of their labor. They mentioned that one theme—collaboration—continues to drive them to produce another Disney classic, one that has to stand alongside films like Snow White and the Seven Dwarfs and Frozen. "We've got this legacy of movies here," Don adds as he glances around and admires the interior of the Roy E. Disney Animation Building. "Ours has to sit on the shelf with these other fantastic films that have come out of this studio. That's why we continue to push and encourage each other so much."