By Peyton Liebler
Twenty-five years of Disney's Animal Kingdom Theme Park, and all we can say is: "Safari, so great!" D23 Gold Members can join in on a jungle of a jubilee and venture back through two-plus decades at Disney's Animal Kingdom with this zanily zoological set of pins. And we're not "lion" when we say, these are sure to be the "mane" attraction of any collection!
Since opening on Earth Day, April 22, 1998, Disney's Animal Kingdom at Walt Disney World Resort has welcomed millions of visitors and delighted explorers of all ages. Featuring a unique approach to storytelling through attractions and experiences, Disney's Animal Kingdom allows guests to discover all there is to know about the natural world through both real-life and imagined representations of animals and places—while also communicating vital messages about conservation. From traveling through a vibrant savannah on an African safari and braving an expedition on the highest mountain on Earth, to venturing back in time to the cretaceous period and even soaring through the air of a lush alien world, Disney's Animal Kingdom has given many the opportunity to appreciate the intrinsic value of the natural world around us.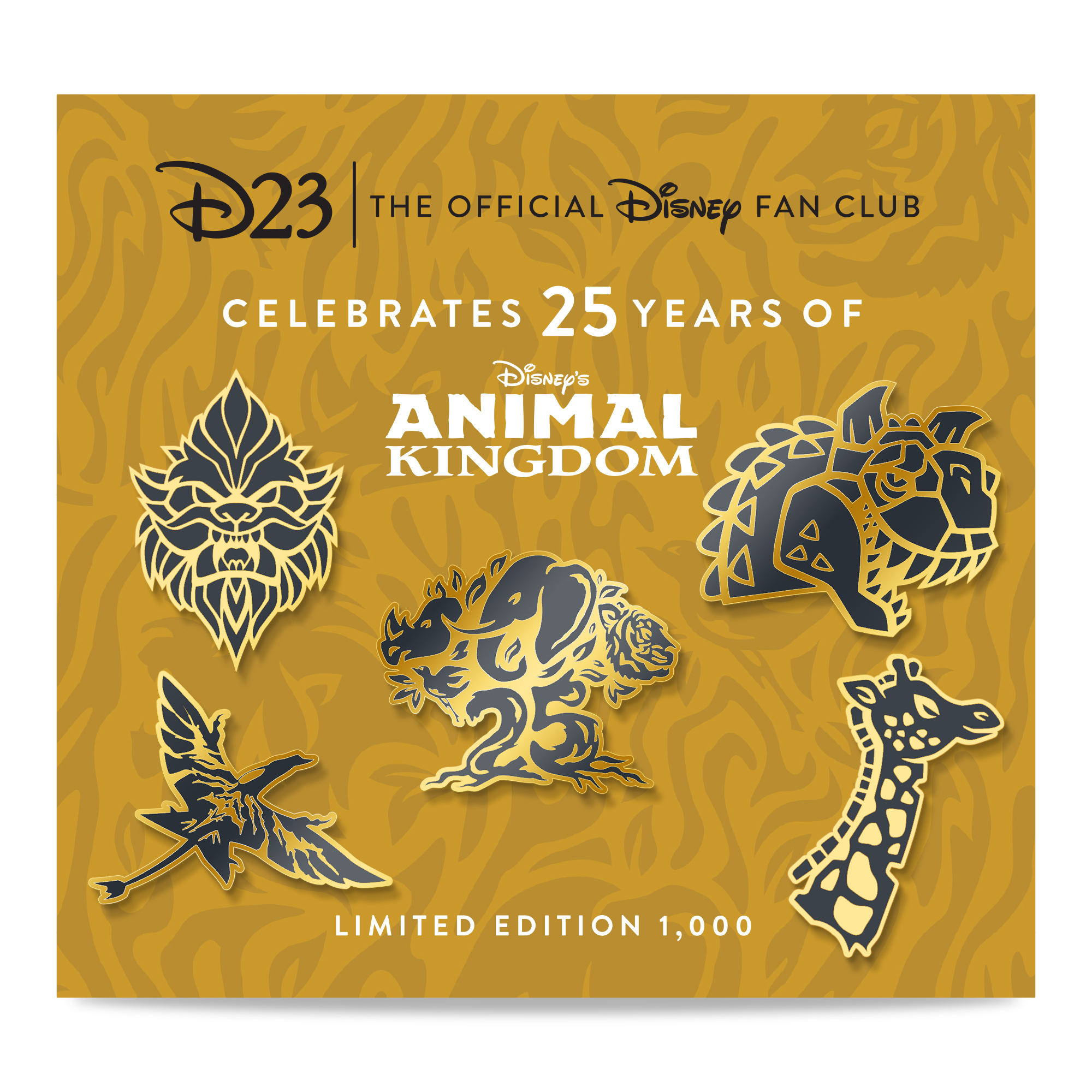 Roar with pride and celebrate 25 wild years of Disney's Animal Kingdom with these fur-ocious pins! They're a fierce way to reflect on a groundbreaking park that celebrates the magic of nature. The set features pins representative of each "paw-some" area of the park—including a Carnotaurus, a Yeti, a Giraffe, and even an Ikran (or as we call it, a banshee); they surrounds a special center pin representing the Tree of Life, which is emblazoned with "25 Years of Animal Kingdom." Give into your beastly nature and get your claws on these pins now!
Our Disney's Animal Kingdom 25th Anniversary pin set, offered in a limited edition of 1,000, is available to D23 Gold Members at 8 a.m. PST on shopDisney, Tuesday, April 18, 2023.
Not a D23 Gold Member?
Sign up today to access limited edition merch
and year-round discounts and offers!
*Available while supplies last. To purchase, you must log in to shopDisney.com with the Disney account tied to D23 Gold Membership. These pin sets are sold for $29.99 each, plus applicable sales tax. Maximum of two (2) pin sets of this style for purchase per D23 Gold Member for online orders. Shipping not available to PO boxes; shipping and handling fees may vary for all online orders. Other restrictions may apply. All information is subject to change including, but not limited to, artwork, release dates, editions sizes, and retail prices.