By Courtney Potter
The holidays at Disneyland Resort are truly a feast for the senses… with delicious treats to eat on; incredible decorations that are a sight to behold; and memorable performances in every corner of both parks. Case in point: The Holiday Toy Drummers at Disney California Adventure Park!
From now through January 8, 2023, you'll find these merry musicians playing with percussive precision on their drums—supplied by Yamaha, the official supplier of musical instruments to the Disneyland Resort—multiple times a day near the Obelisk in Paradise Gardens Park. D23 recently had the good fortune of chatting with the show's director, Linda Simmons, about what goes into creating such a holly, jolly presentation.
D23: The Official Disney Fan Club: Hi Linda! Can you give us a bit of background about you, and about the Holiday Toy Drummers? How long have you worked on the show?
Linda Simmons (LS): I'm the show director and choreographer for the Disneyland Band, since its new version in 2015, and also the All-American College Band. The Holiday Toy Drummers actually started at Disneyland Park around 10 years ago, and I took over the Disney California Adventure version of it about five years ago. We really worked on the storytelling; I partnered with Glenn Kelman, who was the original show director; we worked together—it was quite extraordinary because we wanted to make it more choreographed, more staged, and give it a little bit more dimension… It's just been such a collaborative experience—not only with myself, but with the creative directors and producers at Disneyland. We partnered together to fine-tune it, and make sure that it was an extraordinary offering.
D23: What's the process for putting together each year's show? Do you hold auditions? If so, what do you look for in a drummer?
LS: Well, we don't hold auditions every year, if the people that we know we used the year before are all at the resort, and we have enough depth. But sometimes people get different jobs or different shows… This year, we did have an audition—and we auditioned new people, as well as asked that all of our cast who'd previously participated in Holiday Toy Drummers come to the callback… We have 16 people on our roster now, to cover both Holiday Toy Drummers and the drummers in Mickey's Happy Holidays; that includes three new people, and a couple people who'd been gone for a while and came back.
We look for a lot of things: Personality and showmanship, for sure! And also the ability to do drum tricks and stick tricks. A lot of the Holiday Toy Drummers toured with Drum Corps International, [with famous groups including] the Cavaliers or Pacific Crest—they're true "drum corps" people. So, it's a different skill set—although it crosses over—than, say the Disneyland Band, where you're working as a "kit" ensemble; the Holiday Toy Drummers have to have rudimentary skills as well as tricks, and really understand marching and movement. The whole show is completely staged and choreographed—and the rehearsal process is pretty grueling, over a six- to eight-day period.
D23: Do the pieces the drummers play change each year?
LS: No, the show is what we would call "baked"—it's the same music from previous incarnations; but when I came in, I kind of tweaked it… so there's a progression of the performance technique, in the acting choices as well.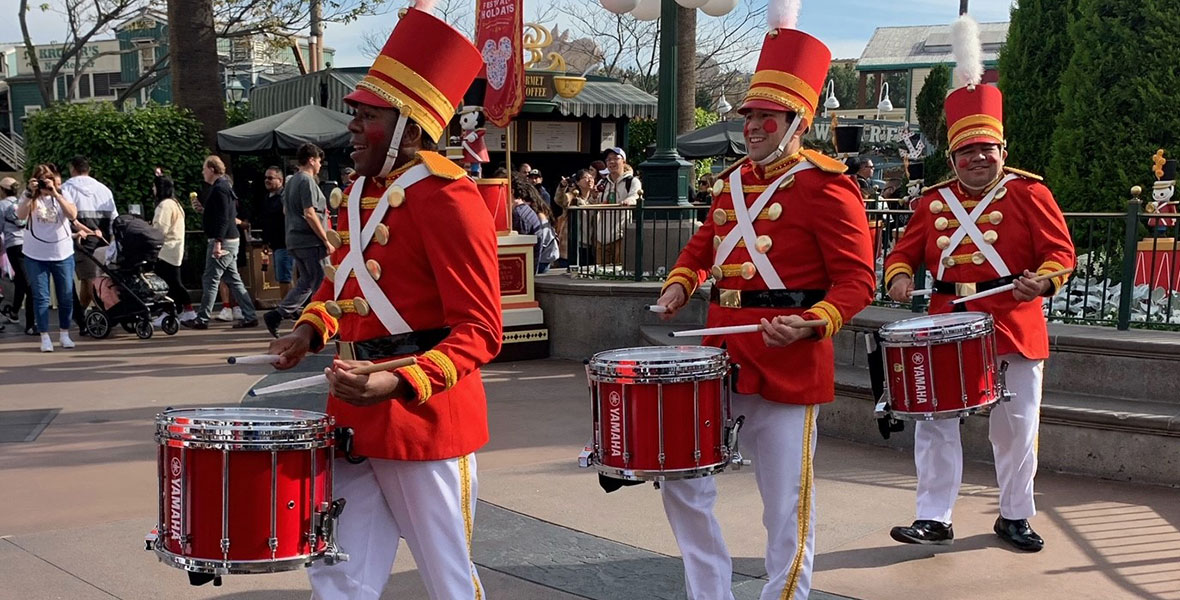 D23: Is there someone who's been with the Holiday Toy Drummers the longest?
LS: Alex Blake—he's been with the group pretty much since the beginning. He has become the leader of the ensemble, so I really lean on him a lot to make sure that the drumming and the music stays consistent. He also creates the beats for the drummers in Mickey's Happy Holidays, as well as Jammin' Chefs. So he's really become my partner-in-crime.
D23: Do you have a favorite part of the process? What about a challenge that you needed to meet, maybe in an interesting or unique way?
LS: Honestly, it's always been so collaborative. Even from the very beginning… it was just one of those truly creative, magical times that don't happen very often, but when they do you remember them forever.
And I would say, for sure, the biggest challenge was when we did it six feet apart [during some of the early COVID-19 restrictions]. The show has all this drum-on-drum interaction, and times where they're tossing sticks. Last year, they had to be six feet apart—and we were on the Palisades stage, on a high stage, so we couldn't do any hard stick tosses because if they dropped their sticks, they would land in the World of Color moat! Obviously, we had to adjust the show… but we made those concessions, and then this year we brought the full show back.
D23: Do you have a stand-out memory from your time with the show?
LS: That's a daily occurrence! I love that the drummers are so committed to excellence. The show is consistent, and the show is always clean. And when I watch people watch it and say, "Oh my gosh, wow—that's amazing!", I couldn't pick one time, because every time I'm so proud of the work that we've done together. And I'm proud of the support that I've had. You know, it's never one person—it's me, it's my boss, it's the producers, it's the operations partners, it's a partner like Yamaha… it's all such a partnership, and I love that.
These drummers—they're my guys! And we've been on lots of adventures together, creating the show and putting it back on its feet every year. It's just joyful!