By Jessica Benda
As 144,000 tons of steel evolved into an astounding, ocean-bound castle, a tight-knit crew set out to answer the question on everyone's mind: How?
National Geographic's Making the Wish: Disney's Newest Cruise Ship whittled 13 months of filming into 66 minutes, crafting a story of how this beautiful behemoth came to be. The Disney Wish now sails to the Bahamas as the youngest ship in Disney Cruise Line's fleet, a floating playground of innovative entertainment, Marvel- and Frozen-inspired dining experiences, and the first-ever Disney attraction at sea. In the documentary, which debuts on Disney+ on Friday, February 17, viewers can glimpse the people who made it. The film premiered December 24 on National Geographic but has not been available via streaming until now.
"For us, it's a story, and the stories are these people that are so passionate, so creative, so innovative, and so motivated to make these experiences special," said Chad Cohen, the documentary's director, writer, and producer.
Cohen helmed the project alongside Bethany Jones, producer and writer, in partnership with Disney Yellow Shoes. Cohen and Jones started filming in June 2021, when they first traveled to the Meyer shipyard in Germany not long after construction kicked off in April. Roughly 90 percent of the film's footage is from the crew's cameras, enhanced by the shipyard's timelapses and Disney Cruise Line's aerial shots.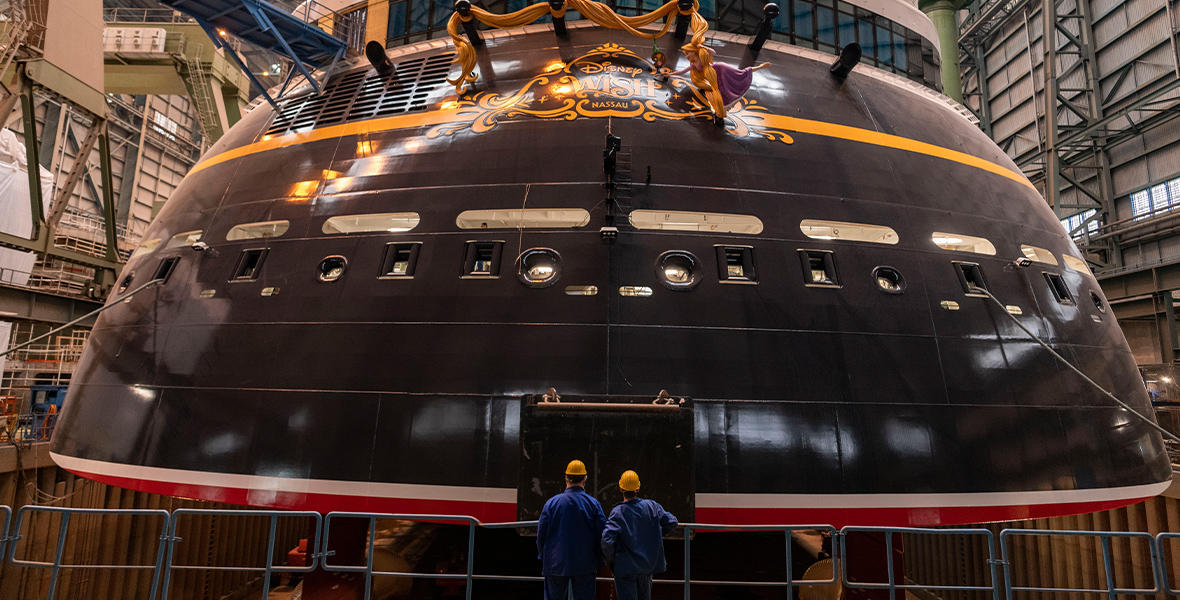 Like its subject, the documentary isn't stationary. It takes viewers from Hollywood sets to Walt Disney World Resort, from the German shipyard to the intimate confines of Imagineer Laura Cabo's garage. While the shipyard was an obvious choice, where crews visited six times during filming, others took a more personal turn.
In a brief but poignant sequence, viewers are swept off to Walt Disney World Resort, where Walt Disney Imagineers Danny and Sachi Handke experience "it's a small world," with their young daughter. Danny, senior creative director, and Sachi, project coordinator, remark how their daughter is their inspiration, and they try to see the world through her eyes.
Cohen pinpointed smaller, human moments like that as essential to the big picture. "It's really easy to just have people building [and] sailing the ship, but what you remember are those people working in crazy situations, late nights, early mornings to bring this passion of theirs to life," Cohen said. "You want to care about them, you want to get to know them, and you want them to succeed.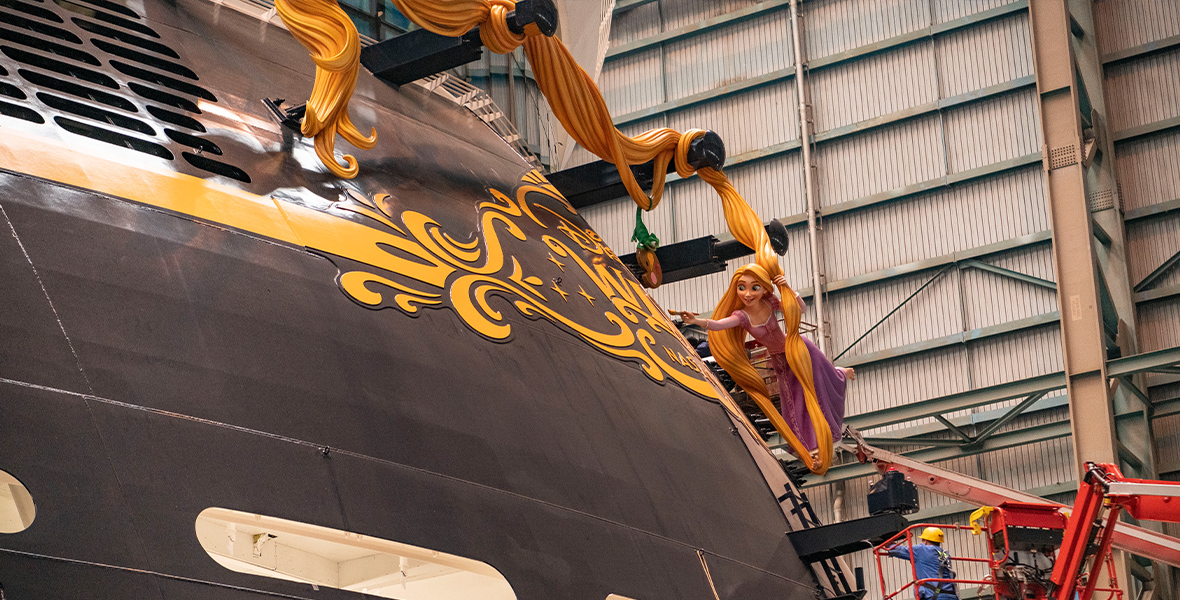 Nearly 15,000 people contributed to the construction of the Disney Wish, but the National Geographic crew was much smaller. A shoot would usually include five to six people. During the voyage from Germany to Florida, a larger team of nine—Cohen and Jones included—piled into the Disney Wish to capture the final efforts.
While the Disney Wish was picture-perfect on the outside, finalizing the interior was an 11-day dash during the Atlantic crossing. Performers rehearsed on-stage as another team finished the set. Deeper in the ship, cast and crew hauled furniture as Disney executives did some vacuuming, Jones recalled. An immense project was backed by an even stronger display of teamwork.
Cohen and Jones leaned into the project's many moving parts to create a compelling narrative, and the documentary's care in exploring the crew's personal lives only heightens its impact.
"You're seeing these people that you care about," Cohen explained. "You met them in their garage, you met them with their daughter, and now you're seeing the race to finish this thing and you're cheering for them. You want them to finish."
When they did, the Disney Wish abounded with little details that National Geographic sought to capture. Whether it was the two-year design process for choosing a ceiling's colors or a carpet that took a whole night to lay out, the filming crew had their hands full trying to document it all.
"There's just so many layers of details that you have to sift through," Jones said. "It's like Easter eggs all throughout the ship."
When the Disney Wish docked at Port Canaveral, Florida, a chapter finally closed. Emotions ran high for both the Imagineers and Disney Cruise Line cast and crew, as well as the National Geographic team that had followed them throughout the journey.
Cohen remembers a tearful moment the night before the maiden voyage, when it struck midnight in the Grand Hall. In true Cinderella fashion, a choreographed light show twinkled on the stories-high ceiling as gentle music played.
"Everyone spontaneously laid down on the floor and looked up and experienced this moment when it came to life," Cohen recalled, his own crew filming the scene. "And for them, they saw it was the end. Our crew was emotional as well, having been through it with them. All this work, and then they let it go knowing that the Disney Wish will be enjoyed by guests for years to come."
Making the Wish: Disney's Newest Cruise Ship debuts on Disney+ on Friday, February 17.